Jojo goes to dark side with solo show heading for Aberdeen International Comedy Festival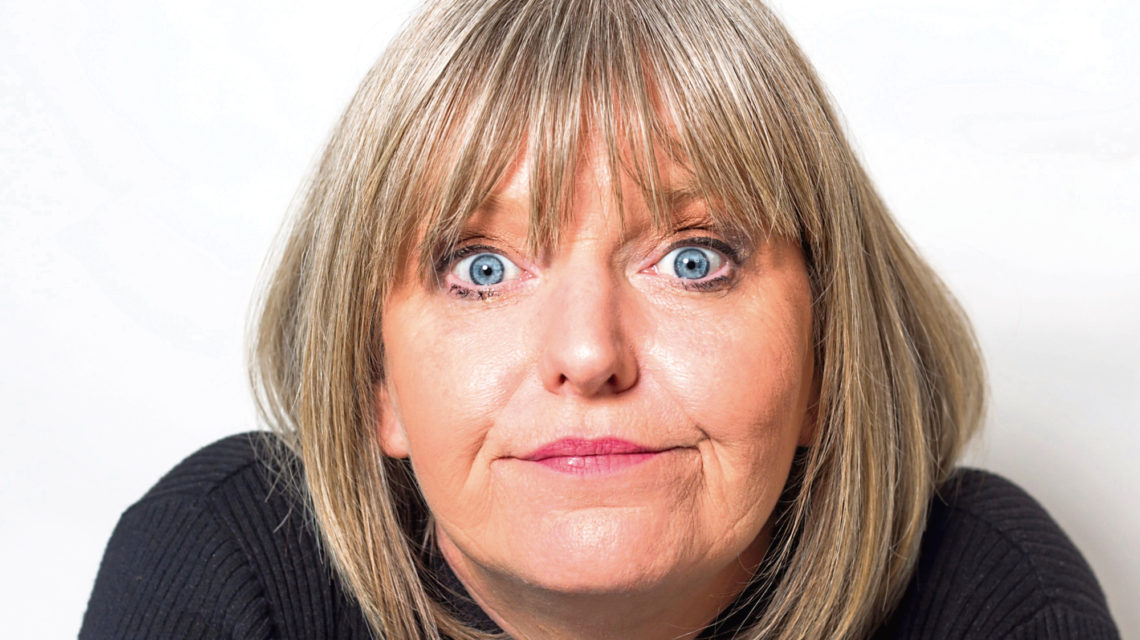 You can tell Jojo Sutherland has a dark sense of humour. The clue is in the fact she opens her new show with the line: "We're all going to die."
That's just the start of an evening that mines her own eventful life for the unlikeliest subjects for laughs – from her family being booted out of their castle home when she was a child, to her bankruptcy, from her brain haemorrhage to domestic violence.
"And that's the fun bit," said Jojo. "It is dark, but it is very funny. People are laughing at things you wouldn't think you would necessarily find yourself laughing at. It's not laughing at people, it's about laughing at situations you find yourself in, quite often through no fault of your own.
"When I talk about domestic violence the audience are literally howling, because of the way I put it over to them. And I congratulate them 'well done for laughing at that'. After the domestic violence I say 'I don't think there's anything you can't laugh at and bear with me while I test that'."
Right now Jojo is performing From Riches To Rags at the Edinburgh Fringe ahead of bringing it to the Aberdeen International Comedy Festival in October.
"It's based on the fact I did grow up in a castle until I was 14 and then didn't. We moved into a caravan," she said. "My dad got cut out of granny's will and granny was paying for the castle.
"So the show looks at how different my life would have been if I still lived in a castle, because I was made bankrupt, I had my house repossessed, various things happened, and how humour is so important to get through that.
"There's also a lot about the class system and how I aspire to be working class… although the fact I say 'cah-sle' instead of 'cas'le' gives me away."
Her father, Douglas Sutherland, was a writer and moved in some of the glitziest and most glamorous circles of the day, with celebrity guests dropping by the Perthshire castle – often arriving by helicopter, landing on the lawn.
"Dave Allen came to my eighth birthday party, the Childcatcher from Chitty Chitty Bang Bang was my sister's godfather. It was quite weird having Robert Helpmann read you a bedtime story – although he was a lovely man and a ballet dancer to trade.
"Jilly Cooper and all sorts of wonderful people came to visit. Everyone seemed to have a triple-barrelled name – Rumpty-Lauder-Pinkerton and Raiph and Trixie Balfour-Pole.
"I was surrounded by lavishness and grew up to become accustomed to a life that no longer exists. But I have no regrets about that."
In fact, Jojo, who now lives in South Queensferry, says she is richer because of it, having built up a wealth of life experience she wouldn't have had with the safety net of money and inheritance.
"Quite a lot of things happen which are outwith your control and people forget that," she said.
"Regardless of whether you grew up in a castle or a council house, things will happen. My brain haemorrhage would have happened regardless of where I was financially or in the class system. I wouldn't have been made bankrupt necessarily, but all these things enrich you. You just get a bit of perspective on life really."
And she rails against the idea that there are things we are not allowed to joke about any more.
"I think we are losing our sights a bit as a society," said Jojo.
"People go 'oh no don't make jokes about that, you might upset somebody'.
"I think we have to seriously look at ourselves if we've got to the stage where Jo Brand is being investigated by police for a joke. How did we get here?"
"But I think, no, be upset. People don't make dark or sick jokes to make other people feel bad. They do it to make themselves feel better. I definitely think tragedy plus time equals comedy.
"It's about letting off steam, releasing tension. It's about dealing with this mad old world."
Jojo says that her dark humour has been her coping mechanism throughout her life and one that can work well for everyone.
"Humour is such a brilliant way to share with other people experiences that they can then talk about. We're still very much a nation of people who can't mention if you don't have any money or all these taboo subjects, like mental health issues, although that's getting better. Humour is an accessible way to uncover those dark places and go 'you know what, a lot of people feel the same way as you do'. If we can laugh about it, it doesn't become so scary and horrible and isolating."
She might be in the middle of the maelstrom that is the Edinburgh Fringe right now, but Jojo is looking forward to returning to the Aberdeen International Comedy Festival with her first full solo show in five years.
This, of course, begs the question – why is it her first solo outing in so long? But it's not one she's going to answer – well, not until you go and see her show where the reason is wrapped up in a big reveal at the heart of her show.
And while she will be busy with Riches To Rags, she still has other irons in the fire as an actor, writer, director-broadcaster and also with her comedy double act with Susan Morrison, the Fanny's.
"It's just middle-aged women talking to middle-aged women about being middle-aged women. I love it. The Fanny's are going out on tour with a health message. We're going into areas of deprivation and trying to get women to look at their physical and mental health. That's quite exciting."
But before all that, she can't wait to bring Riches to Rags to the Granite City – and she does have a message for people coming to see her at the Ferryhill House Hotel on October 8.
"It's about living your best life. Don't let them get you down. Come out and have fun, but maybe also think a little bit." she said.
For more on the festival and tickets visit aberdeencomedyfestival.com