Wet Wet Wet to perform at Aberdeen's Music Hall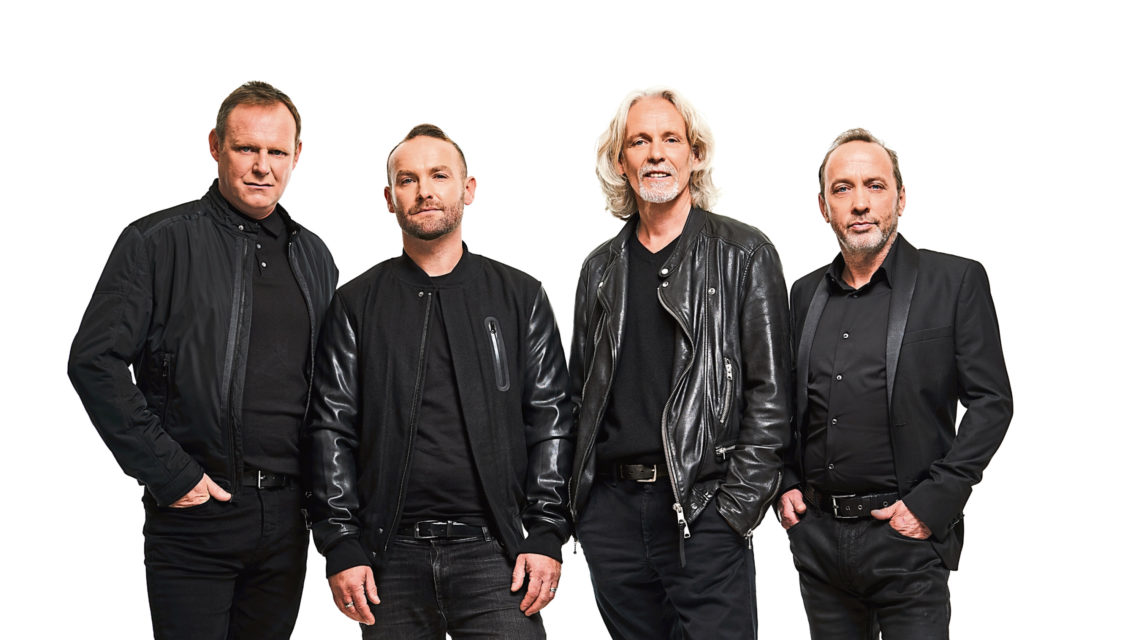 As founder member of one of Britain's biggest ever bands, Wet Wet Wet drummer Tommy Cunningham has managed to dodge the pressures of fame.
The Scottish chart-topping legends have racked up more than 15 million in record sales and sold out tours around the world.
However Tommy has avoided the scrutiny and pressure of life in the public eye, happy to leave that to the front-man.
That used to be Marti Pellow but is now Kevin Simm, the Liberty X star and The Voice UK 2016 winner.
Kevin will front Wet Wet Wet when they headline The Music Hall on Friday October 29.
Tommy said: "I have always been lucky as being the drummer in a band gives you all the success, the trappings and experience but without the constant barrage that fame brings you.
"For me nothing has ever changed.
"I still get to go on the stage and I still get to travel the world and do what I love doing, hanging out with my mates.
"I can do that without feeling like I am being constantly watched.
"I do understand the difference between being a drummer and what it is to be a singer.
"To be a singer is a unique position and a difficult position.
"You are not just a member of the band.
"You are also carrying an extra bit of baggage that comes with being the front man and spokesman.
"Everyone is looking for a quote from the singer, everyone is looking for an angle.
"Everyone expects a certain level of wisdom, or stupidity, or both.
"I wouldn't wish it upon my worst enemy to be a singer but some people are just driven that way – in your internal wiring.
"I have always maintained that your instrument chooses you and your personality.
"When I was four years of age I wasn't watching singers I was watching drummers.
"The instrument chose me and I feel that for my personality I am in the right position."
Formed in Clydebank in 1982 the Wets made a  major breakthrough with hit single Wishing I Was Lucky which peaked at number six in the charts in 1987.
That was the catalyst for a run of success that yielded million selling albums, sell out tours and chart topping singles.
Fans fell in love with the band and have retained that emotional connection throughout.
That bond was a pivotal lifeline for many during the isolation and uncertainty of the coronavirus lockdown.
Tommy said: "I think every successful band has a core element of fans that follow them around and hang on every sentence.
"They are looking for a meaning behind it.
"We play a major role in a specific number of peoples' lives and are quite central to that.
"Almost as if they are part of a family and they still communicate with us.
"All the way through lockdown they are still very active on things like our Instagram and WhatsApp.
"We do have contact with them and do see that they feel a major part of their life has been on hold during the pandemic.
"That there has been a hole, a Wet Wet Wet space in their lives.
"We have that same space missing.
"When we get to go back on stage we will not just be doing it for us.
"It helps other people as well that they can come along and join in.
"After almost 40 years of doing this people still follow us around and are interested in what we are doing.
"They are very much part of it.
"It is a bit like a football team. You can perform so well behind closed doors but only when you get out into that stadium and atmosphere created by people coming to share it is when the real electricity happens.
"That's where the real spark is."
Wet Wet Wet have not registered a top 40 hit single since Weightless reached number 10 in 2007.
However Tommy is more than comfortable with that as he has a deep understanding of the band's standing within music.
They are not about to chase fashions or trends that quickly become out-dated.
Tommy wants a timeless sound.
He said: "The good thing about music is that it is forever evolving.
"It would be stupid of us to try to pretend we fit into a music style more lined up with the modern day.
"We don't really try to compete within the top 10 and sound like Taylor Swift and that kind of production.
"We have got to the position where we understand that real bands, all the instruments fit together perfectly.
"There is a reason why drums, bass, guitar, piano and vocals are so numerous around the world.
"All the instruments fit together and complement each other.
"If you get into the production it is a new box with new sounds and styles on it just for that year.
"It will change the next year so you end up with a production that dates you.
"We avoid that by sticking to traditional instruments and things we are comfortable with.
"Things we are knowledgeable about and then the song will do the talking as opposed to the production."
Chart regulars in the eighties and nineties Wet Wet Wet have featured in the UK official singles and album charts for more than 500 weeks.
At the height of their fame smash hit  Love Is All Around  spent 15 weeks at number one, making it the longest spell at the top for any UK artist – a record that still stands.
Those popular hits were given a stripped down reworking during lockdown as the band entertained fans via their 'Wet Wet Wet from Home' sessions.
The reimagined classics were posted in videos, some with unique settings, and viewed by tens of thousands.
Tommy explained: "For that we acoustic versions of songs would normally do in our live shows and then put them out on social media.
"It was a great experience to see peoples' reactions and we also found out how songs work differently.
"It was still a performance but on your own, in the house.
"We were doing it to impress each other.
"Graham (Clark, bassist) would send up his acoustic guitar track and video and I would think 'right, I have to outdo that'.
"We did things such as perform in our gardens and at one point Neil (Mitchell, keyboards) was up a mountain and did his performance up there.
"We had a bit of fun with it when it was mid-summer and the weather wasn't too bad.
"During lockdown when it came to the music side of things to be so isolated with the song writing and not being able to perform is a bit like losing a limb.
"You are sitting there twiddling your thumbs wondering when on earth the clouds are going to lift.
"It was such a long time in lock down that to actually reach out and know there are other human beings is great."
The band have not only been reconstructing timeless classics in lockdown, they have been busy writing a new album, titled The Journey.
It is set to be released next year and will be the first with Kevin Simm at the helm.
First though they have to record it with the Wets set to enter the studio soon after Christmas.
Tommy said: "For the last three months all we have done is concentrate on nothing but song writing and new songs.
"That has been the focus.
"We thought instead of us all coming together to create songs what happens if each person does it individually.
"And then passes it round and there is no influence from anyone else.
"You get a fresh slant on it and perhaps in a way a bit more honesty because someone is doing exactly what they feel.
"As opposed to being influenced by thinking it would be better if we did this or that.
"So each person added their part and came up with their own songs and then it got enhanced with the rest of the band.
"We have still to go into the studio as a unit and are still a few weeks away from bringing every song together.
"To get all the ideas and get the solid production side of things done.
"We are not at that stage yet but all the songs are written and sitting in the back ground.
"It is all about getting the final cohesive glue which will only come when we are all in the same room together.
"We will enjoy a family Christmas but at the same time finalise the songs, get them all together and then convene at the end of January.
"We will get everything recorded and finished by the end of February."
The Journey will be the first album without former singer Marti Pellow who quit the band in summer 2017 to focus on his solo career.
The following year Wet Wet Wet announced that former Liberty X singer Kevin Simm would replace Pellow.
How has Kevin changed the dynamics of the band, especially during the writing of the new album?
Tommy said: "It seems to have opened everything up.
"The way it always worked was we would write the music and make it as filmic and visual as we could.
"Then after that we would think what lyrics suit this and how do we turn that into a chorus.
"The change is that Kevin came in and he is an open book.
"He is willing to try anything.
"No offence to our previous singer, great friend of mine and all those other wonderful things, but he had a certain style.
"Kevin has a much wider range of singing styles.
"So I guess that enables us to go and do songs in styles that we have never managed to do before.
"There should be some surprises on this new record."
Aberdeen fans will hear the new material when the band headline The Music Hall as part of the 20 date The Journey tour next October.
Last November the band headlined at the P&J Live arena in one of the first shows at the £333m venue.
Tommy said: "Aberdeen has always been special for us as there is a real warmth when we play there.
"The band enables us to go and visit places that really warms our hearts.
"And Aberdeen without doubt is up there right at the top.
"We cannot wait to be back there to play next October.
"However this Christmas, no matter which way we paint it, is going to be a unique and different experience for everyone.
"So the message for now is hunker down, keep it tight, keep it safe because the sun will come up again."
Tickets are available to purchase now for the Aberdeen show in October.