Video: Getting show ready with the Ladyboys of Bangkok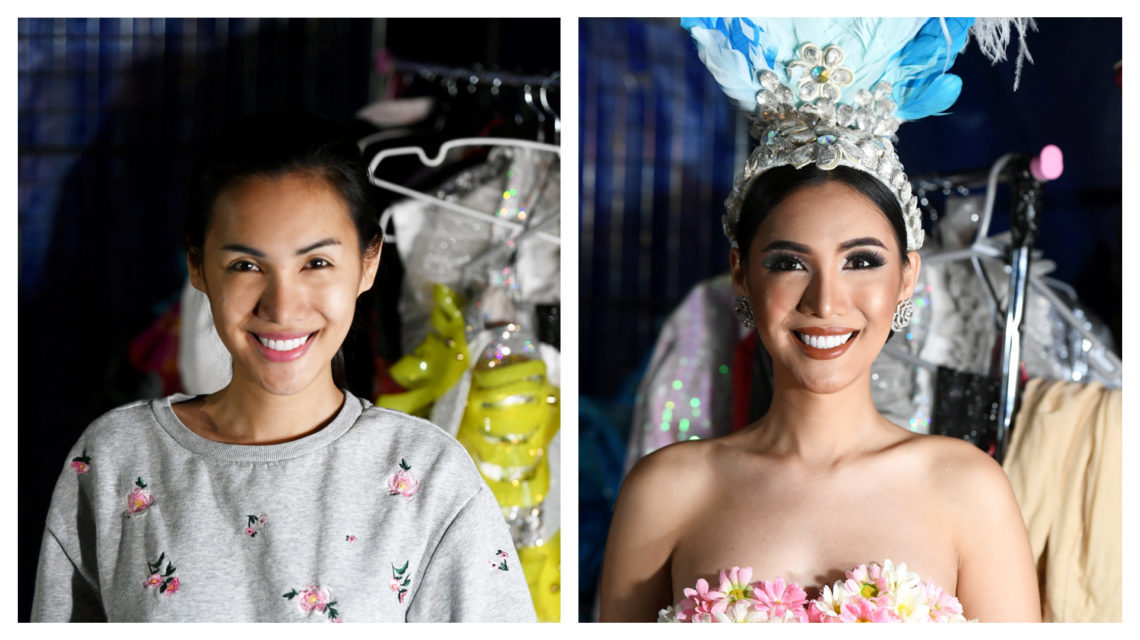 With the Ladyboys of Bangkok in town just now we caught up with them to  find out how they manage to stay looking so fabulous throughout their exhilarating shows.
Sitting down with stars of the show, Jennifer and Bombay, we chatted beauty regimes as Jennifer showed us how to achieve her make-up look for the popular show.
They apply all the make-up themselves and need to make sure it stays firmly in place throughout the lengthy shows.
Here Jennifer shows us how it's done …
Here's what they did:
Step 1: Apply liquid primer to the whole face to open pores. Use a beauty blender to apply liquid foundation to whole face. Use concealer between the brow, under the eyes and down the nose to brighten the skin.
Step 2: Use liquid eye primer on the eyelid up to the brow. Apply skin tone loose powder to help skin look smooth and powder bronzer around the forehead, nose, cheeks and under cheek bones to define face. Use skin tone highlighter on forehead and cheekbones and use white eye shadow under the brow as a base and to brighten the under brow.
Step 3: Put brown eye shadow on the eye lid and under the eye. Apply sparkly black eyeshadow on the outside corner of the eyelid and place white eye shadow on the rest of the eyelid. Use an eye shadow blending brush to blend all colours on the eye.
Step 4: Take a black eyeliner pencil to line under eye and use it to create the winged eyeliner look on lids. Use an eyebrow pencil to fill in and darken brows.
Step 5: Curl eyelashes and put mascara on the top and bottom lashes. Apply false eyelashes and secure with special eyelash glue.
Step 6: Add highlighter on to the cheek bones, under brow, forehead and nose. Put blusher on cheeks under eyes and blend foundation down the neck with a brush.
Step 7: Apply matte lip gloss (any colour) and use setting spray on whole face and leave to dry to set the make-up look.
The show is in Aberdeen until this Saturday July 28 and take place at the Sabai Pavilion at the beach.