Tourist guide acclaim for vegan city eatery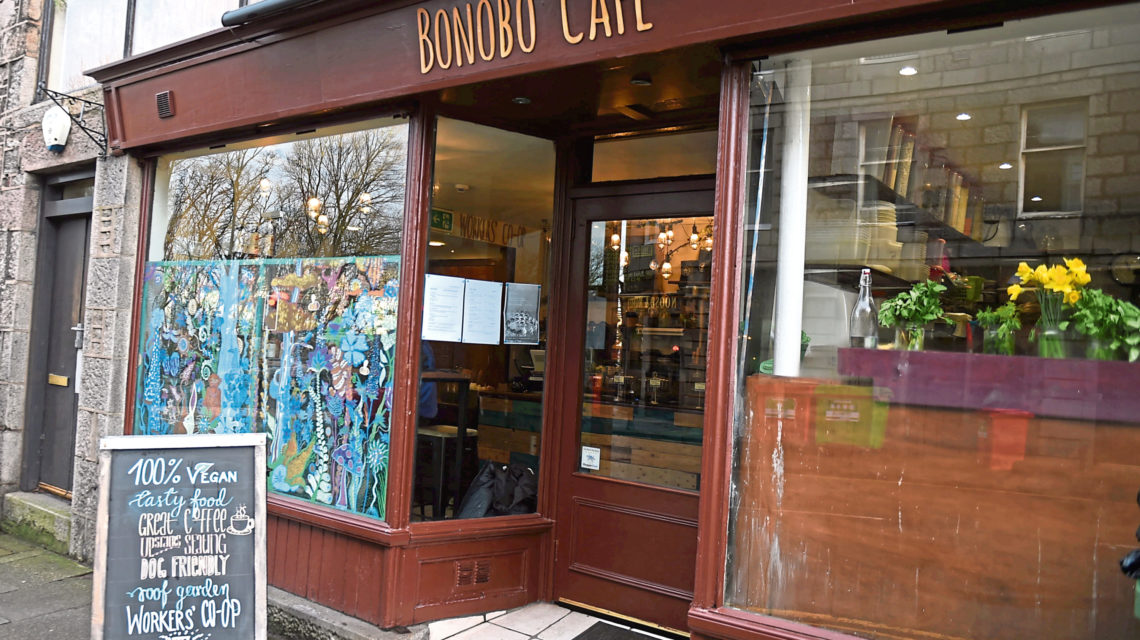 An Aberdeen cafe is to be featured in an iconic travel guide.
Bonobo Cafe, on Skene Street, announced it has been selected for the popular Lonely Planet Great Britain Travel Guide in 2019-2020.
The vegan cafe opened last year after a crowdfunding campaign raised more than £14,000 to get it up and running.
A workers co-operative, it is the first 100% vegan eatery in the city, and aims to be ethical in all respects.
The cafe revealed the news on its social media page last week, with a new sticker added to the window to reflect the accolade.
A spokeswoman for Bonobo Cafe spoke of the workers' joy at being recognised on such a prestigious list.
She said: "We are absolutely delighted to be included in the Lonely Planet Guide 2019.
"Being the only 100% vegan cafe in Aberdeen, it means the world to us.
"We are also a workers co-operative so it means a lot to all our staff."
Bonobo Cafe previously operated on Saturdays at the Aberdeen Wellbeing Centre at McCombie's Court, before deciding to open a new premises.
It was also shortlisted for a Crema award earlier this year, which celebrate the best of Scotland's cafes.
The 2019-2020 edition of the Lonely Planet Great Britain Travel Guide will be published in spring next year, however cafes and restaurants across the country have already begun to find out that they will be included.
First founded in 1973, the guide initially began after a trip through Europe and Asia by couple Maureen and Tony Wheeler.
The next edition of the travel guide is due to be released on May 1 2019.
It includes full colour maps, highlights and itinerary suggestions and other handy insider tips.
Aberdeen will be featured, alongside Scottish cities such as Inverness, Stirling and Glasgow. Across Great Britain, places including London, Canterbury, Cambridge, Oxford, Birmingham, Yorkshire, Newcastle and Cardiff will also appear.
The guide can be pre-ordered online, and has a recommended retail price of £19.99.
A spokeswoman for Lonely Planet said: "Aberdeen has lagged behind a bit in the vegetarian-restaurant stakes, so it was good to see this 100% vegan cafe open in 2017.
"The menu runs from breakfast (served till noon, and all day on Sunday) of avocado on toast or smoked carrot and cream-cheese bagel, to lunch dishes such as smoky pinto bean and sweetcorn wraps."