Top places for tasty burgers in Aberdeen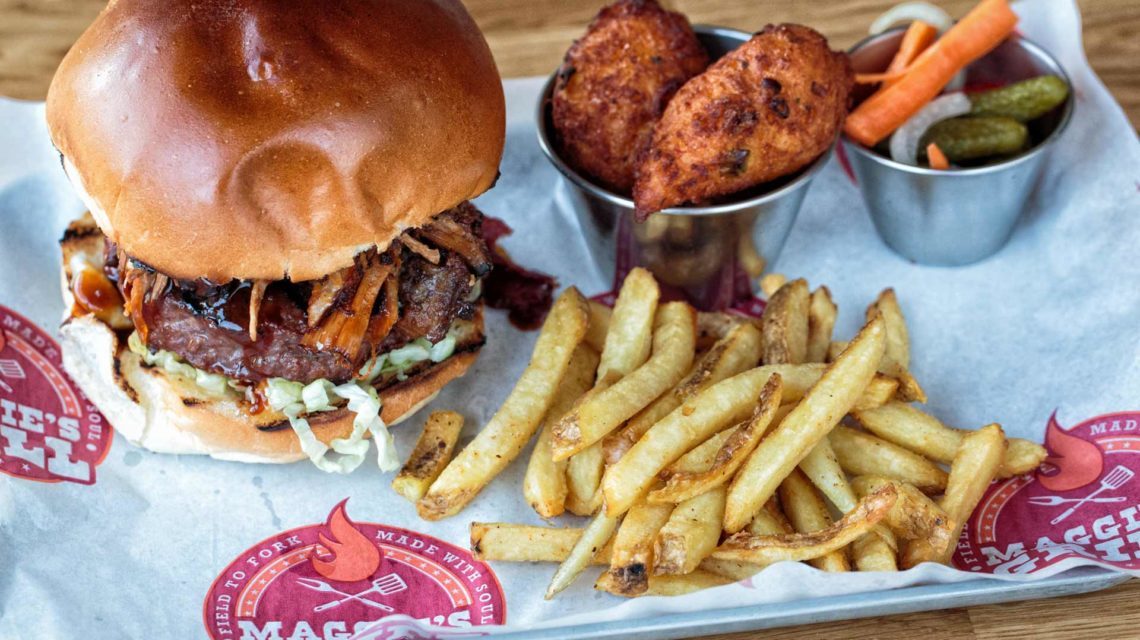 It's National Burger Day today which can only mean one thing, it's time to stop what you're doing and head out for the good stuff.
An opportunity to celebrate one of the world's most-loved foods, we've decided to pull together a hot list of our favourite places in Aberdeen to visit for the best burgers in town.
From Sailor Jerry glazed steak burgers to vegan burgers, and even mammoth burgers which stack copious amounts of chicken that almost sound too good to be true, we take a look at some of the must-try places to grab a good ol' burger at.
Maggies Grill
Today's special: Cajun blackened chicken burger, topped with smokey bacon and creamy Bella Dee cheese from the Devenick dairy! Served in a brioche bun with salad, cajun mayo, and fries on the side ???

Posted by Maggie's Grill on Sunday, 15 October 2017
If you love Southern food then Maggie's is the place for you. Featuring the Big Cheese, Buffalo, The Rodeo and the Triple Smoke Stack that is topped with smoked pulled pork and pulled brisket, there's something to make everyone's mouths water at this southern diner.
Holburn Street, Aberdeen
Angus & Ale
Known for their tasty finger lickin' burgers, Angus & Ale is a great pit stop for those venturing into town. Located on Adelphi Lane, the burger joint offers customers the chance to sit in or take away. Want 20% off your burgers today? Get your free voucher from  www.nationalburgerday.co.uk and get money off  your burgers all day.
Adelphi Lane, Aberdeen
BrewDog Castlegate
Best known for their Wings Wednesday offer – and their beer of course – the guys at BrewDog Castlegate have burgers to suit all. With favourites like the buffalo chicken burger, Cluck Norris and the chipotle chorizo burger on the menu, as well as their vegan option Hail Satan, this is one place you'll want to visit this National Burger Day.
Union Street, Aberdeen
The Wig
Like to personalise your burger? Then The Wig is the only place for you.
With 20 options to customise your burger – the fiery pulled pork and the Scotsman sounding like favourable options to us – there's guaranteed to be something for everyone when it comes to burgers at The Wig. That's not including their specialty burgers like The Ziggy Piggy and the Carnivore or their chicken tower burger which features a panko breaded chicken breast topped with hash browns, smoked bacon, cheese, salsa and two Cajun chicken goujons.
So if you want a good feed, this is the place to go.
Castle Street, Aberdeen
The Pier
Do you like rum and fancy a trip to the beach? Then head to The Pier for their signature Sailor Jerry glazed steak burger with Monterey Jack cheese. Creating their own bespoke Sailor Jerry sauce, the burger is not only cooked in the mouthwatering glaze, but is also served alongside a healthy helping of it on the side too. It's definitely worth the short visit from the city centre.
And, they even stamp the burger bun with the Sailor Jerry logo – the seal of approval.
Esplanade Sea Beach, Aberdeen
For more food and drink news click here.