Things to do in Aberdeen and Aberdeenshire: Discover Stonehaven's Banksy's artwork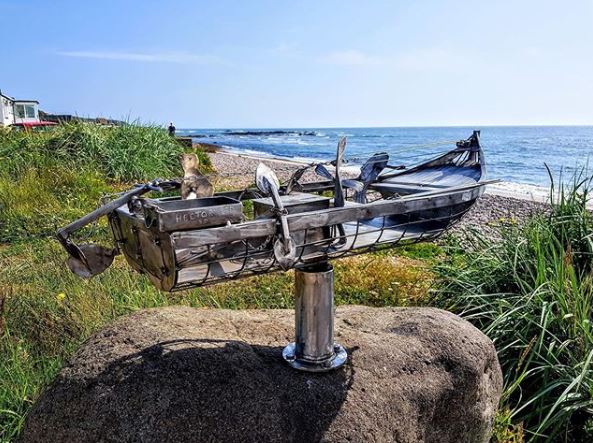 The north-east's very own Banksy is at it again – and this time he's created a new addition for Stonehaven's beach front.
Dubbed the "Stoney Banksy" sculptor Jim Malcolm has created yet another masterpiece which is now available for all to view alongside his other artworks at the beachfront.
Along the boardwalk of Stonehaven beach along to Backies car park on the shoreline, locals and tourists alike can find an array of sculptures.
A salmon fishing cobble is the latest addition to his collection, this time along the shore at Cowie.
Jim, who has been living in the coastal town for 15 years, finally dropped his welding mask to reveal his identity recently.
His sculptures have been featured on national television since they first started cropping up in the seaside town. A creel fishing boat he fashioned out of scrap metal last year appeared on Reporting Scotland and The One Show.
Despite the praise for much of the work, Jim insisted he's not an artist.
He said: "I'm not an artist, no. I'm just a guy that sticks metal together. I make sculptures for the simple fact I enjoy doing it."
Despite keeping his identity a secret, some of Jim's friends in the town knew about his undercover hobby – even leaving scrap metal at his door to be used in the work.
Jim's work is largely inspired by the sea, due to his experiences of sailing in his early years and working for much of his adult life on the water.
He said his first work, a steel salmon sculpture, started as a joke after a friend was found guilty of poaching. But what started as a joke quickly became a hobby, with a number of sculptures, including boats, a seal and a lighthouse, all dropped near the Stonehaven shoreline under cover of darkness.
See some of his works below:
The Salmon Fishing Cobble
The Fishing Boat:
The Lighthouse:
The Viking Long Boat
Crab Seth and lobster James' 'Rose' Boat

The Trawler