North-east breweries dominate Scottish Beer Awards 2019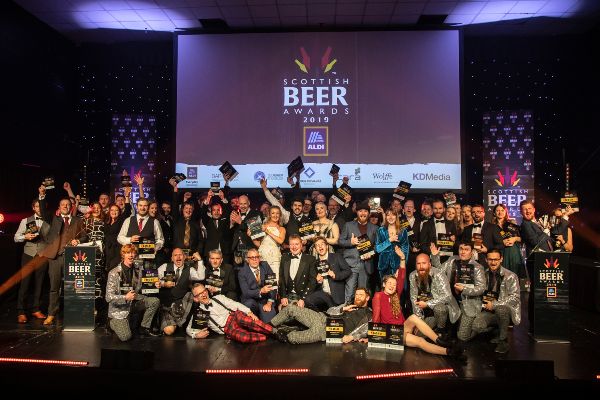 Two north-east breweries have dominated the Scottish Beer Awards 2019.
Aberdeen's Fierce Beer and beer giants BrewDog and BrewDog Overworks took home 21 accolades between them at the event in Edinburgh.
BrewDog and BrewDog Overworks took home 11 accolades altogether while Fierce Beer scooped 10 awards including the prestigious Growth Business of the Year award.
Stonehaven's Six Degrees North and Reid's Gold Brewing were also recognised at the event.
Brewer Do Dongers of Fierce Beer walked away with the Brewer of the Year title and BrewDog's AGM, which attracts thousands of people to it every year, was recognised as the Best Beer Event.
BrewDog Overworks sleekit sour won the title of Beer of the Year.
In the taste categories Fierce's gluten-free pilsner won gold for Best Pilsner and Stonehaven's Six Degrees North's pelton pilsner won silver.
Best Pale Ale went to BrewDog's vagabond pale ale winning gold, and the beer firm was also recognised with a bronze for its hop fiction brew.
The WINNER of Growth Business of the Year is @fiercebeer #beerawards19 #scottishbeer #scottishbrewing pic.twitter.com/jgYMri7tNN

— Scottish Beer Awards (@Scotbeerawards) September 19, 2019
Fierce Beer won a gold for its easy shift beer in the Best Session Beer category and another Stonehaven brewer, Reid's Golf Brewing Company, received bronze for its green monkey beer.
The Best Sour Beer category was dominated by BrewDog Overworks taking home gold, silver and bronze for its sleekit sour, cosmic crush raspberry and cosmic crush cherry.
BrewDog's zombie cake porter was awarded gold in the Best Porter award with Fierce Beer's cafe racer picking up silver. Fierce also won silver for its moose mousse in Best Stout and also won gold for Best Amplified Beer imperial cafe racer.
BrewDog's Elvis juice got a gold in Best Fruit Forward.
Fierce Beer once again stole the show being awarded silver for its bourbon barrel-aged imperial cafe racer in the Best Barrel Aged Beer and its coconut very big moose in the Best Specialty Beer. It also won bronze for its People Like Buns in the category.