MAP: North-east foodies rejoice! Aberdeen Restaurant Week returns next week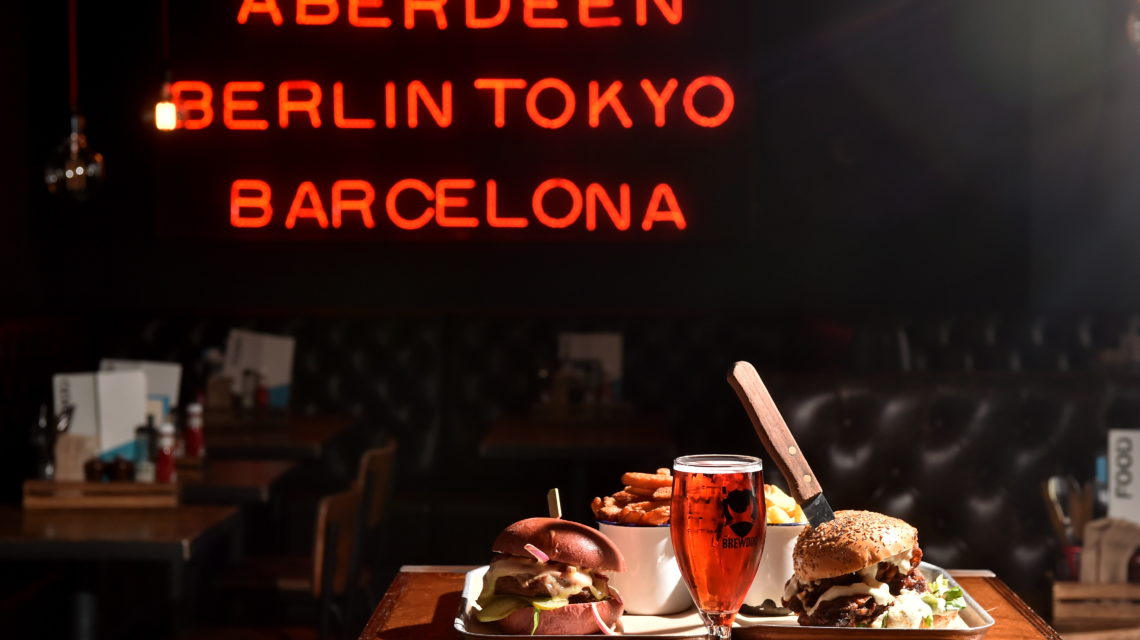 Aberdeen foodies are in for a treat next week as Aberdeen Restaurant Week returns.
The initiative, organised by Aberdeen Inspired, will take place from Monday to Sunday July 21.
Thirty-six restaurants across the city – and the culinary spectrum – have signed up and are offering special two-course lunches for £10 and three-course dinners for £20.
Now returning for the fourth time, Aberdeen Restaurant Week also features Malaysian afternoon teas, tasting dinners, gin sampling and more.

See full map key at the bottom
Adrian Watson, chief executive of Aberdeen Inspired, said: "Aberdeen Restaurant Week is a great way to explore the city in a different way and discover the huge variety of options that Aberdeen has when it comes to eating out.
"From more established favourites to fantastic new offerings, we have a wide range of restaurants taking part and plenty to tempt all tastes.
"We would urge the public to check out this map and get out and about this Aberdeen Restaurant Week to support our local businesses."
The Mariner Hotel in Aberdeen is taking part for the third time and owner Mike Edwards is delighted with how the project has developed.
He said: "This will be our third time participating in Aberdeen Restaurant Week.
After hearing all the great feedback from the inaugural event last year, we were keen to be part of this foodie festival.
"It gives all the participating restaurants a chance to showcase their offerings to a whole new audience and restaurateurs are always keen to try to make new regulars from first-time diners.
"There's a huge range of different cuisines on offer this time around which is excellent and shows how diverse the menus have become.
"As our seafood restaurant Atlantis looks to celebrate its 40th anniversary, we are keen to introduce ourselves to a whole new generation of Aberdeen gourmets with the evening menu we are running next week.
"I see this festival continuing to grow year on year and eventually not just being something for Aberdonians to enjoy, but also as a great pull for food tourists to come and participate in as Aberdeen continues to improve its offering as a travel destination."
The McGinty's Group is also an avid supporter with three of its venues – The Stag, McGinty's Meal An' Ale and Ferryhill House Hotel – involved.
Jillian Miller, sales and marketing director, added: "It is fantastic to see Aberdeen Restaurant Week making a return following its previous successful campaigns.
"As a local business, it provides us with a great opportunity to showcase our offering to those who may not have dined with us before while also encouraging people to get out and explore the city centre and the amazing businesses in the area."
Aberdeen Restaurant Week aims to increase footfall to local establishments across the Business Improvement District area and further afield.
For more information and for the full line-up of participating restaurants visit aberdeenrestaurantweek.com
List of all the venues participating
Atlantis – The Mariner Hotel349 Great Western Road, Aberdeen AB10 6NW
Avo – Ground Floor, 8-10 off Market Street, The Green, Aberdeen AB11 5NX
Bistro Verde – Unit 1-2 The Green, Aberdeen AB11 6NY
The Braided Fig – 39 Summer Street, Aberdeen AB10 1SB
Brewdog Castlegate – 5-9 Union Street, Aberdeen AB11 5BU
Cafe 52 – 52 The Green, Aberdeen AB11 6PE
Cafe Andaluz – 5 Bon-Accord Street, Aberdeen AB11 6FX
Cafe Boheme – 23 Windmill Brae, Aberdeen AB11 6HU
Carmelite Hotel – Stirling Street, Aberdeen AB11 6JU
Chaophraya – 1 Union Terrace, Aberdeen AB10 1NJ
The City Bar & Diner – 37-39 Netherkirkgate, Aberdeen AB10 1AU
Copthorne Hotel – 122 Huntly Street, Aberdeen AB10 1SU
Da Vinci – 1 Alford Lane, Aberdeen AB10 1YB
Di Maggio's – George Street, Aberdeen AB25 1HZ
Ferryhill House Hotel – 169 Bon-Accord Street, Aberdeen AB11 6UA
Foodstory – 13-15 Thistle Street, Aberdeen AB10 1XZ
Hop and Anchor – 33 Exchange Street, Aberdeen AB11 6PH
Howies – 50 Chapel Street, Aberdeen AB10 1SN
Jack's Steakhouse and Grill – 150 Union Street, Aberdeen AB10 1QX
Kirkview Cafe – 27-29 Union Terrace, Aberdeen AB10 1NN
The Lounge Bar & Kitchen – 11 Market Street, Aberdeen AB11 5PY
Mackie's 19.2 – Marischal Square, Broad Street, Aberdeen AB10 1BL
McGinty's Meal An' Ale – 504 Union Street, Aberdeen AB10 1TT
Molly's Bistro – Aberdeen Douglas Hotel, 43-45 Market Street, Aberdeen AB11 5EL
Native – 31 St Andrew Street, Aberdeen AB25 1JA
Prezzo – Unit A2 Marischal Square, Broad Street, Aberdeen AB10 1BL
Revolucion de Cuba – The Academy Centre Courtyard, Belmont Street, Aberdeen AB10 1LB
Revolution25 Belmont Street, Aberdeen AB10 1JS
Selera Malaysia Bistro – 19 Correction Wynd, Aberdeen AB10 1HP
Shri Bheema – 15-17 Belmont Street, Aberdeen AB10 1JR
Sneap, Slow Food Pop-Up @ So… – So…, 269 Union Street, Aberdeen AB11 6BR
The Spiritualist –  67 Langstane Place, Aberdeen AB11 6EN
The Stag – 6 Crown Street, Aberdeen AB11 6HB
The Station Hotel – 78 Guild Street, Aberdeen AB11 6GN
Thaikhun – 29 First Level Mall Union Square, Guild Square, Aberdeen AB11 5RG
Topolabamba – 367 Union Street, Aberdeen AB11 6BT