Little Miss Sunshine to grace stage of Aberdeen's HMT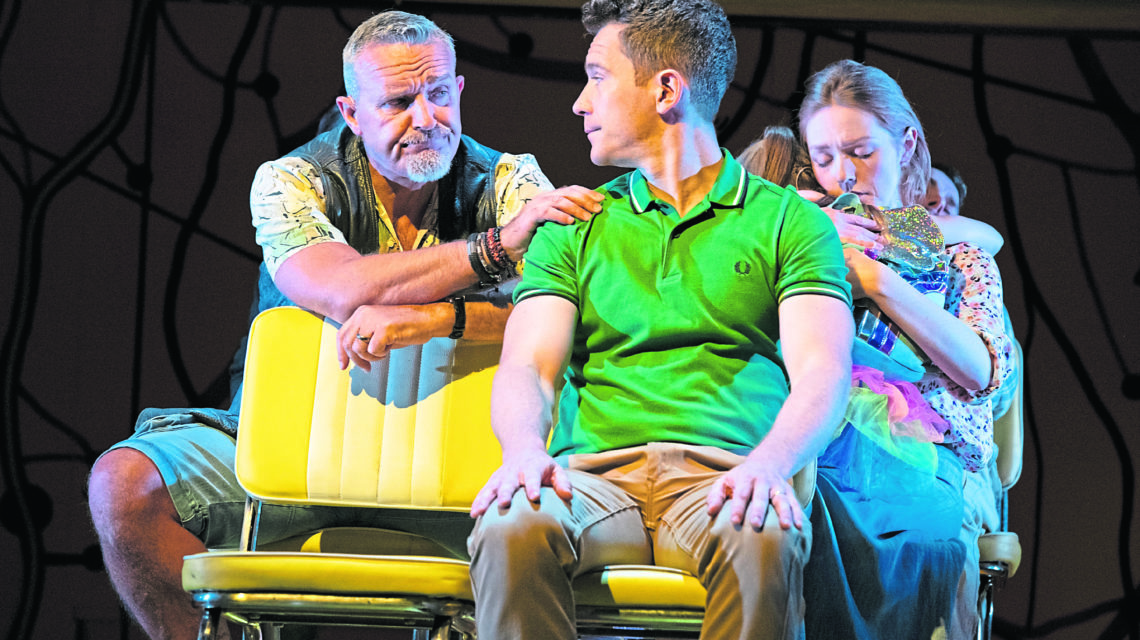 If you go to see Little Miss Sunshine at His Majesty's next week, don't expect a Roger Hargreaves illustrated kids' book, says Mark Moraghan.
"It's not the Mister Men or Little Misses, it's very adult so don't bring any children under 14… there's lots of risque language," joked the Holby City actor who plays Grandpa in the musical adaptation of the hit 2006 movie.
What you will get is a brilliant night of entertainment as you follow Olive, a young Albuquerque girl who wins a place in a beauty pageant and sets off on a road trip to California, with her family, said Mark.
"Olive is not your typical pageant beauty queen, but she's very enthusiastic and wants to become Albuquerque's first Miss America.
"Her Grandpa is teaching her some routines," he said. "He's a character all to himself, he's a naughty boy really.
"Basically, it's a dysfunctional family who go through various conundrums on the journey down to California and it all unfolds on Grandpa's VW camper van.
"All aspects of human life are on the bus and it plays out in the show with some great music and lots of comedy.
"The audience can expect to fall in love with Olive and root for her… and be shocked by Grandpa.
"Some of his antics raise a few eyebrows," he said.
Mark, who has also had long-running roles in Emmerdale, Casualty and Heartbeat says he's delighted to be playing Grandpa, a role that earned Alan Arkin an Oscar.
"It's a gift of a part. I like the fact he's very non-PC, is the phrase people use, although I'm not a fan of that phrase.
"He goes against the grain, he doesn't suffer fools and is a law unto himself. He lives his life the way he wants to live it and that's what drew me to the character."
Liverpudlian Mark, who was bitten by the acting bug while in primary school, is a grandfather himself. But that's where any similarities with the character end.
"I'm not like that with my grandkids, God no. I'm very laid-back and quite straight-laced nowadays.
"I don't drink or smoke. I've got no vices other than coffee, now. That's not to say I didn't have any in my younger days, but as I've got older I've slowed down a little bit."
Mark is a big fan of Alan Arkin, but admits the film version of Little Miss Sunshine went "under my radar."
"It wasn't until I got the part and established how I was going to play him that I watched the film," he said.
"I was pleasantly surprised that Alan Arkin, to a degree, wasn't a million miles away from where I pitched my Grandpa.
"My Grandpa is larger than life and obviously, because it's a musical, you have to pitch it slightly bigger than the film. But he's equally as naughty."
He's full of praise with the way the clever direction and set has helped transform what is a road movie to a stage production. The music helps drive it along, too.
"Music is a great vehicle for telling a lot in a short space of time. The songs tell a lot of the story without having to go through a long process of scenes. You can make shortcuts by using songs and the songs are great. Not your typical musical fare."
And he loves the number he gets to sing during the show.
"It's quite naughty where Grandpa conveys to his grandson the joys of sex basically and says to him to get as much as you can.
"All the while Olive is sat on the bus next to him but she's got her headphones on and can't hear a word. It's a great number and very funny.
"All the songs are very clever and well-written."
So all in all, he can't recommend Little Miss Sunshine highly enough.
"There is great music, lots of comedy and Olive is such a joy to watch. It's a great fun and you will be left with a smile on your face," said Mark.
Little Miss Sunshine is at His Majesty's Theatre from Tuesday to Saturday September 21