Joyful Sister Act is habit forming for Aberdeen Youth Music Theatre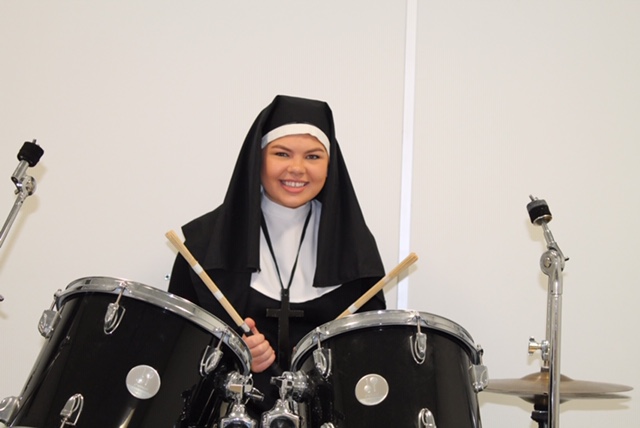 A joyful, uplifting story with a powerful message and fantastic music… now that sounds habit forming.
Which is exactly what Aberdeen Youth Music Theatre (AYMT) will think of their production of Sister Act when it opens at Aberdeen's Tivoli Theatre tomorrow night.
"It's a brilliant show," said director David Ward.
"It is full of fun and just a joyful show to work on. It has such great music, a nice cross section of gospel, or rock of ballads.
"It is also great comedy. There are some wonderful one-liners."
David said Sister Act is an excellent ensemble musical, suited to the talents of AYMT's intermediate group, who are aged from 12 to 16.
He has been working with the cast to hone the show – based on the film starring Whoopi Goldberg – to perfection.  It follows disco diva Deloris Van Cartier who is put in protective custody in a convent after witness a mob murder.
"It is a very big show and initially some of it was quite difficult for them. Musically, it was quite testing for them, but that's good. It's good to stretch their vocals like that and they are loving it.".
"We have 58 in the cast  – that's a lot of nuns."
David said the musical follows the story of the film closely with much of the same music.
He said: "Any musical or play has to have a conflict element and Sister Act has in the character of Deloris, who is so street-wise and very opinionated – and at the same time the Mother Superior who is an immovable force.
"You put those two polar opposites together, it's just set for some wonderful confrontations."
AYMT has double cast Deloris, with McKenzie Tocher and Ellie Yates, and Mother Superior with Jennifer McClung and Rhiannon Pirie.
David said the whole cast are looking forward to getting into the Tivoli Theatre.
"It's a great place and has a lovely atmosphere and it's a very welcoming theatre -a smashing space," he said.
And David thinks audiences will love the show.
"They should feel us feeling really uplifted. It has that kind of feel to it," he said.
"Although it is a fun, sit back and let it wash over you and enjoy it show, it has a deeper meaning.
"It shows that different communities and lifestyles can live together, although they are opposites.
"It's about the universal power of friendship and respect for each other. Nowadays I think that's quite a good thing."
AYMT's Sister Act is at the Tivoli from tomorrow until Saturday.