Joseph and The Amazing Technicolor Dreamcoat to take to stage of Aberdeen's HMT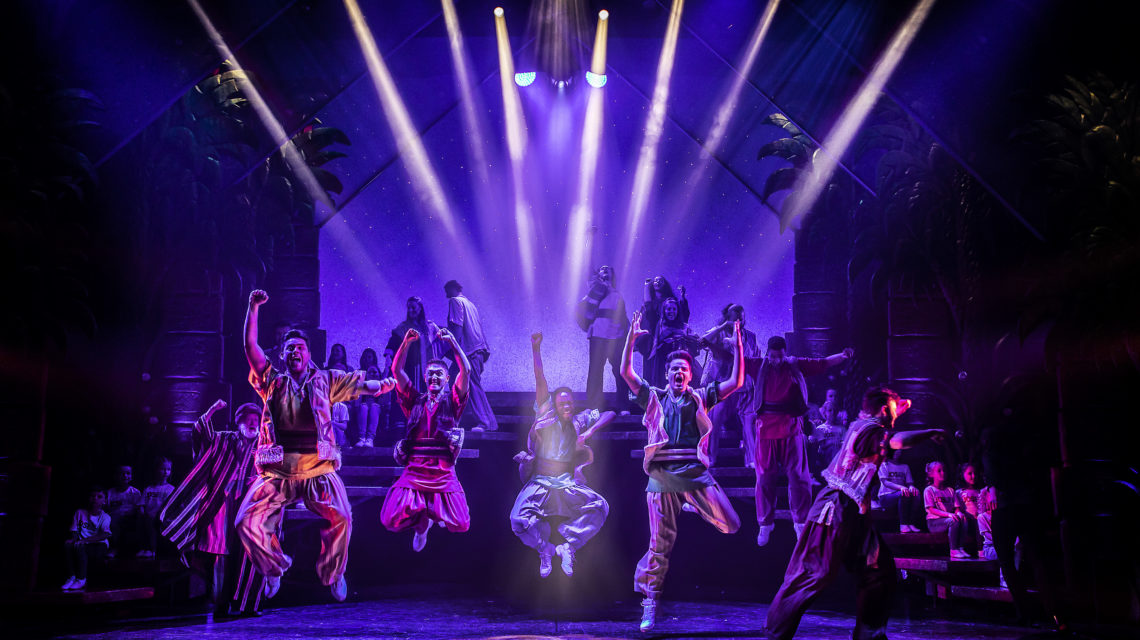 Any Dream Will Do? That's something you should ask Alexandra Doar about when she arrives in Aberdeen with Joseph And The Amazing Technicolour Dreamcoat.
Except in her case it's about making dreams come true by landing her first professional acting role as the leading lady in a prestigious national tour of an iconic musical.
It's all the more remarkable because Alexandra only graduated from her acting course before she auditioned for and won the role of the Narrator in Joseph.
She made her debut in the show just two weeks ago – at about the same time she formally graduated from her drama school.
She said: "It is absolutely incredible. I grew up on Joseph and Cats. I really always wanted to play this role, so it's a dream come true to do it.
"I couldn't be anywhere better."
Alexandra, who was born the UK but brought up in Southern California before moving back to Britain to study drama, is aware she has some big shoes to fill.
The Narrator has been played by some big names, including Sheridan Smith in a recent West End revival – not that Alexandra is too daunted by that.
She said: "Instead of viewing it as being a daunting, scary thing, I just feel really honoured I have been able to share the role with these people.
"If someone has deemed me worthy of playing such an incredible part, it has all been worth it and the hard work has paid off, I suppose."
Alexandra loves the role of the Narrator, who is central to telling the story as the songs and dance unfold on stage. And, along with the rest of the cast, she is looking forward to bringing the show to His Majesty's Theatre for its five-day run on Tuesday.
"It's kind of what it says on the tin. She leads you through the whole story. The show starts almost as if she's telling a bedtime story," said Alexandra.
"At every city we go to we are joined by a children's choir on stage, so there's quite a few points where I'm delivering the story to the children. She breaks the fourth wall a lot and it becomes a very personalised thing between the narrator and the children.
"She is almost like the spirit of storytelling who brings all of these biblical characters to life. It's a fun, colourful retelling of the story."
Alexandra has a couple of favourite songs which she sings in Joseph. One is at the beginning of the show when she introduces the characters.
"She brings out Joseph's father and all the brothers and it's as if they are just being plucked out of her head," she said.
"It's really lively, it's quite an upbeat song and there's loads of action going on on stage."
Her other favourite is at the beginning of act two where she introduces the character of Pharaoh.
"It's a big solo number, but musically it is so wonderful and loads of fun to sing," she said.
However, as a fan her standout moment is towards the end of the show where Joseph reveals himself to his brothers.
"There's a gorgeous choral moment that all of the brothers sing. It's a really soft quiet song and it is absolutely beautiful. It is a still moment. Every once in a while I well up a bit. It just shows the heart of the story."
Of course, Joseph is a staple of musical theatre and tours frequently. This version, from the Bill Kenwright Productions stable, is a real treat, said Alexandra.
"It is just so much fun. It's as much fun for us to be up on stage as it is for the audience, because of the sort of musical it is. It's quite a heartfelt story, but the way it is written and portrayed it has such a lot of heart.
"It is something everyone can enjoy, it doesn't matter how old you are. Even though it's a show directed in a way almost as a children's story, there are so many characters that adults can relate with. There is so much in the show audience members of any age can enjoy.
"It's a timeless piece."
Alexandra's love of musical theatre – and Andrew Lloyd Webber's work – began when she was just a little girl. It was all thanks to her grandparents picking her up from ballet class school, taking her home then letting her watch movies while they made dinner.
"I would watch Cats and have my little tail pinned on to the back of my leotard and my little ears. Then it was Joseph and Phantom Of The Opera and then Rodgers and Hammerstein musicals, like The Sound Of Music," she said.
"I realised how much I loved them and if I could live my life doing exactly what I wanted to do, it made sense in my head that was where I had to be."
She still has to pinch herself to realise she is now starring in a national tour of the show she watched. "It's still not really real in my head, it isn't," she said.
Not that Alexandra has any plans on stopping there. She has her eyes fixed on the future.
"There are definitely a couple of roles I really dream of, quite strong big female roles. I would love to play Eliza Doolittle in My Fair Lady, also Christine in Phantom Of The Opera. I just want to have as long a career as possible.
"I just love being on stage and seeing the audience enjoying themselves.
"In Joseph, at the end they are all standing and clapping and dancing and I'm just laughing my head off on stage. I just think I get to give people this joy."
Any Dream Will Do sounds quite apt for Alexandra, then.
"Very," she said, laughing.
Joseph And The Amazing Technicolor Dreamcoat will be at His Majesty's Theatre from Tuesday to Saturday