How to throw the ultimate Galentine's party in the north-east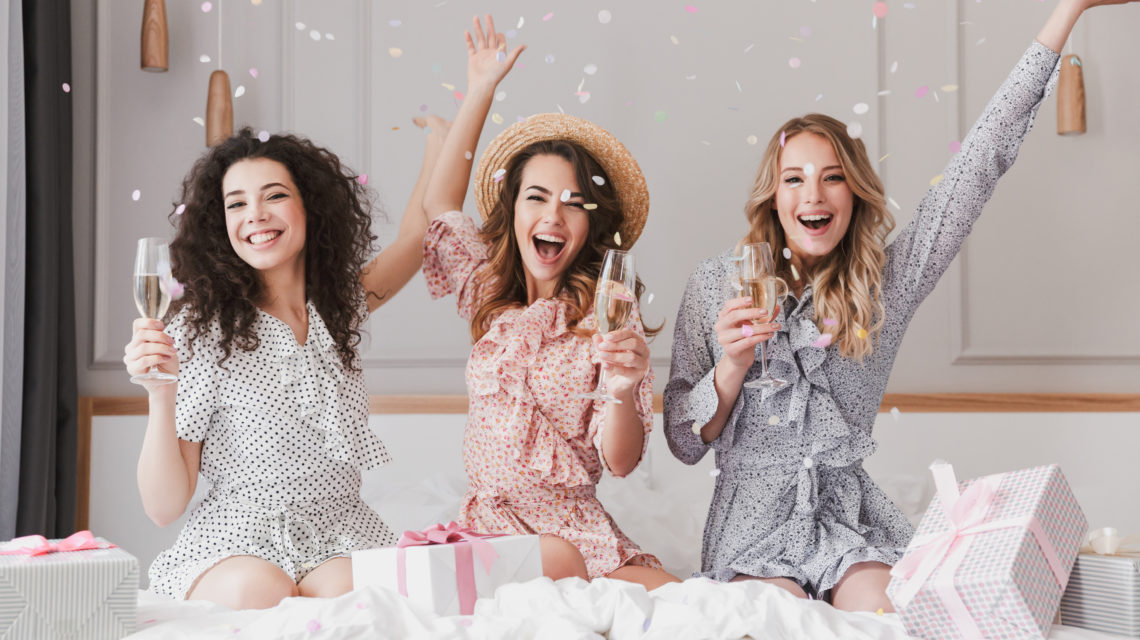 This year it's all about Galentine's Day.
Forget about feeling blue about being a singleton – embrace it! This Thursday is Galentine's Day and it calls for a night in with your besties. Or why not host a Galentine's party this weekend and make a real night of it?
Whether you're after an evening of indulging in mouth-watering treats and cocktails, or in desperate need of a pamper session, we've put together an extensive line-up of Galentine's party ideas that are sure to leave you inspired.
---
Treats & Light Bites
One thing's for sure, your table needs to be oozing with delicious sweet treats for your girls to indulge in.
So, get in touch with the businesses below to secure your goodies in time. Or if you're really hoping to impress, try making some for yourself at home.
Cupcakes by Jo – Crown Street, Aberdeen
Millie's Cookies – The Bon Accord Centre, George Street, Aberdeen
Choco-la-mont – The Galleria, Unit 3, Langstane Place, Aberdeen
Almondine – Thistle Street, Aberdeen
Cake You Happy – Baillie Drive, Alford, Aberdeenshire
By Platter – Aberdeen
J G Ross – St Swithin Street, Aberdeen
Baskin Robbins – Thistle Street, Aberdeen
---
Cocktails & Mocktails
Whether you're prone to enjoying a tipple during a celebration or plan on sticking to booze-free drinks, there are an abundance of options for you to choose from.
Courtesy of Aberdeen's top bartenders and business owners, we've put together a selection of their most popular cocktails and non-alcoholic options for you and the girls to mix it up with at home.
Granite North Gin
Follow the recipe below to recreate Granite North Gin's Bramble.
Recipe
50ml Granite North Gin
75ml of fresh grapefruit juice
5 fresh blackberries
30ml sugar syrup
Blackberry and grapefruit to garnish
Rugged chunks of ice
Method
Add the sugar syrup to a low ball glass.
Muddle the blackberries into the sugar syrup.
Half fill the glass with the rugged ice.
Pour the gin over the ice and add half the grapefruit juice.
Top up the glass with ice and add the remaining grapefruit juice.
Garnish with a fresh blackberry and grapefruit.
Banchory Lodge Hotel
Impress your friends and re-create Banchory Lodge Hotel's Esker Honey Punch with this simple recipe.
Recipe
37.5ml Esker Honey Spiced gin
25ml pink grapefruit juice
6ml lemon luice
1 dash of agave syrup
Method
Shake all of the ingredients in a cocktail shaker with ice.
Fine strain into a wine glass and add cubed ice.
Top with a slice of lemon, mint sprig and frozen berries.
Long Dog Cafe
Fancy a dessert so delicious it comes packed full of sweets and is finished with a sprinkling of edible glitter? We've got just the ticket.
Recipe
Chocolate spread
Sprinkles
Jam
Strawberry sauce
2 scoops of Strawberry ice cream
2 scoops of traditional ice cream
1 pump of vanilla syrup
Slug of milk
Flying saucers
Rainbow drops
Mini marshmallows
Rainbow bacon
Refresher bar
Edible glitter
Method
Decorate your glass
Cover the rim with white chocolate spread and sprinkles
Cover the inside with jam
Drench the outside with strawberry sauce
Put 2 x scoops of Strawberry Ice Cream, 2 x scoops of Traditional ice cream, 1 x pump of vanilla syrup and a slug of milk.
Blend
Put the shake into the glass and top with cream. Top tip: Don't move the glass too quick to ensure you have a sturdy cream base for all your toppings!
Add four flying saucers, Rainbow Drops, mini marshmallows, rainbow bacon and even more sprinkles.
Now for the horn. Wrap a refresher around a straw and add to the edge of the glass
For extra va va voom sprinkle with edible glitter and enjoy.
Cognito On The Corner
Impress your friends and re-create Cognito On The Corner's French Martini this weekend with this simple recipe.
Recipe
25ml Chambord
25ml raspberry liqueur
25ml vodka
75ml pineapple juice
15ml gomme
Method
Pour all the ingredients into a shaker with ice.Shake hard to create the foam needed to top the drink
Single strain into a martini glass, pouring the foam on top and garnish with a raspberry.
The Tippling House
This mocktail features the world's first distilled non-alcoholic spirit – Seedlip – and sweet cane sugar syrup.
Recipe
50ml Seedlip Garden 108
20ml Supasawa Seriously Sour cocktail mixer
15ml Pure cane sugar syrup
Method
Stir the Seedlip down with pure cane sugar syrup, Supasawa and cubed ice.
Strain into a chilled cocktail glass, and serve straight up with a pineapple leaf to garnish.
Lane 7
If rum cocktails are right up your alley, chances are you will love Lane 7's Raspberry Beret.
Recipe
25ml Crème De Mur
25ml Bacardi
12.5ml lime juice
12.5ml Gomme4- fresh raspberries
50ml apple juice
Method
Add all the Ingredients into a Boston tin
Add 6 ice cubes and shake well
---
Decor & Party Pieces
You've nailed the food and drink side of things, but now it's time to spruce up your interior spaces.
But to make this job a little bit easier for you, here's some inspiration to help you perfect your Galentine's Day decor and quirky party pieces.
Glitter Wall – Lombardi Events
Table Sets
Doughnut Wall
Cupcake Wall – Cupcakes by Jo
Balloons
Flower Wall – Golden Girls Events
Tableware
Matching Pyjamas
---
Pampering & Beauty
If it's a calm night you're after, then fear not.
Available in venues across the north-east, we've rounded up a selection of superb pamper sets for you and your besties to take advantage of during your party.
Marks & Spencer – Union Square, Aberdeen
Superdrug – Trinity Centre, Aberdeen
Lush – Union Street, Aberdeen
Boots – Union Square, Aberdeen
Debenhams – Trinity Centre, Aberdeen
---
Fun & Games
No Galentine's celebration is complete without a few party games.
From prosecco pong, to truth or dare or boozy bingo, your night certainly won't be lacking in fun.
Prosecco Pong
Truth Or Dare Cards
Mini Bake Off Competition
Boozy Bingo
Take Polaroids
For more news and features, click here.