How to recreate Sam Pack's Salmon and courgette lasagne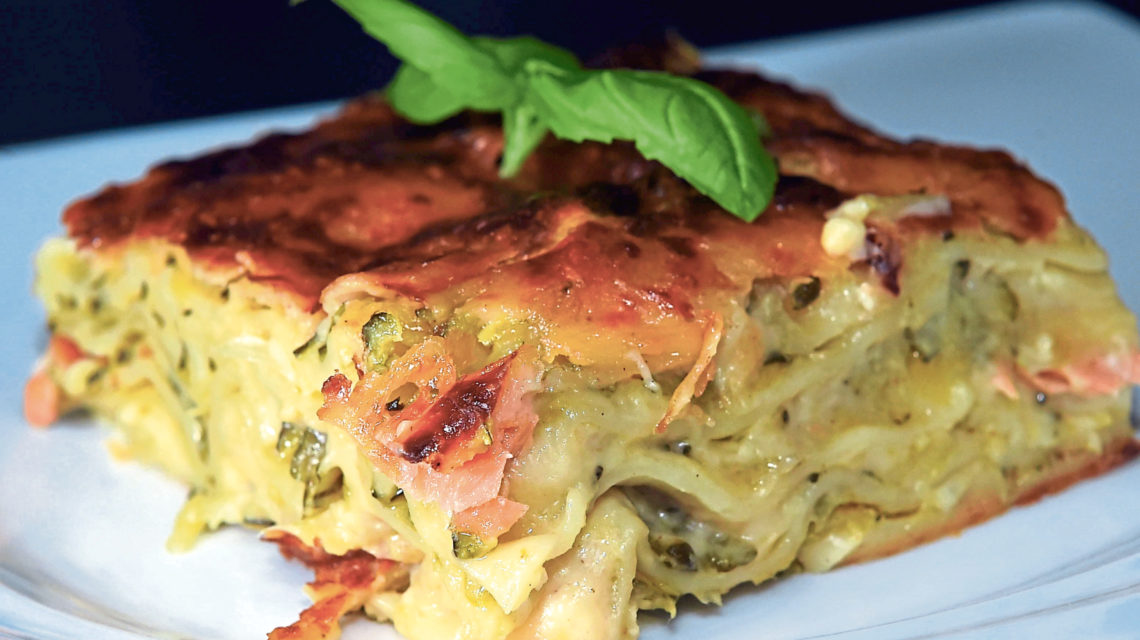 Who knew lasagne could come in so many different variations.
From beef in a thick tomato sauce to a light white sauce and chicken, not to mention seafood, we've teamed up with Sam Pack of Aberdeenshire cooking school Cooks Day Off who has created this gorgeous salmon and courgette version of the delicious pasta dish.
Why not try recreate her version below? Or if you're feeling adventurous, put your own spin on it!
Ingredients:
3 tbsp olive oil
500g courgette, diced
4 leeks finely sliced
2 cloves garlic, crushed
250g smoked salmon
12-15 fresh lasagne sheets
1500ml milk
150g butter
150g flour
Salt and nutmeg to taste
Parmesan cheese to top
Method:
For the vegetable sauce
Add oil to a large pan and gently fry the leeks. Then add garlic and cook for a few more minutes.
Add the courgettes and season well and toss the vegetables to coat them in the oil and cook on a medium heat for 20 minutes.
Prepare the white sauce
Bring the milk to boil.
Melt butter in a saucepan and add the flour to create a roux. Stir vigorously with a whisk so that no lumps are formed.
Gently pour in some of the milk, allowing the roux to absorb and then gradually add more milk whilst continuing to stir until the sauce develops.
Cook the sauce over low heat until it thickens enough to coat the back of a spoon (around 3 minutes) and add salt and nutmeg to taste.
Remove sauce from heat and set aside.
Assemble and bake:
Preheat the oven to 180C.
Pour a ladle of the white sauce over the bottom of a 20x30cm baking dish.
Lay 3 to 4 lasagne sheets side by side then add one spoon of courgette sauce and 2 spoons of the white sauce on each sheet.
Repeat for 4 or 5 layers of pasta adding the salmon on the last 2 layers only.
Cover the top sheets with the same amount of vegetables and white sauce.
Sprinkle with parmesan cheese.
Cover the baking dish with aluminum foil and bake for 30 minutes.
Check if pasta is cooked by inserting a knife and if it goes through like "butter", then the pasta is fully cooked.
Bake uncovered for additional 10 minutes until golden brown.
Remove from oven, then let stand for a few minutes before slicing and serving.