How to recreate Eat on the Green's herb-crusted venison with warm winter salad and garlic tatties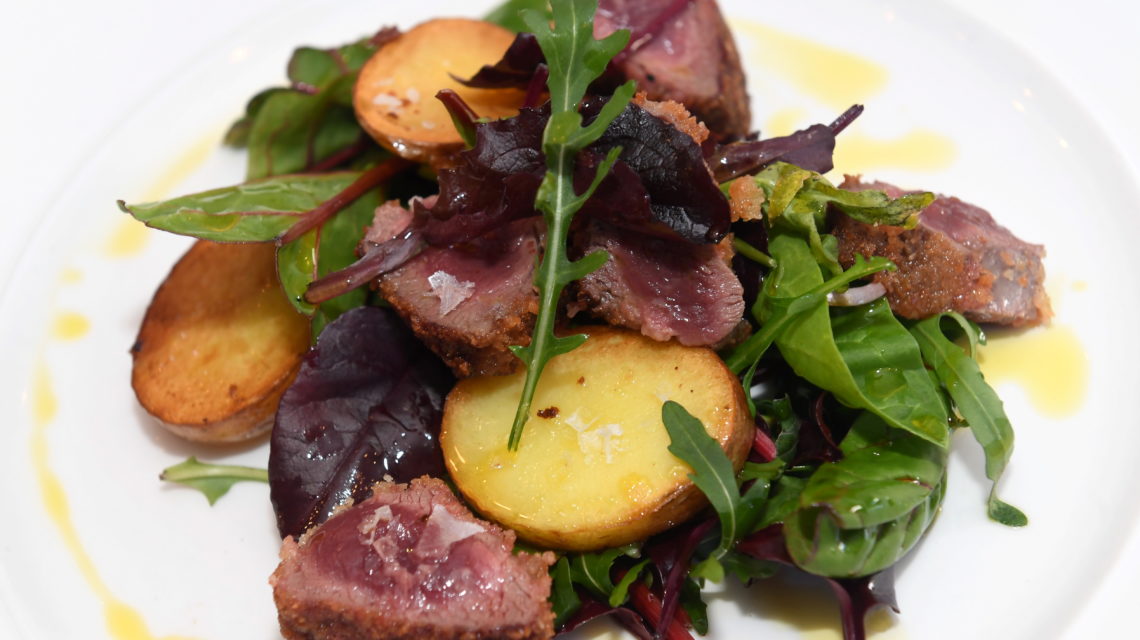 This winter warmer is ideal for the cooler winter days we've seen of recent.
Featuring gorgeous garlic tatties, this herb-crusted venison dish is the perfect game for the season.
And with a variety of greens and herbs added into the mix, the dish is packed full of earthy, peppery flavours too.
Go on, give it a shot and let us know how you got on creating it for your friends and family.
Ingredients
For the garden herb breadcrumbs:
2-3 slices bread
Sea salt (large pinch of)
25g fresh garden herbs
For the herb-crusted venison:
1 fillet of venison
4 free range egg whites (beaten)
100g fresh garden herb breadcrumbs
Rapeseed oil (drizzle of)
For the garlic herb butter:
1 clove garlic
4 stalks parsley
1 sprig thyme
1 sprig rosemary
50g Scottish salted butter
Sea salt (pinch of)
For the garlic new tatties:
500g Jazzy Aberdeenshire new season tatties
Sea salt
For the crispy kale:
Black kale
Oil (to fry)
Salt (pinch of)
To serve:
Mixed salad leaves (rocket, mizuna, baby spinach)
Method
For the garden herb breadcrumbs:
Blitz the bread on its own for a few minutes to make the breadcrumbs.
Add the fresh garden herbs and salt and blitz until it resembles a fine crumb.
For the herb-crusted venison:
Trim the venison, dip into the beaten egg white then into the garden herb crumb and place on kitchen paper.
Preheat a non-stick frying pan with a generous splash of rapeseed oil, then gently place the crusted venison into the hot oil, turning after 2 minutes until both sides are golden.
Remove from the pan and leave to rest on a cooling rack before carving.
For the garlic butter:
Roughly chop the garlic, parsley, thyme and rosemary. Add the butter and sea salt and gently melt on a low heat to infuse the flavours. Correct the seasoning if necessary.
For the garlic new tatties:
Gently wash the new tatties, place in a saucepan with a sprinkle of sea salt and any remaining herbs and simmer for approximately 10 minutes until tender.
Drain from the water and lightly toss in the garlic herb butter.
For the crispy kale:
Wash and dry the kale. Shallow or deep fry (185C) for a couple of minutes until crispy. Place on kitchen paper and sprinkle with a pinch of salt.
To assemble:
Place the mixed leaves on a rustic sharing platter and place the garlic new tatties on the leaves. Lay the carved crusted venison on the tatties and dress all with the remaining garlic butter.
Chef's tip
Use a food processor to make breadcrumbs, then leave on a tray to dry out for a few hours before coating the venison.