How to make NESCol's Gate 63 Roulade of Lemon Sole with Salmon Mousseline and White Wine and Chive Sauce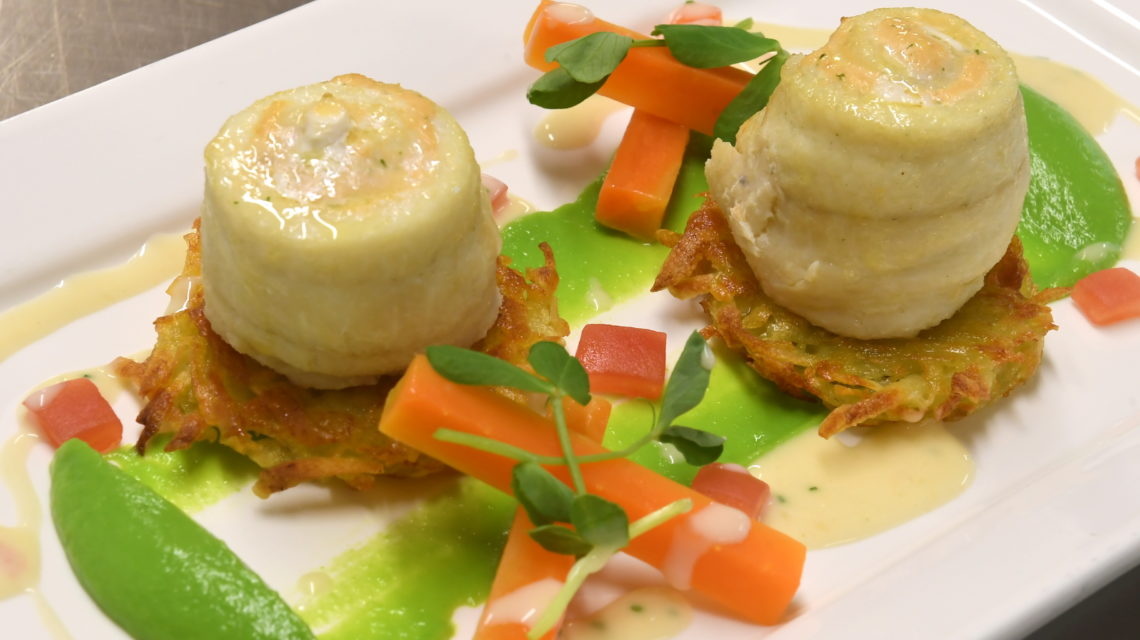 Fish is an excellent choice of protein and when it comes to looking to create a lighter, fragrant dinner dish, its the perfect ingredient.
Pair sole with homemade salmon mousseline, a white wine and chive sauce and you're on to a winning recipe.
Served with pea puree and rosti potatoes, this dish which has been created by level 3 Professional Cookery student Craig Adderley, is exactly what you'll want to enjoy – especially with spring on our minds.
Check out the recipe below to recreate this stunning creation.
Ingredients
For the dough:
4 fillets of lemon sole
200ml fish stock
½ shallot, finely chopped
50ml white wine
150ml double cream
20g butter
Salt & pepper
Chopped chives
For the Mousseline:
100g salmon
Pinch of nutmeg
20g egg white
25ml double cream
Salt and pepper
Method for the dough:
To make the mousseline, blend salmon, egg and nutmeg in a food processor until smooth.
Season with salt and pepper, fold in double cream.
Place fillet the skinned side up and season. Spread the mousseline evenly on all the fillets.
Roll up from the tail to the head, to form a paupiette.
Place the paupiettes upright in a buttered dish allowing the paupiettes to be packed fairly tightly together.
Add the fish stock, cover with a buttered parchment paper and poach in the oven at 180C for 10-15 minutes.
Meanwhile, sweat off shallots with no colour, add white wine and reduce by half.
Once the paupiettes are cooked, remove the fillets, drain well and keep warm.
Add 100ml of the poaching liquid to the white wine reduction, reduce further. Then add cream, continue to reduce by half.
Once the cream has reduced, remove from the heat and add the butter.
Finish with seasoning and chopped chives.
Plate the fish and coat with the white wine sauce.
Rosti Potato Ingredients
2 large potatoes, peeled
80ml clarified butter
Oil
Salt and pepper
Method
Grate the peeled potatoes into a clean towel, fold in the corners around the potatoes to form a ball, and squeeze to remove as much liquid as possible.
Place into a medium bowl, add salt and pepper. Coat potato in clarified butter.
Using a round cutter as a mould, produce 4 good-sized rings.
Heat a large frying pan over a medium heat.
Once the pan is hot add oil, carefully place the potato rosti in and fry both sides until golden brown.
Remove from the heat and place on a tray and place in the oven at 180C to finish cooking for 8-10 minutes.
Remove from the oven and discard any excess oil.
Green pea puree Ingredients
200g green peas
50ml double cream
25g butter
500ml water
Salt & pepper
Method
Bring a medium pan of salted water to the boil. Blanch the peas for 4 minutes.
Remove from the heat and strain, reserve some of the liquid.
Blend the cooked peas with cream and butter, in a liquidiser until smooth.
If the consistency is too thick, add some of the reserved liquid.
Season with salt and pepper.