How to make Graham Mitchell of Newmachar Hotel's whisky and orange bread and butter pudding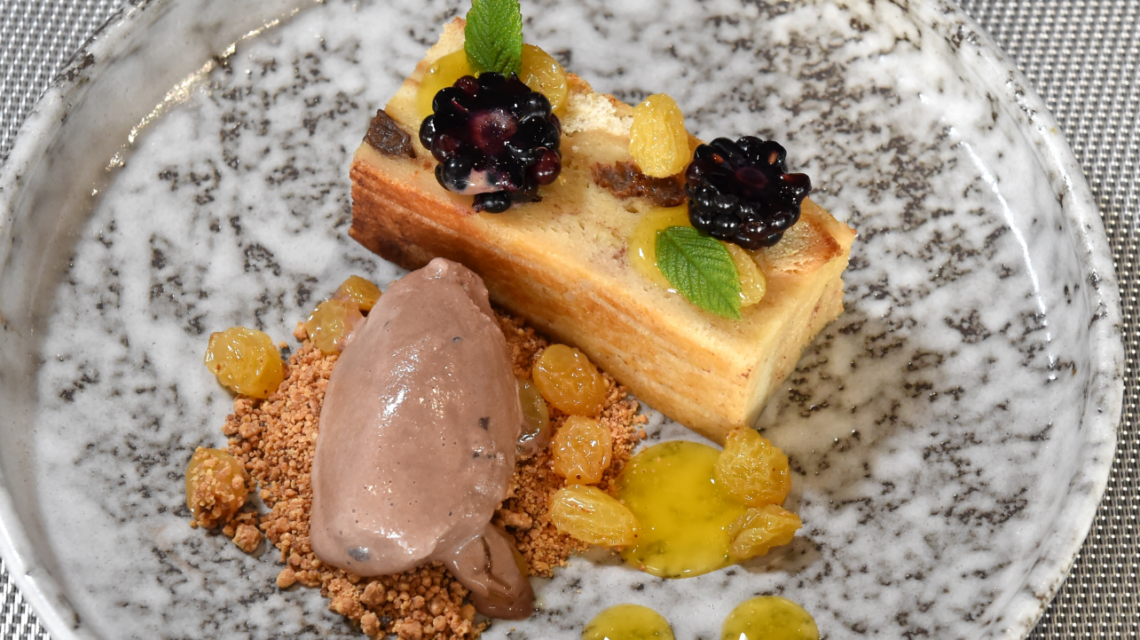 When it comes to looking forward to hearty meals in the winter, nothing screams indulgent ingredients like a bread and butter pudding. And this version does exactly that.
Put together by head chef Graham Mitchell of Newmachar Hotel, this citrus dessert is perfect for those looking to tuck into a class dish with a modern twist.
Find out how to make the gorgeous dessert below.
Ingredients
For the bread and butter pudding:
8 slices day-old crusty white bread
50g soft butter
4 tablespoons of Seville orange marmalade
300ml full fat milk
300ml double cream
3 large eggs
1 vanilla pod seeds
4 tablespoons of caster sugar
1 tablespoon of whisky
For the whisky-soaked raisins:
50g golden raisins
2 tablespoons of whisky
For the orange gel:
500ml fresh orange juice
3g agar agar
For the caramelised white chocolate:
For the chocolate ice cream:
150g caster sugar
250ml milk
¼ teaspoon of salt
2 tablespoons of cocoa powder
3 egg yolks, beaten
50g milk chocolate, chopped
500ml double cream
1 teaspoon of vanilla paste
Method
How to make the bread and butter pudding:
Butter each piece of bread on both sides then spread four with one tablespoon of marmalade each. Place the remaining bread on top to make sandwiches, cut into triangles and place in rows on a baking tray. Heat oven to 160C.
Beat the milk, cream, eggs, vanilla, sugar and whisky together then pour over the bread, leave to soak for 30 minutes.
Dot the remaining marmalade over the top, bake for 45 minutes until golden brown and caramelised, serve warm.
How to make the whisky-soaked raisins:
Pour the whisky in a small bowl and soak the raisins for three hours.
How to make the orange gel:
Place orange juice in a pan, reduce to 250ml, pass through a sieve, mix juice with agar agar and boil for two minutes.
Remove from heat and place in a tray in the fridge for one hour to set to a jelly; place the jelly into a food processer and blitz for three minutes, pass through a fine sieve then place into a squeezy bottle.
How to make the caramelised white chocolate:
Place the chocolate on a silicon mat and put on a tray and into the oven at 180C. Bake for 18 minutes. When the chocolate is caramelised in colour, remove from oven and leave to set. Once set, place in food processer and blitz into a crumb.
How to make the chocolate ice-cream:
Combine sugar, milk salt and cocoa powder in a saucepan over a medium heat, stirring constantly and bring to a simmer.
Place the egg yolks into a small bowl, gradually stir in about 125ml of the hot liquid and return to the saucepan.
Heat until thickened, but do not boil, remove from the heat and stir in the chopped chocolate until chocolate is melted, pour into a chilled bowl and refrigerate for about two hours until cold, then stir in the cream and vanilla, pour into ice cream machine and churn for 15 minutes then remove and place in freezer.
How to plate:
Cut the pudding into rectangles and warm in a microwave or oven. Place on a plate.
Dot the gel around the plate and on the pudding, spoon on chocolate crumb and scoop ice cream on top, place raisins around the plate.