Food review: The Tolbooth Seafood Restaurant serves up seafood dream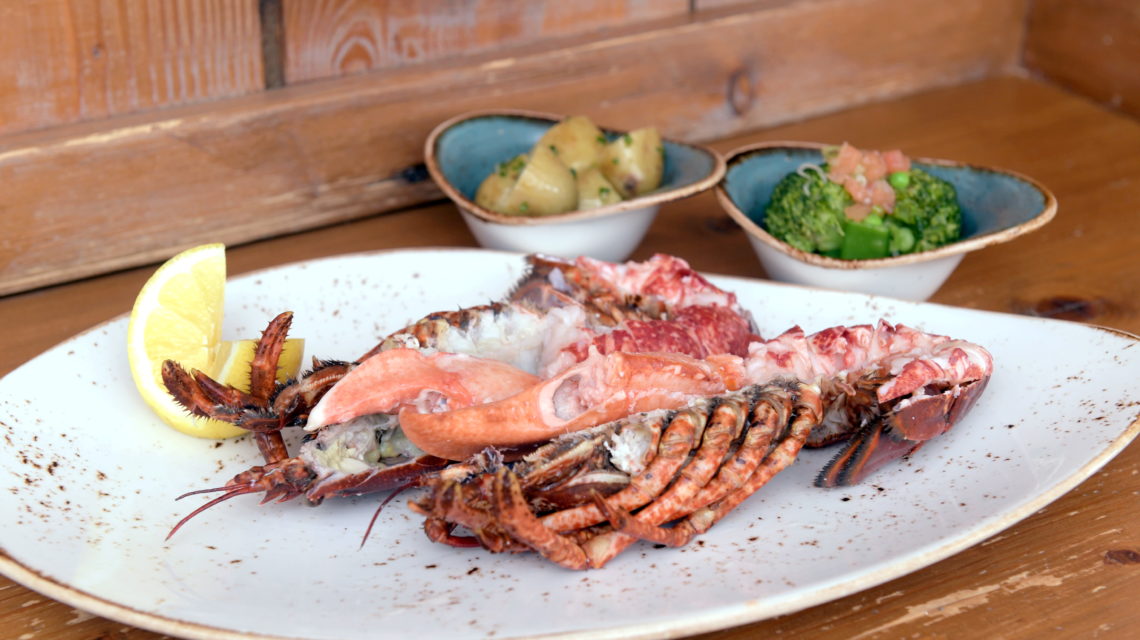 This year has been a year of many firsts for me, one being attending the Midsummer Beer Happening in Stonehaven.
Celebrating its 10th year, I decided it was about time I checked it out, especially as one of my colleagues helps organise the event which attracts thousands of people every year.
Killing two birds with one stone, I'd always wanted to try out The Tolbooth Seafood Restaurant and thought this would be the perfect opportunity.
Heading along early on the Friday evening of the event with my best friend in tow, the plan was to have a few beers, enjoy the festival then head for a bite to eat down at the harbour.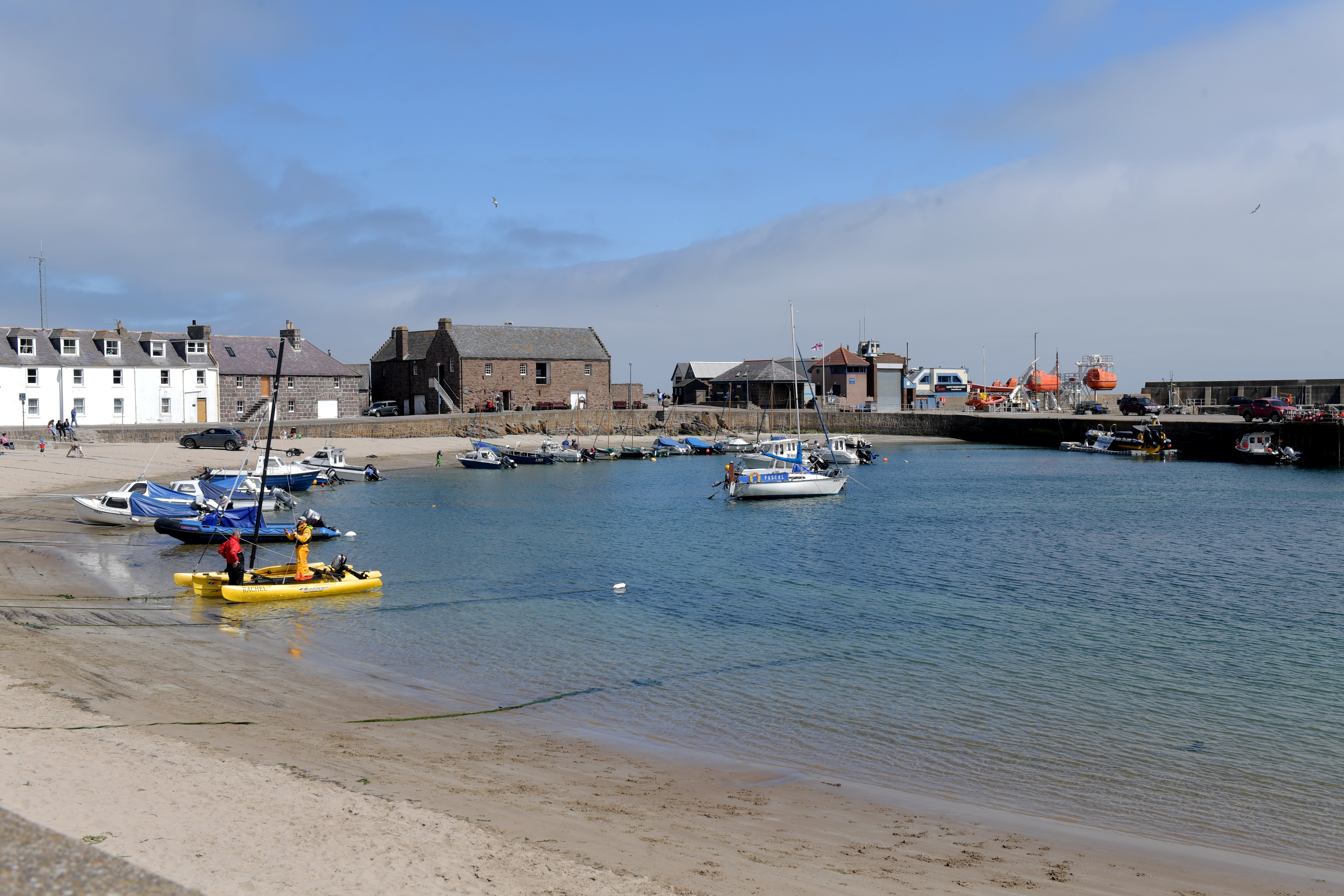 I decided pre-booking a table earlier in the week was probably a wise idea, just so we didn't have to worry about getting in on the day.
The beers were flowing, the sun was shining and by 8pm, we wanted to indulge ourselves at one of the tasty food vendors on offer at the festival. However, with dinner in half an hour, we knew we'd pay the price later if we did. Retiring from beer tasting for the night, we strolled along the walkway at the beachfront to the harbour and arrived at the restaurant just in the nick of time.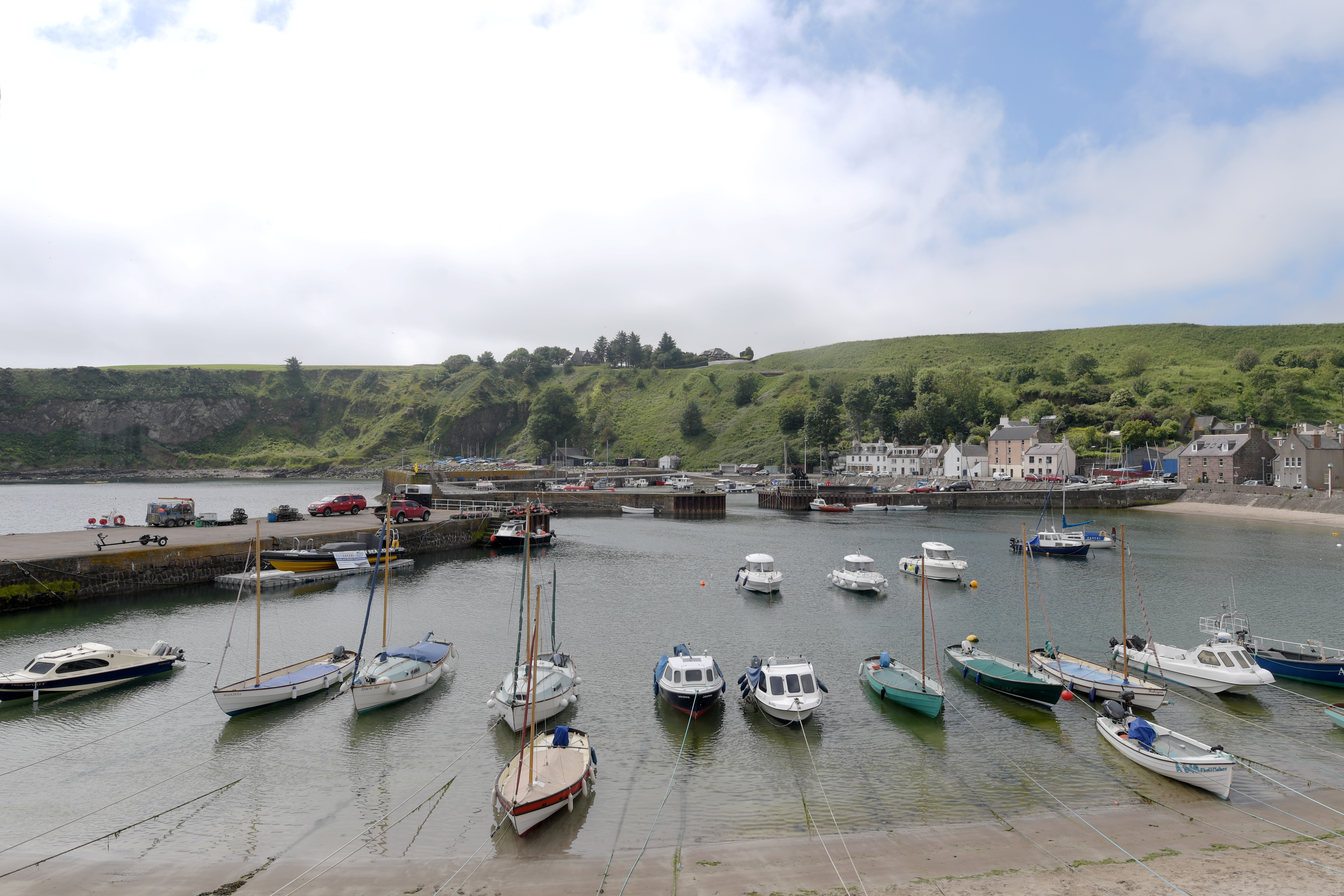 It was packed when we entered and service was busy. We managed to squeeze into our table at the front of the venue and had a full view of the eatery. Our server talked us through the specials, with a few of the freshly-caught fish dishes taking our fancy, noting the lobster and langoustines especially.
Browsing the small but varied offering, the Tolbooth only boasted a few options per course. The menu was what my friend would define as "posh" but the restaurant had a calming, relaxed feel to it, even though it was full of people.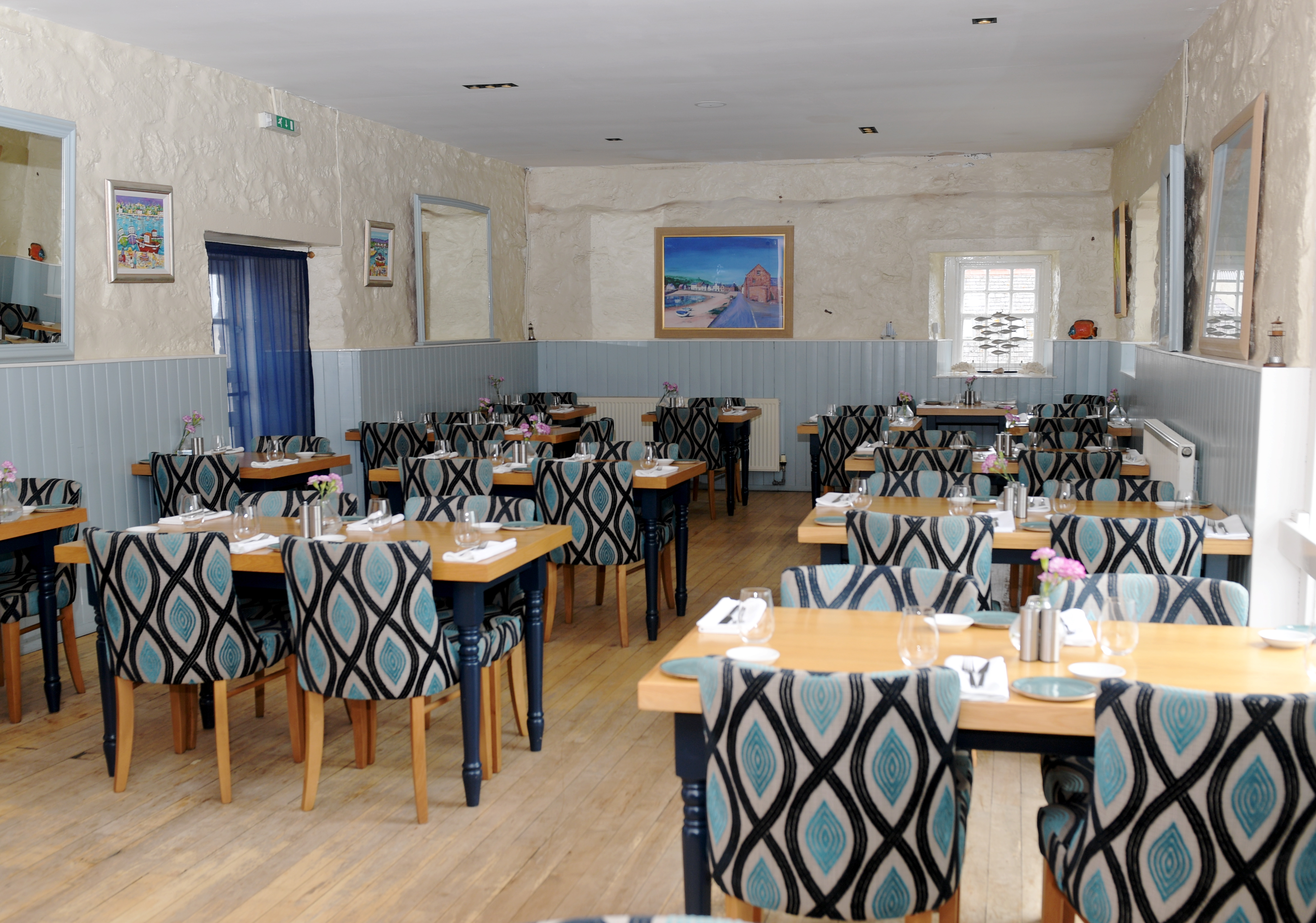 It had a slightly nautical interior with its blue and white hues throughout, not to mention the accessories. The light blue painted wood panelling and white painted stone walls definitely added to that, as did the patterned chairs.
Having placed a drinks order, we were informed quite a few of the specials had already sold out which was a bit of a bummer.
Luckily, when I'd phoned to book I'd requested that we would like to order a lobster. There was one small one left that they had managed to save for me, which I thought was very good of them.
---
The Food
Our gin and tonics didn't take long to arrive and were lovely and refreshing on the warm summer night. The starters appeared promptly and looked scrumptious when placed in front of us.
We'd both decided on seafood for our starter and I chose to try out the restaurant's take on funky fish and chips, whereas my dining date fancied the crispy prawn wontons.
Served on a bed of seafood sauce, the wontons housed two gigantic, juicy prawns. Topped with fresh herbs, the deep-fried treats sat on top of marinated vegetables that added a slight acidity to the dish. The delicate prawns were immediately championed by the more pungent, flavourful puree it all sat on.
My take on the chip shop classic was vibrant in both colour and taste. A single breaded crispy haddock goujon lay on a bright green pea puree which had boiled peas sprinkled gently on top.
The chips were little matchsticks of fried potato which had been seasoned with salt and vinegar. They reminded me of chipstick crisps my dad used to eat. The tartare sauce was absolutely delicious and was hidden under the haddock. Finished with microherbs on top, it was the best looking fish and chips I'd had.
We'd decided, when ordering, that we would share our main meals – especially as we only had one lobster to enjoy, and we both were dying to try it out.
We opted for it to be cooked in garlic butter rather than the thermidor sauce.
The lobster looked incredible when it arrived. Sliced in half and lathered in the butter, it came served with diced boiled potatoes and a side of greens which included broccoli, green beans, sugar snap peas and chopped spring onion.
The oven roasted fillet of monkfish we also ordered looked equally as tasty, but it was the lobster we both had our eyes on. Melting in our mouths, the meat was to die for. Cooked to perfection, it boasted intense flavour.
Being a small lobster, we realised quickly it wouldn't last long so we savoured every morsel until there was no more left.
As for the monkfish, I had only ever tried cheeks before, rather than a fillet. The fish was soft and my knife glided through when I cut into it, however, it was very delicate in flavour.
The braised pork belly it came with was a little over cooked for our liking, but it brought a nice saltiness to the dish.
Our server had poured a smoked bacon dashi – what forms the base of miso soup – over the dish at the table which brought a meaty flavour to it, as well as some theatrics.
The samphire and grilled sweetcorn added an additional sweet and salty notes to the offering and the pak choi contributed an enjoyable punch of colour. The sesame noodles were light, cooked well and easy to eat with the monkfish.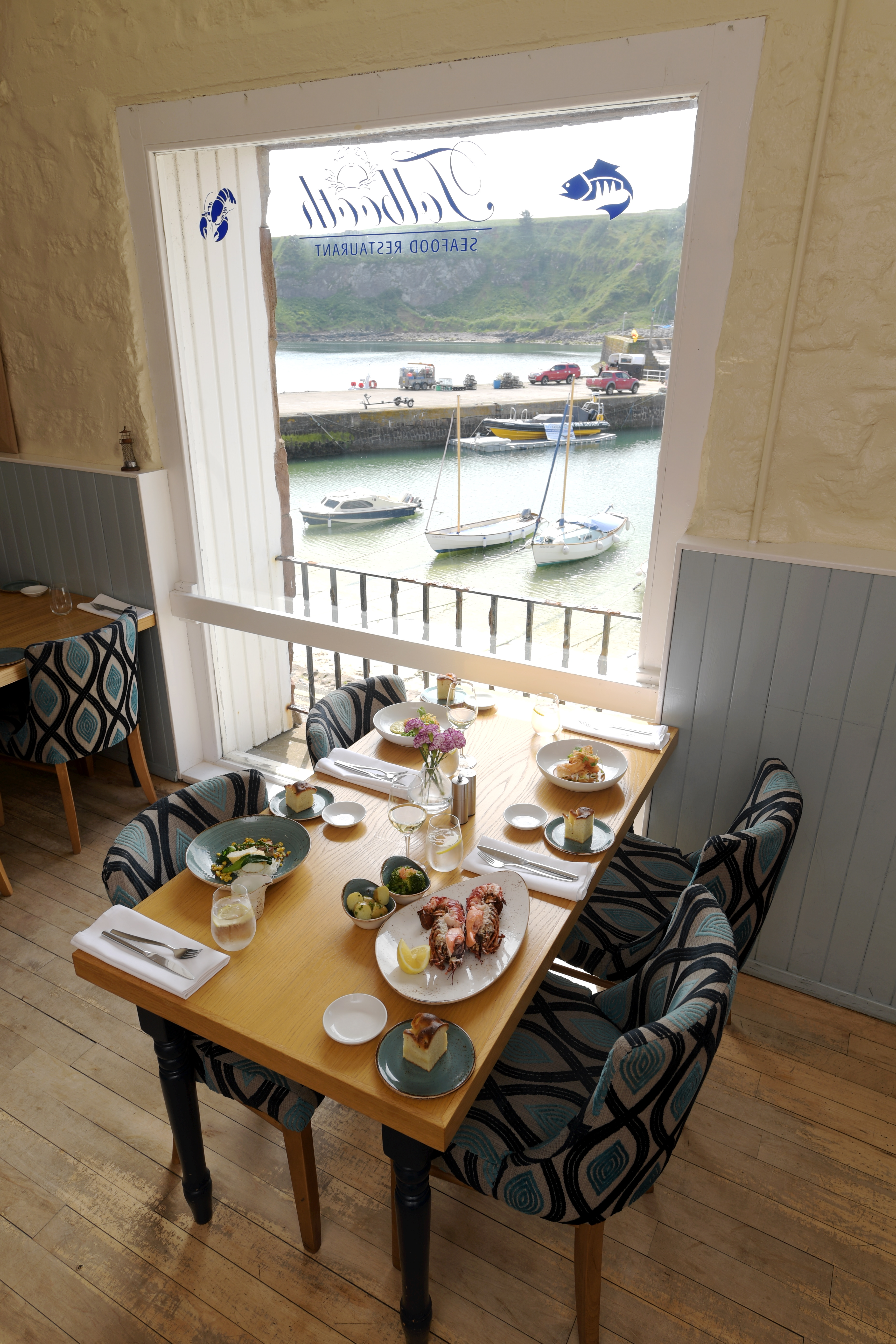 With some space left for a sweet, my dessert-loving friend was eager to order something to round off the meal. I had suggested sharing a dessert – which was immediately shot down – so we asked to see the menus. Both chocolate fanatics, we agreed in the end it had to be the milk chocolate and Bailey's mousse times two.
A dessert served with caramelised white chocolate cremeaux, dark chocolate ganache and almond soil, it was any chocolate fan's dream.
The rich dessert had candy sticks poking out of it, adding a crunch to the mousse, while the ground almond soil did the same. The marriage of white, milk and dark chocolate was the perfect way to sign off our seafood extravaganza in style.
---
The Verdict
The Tolbooth Seafood Restaurant has been somewhere I have wanted to visit forever and it did not disappoint.
It seems to be the perfect place to celebrate a special occasion and made for a lovely venue for my friend and I to catch up. The portion sizes are a little smaller, however, it's the perfect excuse to opt for three courses rather than one or two.
If you want to get your hands on any of the delicious specials on offer, I'd recommend you book your table a little earlier, or do what I did and phone ahead and request they try keep a portion for you if they are able to.
I would also recommend, if you're going to go for a dish like lobster, go all out and get as big as you can because it doesn't last long and I guarantee you'll just want more and more. Utterly delicious.
Address: Harbour, Old Pier, Stonehaven, AB39 2JU
Price: £101.05