Food review: New eatery Sooshe delivers on range of Japanese dishes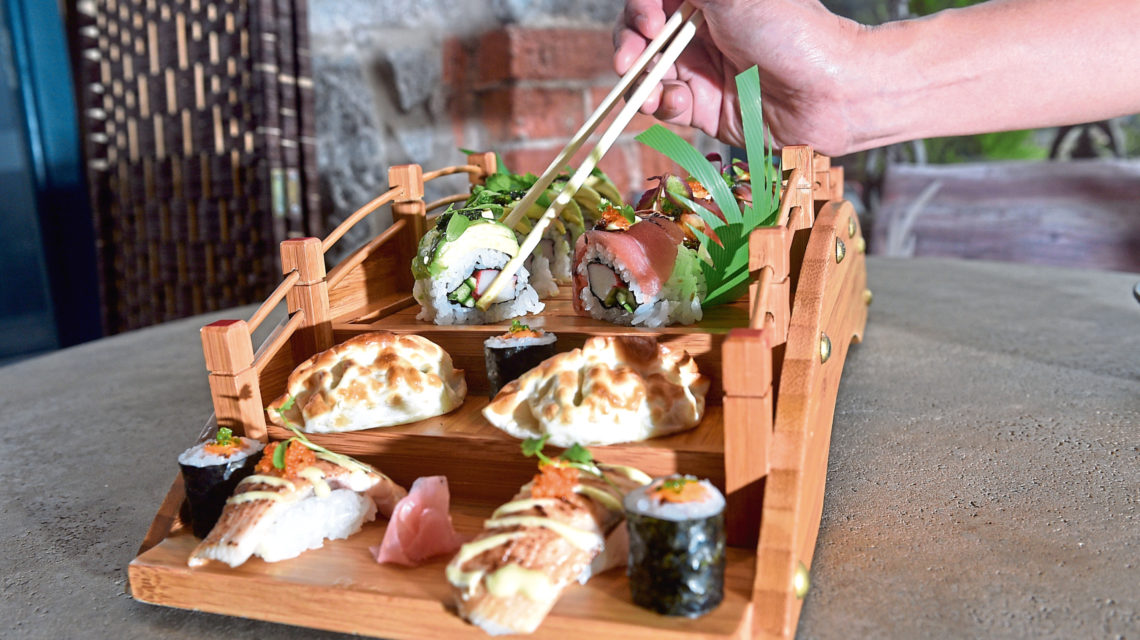 I've never attempted to make sushi but, if I did, I can imagine it would be a messy affair and not one I would enjoy all that much.
A delicate process of placing ingredients on top of one another and then rolling perfectly, it's something I would much rather leave to the professionals.
So I was delighted to hear that following a successful pop-up event a few months ago, Japanese street food restaurant Sooshe now has its own permanent space at the former Cognito Deli venue on Union Grove.
Making a name for itself as one of the best places to go for the authentic delicacy, I had a good idea what to expect but was intrigued to find out what was on the new menu having attended the event.
Walking into the busy eatery on Saturday night I noticed they had reworked the former gin bar space and added additional bar seating near the entrance. Incorporating a couple of Japanese lanterns, a new branded table top, and some of their own decorations, not much else had changed aesthetically within the cosy space.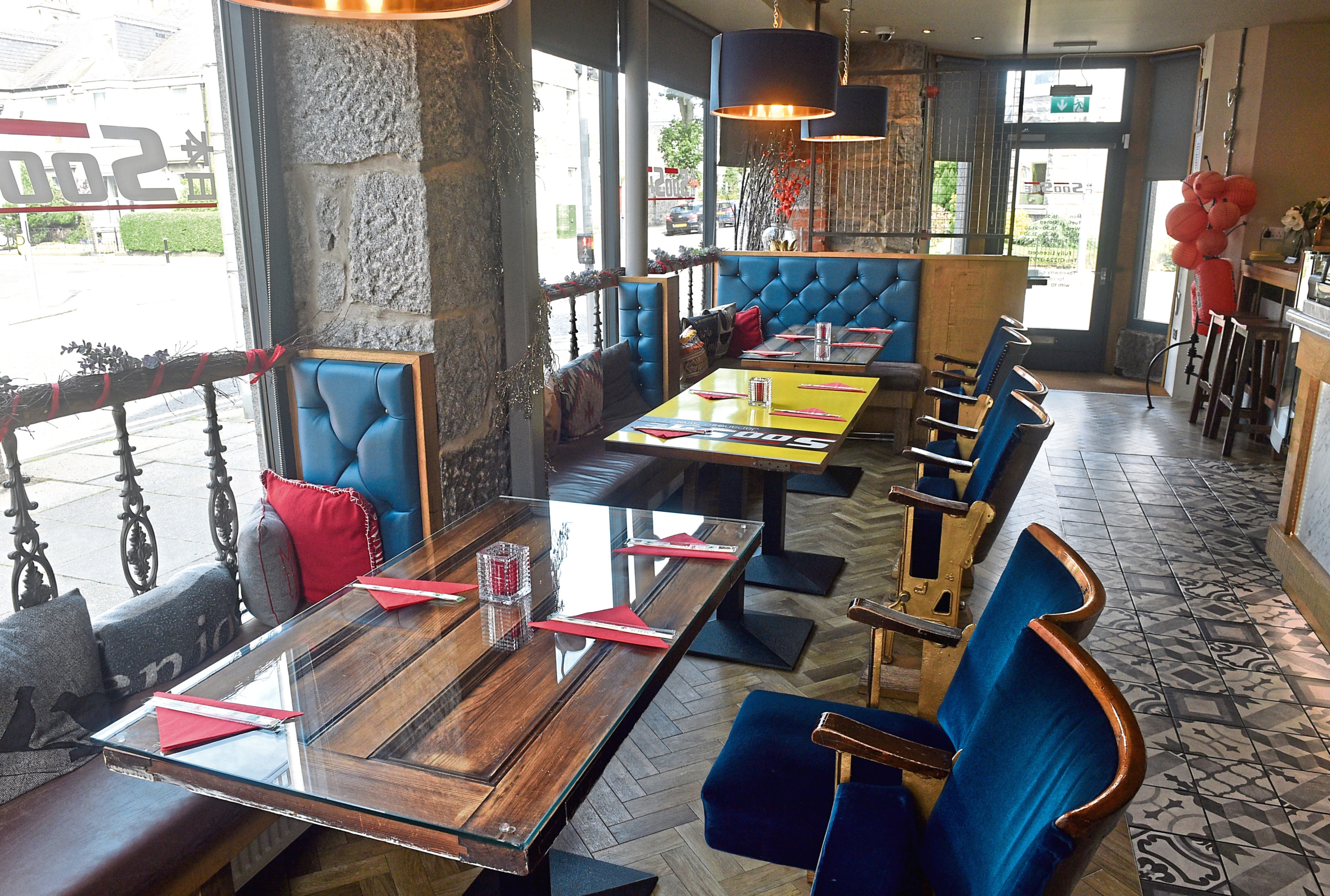 There are exposed granite walls, beautiful old-school navy velvet theatre chairs, and wood finishings in the small venue which seats around 30 people.
Greeted at the door, we managed to bag one of the branded tables. Bright yellow, it contrasted with the charming interior of the eatery.
The menu is varied and here's a whole heap of items including gyoza, ramen miso, katsu curry, maki, uramaki and more to choose from. Not to mention the array of fillings you can choose for each one.
We sought guidance and our server pointed us in the right direction, steering us to a variety of dishes so we could get a real flavour of the offering. We ordered our drinks – an Asahi beer for him and a Diet Coke for me – and got stuck in.
---
The Food
After toying with the idea of the Sooshe special platter, which features a combination of 12 sashimi, six guncan and six seared nigiri all picked by the chef, we decided to take our fate into our own hands and ordered a compilation of dishes.
First to arrive was the spicy tuna maki. With six pieces, it was very easy to eat – and pick up with our chopsticks. We dunked it into the Japanese vinegar sauce served on the side giving it a slightly saltier taste. The tuna wasn't spicy, but it was delicious and the nori (a thin sheet of dried seaweed) wrapped around it kept it together.
The salmon sashimi and the dragon roll closely followed. Four thick slices of fresh salmon were placed on a bed of spiralised courgette. The meatier fish was tender and melted in my mouth. The slices were dense and it was incredibly refreshing.
As for the dragon roll, it was six uniform pieces of sushi roll drizzled with a sweet almost balsamic style sauce. Within was a mix of tuna, prawn, crab-stick and cucumber. Creamier than the others, I adored the sweeter notes. My boyfriend felt the same. The prawn was juicy while the pungent flavour of the crab demanded attention immediately. The cucumber added a slight crunch to the sushi and the tuna was soft. Attempting to put the whole piece in our mouths, we quickly realised these larger ones were to be delicately savoured. It was a big portion, too, so the £15 price tag was understandable.
Returning to the menu, we ordered another few dishes including chicken gyoza and seared nigiri with hamachi – a Japanese yellow-fin fish.
Our server explained the fish was a cross between tuna and salmon and is very popular in sushi. Just two pieces this time, the hamachi boasted a fragrant aroma and packed a smoky punch. The smokiness infused the rice it sat on and it had the most wonderful taste as a result. The fish flaked away and I enjoyed every morsel.
My boyfriend adored the chicken gyoza. Crunchy on top and on the outside, the soft bottom made the four pieces easy to pick up and dip into the Japanese vinegar sauce. The chicken was very enjoyable and the gyoza soaked up the sauce perfectly.
Starting to feel satisfied, we decided between us we'd order two more dishes and be done.
Turning once again to our server for advice – which seemed to become a recurring theme – we opted for the eel temaki and the guncan with scallops.
I've not had eel in sushi before, so was intrigued to find out what we'd ordered. A wooden base with three holes arrived in front of us, with one hole occupied with what I can only describe as the sushi version of an ice cream cone. A small dried sheet of seaweed was wrapped around rice, sliced cucumber and slivers of eel topped it with a rich, dark, sweet sauce and a sprinkling of sesame seeds.
The cucumber was very refreshing and light and the eel, which still had its skin on, brought a crispiness to it. The seaweed was chewy and managed to keep everything together. It was very easy to eat and was gone in a few bites.
The guncan with scallops was delicious. An array of finely chopped, well-cooked scallop sat on top of a small layer of rice. There was one each and we tucked into them, devouring them in moments. The scallops were succulent and, like the salmon, melted in our mouths. They made the perfect end to our sushi experience.
---
The Verdict
Sooshe delivers not just on its great Japanese street food offering, but on fantastic customer service and bringing something new and fresh to the city.
Not the first place to offer this cuisine, it's the attention to detail and adding things like sushi boats that come dressed in the chef's selection that makes this place stand out from the crowd – all the while bringing an element of entertainment to the table.
I have to admit I did sit staring in envy at neighbouring tables throughout the evening as they tucked into their Japanese bridge carpeted with sushi. However, there's always next time.
It always seems packed every time I walk past, so it's probably best to book before venturing along – just in case. If you like Japanese cuisine or just fancy something a little different, I can't recommend Sooshe enough.
Price: £58.10
Address: 245 Union Grove, Aberdeen, AB10 6SX