Food review: Nepalese and Indian cuisine in the heart of Aberdeen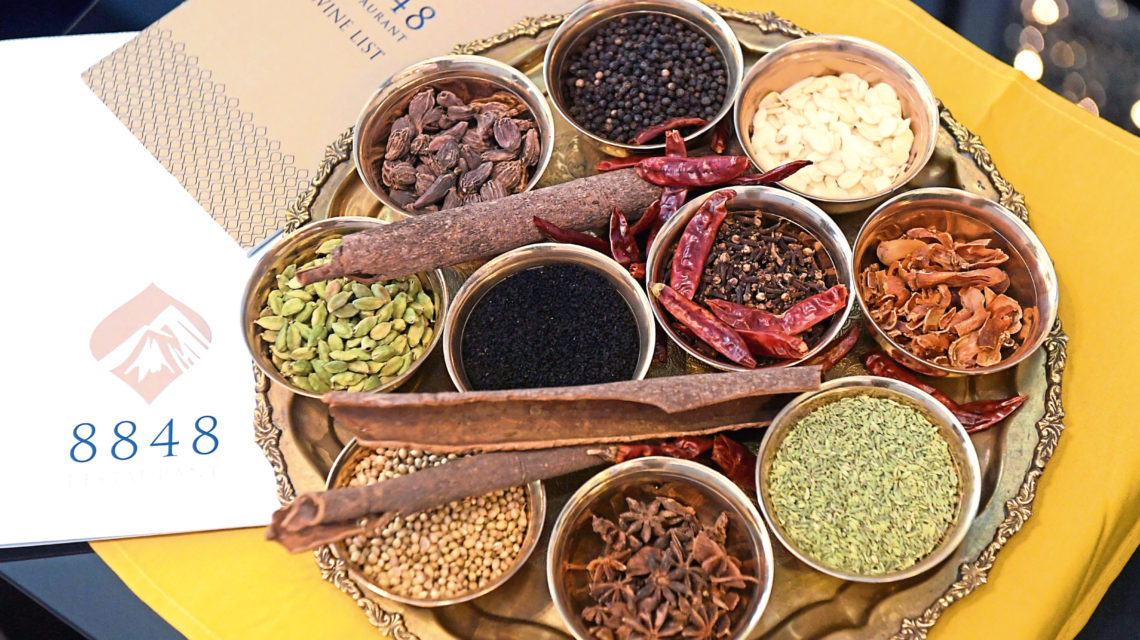 It's a bold move to give your restaurant a name that at first glance looks like a jumble of numbers.
Is it 8848 Union Street or something? Do you add them up and get something clever? The number of people they get through the door in a month?
Actually, it turns out to be the height of Mount Everest in metres. Which makes sense as this is an eatery specialising in Nepalese and Indian cuisine (the Nepalese firmly coming first in the naming protocol).
The numbers game doesn't just apply to the sign above the door. The place itself was rammed with people, so much so that a couple of walk-ups like myself and my wife were asked to sit in the bar area until a table could be found for us.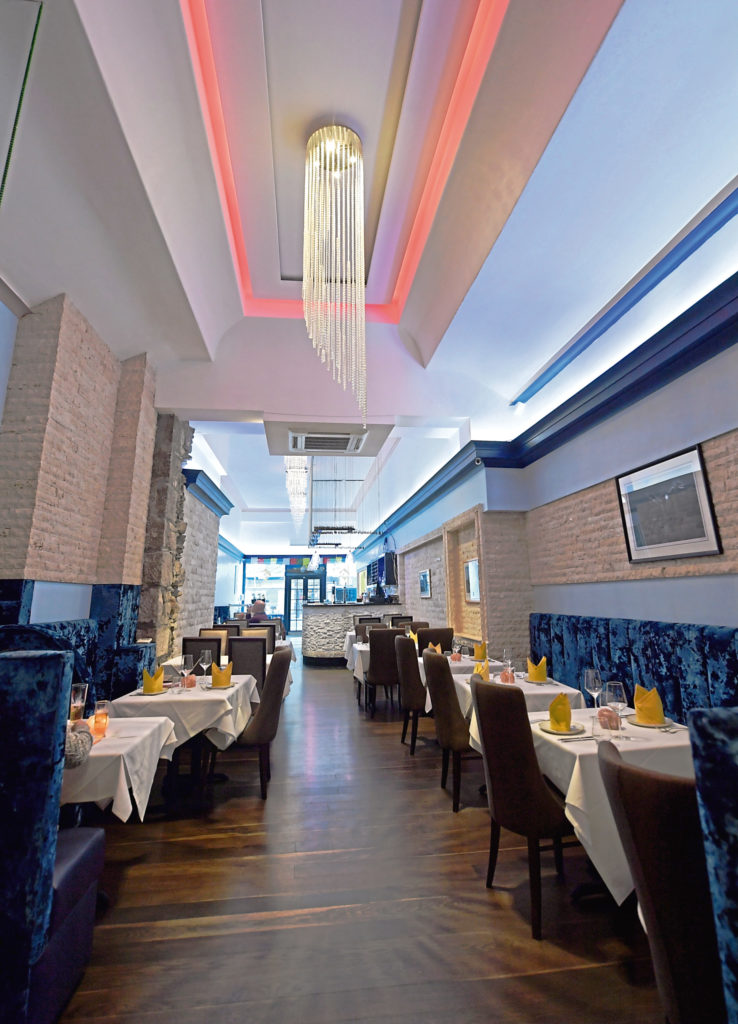 Not that remarkable for a Friday or Saturday, but this was on a Wednesday evening and fairly early at that. And we had also passed a few other restaurants that looked deserted.
So if popularity is an indication of quality, then 8848 clearly had something going for it we thought, as we sat with a couple of drinks, leafing through the menu and surveying the surroundings.
As a space, 8848 shouldn't really work. It's long, high and narrow, like a bowling alley, door and bar at one end, kitchen at the other, press of folk in between.
But the decor, all brickwork, elegant chandeliers, cool blue lighting, pulls it together to create a stylish and quite cosy space.
As it turned out, we didn't have too long to wait for a table to be cleared and for us to be sat down waiting for what we had come for. Some fine food.
---
The Food
Our waiter, whose smile didn't dim for the whole time we were in, was at pains to point out we were looking at a brand new 8848 menu, introduced just a week or so before we rocked up.
So, in the spirit of things new, I decided to try something new for each of my dishes – apart from the poppadoms of course. Got to go old school for those.
No stranger to my way around a curry menu, there were still some things here we weren't sure about. But our smiling waiter assured us my wife's choice of Himali duck for a main course was spot-on.
Order in, we sat and chatted and people-watched when we were pleasantly surprised by the offer of a little amuse bouche while waiting for our starters. We were each given a crispy shell of ground chickpea, which was filled by our waiter in a showy flourish with a tangy, tamarind broth.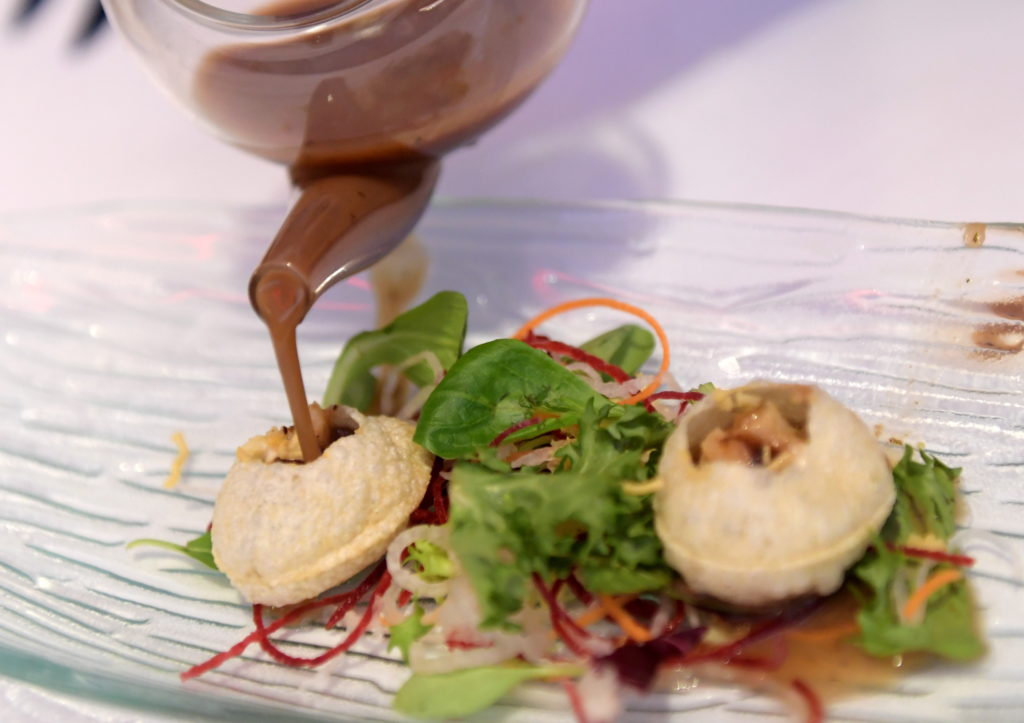 We were informed it was a street food. I didn't catch its name, but I'd like to catch it again. It was a palate-cleansing, tummy-warming treat.
It set us up nicely for the arrival of our starters, with my dining partner going for a bit of fusion cuisine on the haggis pakora front.
While the batter was more chewy than crispy, the meaty interior was delicious. Our national dish, always tasty, had been mixed through with some more exotic spices, bit of cardamom in there, to create something fine – if salty.
It came with a smear of coriander chutney, but a dipping sauce would have helped stop it sticking to the roof of the mouth quite so much. That's a minor quibble.
Meanwhile, my new adventures in dining started out with a seafood parcel. The presentation was glorious, with a huge piece of pastry sitting on my plate like a golden pillow, giving off a heady aroma that just invited you to dive in with a fork. So I did.
The crisp filo exterior crunched away to reveal a lush filling that had sweet notes of prawn and the depth of flavour that crab brings to any dish. There were spikes of spice running through it, too, noticeably a healthy zing of chilli, but there was a warmth of ginger and kick of garlic, too.
A helping of aubergine puree added another layer of flavour, while what was billed as homemade mayonnaise but tasted more like yoghurt gave a pleasing cooling effect.
As I munched away, I was trying to think of a word to describe how it all tasted together. Lush was the one I came up with.
This is the sort of dish that would make you return to 8848 just so you could savour it all over again.
Dishes whisked away, we had more time for chatting and sipping our drinks. While my designated driver was on J20, I was enjoying a beer I'd never had before, a Golden Everest lager that was crisp, clean and perfectly suited to the big flavours of the food on our plates.
Soon there was even more food to enjoy when our main courses arrived.
It turned out the Himali Duck was an excellent steer. Beautifully presented, the sliced duck breast combined both a barbecue flavour and the richness of game and was cooked just perfectly.
The sauce it came in was a marriage made in heaven, with tomato and spring onion creating the base, which was punched up with subtle spices and the freshness of green herbs.
The individual components – fragrant herbs, earthy spices, sweet onion and gamey duck – all came together to create a dish that you just wanted to keep spooning up with the garlic naan bread.
I was lucky enough to have a dining partner willing to let me share all this goodness – even if I had a mountain of food to get through myself.
I had ventured into the dizzy heights of the Nepalese dishes recommended by the chef, with a lamb dish under the rather grand-sounding title of piro aloo masu. Even as it was set in front of me, I was salivating at the wafts of cumin and cassia coming from the serving bowl.
Never mind spooning it on to my plate, this was needing a dunk of naan.
The first taste was full of those aforementioned spices, with earthy cumin and sweet cinnamon notes from the cassia jostling for attention before the heat arrived. Ginger led the charge on that front before the chilli weighed in, balanced out by the tang of tomatoes and yumminess of garlic, while onion sat at the back applauding.
The lamb was so tender it could be mashed with a fork before being mixed in with the chunks of potato that soaked up all the flavour of the sauce. This was billed as a three-chilli dish and certainly carried some oomph, but was wonderfully balanced.
Add in the pilau rice – which was curiously clumpy – and you had a dish that was worth scaling Everest for. Well, making the trek to Union Street at the very least.
---
The Verdict
8848 is a place that simply gets it right. Lovely staff, warm surroundings and out-of-the-ordinary food with some dishes which are just exceptional.
---
Address: 347 Union Street, Aberdeen
What we had:
Haggis pakora
Seafood parcel
Himali duck
Piro aloo masu
Garlic nan
Pilau rice
Price: £50.20