Food review: Jewel In The Crown is pick of the pack for great service and spicy food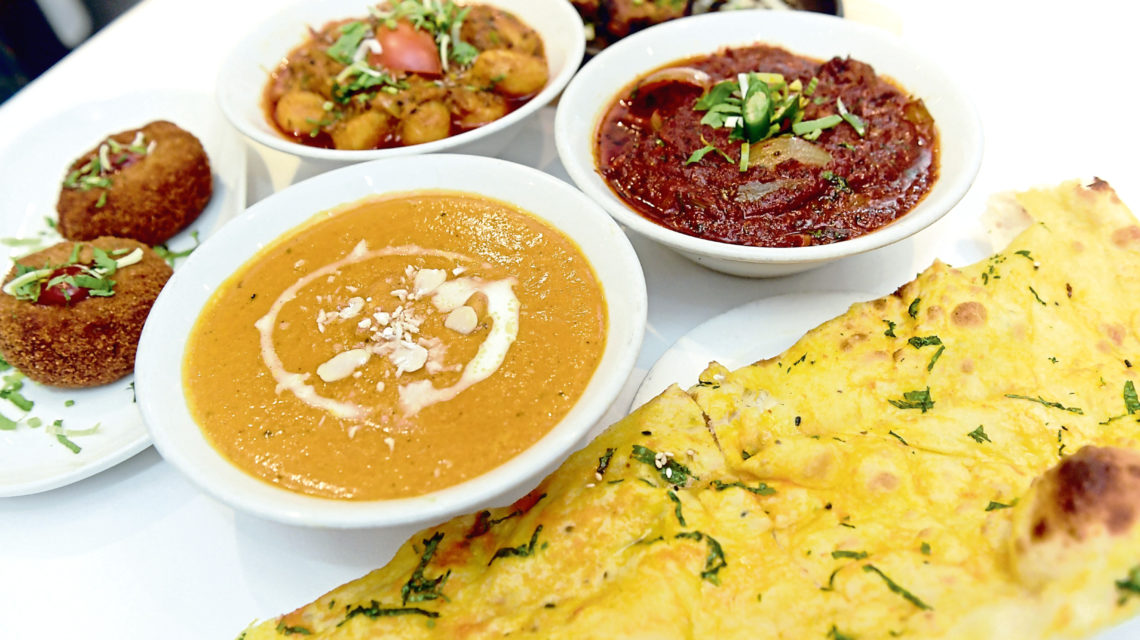 It's been a while since I last visited Jewel in the Crown – maybe five years or so – having celebrated many special occasions at the restaurant.
So I decided it was about time my boyfriend tried it out, too.
Located on Crown Street, the long-established family-owned Indian restaurant has a reputation for outstanding food and that's exactly what I was hoping for.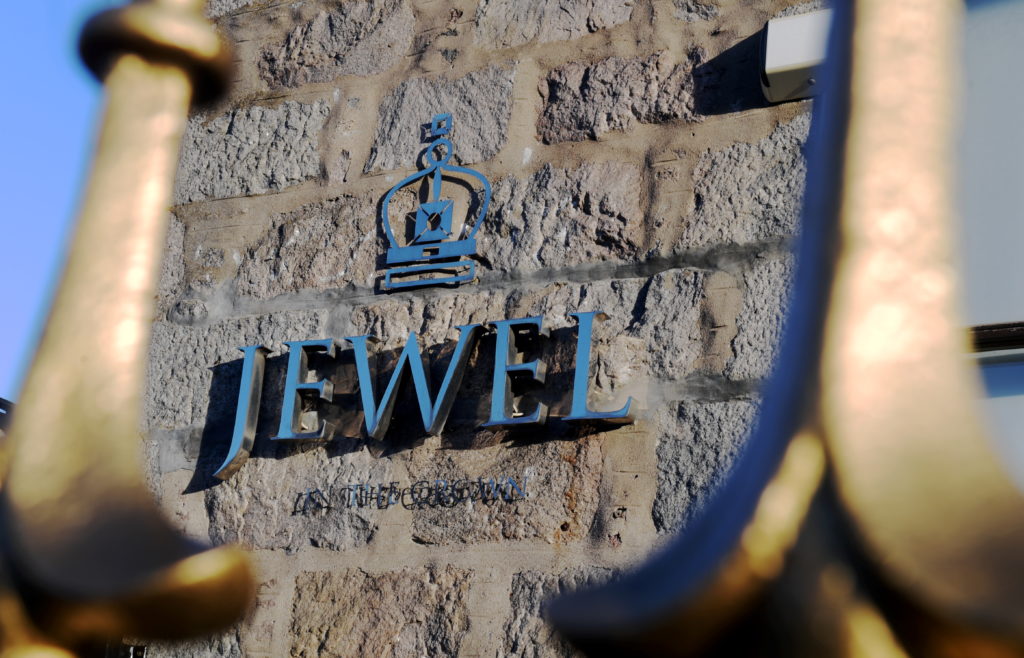 With a menu packed with authentic flavours of regions across India, owner Farooq and his four sons have continuously kept the restaurant at the top of its game.
Venturing out in the cold for dinner one Tuesday night, we made our way through the iron gate and down the stairs to the entrance.
The aroma of incense was the first thing to hit me, quickly followed by the smell of spices, as we made our way through into the dining room.
Greeted and seated immediately, we were served a trio of condiments and a poppadom each to enjoy as we ordered and awaited the arrival of our drinks.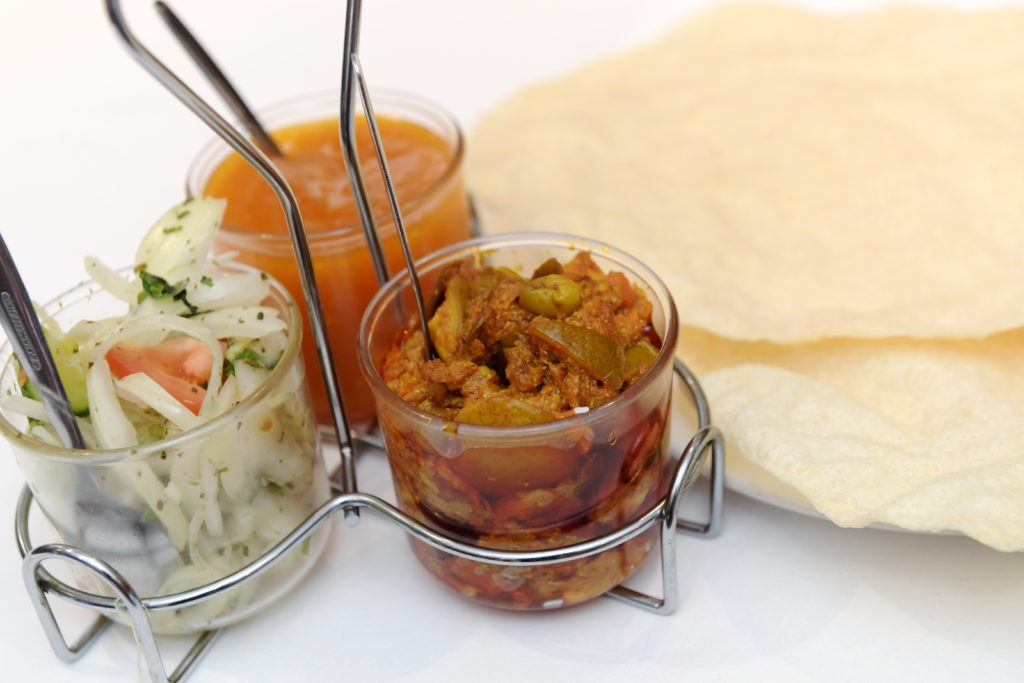 The staff were very friendly and accommodating, and the restaurant was quiet – it had just gone half past five.
Having toyed with various dish prospects, I went for a customised version of the lamb pasanda – swapping the lamb for chicken, as more hungry diners ventured through the doors.
His one and only beer of the night, my boyfriend's pint of Kingfisher was crisp and refreshing and exactly what he needed after a long stint working away.
The condiments were delicious and the perfect snack for two ravenous individuals out for a mid-week curry. Offered mango chutney, minted raw vegetables and mixed pickle as the trio, the sweet chutney and crunchy minted vegetables were my favourite. Boasting a sweet spice, the chickpeas in the warm, fragrant mixed pickle compilation brought a smooth, sticky texture to the offering.
---
The Food
Ordering the Tandoori lamb chops, I could hear them before I could see them. Arriving on a sizzling grill skillet, the two juicy chops and fried onion and green peppers were transferred to my plate. Served with foil wrapped around the bone of the lamb chop, the meat was incredibly succulent and it had been cooked in a dry, sweet tandoori spice rub which boasted a lovely heat to it.
There was lots of meat and the tender lamb was complemented well by the al dente onion and pepper. Served with a buttery mint yoghurt dip, the creamy texture paired well with the dish which also boasted a side salad.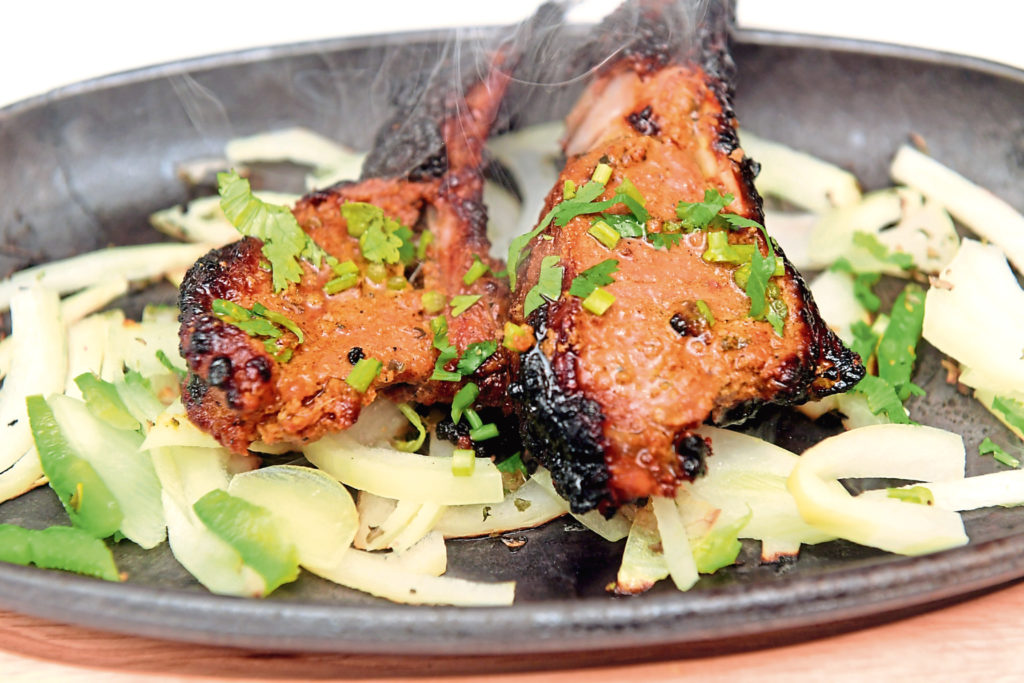 The aloo tikki my boyfriend had chosen is a vegetarian favourite, according to the menu. A road-style snack in India, the breaded balls of veg were served with a small dollop of hot and sour sauce on top. Oozing when it arrived, it was gooey inside. Stuffed with minced potato, grated cottage cheese, onion and chickpeas, it was soft and packed with flavour.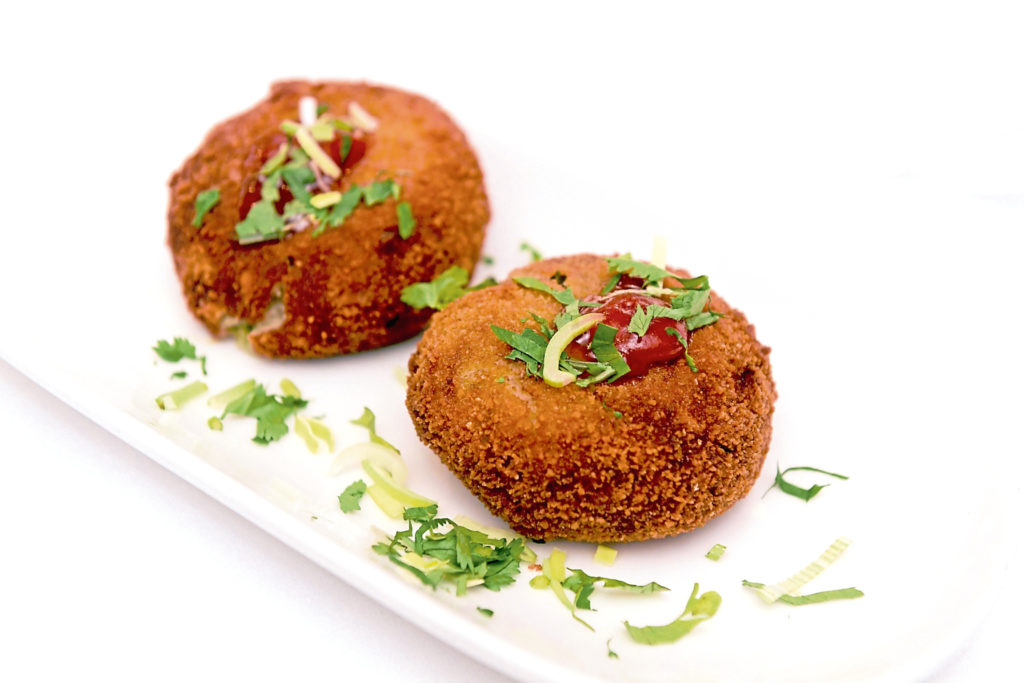 Plates cleared, the service was attentive without being invasive, allowing us to catch up without interruption.
The indication that mains were coming came in the form of a hot plate that was placed on our table, swiftly followed by the arrival of the main event.
Instead of ordering rice, we tend to order a nan each – I find it's a much better sauce-scooping tool.
My customised pasanda's buttery cream sauce boasted ground cashew nuts in it and was dressed with a drizzling of yoghurt on top of it in a swirly line design. A few cashew nuts sat on top of the sauce too, further adding a slight crunch to the curry, which contained plenty of perfectly cooked chicken. My peshwari nan was sprinkled with coconut shavings on top and was extremely sweet thanks to the addition of crushed almonds and sultanas. Exactly how I like it, my go-to nan complemented the sweeter, creamier curry and was well cooked which made it the perfect sauce scoop.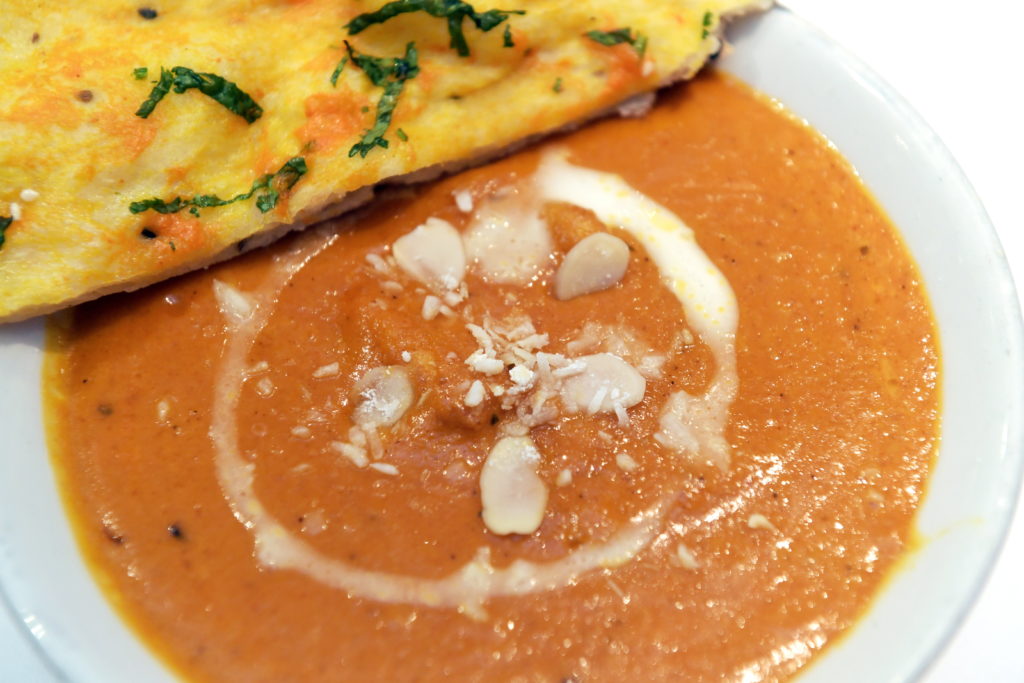 The murg chandi my boyfriend had chosen came with a warning of three stars beside it on the menu, indicating the heat of the curry.
The fragrant, hot dish had a sweet spice to it and was rich in colour. A deep burnt orange, it looked completely different to my more yellow-orange pasanda.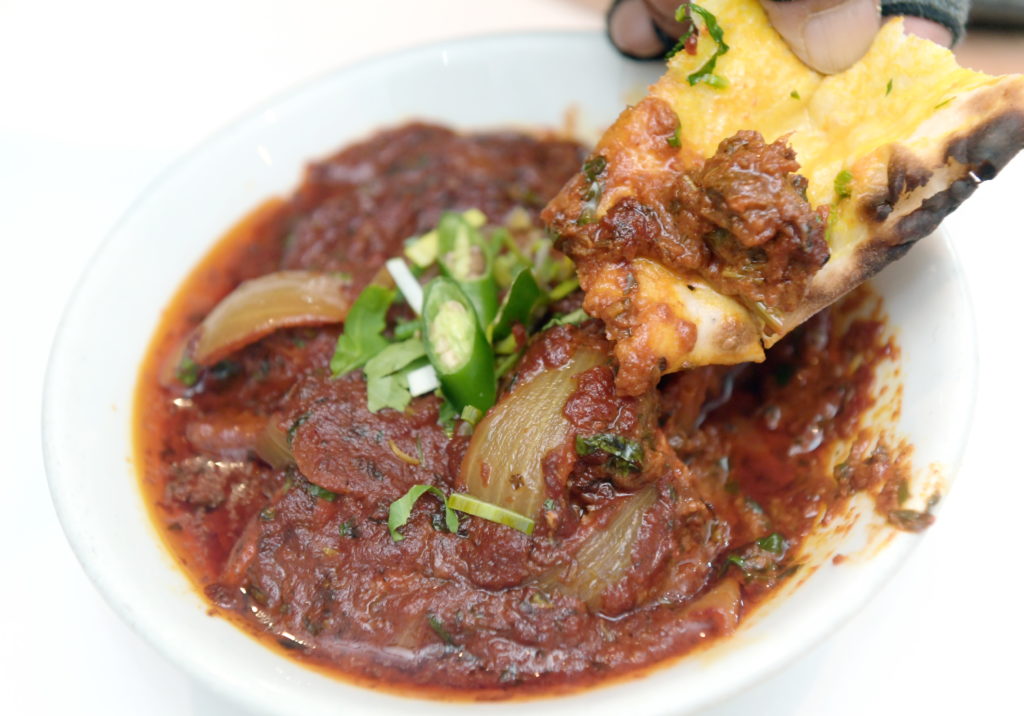 The tender barbecued chicken went well with the small mushrooms, green peppers and onion he found in the sauce, but could have been a little fierier, especially seen as it came with a spice warning.
His garlic nan was enormous and was easily the length of his forearm. Chopped coriander covered it but what my nan lacked in size, his lacked slightly in flavour.
Expecting a big hit of garlic, there was only a subtle note. Cooked well, and with plenty of it, it too made the perfect partner for scooping up leftover curry sauce.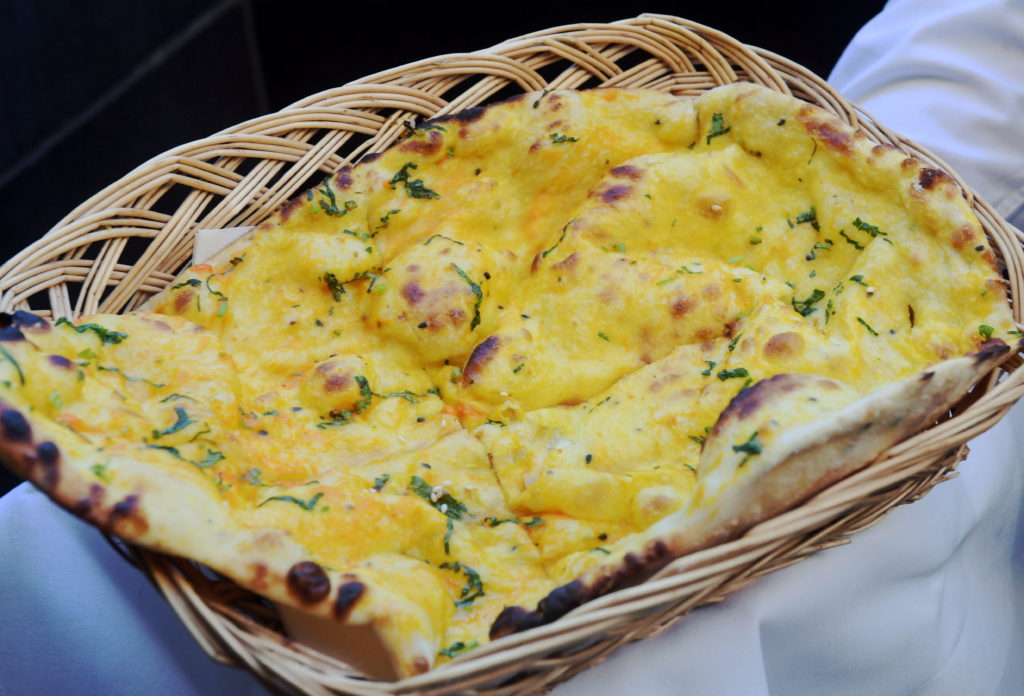 We'd ordered a portion of Bombay aloo – potatoes cooked with mustard seeds and flavoured with fresh herbs and spices.
The potatoes were so soft and looked like gnocchi. My knife glided through them.
We couldn't finish them, but they provided a gorgeous warming spice which was aromatic yet soft.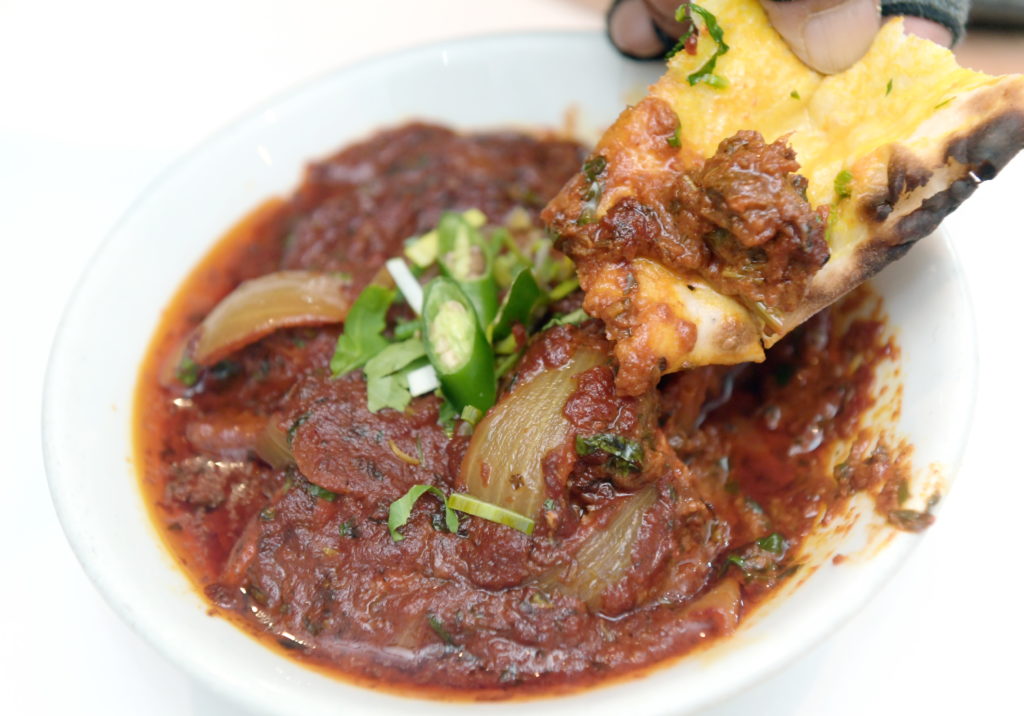 ---
The Verdict
Hearing a shower of compliments about the food around the restaurant, it was no surprise to me that the place easily filled up.
My boyfriend hailed it his top Indian eatery in Aberdeen – it was clear we'd had a successful dining experience. Having been somewhere I've celebrated so many joyous occasions, this visit reignited my love for the Jewel in the Crown.
With so many Indian restaurants in Aberdeen, it can sometimes be rather overwhelming when picking a place to go. But for me, it's Jewel in the Crown's soft oriental-inspired interior and friendly staff as well as the perfectly cooked food that makes this place stand out from the crowd.
It really is a jewel of a restaurant.
Price: £64.35
What we had:
Tandoori lamb chops
Aloor Tikki
Chicken Pasanda
Murg Chandi
Peshwari nan
Garlic nan
Bombay Aloo
Address: 145 Crown Street, Aberdeen