Food Review: Harry Potter fans will love summoning this magical afternoon tea by Aberdeen's Sweet Mumma's Kitchen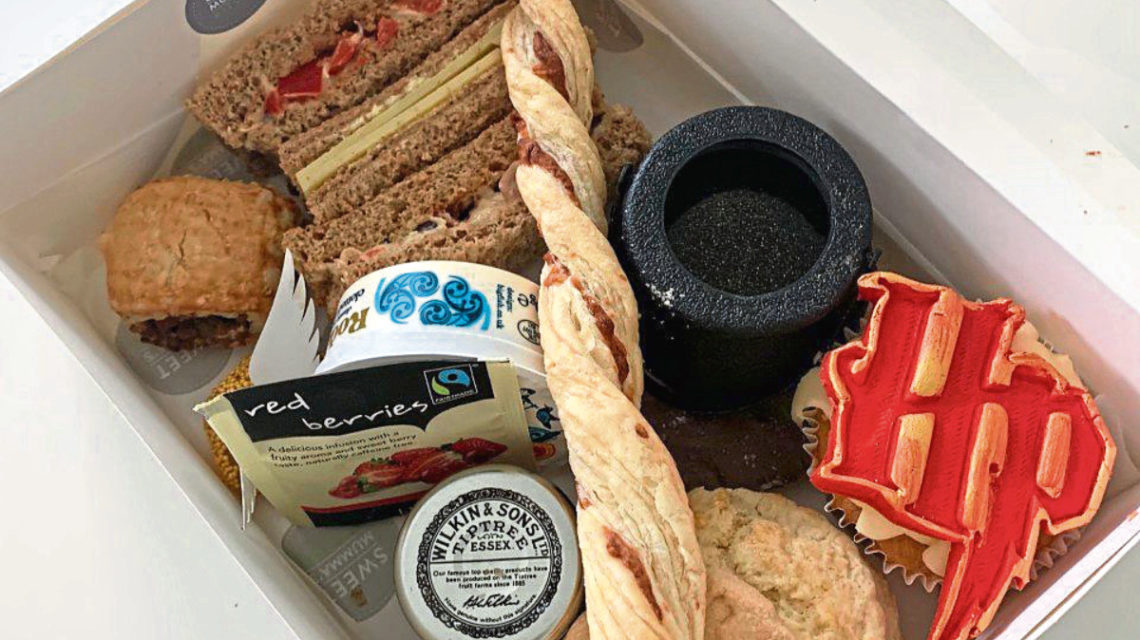 Fellow Harry Potter fans – this one's for you.
With weekend activities currently on lockdown, I decided to create a magical experience at home for my little boy, Jacob.
We're both big fans of HP and friends. I grew up reading the novels, completely hooked on every last word. And over Christmas last year, Jacob became engrossed in the movies.
Keen to make the weekend in Tier Four a little more exciting for Jacob, I ordered a Harry Potter-themed afternoon tea for us to share from Aberdeen's Sweet Mumma's Kitchen.
Situated at Arch 11 on the city's Palmerston Road, I've always thought the cafe looked like a cosy, quaint place to grab a bite to eat.
Unfortunately that's not an option right now, of course, but after spotting the spell-binding afternoon tea online, I was only too keen to order it and collect it from outside the coffee shop that weekend.
Following the instructions as per the Facebook post, I phoned to place my order. I opted to just pick up one of the lunches – anyone who has a four-year-old knows they are the fussiest of creatures and would quite happily see a banquet of food go to waste. Well, unless it was a spread of crisps and sweeties… naturally.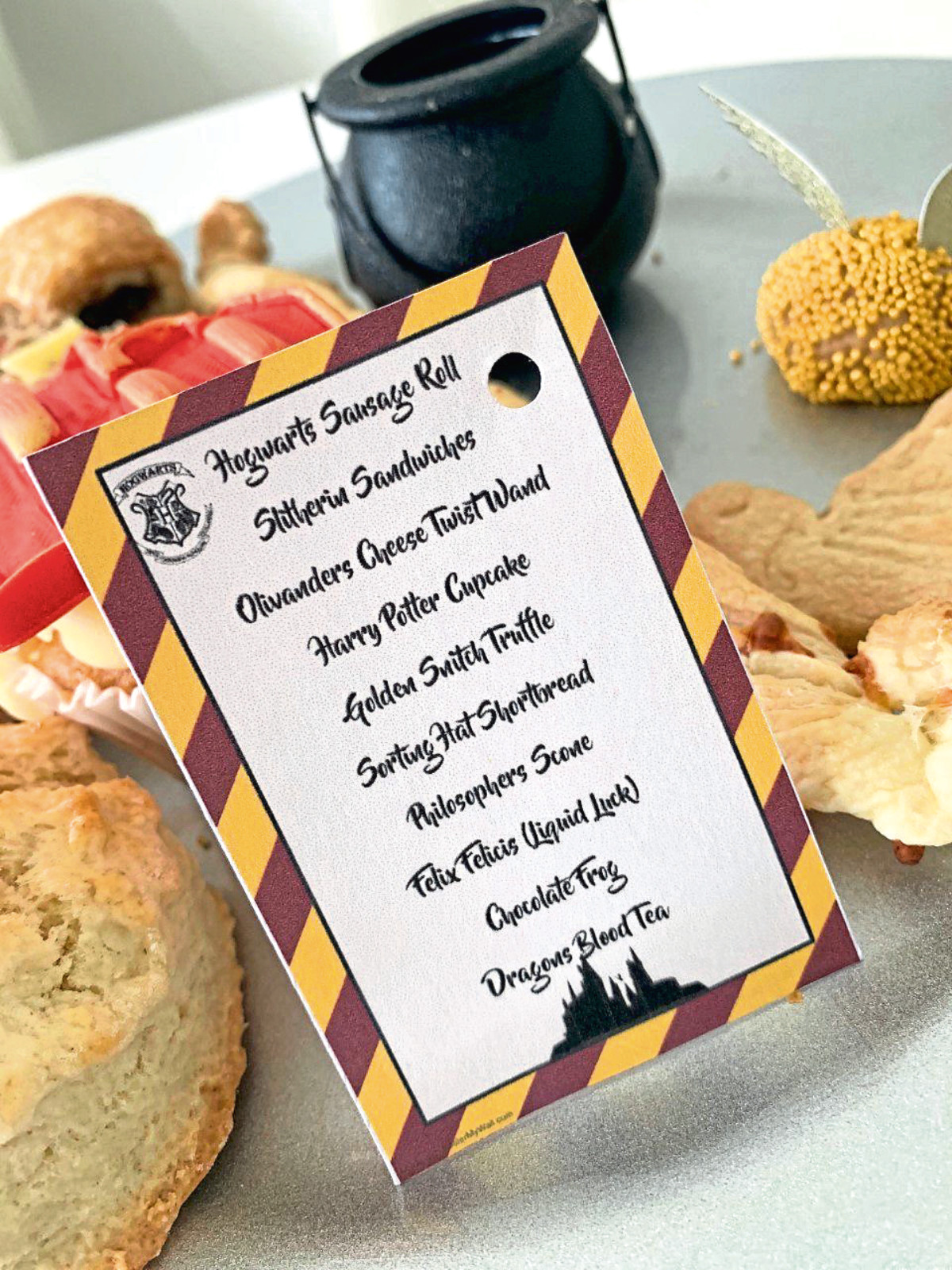 When Saturday came round I parked up outside the Arches, popped on our masks, then waited outside the cafe.
A friendly staff member promptly greeted us and advised we'd have to wait five short minutes while they packaged up our order. "No problem," I said.
Right on time, five minutes later we were back in the car and headed home with our HP lunch, bellies grumbling.
---
The Food
The box the afternoon tea came in was presented with a burgundy bow, in keeping with the Hogwarts house colour for Gryffindor.
Attached to the bow was a card – again designed around the Gryffindor theme – which listed all the items included in the box.
As a Harry Potter fan, I appreciated the detail which had gone into naming each of the foods tucked inside; Hogwarts sausage roll, Slytherin sandwiches, Olivanders cheese twist wand, Harry Potter cupcake, golden snitch truffle, sorting hat shortbread, Philosopher's scone, Felix Felicis (liquid luck), a chocolate frog and dragon's blood tea.
We opted for the vegetarian selection of treats, which was not a problem for Sweet Mumma's Kitchen to prepare.
With Jacob appropriately dressed up as Harry for the occasion, I dished up the afternoon tea on a silver platter. We tucked in while watching Harry Potter and the Chamber of Secrets – as you do while having a Harry Potter lunch!
First up, the three Slytherin sandwiches. Despite the name, there was nothing bad nor evil about these evenly sliced sandwiches.
Jacob tucked into the cheese one by himself, while I ate the other two which were made up with hummus, red onion and sweet peppers.
I'm not usually a fan of onions in sandwiches, I have to admit, but on this occasion I wasn't overly offended by them. Perhaps because they were smoothed over in my mouth by the creamy taste of the hummus. They were gone quicker than the wave of a wand.
Speaking of wands, Olivanders cheese twist was a welcome addition to the platter. Flaky and crisp, it was a nice savoury option which balanced the sweeter treats. And there was plenty of sweet.
The Harry Potter cupcake, which boasted the HP logo, was vanilla flavour. I only managed about a quarter… not because I didn't like it, but because Jacob was quick to puppy-dog eye me and pinch what I'd been hoping to eat for myself. Clearly, the oh-so light and fluffy cupcake was a hit with him. As was the chocolate frog which I got one teeny slither of.
A bigger hit with me was the golden snitch truffle. Boasting gold-coloured sprinkles, the round treat even had two sparkly wings to make it look like the fictional flying ball. I could have eaten it in one bite if I didn't have to share. Soft, dense and moist, the rich earthy, chocolate flavour was simply mouth-watering. More please.
Equally as sweet was the crumbly, sugary shortbread which had been cut to look like a sorting hat. "Oh mummy, this is absolutely delish," Jacob declared. I think that says it all really, don't you?
The Hogwarts sausage roll had a taste which I couldn't quite put my finger on. The pastry was well cooked, nice and flaky. But the filling had a wee kick to it. I couldn't quite pinpoint the flavours, but the best way to describe it would be a like a spicy vegetarian haggis. Perhaps that's what was tucked into the roll. I wasn't sure, but I didn't really care either because it was good and did a disappearing act down my throat.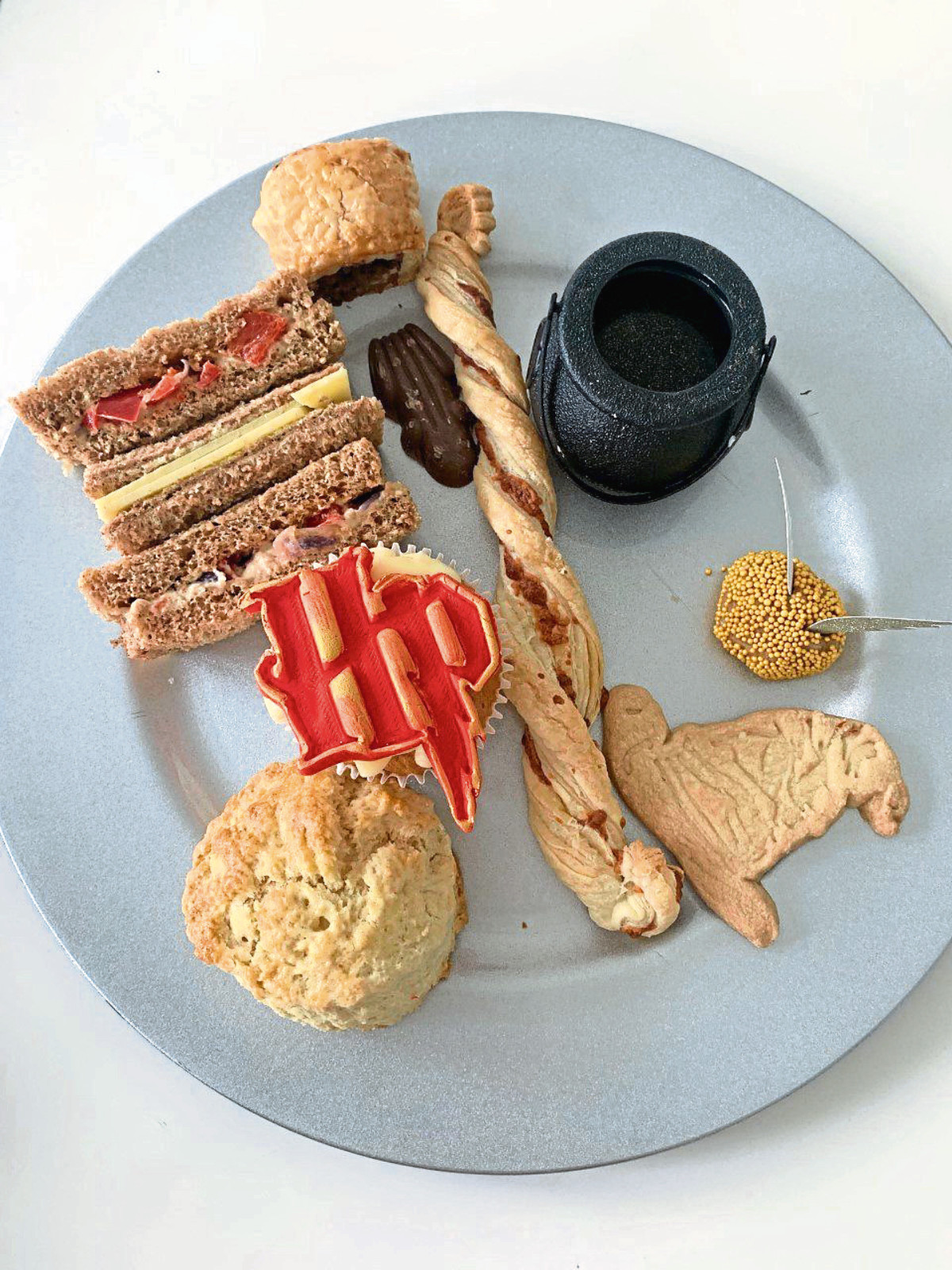 I washed it down with the dragon's blood tea which was a delicious infusion of sweet berries and gave off a real fruity aroma. Presented in a little black plastic cauldron, the liquid luck (or fruity jelly) was a nice quirky touch to enhance the witches and wizards theme. The jelly wasn't anything particularly magical, but it acted almost as a not-so-fancy palette cleanser. And once washed out, the cauldron made for a new little toy to add to Jacob's fancy dress box. Bonus!
Last to sample from Sweet Mumma's offering was the scone. You might say I saved the best until last. Tucked into the box was some raspberry jam and clotted cream. I spread both over each half of the scone and devoured one, while Jacob scoffed the other.
Made to perfection, the scone had risen nicely and was fluffy and buttery on the tongue. Combined with the incredible combination of jam and clotted cream, well, I was under the spell of love.
---
The Verdict
There was plenty to share between myself and my young son, but I'd definitely order more than one afternoon tea if I was sharing with older children or an adult. Priced at £19.50, there was plenty to justify the cost.
Sweet Mumma's Kitchen's Harry Potter-themed offering was a great way to make a locked down weekend a bit more exciting – for myself and Jacob!
It gave us a chance to run with a theme and enjoy some good food and nice bakes.
I would definitely recommend booking in as the boxes are only available for one more weekend – this weekend – at the moment.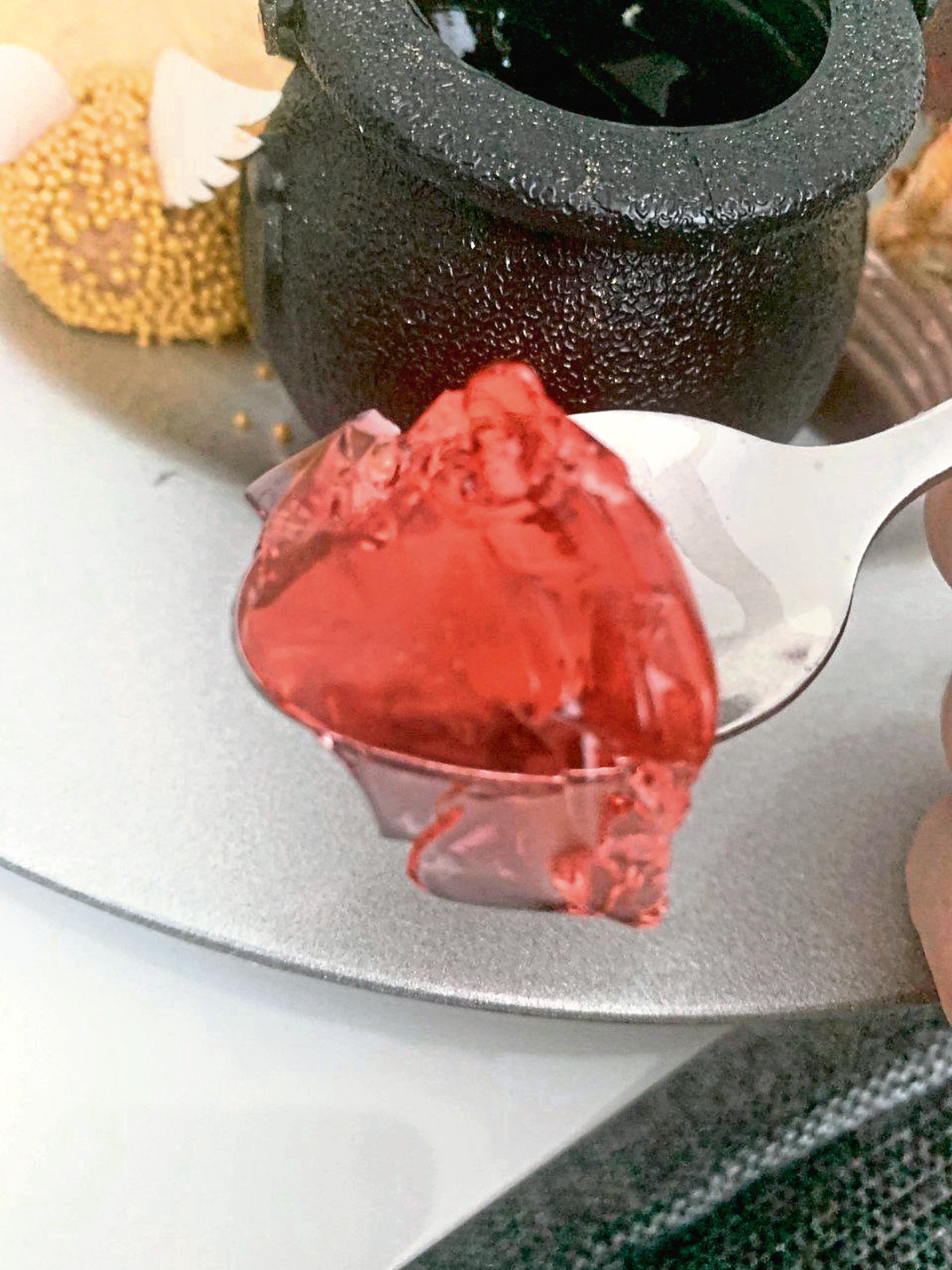 Price: £19.50 for one box
For delivery or collection of the Harry Potter afternoon tea on Saturday or Sunday, contact 07595452621.