Food review: Fine Scottish fare served up at Howies in Aberdeen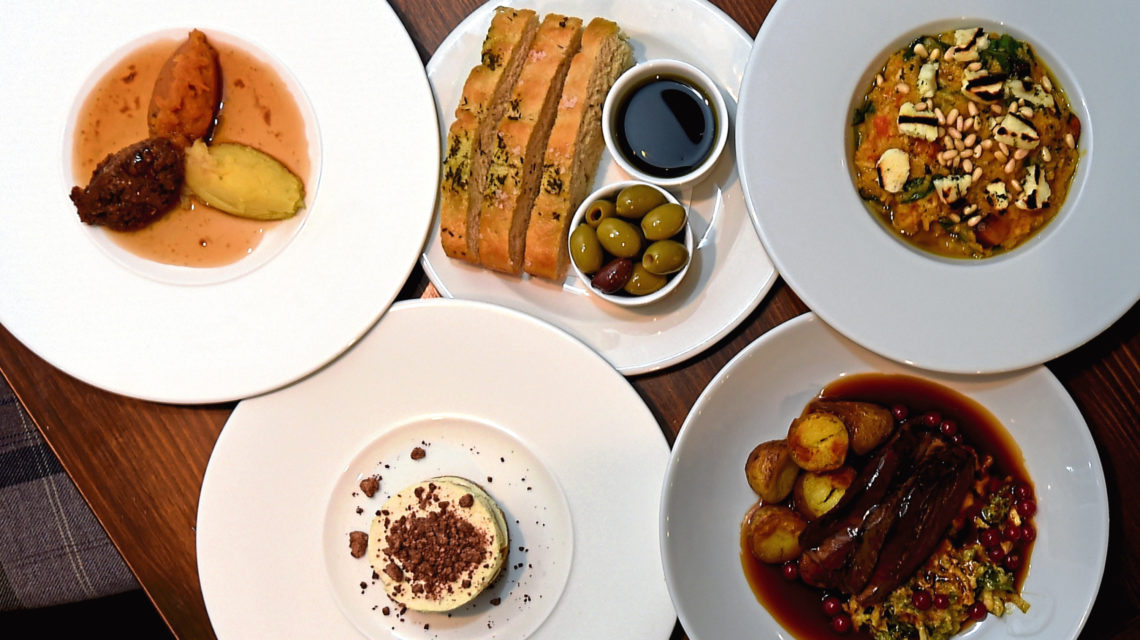 When it comes to celebrating occasions, in my opinion, no one does it quite as well as the Scots.
From Hogmanay, weddings and ceilidhs, we Scots – and more to the point, us Aberdonians – love a party or two.
And with Burns Night right around the corner, it not only got me thinking of all the Doric and Burns poems I used to recite at school, but also craving some fine Scottish cuisine.
Serving up just that is Howies on Chapel Street.
"Scottish, seasonal and seriously tasty" is how the restaurant describes its menus online, and that is exactly what I was looking for.
Located just a two-minute walk from Union Street, it's in a prime location, pulling in locals and tourists alike who are hungry for a taste of traditional dishes.
What initially seems like a small venue from the outside is most certainly not on the inside.
Entering through a long corridor, it's not until you venture through the internal doors of Howies that you realise its sheer size.
This wee cracker boasts two separate private dining rooms, as well as a large restaurant which is very spacious and has a real Scots theme to it, without being too twee.
Immediately greeted by the cheery maitre d', we were shown to our windowside table, nestling into the corner of the restaurant out of the way of the late January Christmas parties which were, unbeknown to us at the time, about to descend on the eatery.
Our waitress then popped over, handed us our menus and explained the specials, which were also featured on a blackboard on the wall next to us.
Having been intrigued by the daily soup initially, I could tell the cauliflower version had not captured my boyfriend's attention.
Moving swiftly on, we politely asked for water for the table as we browsed the drinks offering. The usual Diet Coke did for me, and my other half decided to order a Harviestoun Bitter And Twisted golden ale. However, I couldn't help note the range of Scottish spirits and local gin brands the restaurant offered.
Although busy, there was a real relaxed feeling in the eatery and the subtle purple and tartan touches nodded to Scottish heather.
The wooden furniture added a homely, rustic look, while the chalkboard map of Scotland showcased all of their local suppliers from across the region.
On the server's return with our drinks, we were ready to fire our order away. Starters and mains for us both, with a promise of bannoffee pie for my banana-loving dining partner.
---
The Food
Trying my hand at eating more plant-based dishes and following a vegetarian diet, I was delighted I could still order the haggis, neeps and tatties – with veggie haggis, of course.
Coming with thyme jus, I knew I had to try it.
My partner instead decided to start with something lighter, so he settled for the freshly baked focaccia with oils and a portion of olives.
The restaurant was busy for 7pm on a Saturday, but the kitchen had it under control and got our starters out in no time.
His light, refreshing, citrusy beer was easy to drink and married well with the bread, which had a rosemary crust to it. Light and fluffy, he dipped the thin slices into the olive and balsamic oils that accompanied it. The portion of salty olives was generous and much more than a "just a snack" as he called it. Green ones dominated while the red were few and far between, and the large garlic cloves and red pepper pieces were just as scarce as the sweeter burgundy olives.
My veggie haggis dish was just divine. Although the haggis wasn't as spicy as its meaty cousin, I actually enjoyed the flavours a lot more. With carrot, onion, a whole host of other vegetables and barley making up the bulk, it was just perfect. The mashed potato was extremely smooth, buttery, light and fluffy – it disappeared in my mouth almost instantly. The turnip was just as good and had a much thicker consistency. Topping it all off nicely was the gravy, which wasn't too thick or thin, and was just right.
Polishing off our food, we were very much ready for our mains.
Following on from my veggie starter, I ordered the butternut squash and sage risotto, which could also be made vegan. On the other side of the table, my boyfriend opted for the roast haunch of Glen Lyon venison, which sounded unbelievable.
The venison was served with thyme roasted potatoes, redcurrant jus and creamed winter cabbage, and his eyes lit up as he tucked in. The meat – four thick slices of medium venison – was tender but lacked that gamey flavour he was looking for. The tatties were crunchy on the outside but incredibly fluffy inside and had been sprinkled in rosemary and sea salt. Plenty of them, there was a lot of eating in this dish. He also noted how yummy the creamed cabbage was, with its crunchy and soft textures. Lacking in the jus, his only criticism would have been to lather a bit more of the deliciously rich sauce on.
My risotto was equally as good, if not better than his, in my opinion. Dressed with pine nuts on top, they and some spinach had also been mixed throughout the creamy dish. The addition of melted cheese within made me salivate over every mouthful, and I loved the crunchiness the pine nuts offered. I also really relished the roasted butternut squash chunks stirred through it.
The dish was so filling that I couldn't possibly finish it. My boyfriend had been looking forward to his banoffee pie for the entirety of our dinner date so ordered himself one when our plates were being cleared.
Arriving in record time, layers of fresh banana, whipped cream and chewy toffee biscuit were topped with ground pieces of chocolate on top, which lingered in your mouth and finished it off beautifully. And just as quickly as it arrived, it was gone. If anything, all it needed was a jug of toffee sauce to pour over and you're on to a winner.
Stuffed to the brim, we promptly got our bill and headed out from the slight madness of Christmas which, somehow, still seemed to be following us.
---
The Verdict
If Scottish food is on your mind, for me, Howies is the place to go. Serving up delicious, homely dishes in a modern, sophisticated environment, you can't ask for much more when dining out.
The staff were a joy and no ask was too big. They also had some great dining offers on too, and with a new menu launching next month, diners are sure to be spoiled.
Price: £61.55
Address: 50 Chapel Street, Aberdeen, AB10 1SN