Food Review: Delicious fare served up in style – and safety – at Aberdeen's Chop Bar & Grill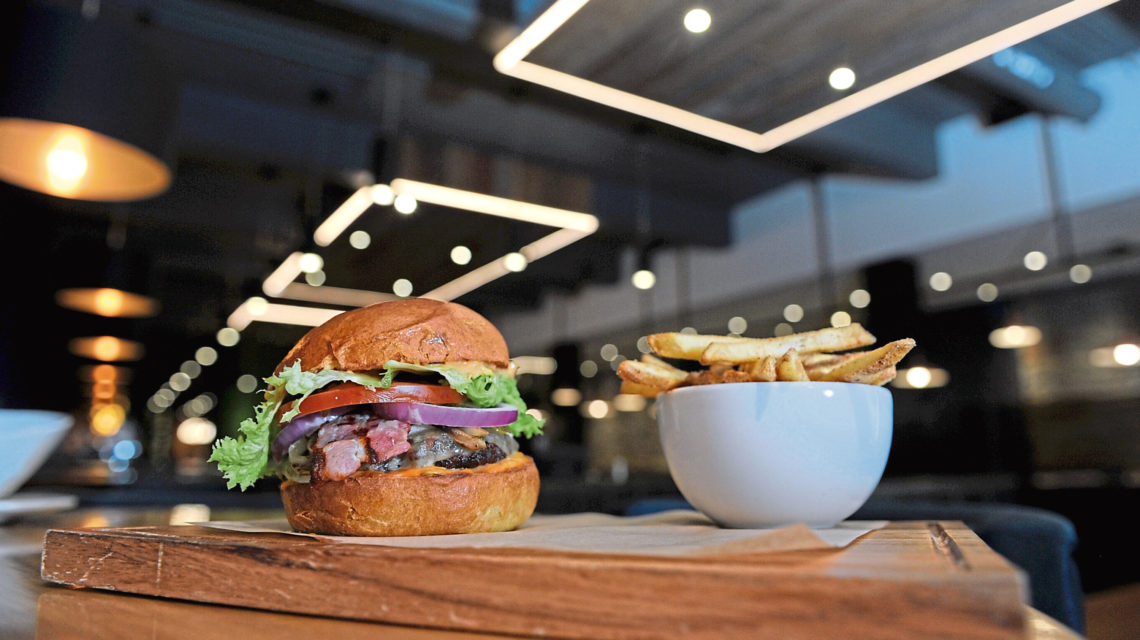 Once upon a time, going out the door involved a ritual of making sure you had your keys, wallet and phone.
These days that litany is "keys, wallet, phone… mask and sanitiser".
The ''new normal'' is upon us and not just being embraced by individuals (as it should be).
Restaurants, too, are no longer a case of rocking up and saying "we have a table booked".
Now there's signing in to track and trace and having your temperature in the mix, too.
It is something we will all get used to – and that's helped when it's made easy, relaxed and welcoming, just as it was for us in Chop.
My wife and I headed to the Sandman Signature Hotel's grill and bar as part of a "new normal" Saturday, with socially-distanced shopping and a pre-booked wander round the Art Gallery.
Chop has long been one of our go-to bars, prior to lockdown. Previously, though, we had dropped in for drinks. After all, those Saturday afternoon cocktail deals were a thing of wonder. Even if they had the potential to get a bit sloppy. Mexican Bulldogs? They can bite.
Anyway, our recent trip was all about the food.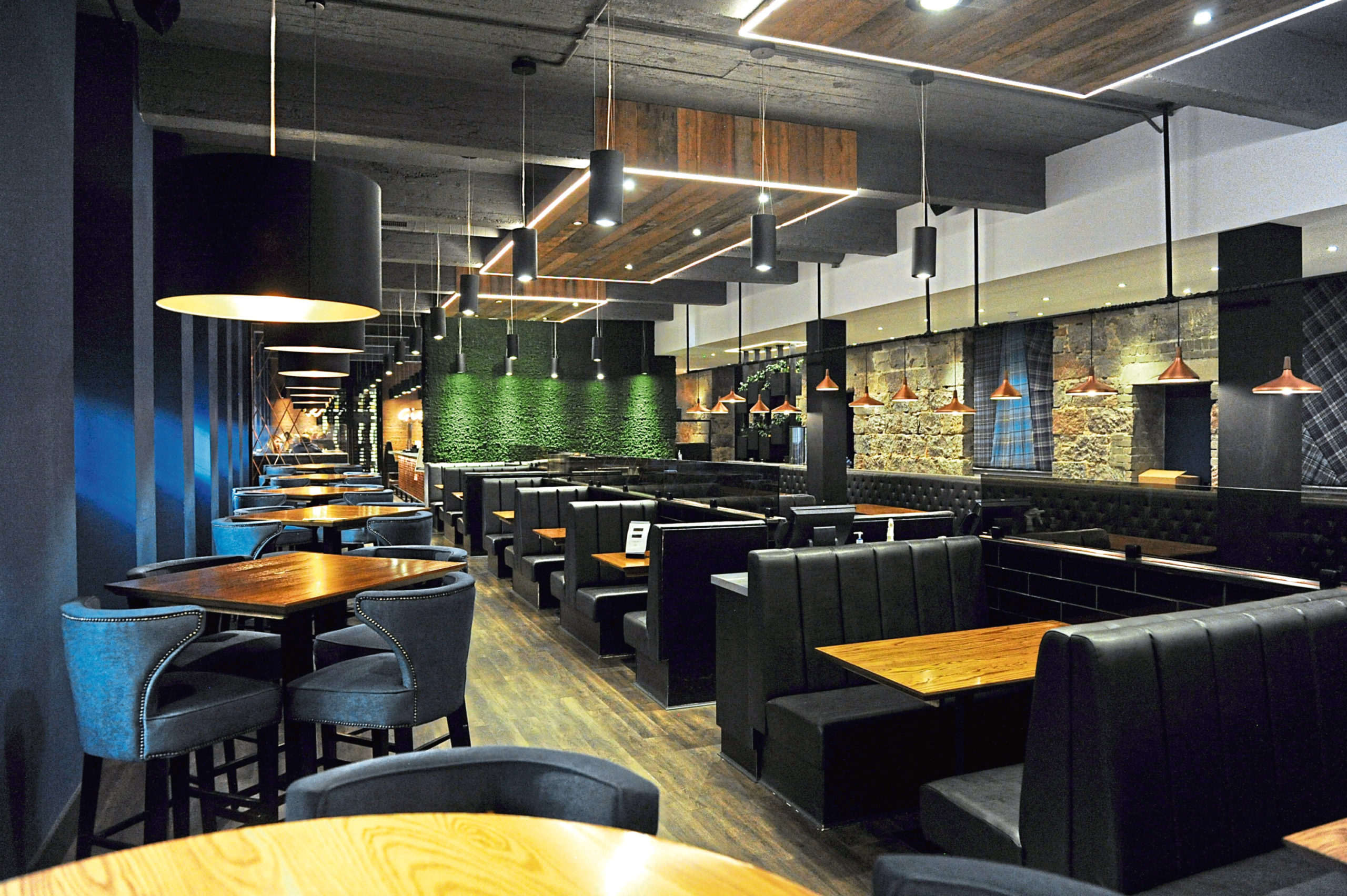 ---
The Venue
---
Checked in, signed in, temperature taken, we were guided through the one-way system to our table. It was a chance to take in the décor of the dining space. Very inviting it was too, with its dark blue tones, offset by a roughcast wall and beautifully lit with pendant lamps.
The sort of place you just wanted to relax into a booth and go "ahhhh, this feels nice." So we did.
---
The Food
---
Retail and culture can leave you feeling a bit peckish, but even at that we decided to share a starter rather than go all in. We wanted to leave room for our mains and also not end up so stuffed all we could do was take the train home to Stonehaven and sit on the couch.
So, sharing a plate of wings was the obvious way to kick things off. And also the best way. Let me say, without fear of contradiction, that these were the best chicken wings I have had anywhere for some considerable time.
They had a fantastically crisp texture that gave way to perfect meat beneath. The buffalo coating was spot on… not too hot, not too bland, not too vinegary, not too salty. It was the Goldilocks of hot sauce. And there were eight wings in total, so plenty to share. I say wings, but these were getting on for drumstick size beasts. All that, plus a healthy side of carrot sticks and ranch dip. Yum.
Suffice to say, it left Mrs B and I very happy. Also relieved we had decided to share. That was a lot of eating on that plate.
We settled back and chatted, just enjoying the chilled atmosphere of Chop. We also praised their approach to keeping everyone safe in the pandemic. It was well-organised without being in your face and left us both feeling completely at ease in these cautious times.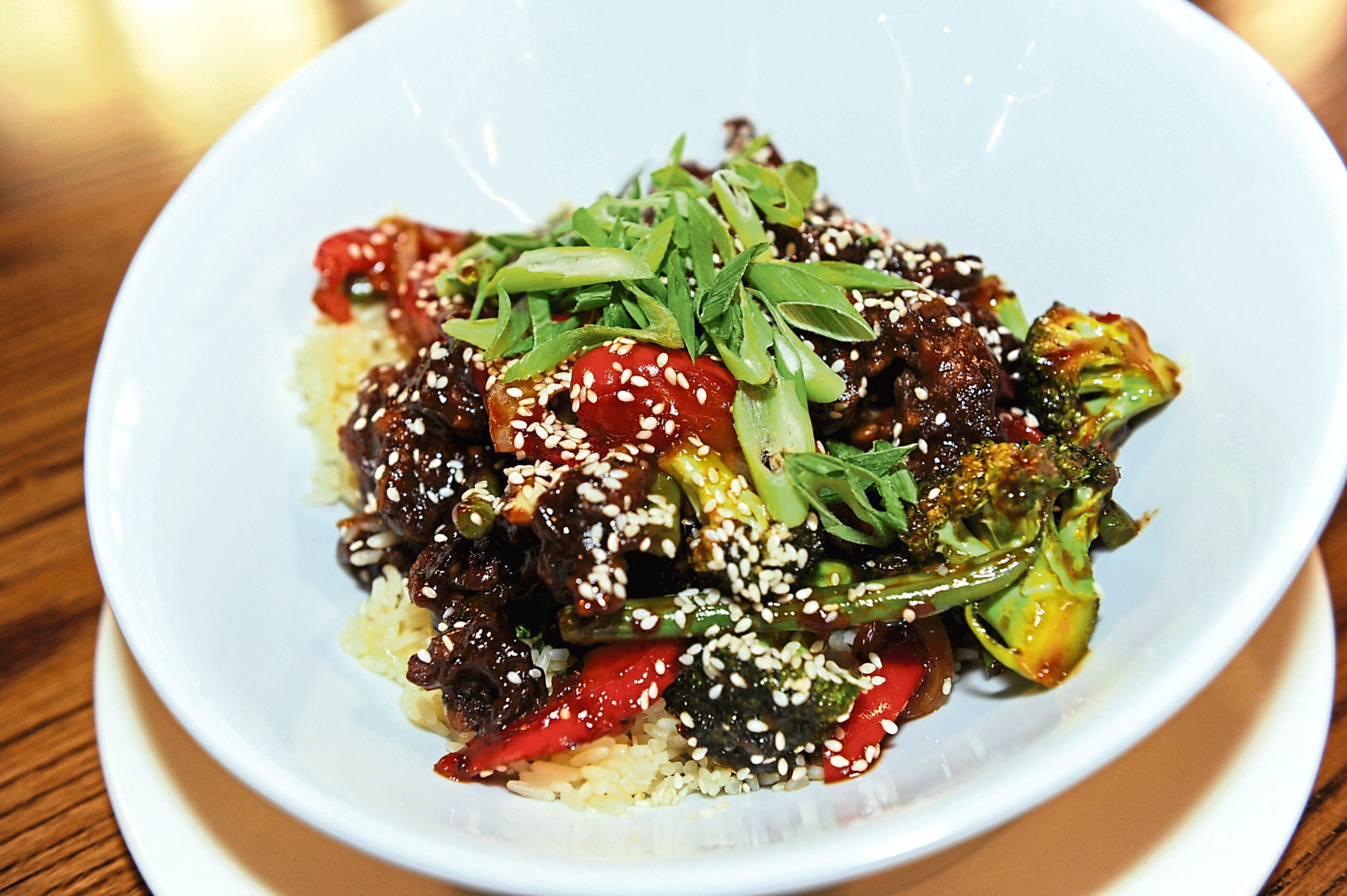 It didn't take long for our main courses to arrive… I might have still been dabbing at the odd bit of hot sauce I had missed with my first go over with the wee wipe our hugely friendly waiter, Ibrahim, had provided.
Now, do you ever play that game with your other half, where you guess what they're going to order? The extensive menu at Chop had at least four of her "go to" dishes. But she blind-sided me by picking the ginger beef rice bowl over the likes of steak or chicken burger.
Turned out it was a genius choice. The menu description is sparse: "sweet and spicy beef served over Szechuan vegetables and jasmine rice."
What arrived was a bowl of food that would have taken pride of place in the finest of Chinese restaurants in the north-east.
It was an absolute flavour-fest. The steak itself was tender and moist, but given a fabulous zing of chilli. It was hot, yes, but not so much as to leave the taste buds battered into submission. Same with the sweetness. More a suggestion than a full-on assault. The mix of veg added crunch with its broccoli, red peppers, green beans and onion. The rice was perfectly fluffy with a nice undertone of floral jasmine to it.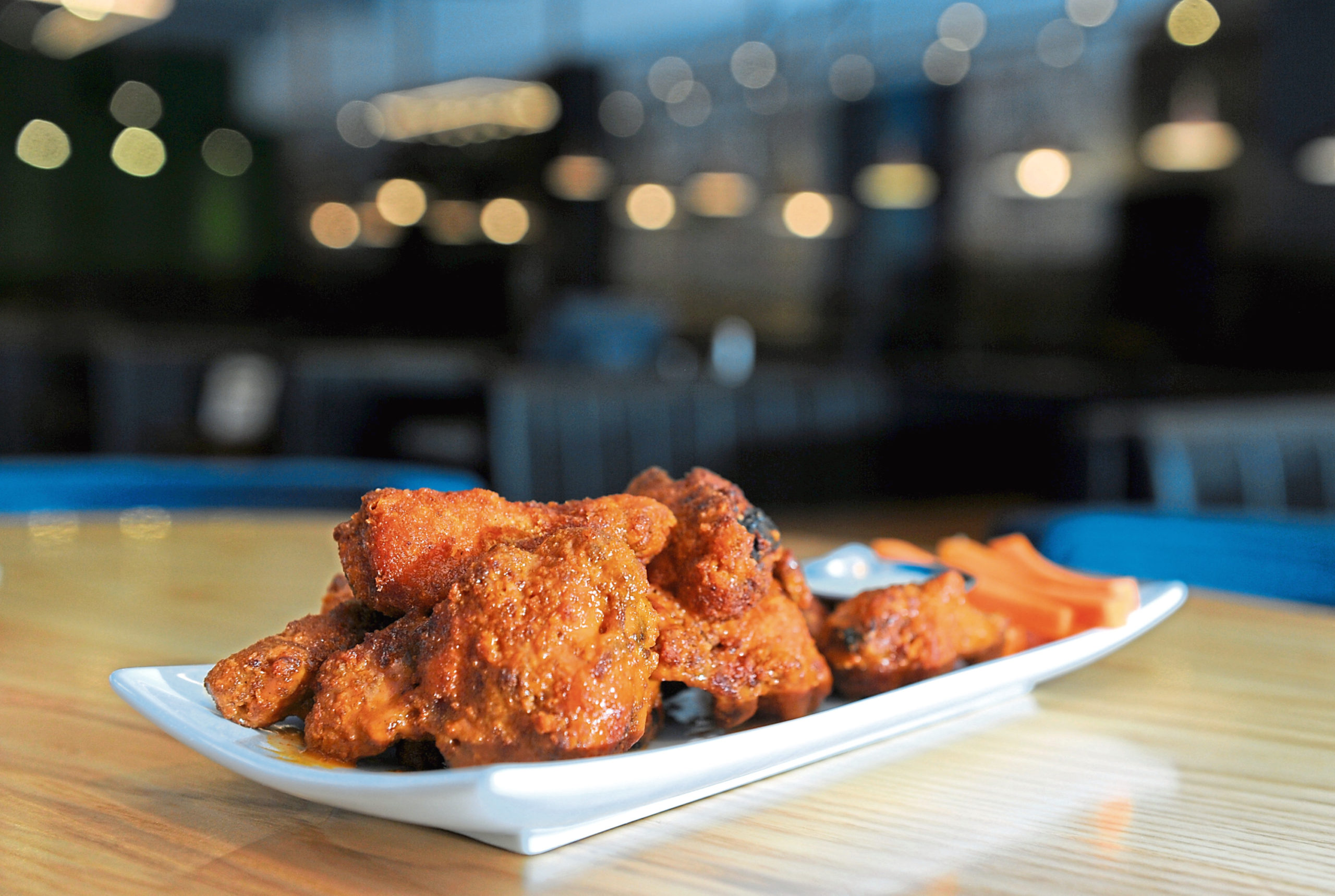 As with the wings, this was a formidable sized portion. But it was also the sort of dish you just want to keep forking into your mouth regardless of how full you were feeling. Every time my missus put down her fork and said "that'll do me" I knew it was only a matter of time before she'd be picking again. I would.
Meanwhile, my side of the table had plenty going on with the signature Chop burger. It was described as fully loaded. They weren't kidding.
Lurking in the bun was bacon, sauted mushrooms, sauted onions, cheddar and salad. I'm surprised there was any room for the burger. There was, though, and I'm glad. It was a delight.
The sizeable patty had a real depth of flavour to it and the texture was perfect, just enough bite but still juicy and rich. The fixings around it worked really well, from the saltiness of the bacon to the sweetness of the onion, while the cheese was rich and nutty. Even the crunch of pickled gherkin just added to the party.
However, I do have one plea to make, not just to Chop but to all places selling high-end burgers. Please stop with the brioche. When you have that many flavours going on, the cloying sweetness of the bun is a hindrance not a help. Back to the baps, please. Oh, and stop putting salt on my chips. I know how much I like (none) so leave it to me.
Those, though, are personal quibbles about places in general and didn't take away anything from what was a fabulous meal at Chop.
---
The Verdict
---
As we finished up, my wife and I were happy bunnies. We had big smiles on our faces and agreed that was as perfect a Saturday lunch as you could get. It even felt like the good old, normal days, albeit the new normal we have now.
We headed off full, satisfied and agreeing we need to do this more often… we might even revisit the Mexican Bulldogs next time. Might.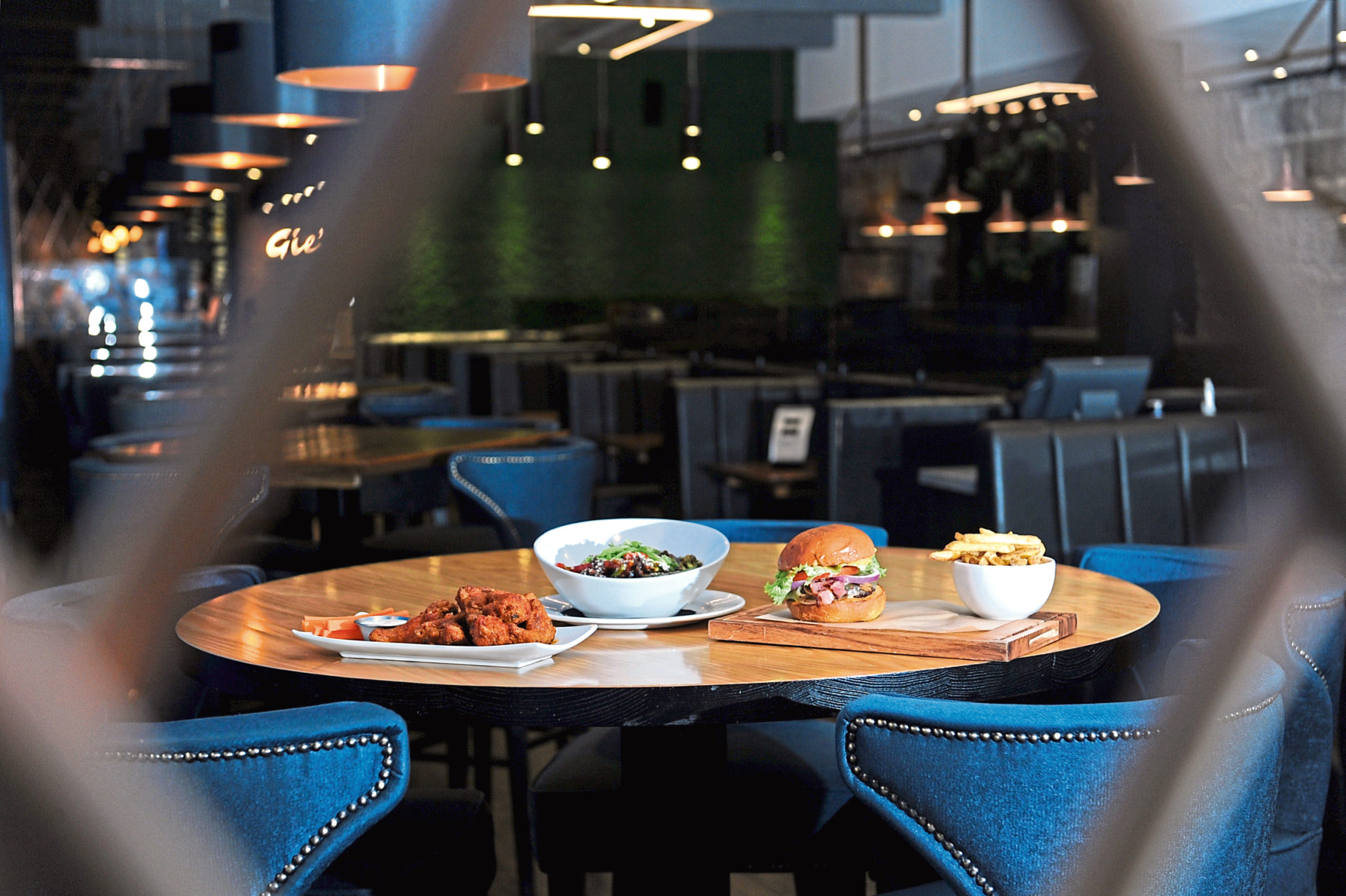 ---
Price: £53.85
Address: Chop Grill & Bar, Sandman Signature Hotel, St Andrew Street, Aberdeen.