Food Review: Coffee shop at Andersons of Inverurie is the perfect pit-stop during busy day of shopping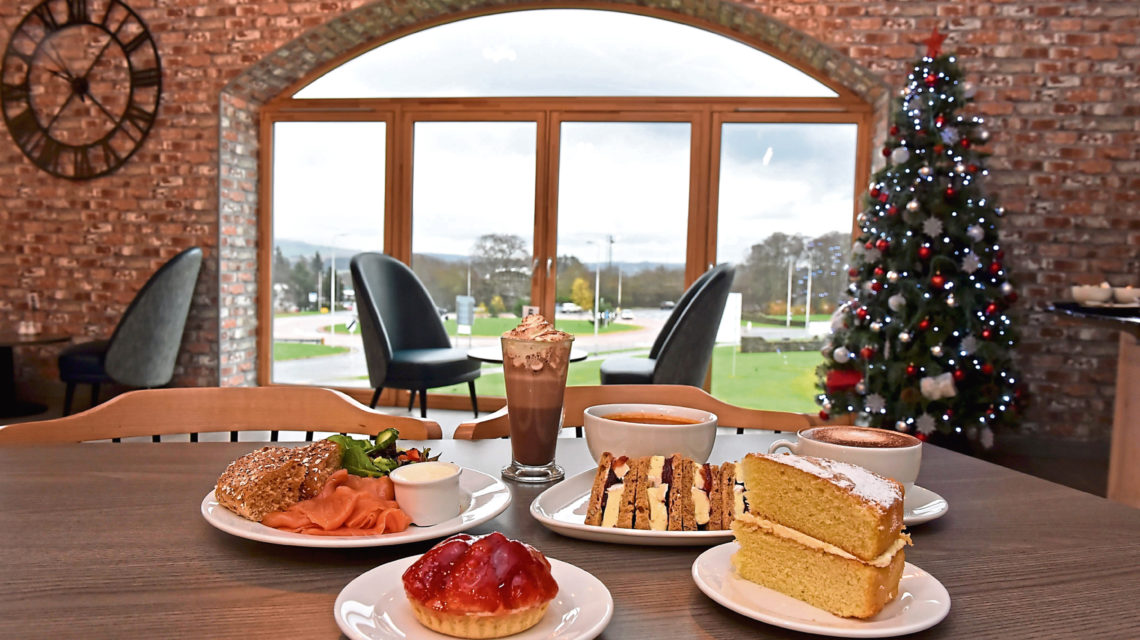 The Venue
You know it's the festive season when business owners start kitting out their premises with dazzling Christmas decorations.
To my delight, the race to begin this season started earlier than normal this year. I mean, it is the perfect excuse to add some excitement and cheer into what has been a dismal year for many, I suppose.
Already I have seen countless restaurants, bars and stores displaying lights, trees and décor from top to bottom. All I will say on the topic is that I couldn't be more pleased.
Those who are planning to play the annual Scrooge act this time around should really consider backing the early celebrations as well. It may be just what you need.
Nevertheless, fellow lovers of the holiday should very much consider heading to Andersons of Inverurie.
The furniture store is flooded with plenty of inspiration for people who are yet to get their hands on festive goods or gifts for friends and loved ones. However, during my last visit – having completed my Christmas shopping early for the first time in my life – it was the coffee shop that I was stopping by for.
Located on the upper level of the venue, the shop has undergone an impressive refurbishment just over a year ago. I had caught a glimpse of it in images prior to my visit, but the coffee shop is certainly one to be admired in person.
There are large windows, industrial-style lighting fixtures and Scandinavian-style seating in the contemporary area. The best way to describe it would be that it is a breath of fresh air.
I was apprehensive that the coffee shop would be full to the brim ahead of visiting, so I decided to phone ahead and make a booking. However, for those of you planning on stopping by in the near future Andersons of Inverurie are now operating a walk-in table service only, so no need for reservations.
So my dad and I waited in line to be seated. I'd say the wait was around 20 minutes, so nothing too drastic.
---
The Food
We ordered a few items from the savoury foodie line-up to begin with. On my end, I knew that I fancied soup and a sandwich. I'm not fussy when it comes to soup, however there were a few in mind that I hoped would be available.
"There's chicken broth or tomato and basil to choose from today", said one of the kind servers – my prayers had been answered.
With that information, I requested a bowl of the homemade tomato and basil. And to accompany the piping hot soup was a brie and cranberry sandwich.
The soup had been blended, so there were no chunks of vegetables in sight. It was delightfully fragrant and had a slight sweetness, along with warming hints of black pepper. As I prepared to dip a segment of my sandwich in it, I knew I was in for a treat.
When it came to my sandwich, something that's worth noting above all was the bread used to build it. The dough smelled as though it had just been baked on the day, and not only looked delicious but tasted it. Wedged in between the slices were thick chunks of nutty brie and layers of sweet cranberry sauce, contrasting well with the cheese. I dunked away until I'd finished off the sandwich and proceeded to tick the soup off of my agenda.
My dad opted for the smoked salmon platter, given his love of seafood – something that we both share. Although the appearance of the plate wasn't anything to scream about, it succeeded in putting a smile on his face.
There was a pile of fresh salad – consisting of crunchy lettuce and juicy cucumber – accompanied by half a bread roll, lemon wedge and, of course, the smoked salmon. I was a tad confused as to why there was no sign of the other half of the roll, but he was still satisfied nevertheless.
His knife glided through the slices of seafood with ease, which were soft with a salty finish. He placed a layer of salmon and salad inside the sliced bread along with a squeeze of lemon, making for a heavenly combination.
Being around the north-east coastline on a daily basis as a marine engineer, my dad knows when seafood is fresh. He did nothing but compliment the salmon, which is definitely a good sign.
Since it was early on in the day, the pair of us opted for a glass of fresh orange juice to wash everything down. Not too sweet nor too bitter, we were pleased with our choice.
Both dishes went down an absolute treat, however we still weren't feeling full.
I was thankful that we had both opted for some goodies off of the sweet counter when ordering our food.
There were rows of tempting bakes, but we whittled it down to a strawberry tart and a slice of classic Victoria sponge. But it didn't stop there – my dad also went on to request a hot chocolate. I thought it rude not to join him, so asked for a cappuccino.
The puddings and warm drinks were a feast for the eyes. Bold and bright, the strawberry tart – which was the clear star of the show – featured a delicately arranged spiral of fresh strawberries topped with a sharp, sticky strawberry glaze.
A hefty helping of heavy whipped cream was hidden underneath the fruity layer, and a crispy, buttery pastry base allowed the treat to hold its shape. Each component was faultless and reminded me why I used to indulge in countless strawberry tarts as a child.
As for the sponge, this was equally as tempting. Springy to touch, it was both moist and crumbly.
Boasting just the right amount of sweetness, we polished the pieces off between us while sipping away at our drinks – both of which were thick, creamy and superb.
---
The Verdict
Andersons of Inverurie's coffee shop is a real gem, which people often miss out on when visiting the furniture store.
The team are friendly, and the food is freshly prepared and tasty, making for the perfect pit-stop during a busy day of shopping.
There's plenty of choice to suit all tastes and diets. However, I would urge you to sample the homemade goods from the sweet counter above all – you won't be sorry, and that's a promise.
Address: Highclere Business Park, Inverurie
Price: £34.30