Food Review: Banchory Lodge Hotel is a 'go-to spot for special food' in the north-east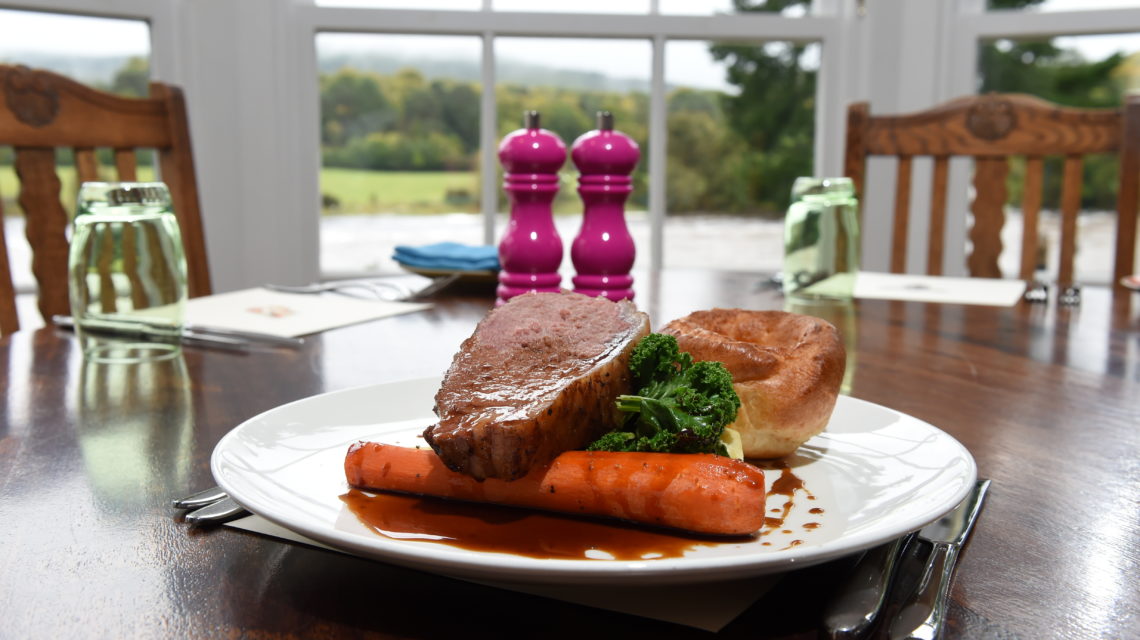 Autumn is making its arrival felt, what with all this wet and windy weather.
But the season of mists and mellow fruitfulness also offers an excellent excuse to coorie in somewhere cosy.
Mind you, in our case that did involve a drive at the weekend over the Slug Road from Stonehaven to Banchory in the teeth of driving rain and flooding roads. At one point there was a stream running down the tarmac.
And when we finally got to our destination, we had raised eyebrows over just how high the River Dee was running. Gulp.
But none of that mattered as soon as we stepped through the doors of the Banchory Lodge Hotel.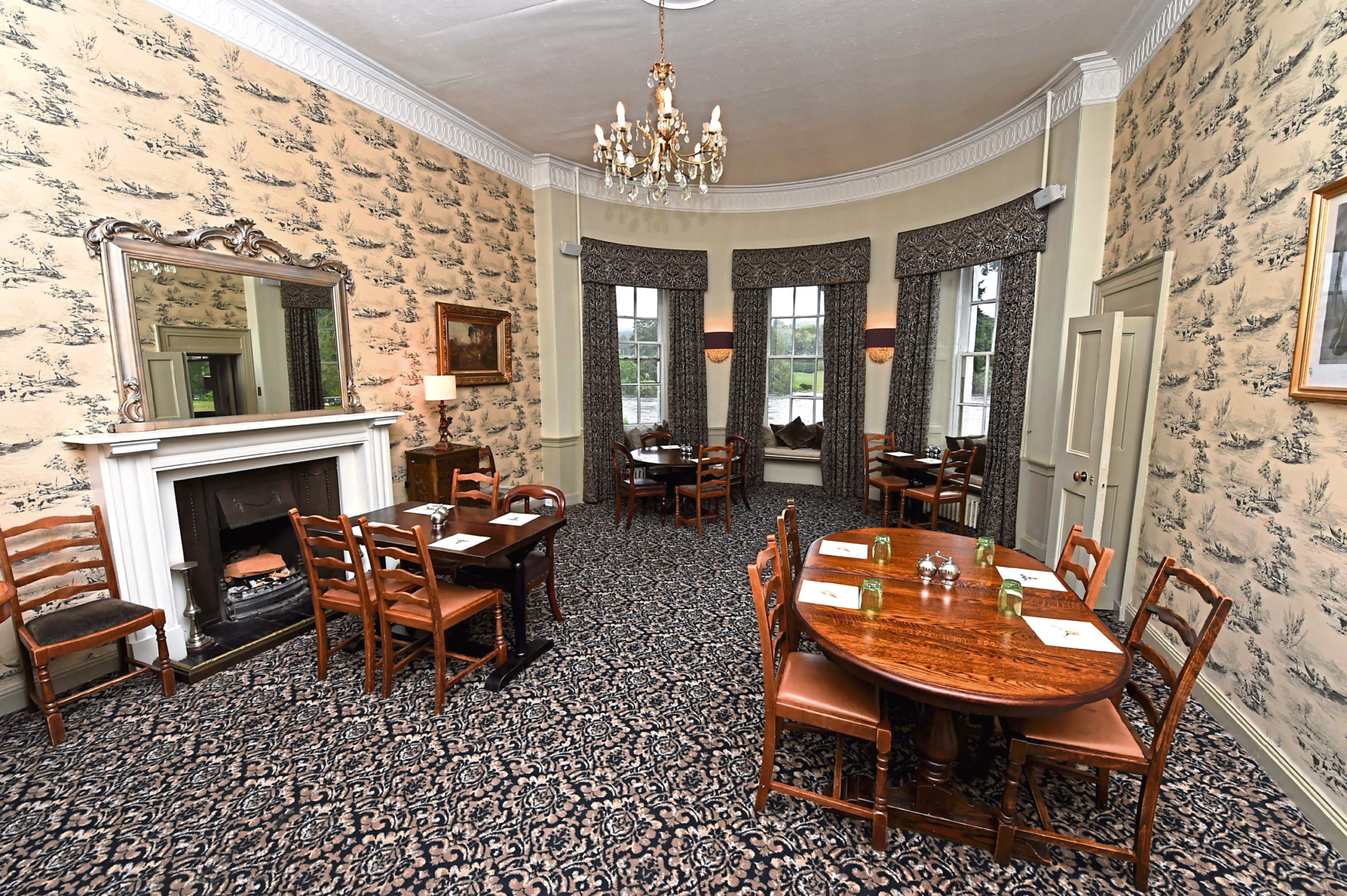 ---
The Venue
---
This has always been a special spot for me and my missus. There is a lovely, relaxed atmosphere that just makes you go "ahhh" and want to settle in.
Especially so when we were shown through to our table in the dining room, with a roaring log fire driving the chill away. As a space it's all comfy seats, patterned carpets and wallcovering made up of little faux oil paintings. All of that, complemented with a huge window giving an ideal view of the roaring river, which on calmer days is an oasis of tranquillity.
Still, we weren't there to gaze at Mother Nature, but to enjoy some rather fine food.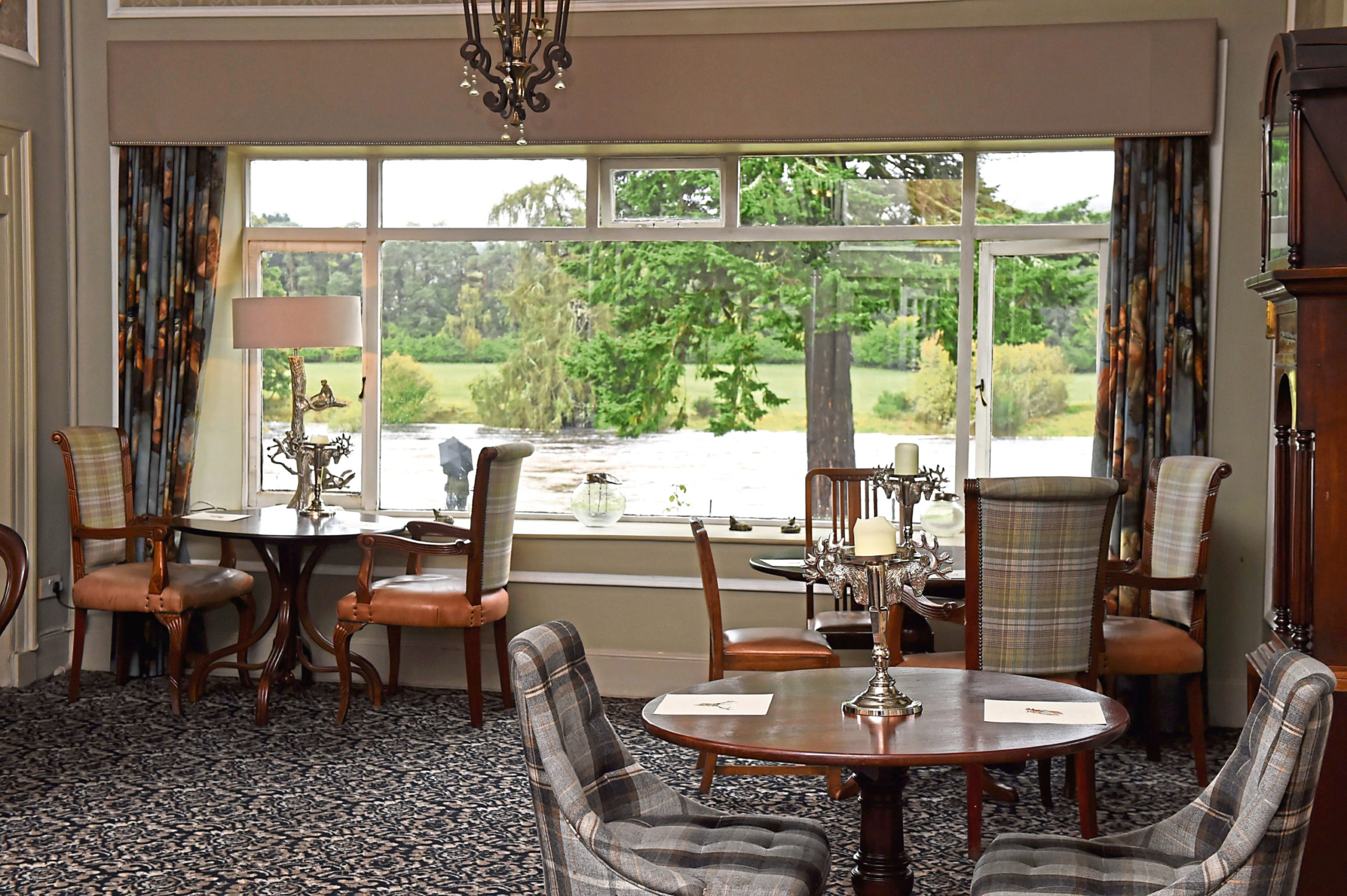 ---
The Food
---
Banchory Lodge Hotel prides itself on its dining expertise seven days a week… but there's one day when we particularly like to visit. After all, the ideal way to balance out the onset of chillier weather is to settle in with a hearty Sunday brunch.
And the lodge's brunch menu is a thing of wonder. Poached eggs with everything from smoked salmon to braised beef shoulder? There you go. Waffles with duck and egg? Of course, you can have that.
Now, this is where we decided to take the concept of brunch seriously… as in a hybrid of breakfast and lunch. Which meant from the glorious morning fare I decided to go with the "Lodge Breakfast". Meanwhile, my other half had been salivating about roast Scotch beef all the way over the hill from home.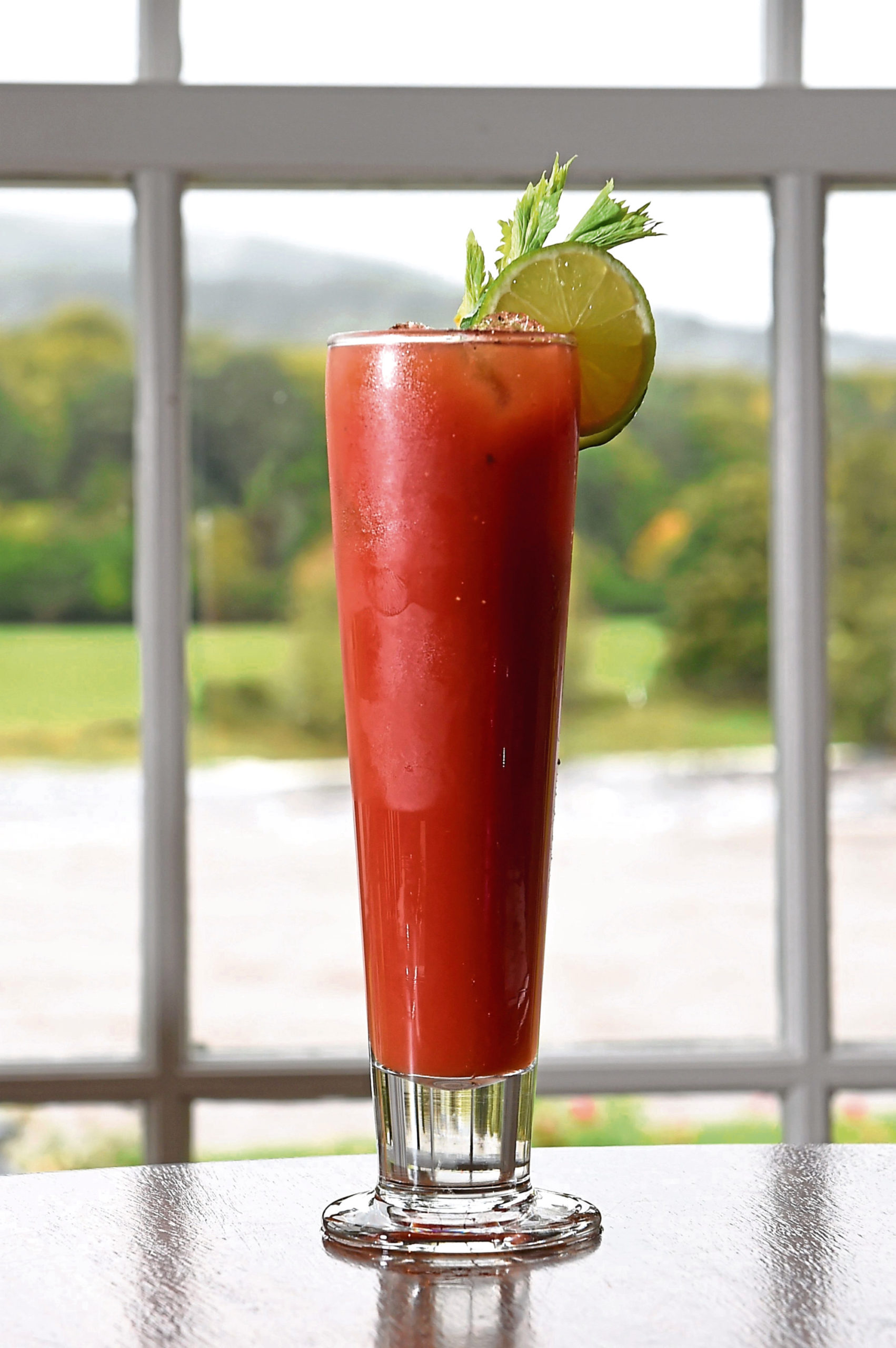 One of the friendly waiters – I do like the waistcoats – took our drinks order. I had decided to spice things up a bit, I must admit. I mean, what's Sunday brunch without a Bloody Mary, or in this case a Bloody Banchory.
While we were waiting for those, our food order was taken. We barely had time to chat to each other about how popular the place was – all safely socially distanced, the lodge is rigorous on that front – than our meals turned up. It was such a quick turnaround, our drinks hadn't even arrived.
They do say you eat with your eyes. And both of our plates were a visual feast.
Mine was a heady mix of a Cumberland ring, a couple of fried eggs, a thick slice of black pudding and generous flat mushroom, supported by grilled vine tomatoes, hash brown and a wee pot of the lodge's homemade baked beans.
Meanwhile, across the table, there was a slab of roast beef, perfectly cooked and nicely pink, slathered in gravy, with the requisite roast veg and Yorkshire pud.
The Bloody Banchory was the perfect mix of booze and spice and lush tomato juice. Personally, I would have left out the cucumber. It's just not my thing. Still, this was the perfect drink to sip away on while expressing gratitude to my other half for being designated driver on the Coke Zero.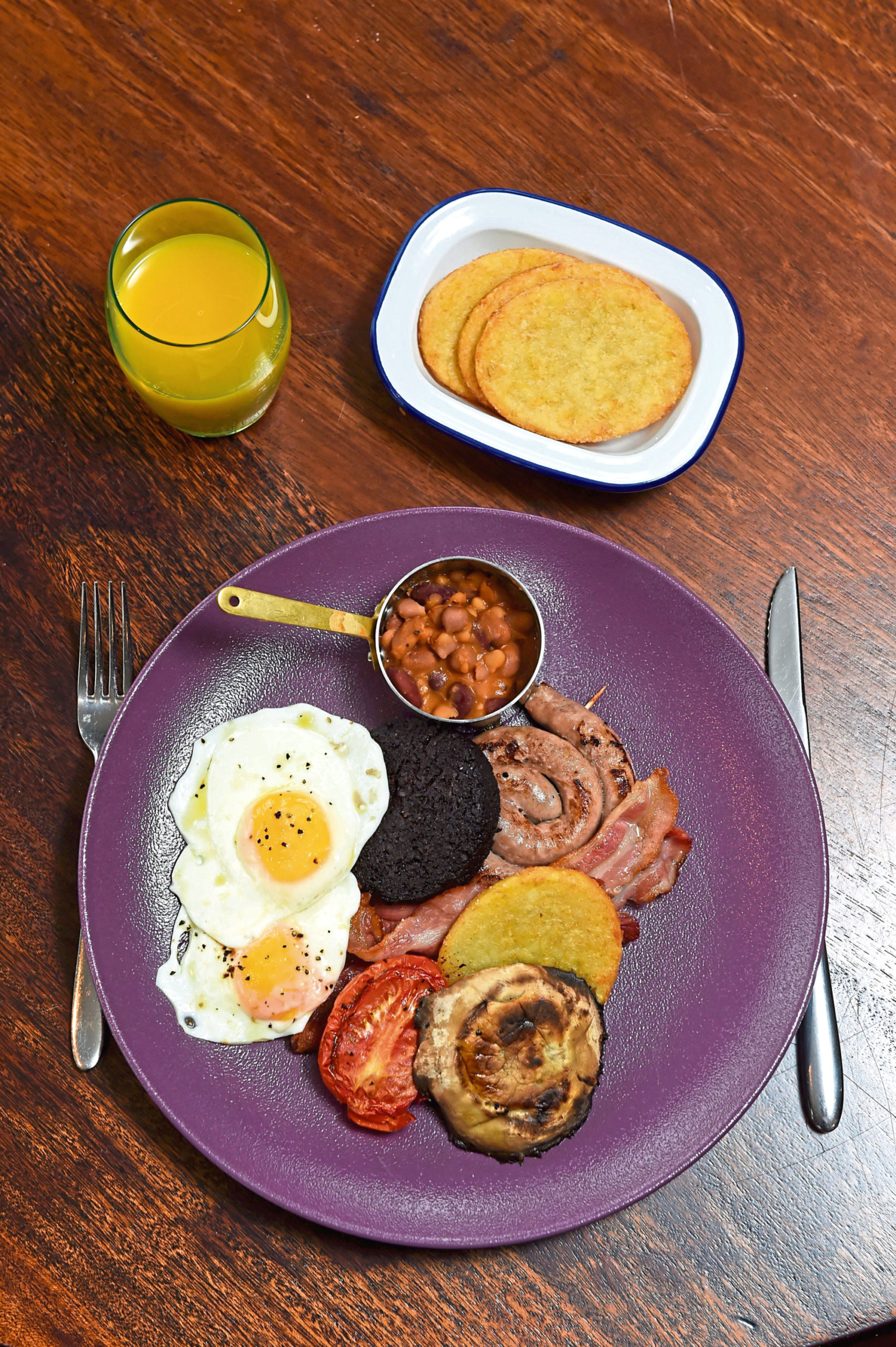 Back to the food.
The sausage was delightful, meaty and perfect for dipping into the yellow yolk of the eggs – so fresh I would have expected there's a coop on the grounds somewhere.
Not that I'm a creature of habit, but I do like to pop my eggs on top of hash browns before I dive into them. Which was why I had ordered more as a side dish. These potato cakes were nicely crunchy and rightly salty, just to add to the melange of flavours.
On the flavour front, I couldn't decide which was more outstanding – the mushroom or the black pudding. The first had been cooked down to that dark brown colour and meaty texture that is the essence of any good breakfast plate. The black pudding was intense and rich. Meanwhile, the tomatoes were nicely juicy and soft.
Special mention must be made of the lodge's own baked beans. There are those who say it must be Heinz or nothing.
They'd soon change their mind after a bowlful of this tangy, tender, saucy, sweet and delicious iteration.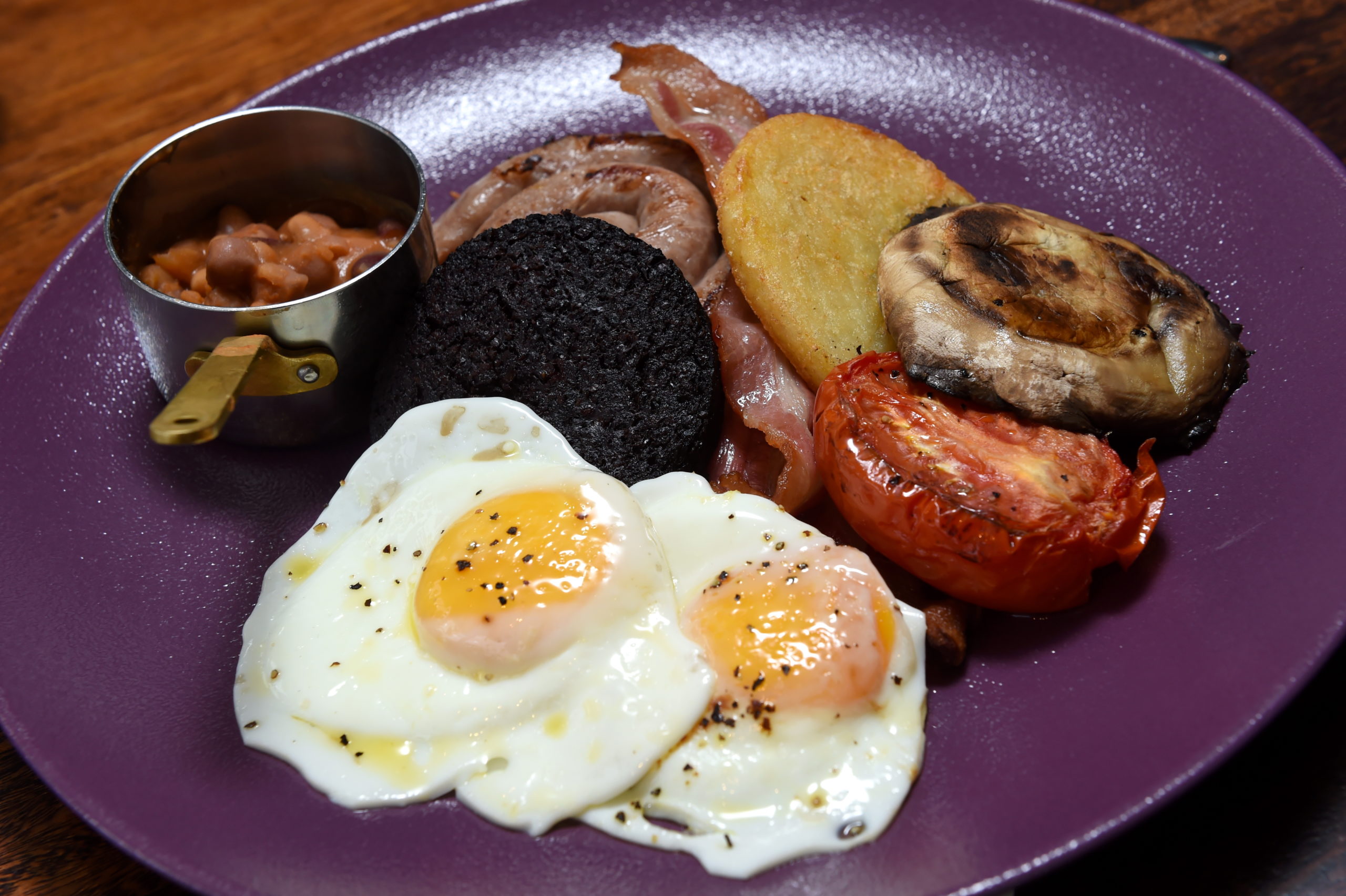 Now, the observant among you might have noticed something that I only realised after I had cleaned the plate. No bacon. There should have been, it says so on the menu. But as I'm not the biggest fan of bacon, I didn't realise it was MIA. But the rest of it was so fine and filling, it made little difference to how much I enjoyed it.
Everything was present and correct on my wife's plate. Except for horseradish. They had ran out, unfortunately. Still mustard can make do. She sang the praises of the beef. It was so tender and moist and cut like butter. The rich gravy elevated the meat and went so well with the roasted veg including tatties, parsnips and carrots, with a dod of kale thrown in. The Yorkshire pud wasn't as rustic as she had hoped but vanished nonetheless.
Plates cleared, I settled back and enjoyed the hubbub of chat around me, while my missus perused the dessert menu. After all, I had a treat with my cocktail, so it was her turn to indulge. When she was told she could have a scoop each of honeycomb, chocolate mint and strawberry ice cream, she was fairly delighted. Unfortunately, the honeycomb didn't turn up, two scoops of strawberry and one of choc mint did. It was rich and luxurious and a great way for her to finish off her brunch.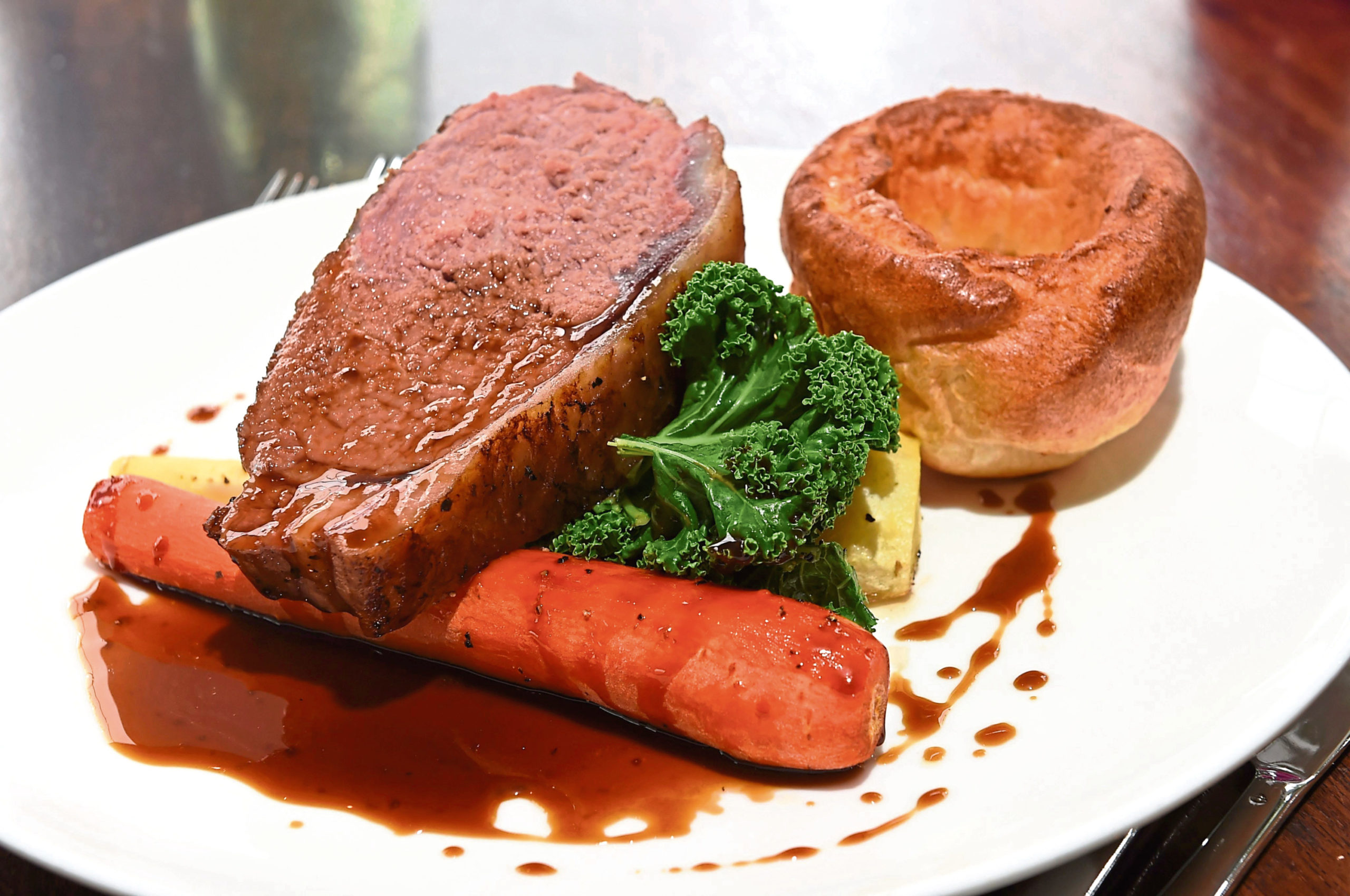 ---
The Verdict
---
Banchory Lodge Hotel has long been a go-to place for people looking for a special spot for some special food. The Sunday menu is so extensive you can make repeat visits and not have the same thing twice. Relaxed and relaxing, it's a great place to hang out.
---
Total: £47.95
Address: Dee Street, Banchory