Food Review: Banchory-based The Derbar is 'one of the finest Indian restaurants in the north-east'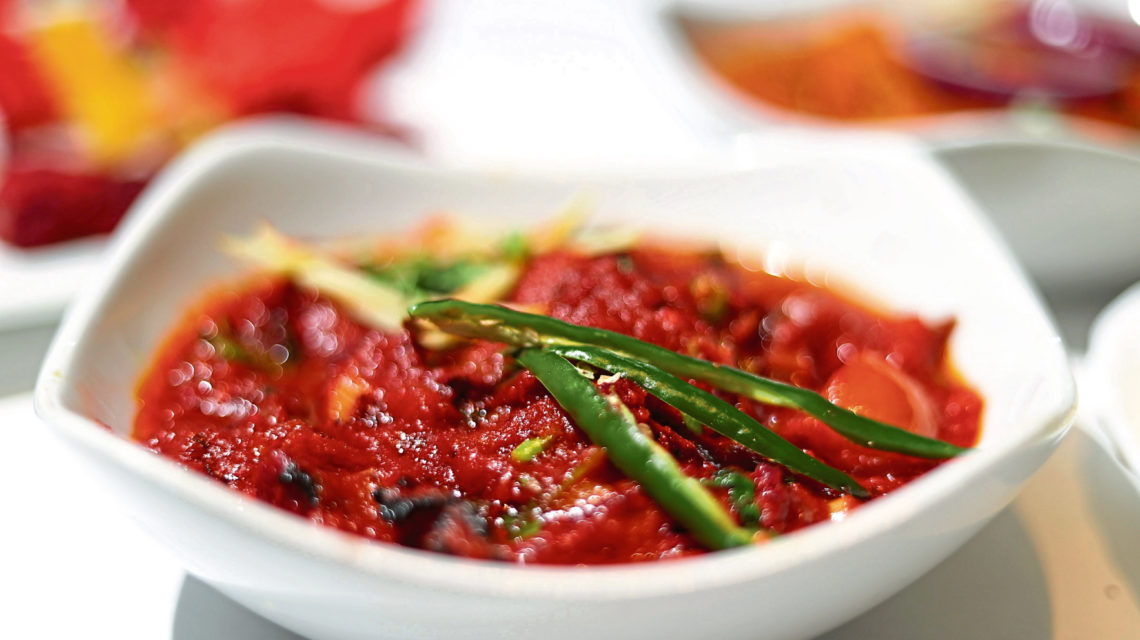 The Venue
If I have learned anything during the pandemic it's that Pringles are not my friend – neither are Gold Bars, Jaffa Cakes or Maryland Cookies.
Faced with the prospect of buying bigger jeans or knocking the working-at-home-while-stuffing-your-face malarkey on the head – along with comfort eating takeout food – I've embarked on another journey to get my burgeoning waistline under control.
However, as with all such voyages, you need a good send-off, a bit of a last hurrah. So cue a drive over the Slug from Stoney to Banchory so I could indulge in a final treat before battening down the hatches on the food front.
The Derbar has always been a special place for Mrs B and me. It was where we went for our first meal out together when we started going out. Nothing builds a bond faster than a mutual adoration of curry.
This lovely dining room on Banchory's main street is living in changed days, as are we all. Social distancing, closing its doors early to sit-in diners, hand sanitisers, trace and track, it's ploughing on in the new normal that is our hospitality industry for now.
But some things remain the same. The elegance of the dining room, with its high-vaulted ceiling giving almost an atrium effect, the big cosy fireplace in the middle of the space, the unfailingly friendly and cheerful welcome.
And the food, let's not forget the food, just waiting to transport you away, nestling inside a heavyweight menu that has almost too many temptations. Almost.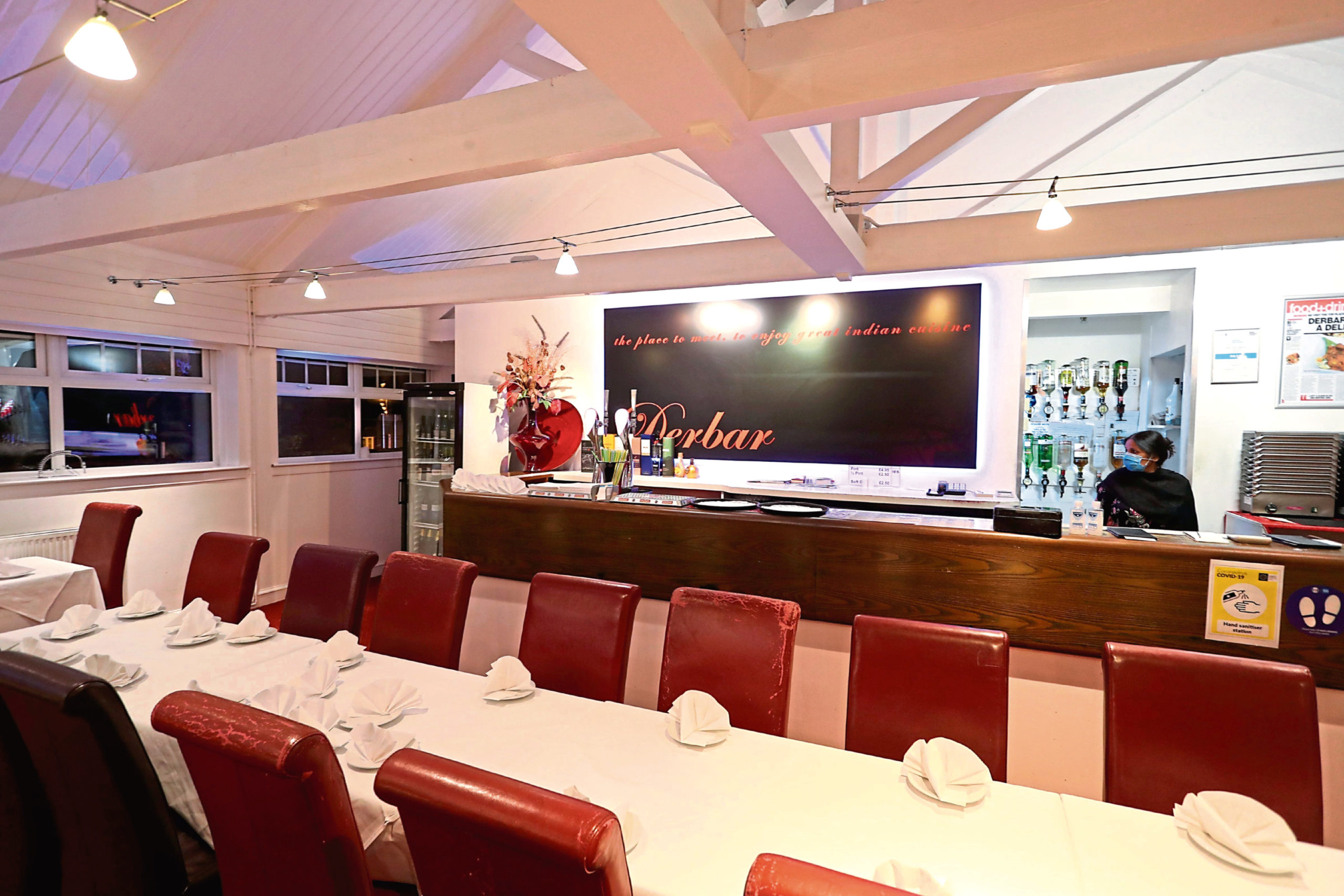 ---
The Food
When it comes to a starter, there are two ways of looking at the idea of a mixed platter. The first is a chance to sample the showcase treats being produced by the kitchen. The second is to make sure you don't stuff your face so much in the first go that you can't manage your mains.
The former is superbly well served by The Derbar. A smorgasbord of vegetable pakora, chicken pakora, chicken tikka and lamb tikka, it is basically everything you want for appetisers in an Indian restaurant. And these were star turns indeed.
The pakora were crunchy where they should be, tender where they needed to be and packed with subtle flavours. Both the tikka iterations were beautifully marinaded and perfectly cooked – especially the melting lamb. There was just the one sauce, but that was all you needed. Rich, red and spicy, it lifted every morsel it touched.
You know what I said about not stuffing your face? Well, Mrs B succeeded by gracefully saying "That will do for me". Which left the path open for me to hoover up far more than my fair share.
Empty plates whisked away (yes, I finished what was on hers) we had a chance to sit and reminisce about our previous Derbar meals, including that "getting to know you" first one. Nice memories.
Within minutes though, we were in "can't talk… eating" territory.
I'll get to the mains in a minute, but let's touch on that too often taken for granted element of any fine curry – the naan. The garlic one put in front of us wasn't to be ripped up and shoved into the sauce without a second thought. This was a masterclass in bread. Light and fluffy as a cloud and glossy with rich garlic-infused butter, it was just lush. Quite an achievement to make your starch a talking point, so well done to the chef.
And that appreciation carried on when we got down to the serious business of the two serving bowls of fine food in front of us. We had actually had a bit of a debate about who was having what, because we both said at the same time we really fancied the chicken lazatder. Mrs B was busy being gracious and saying "You have it", while I was busy saying "No, go on… I've not read the whole menu yet".
When I reached the description for shatkora ghost, I was able to say with confidence "No, seriously… have the lazatder".
After all, there was no way I was missing out on a dish that promised a blend of Punjabi lemon, kaffir lime and hot chillies with tender lamb.
There was, of course, the hesitation over the ghost bit. Ghost chillies are blow-yer-heid-off mental, but The Derbar menu promised this dish "sounds spicier than it is… trust us". So I did.
Good choice. There can be few curries that take your taste buds on a merrier dance than this. The party started before my fork reached my mouth, with the pungent, sharp-yet-sweet aromas coming off the sauce. It was tangy with tomatoes and every so often a bite of shatkora would burst through with its sour citrus notes. Another bite offered up a sharp, eye-widening spike of chilli, but that mellowed to a warming glow rather than a "Dear Lord, make it stop" Scoville scale assault.
All of it sat in harmony with the tender lamb and its remarkable depth of flavour. An absolute delight of a dish.
Tell you what, though, the chicken lazatder gave it a run for its money to the point of being a dead heat. The things that drew both Mrs B and me to this curry were the promise of ginger, garlic, potatoes and lentils – a heady mix.
Because I had demolished the starters and was busy doing the same to my lamb dish, I didn't like to ask if there was any chance of "sharesies". But when my other half said "Do you want to try some", I had a ripped-off piece of naan in my hand and dipping in barely before I finished saying "Only if you're sure".
It was a rich stew that danced with garlic and ginger. The tatties were beautifully tender and had soaked up the sauce, while the lentils added that bit of bite and earthiness that made this a curry you would want again and again. Gorgeous chicken breast rounded it all off.
I was nearly done working my way through my lamb dish, mixing the leftover sauce through with the fluffy pilau rice, when my dining partner said she was full. I eyed the lazatder still left in her serving dish and got a smile and a nod. Let's just say by the time I was finished, there was nary a scrap of naan, grain of rice or morsel of either curry left.
So, thanks to The Derbar, I now have some more precious memories of great food to see me through until my jeans fit again.
---
The Verdict
Banchory is blessed to have one of the finest Indian restaurants in the north-east. The food is consistently excellent, the menu always interesting and the welcome always warm. It's not going to slap you too hard in the wallet either. If you miss out on The Derbar, you miss out on one of the gems of our dining scene.
---
Total: £42.05
Address: 75 High Street, Banchory AB31 5TJ