Food Review: Aberdeenshire's Baobab offers vegan treats that are sure to impress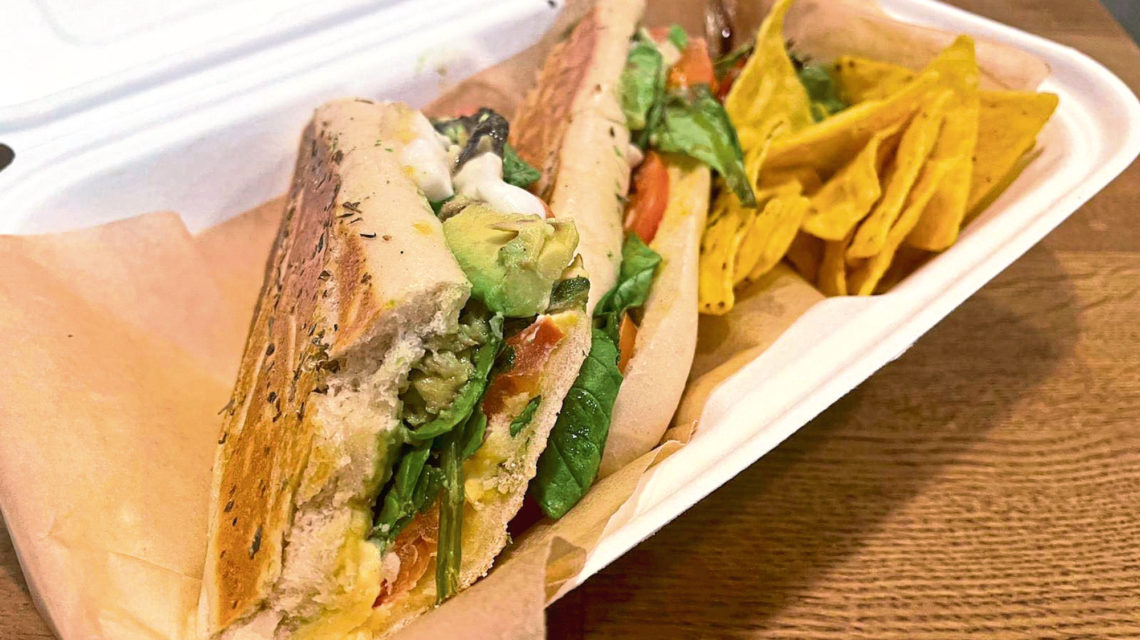 Who would have thought that 10 months on from the first nationwide lockdown we would find ourselves in the same situation? Certainly not me.
Our upcoming events and holidays have been cancelled, we're being encouraged more than ever to stay at home and, to my understanding, the public are now "panic buying" once again – something I've never quite understood the point of, to be frank.
Not only that – as you'll be well aware – but businesses in a number of sectors, hospitality included, have been forced to shut their doors once more, which really saddens me. However, resilience has kicked in.
The number of local businesses launching takeaway and delivery services, whether it be for the first time or if they've had to do so on multiple occasions to-date, has amazed me. And I really hope it works well for each and every one of them, new and old businesses alike.
A venue that's relatively new to the north-east food and drink scene is Baobab, a plant-based cafe and refillery.
Situated on Low Street in Banff, I've passed the charming cafe on multiple occasions without stopping by. But after a long wait, I finally ventured to the venue with my mum for a tasty takeaway. After all, it's important to keep spirits high through food.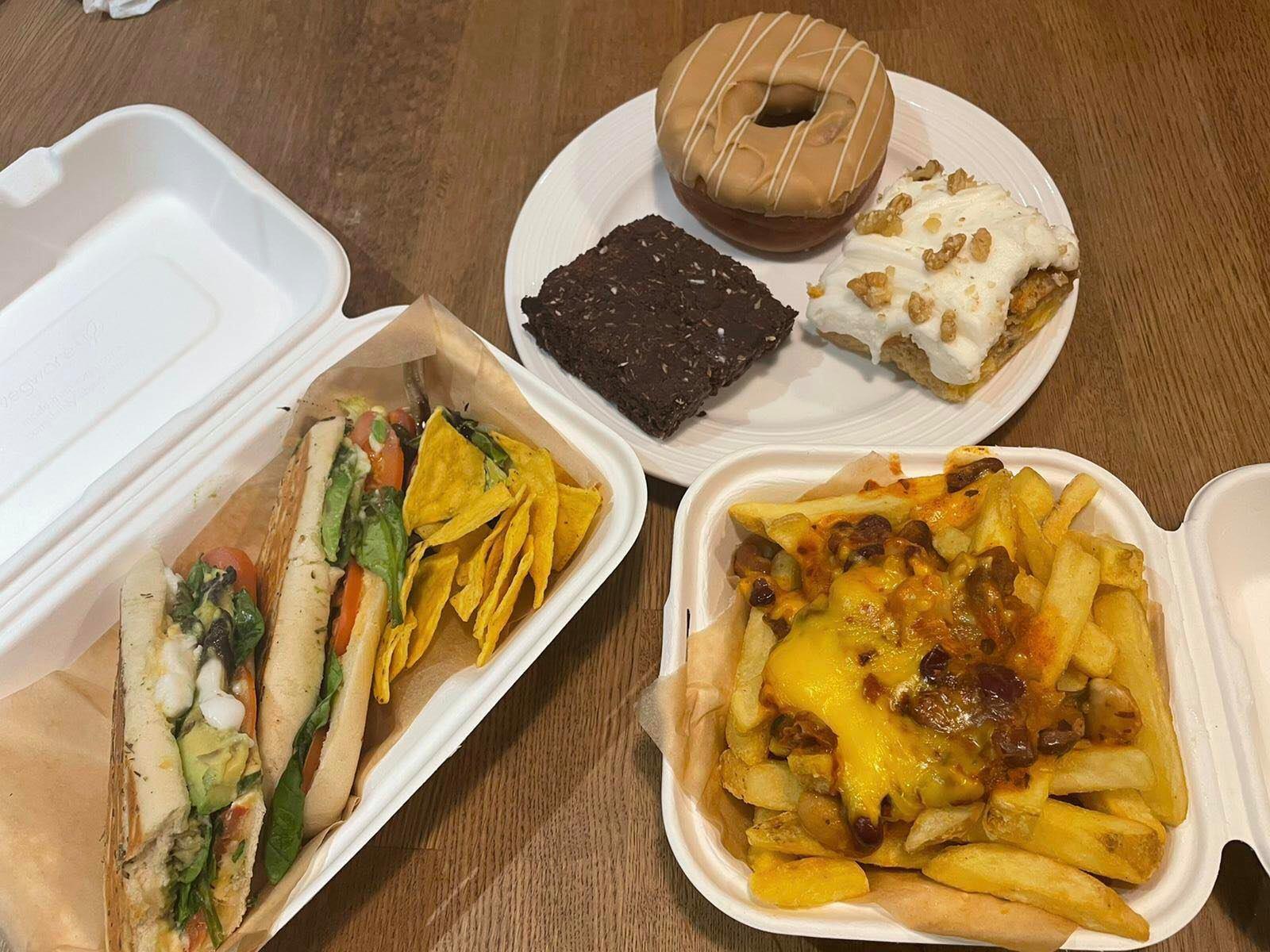 ---
The Food
The steam from our piping hot order sang as it left the bag, clouding up the windows of my car.
Luckily for us, we managed to enter the cafe and place an order right before closing time – by the skin of our teeth. However, this meant we had to act fast. Gazing across the lunch menu, my mum and I requested a portion of their loaded fries with veggie chilli and a panini filled with tasty goods, as well as some baked vegan treats, of course.
It was tough to whittle our order down. After all, there were delicious-sounding hot drinks including flavoured lattes and hot chocolates, large waffles, American-style pancakes, and more.
On arriving home, we opened up the compostable packaging and appreciated the aromas even more than we had during the journey home.
My boyfriend, also eager to sample the grub, struggled not to dive in to the pile of skin-on fries. I assured him we would stop by the cafe again as soon as possible so that he could enjoy them to himself.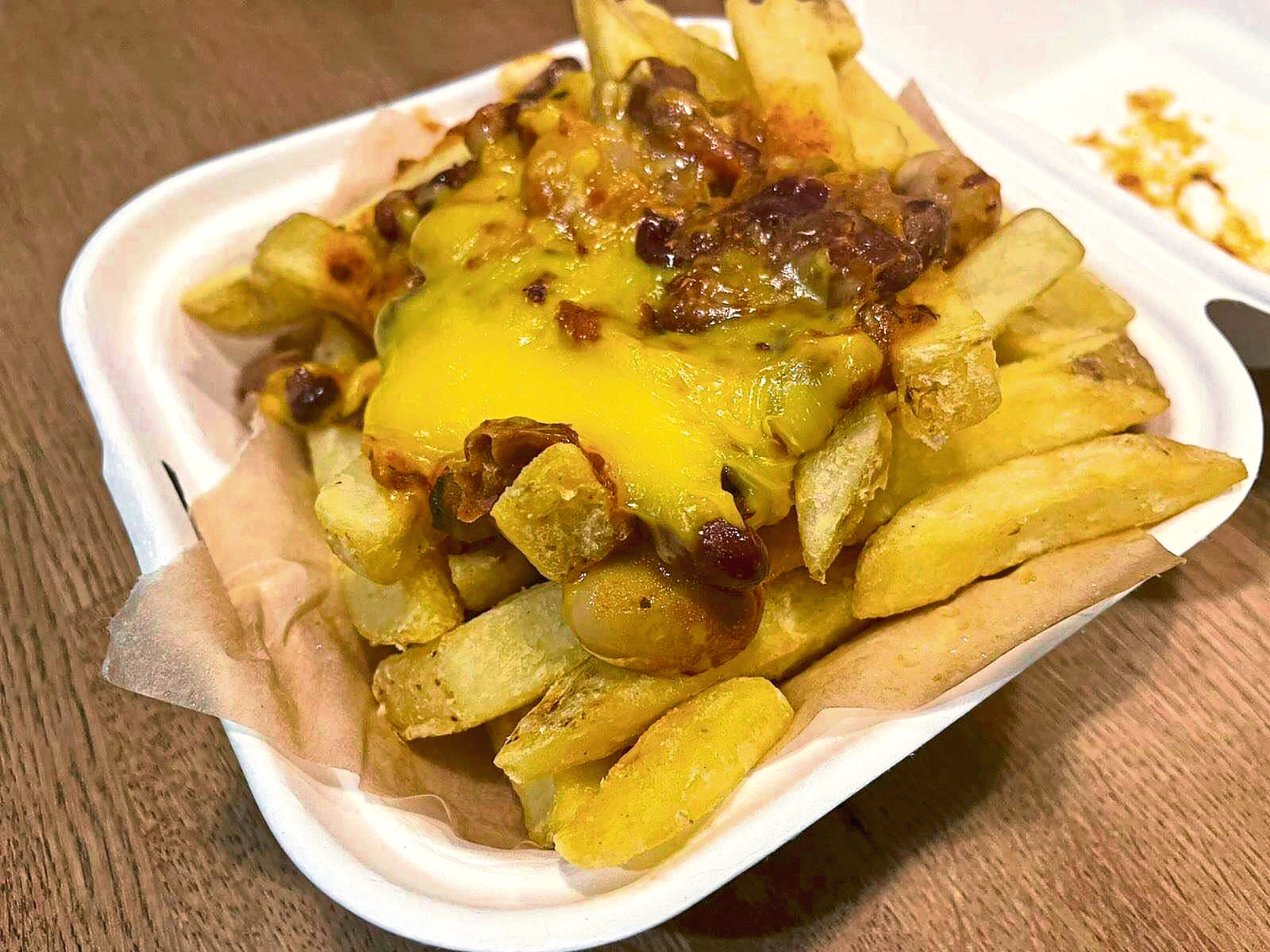 The portion was perfect for my mum and I to nibble away at. The fries, well-cooked, tender within and medium in size – just how I like them – were loaded with succulent chilli comprising soft kidney beans, chopped vegetables and a mild sauce. As for the "cheeze" – the non-dairy alternative to regular cheese – it was cool, creamy and melted really well. Although the pair of us would have preferred a slight kick to the chilli, it was tasty nevertheless. And if we hadn't already known that the produce was vegan, we would never have been able to tell.
The fries were the ideal starter for us, before we moved on to indulge in our vibrant panini. Oozing with healthy goods, we both picked up one half each and sank our teeth in. There was houmous, feta, avocado, spinach and tomato sandwiched between a vegan herb bread. We were really impressed with the array of flavours dancing in our mouths. There was acidity from the tomatoes, saltiness from the feta and a buttery taste from the smashed avocado. The panini certainly wasn't lacking in the flavour front and the creamy texture was simply divine.
There was also a bunch of crispy tortilla chips nestled next to it, so if you love a bit of crunch inside your baguette, panini or sandwich, then they would be fantastic to add to your filling.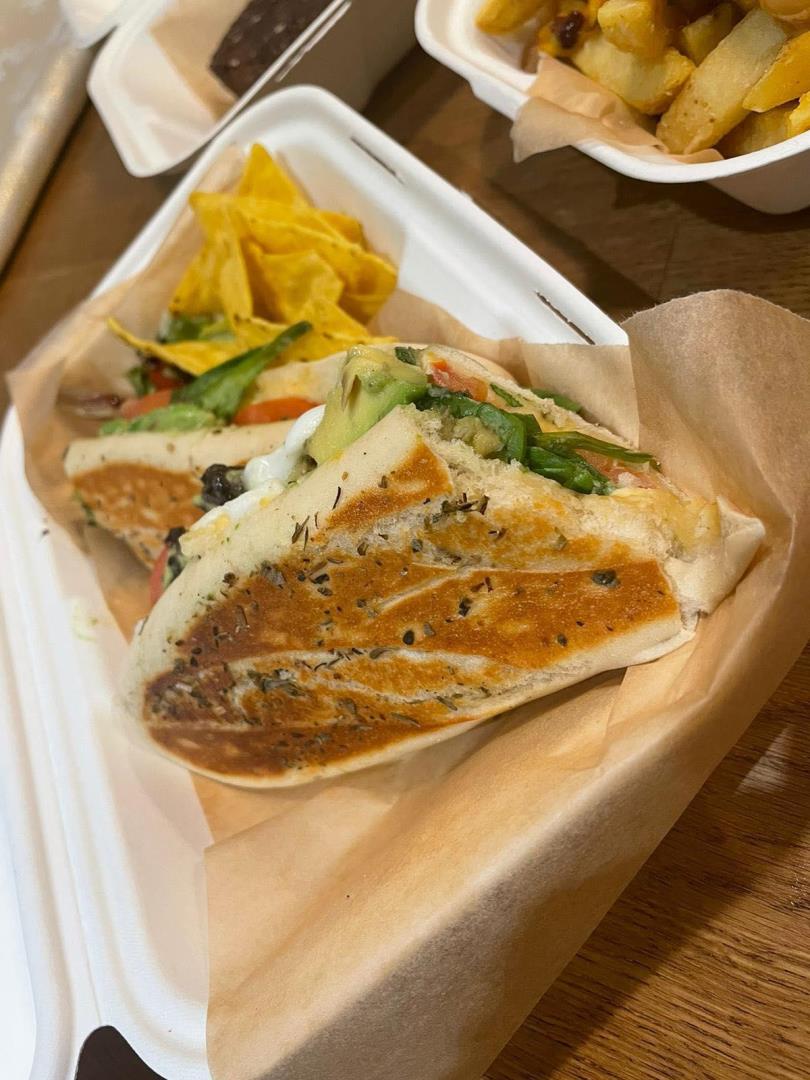 With the savoury dishes finished off, it was time to return to our takeaway bag to remind ourselves of the different sweets we had ordered.
To be perfectly honest, I'm not really a pudding person. If you ever catch me dining out, you'll find that the vast majority of the time – if not all the time – I opt for a starter and a main, rather than a main and a dessert. However, I do have a soft spot for small, freshly baked treats on the odd occasion. And when I spied the sweet counter at Baobab, I knew I had to take home a few of the options and pig out.
My mum and I laid out our carrot cake, chocolate brownie and doughnut – produced by Steven Buchan of Vegan Bay Baker. We gathered the family and reviewed the treats together.
To say that the carrot cake melted in the mouth would be an understatement. It was by far the standout bake. Remember when I said I wasn't a pudding person? Well, I would happily have consumed a bowl of the cake's icing in one sitting. Creamy and sweet, it tasted lovely with the orange flakes of sliced carrot sitting throughout the bake.
The chocolate brownie was also incredibly moist, with a gooey chocolate centre and fudgy aftertaste. And unsurprisingly, our caramel iced doughnut was a triumph, the sweet icing adding depth and flavour to the treat.
We were delighted with our choices – as were the rest of the family.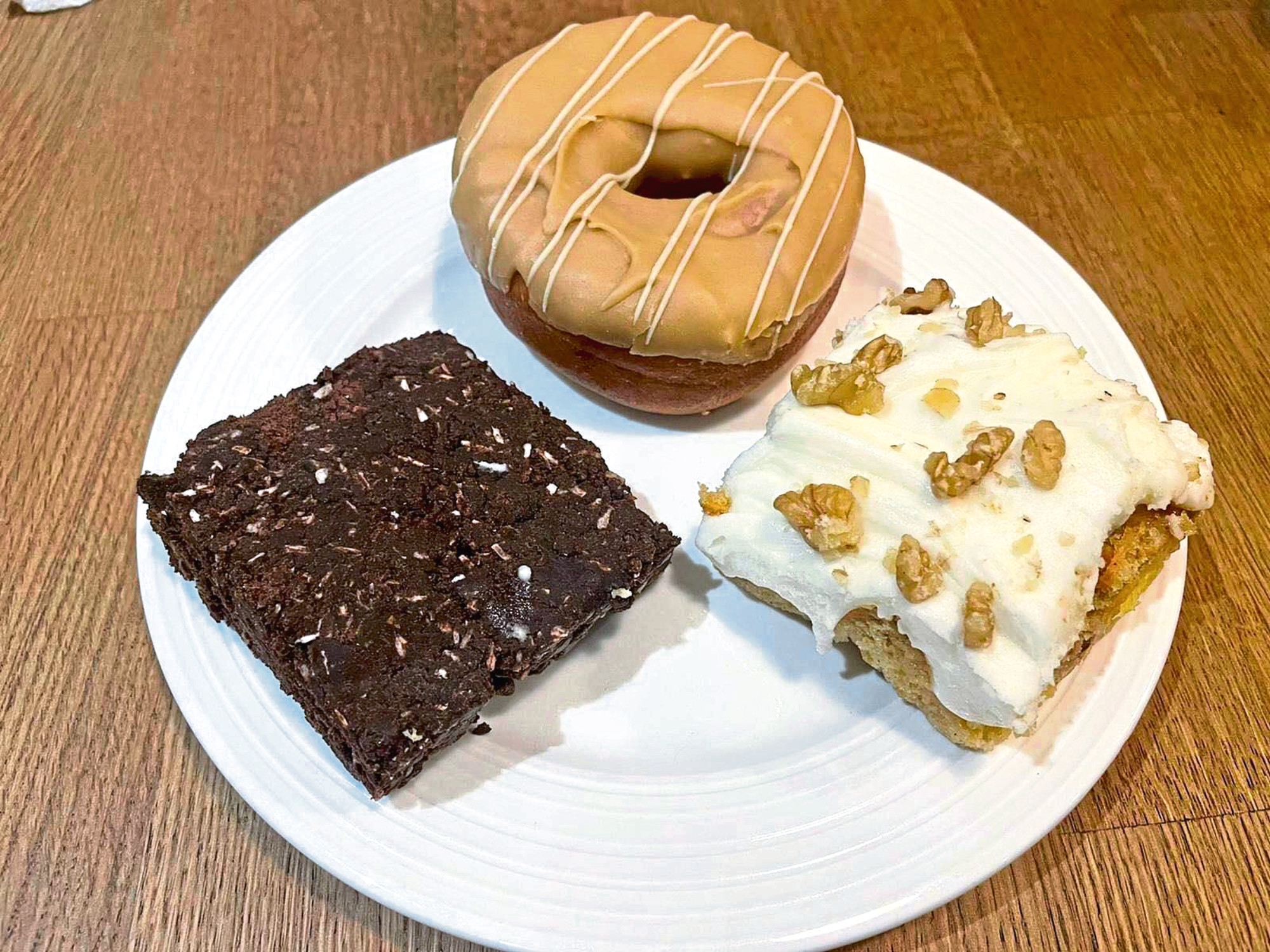 ---
The Verdict
Boabab was a straight-up winner for me. From the outset, I loved the venue and the look of all the tasty dishes. But after sampling the goods for myself, my high opinion only grew more.
With little like it in the surrounding area, Baobab is a welcome addition to Banff. I look forward to stopping by when the team are able to open their doors for sit-in dining once again – after my boyfriend and I order a takeaway for ourselves during lockdown.
---
Baobab Banff is currently open for takeaway only. Orders can be made by messaging the Baobab Banff Facebook page or visiting baobabbanff.square.site
Price: £19.30
Address: Low Street, Banff