Food at Home: Maggie's Grill brings delicious American soul food to north-east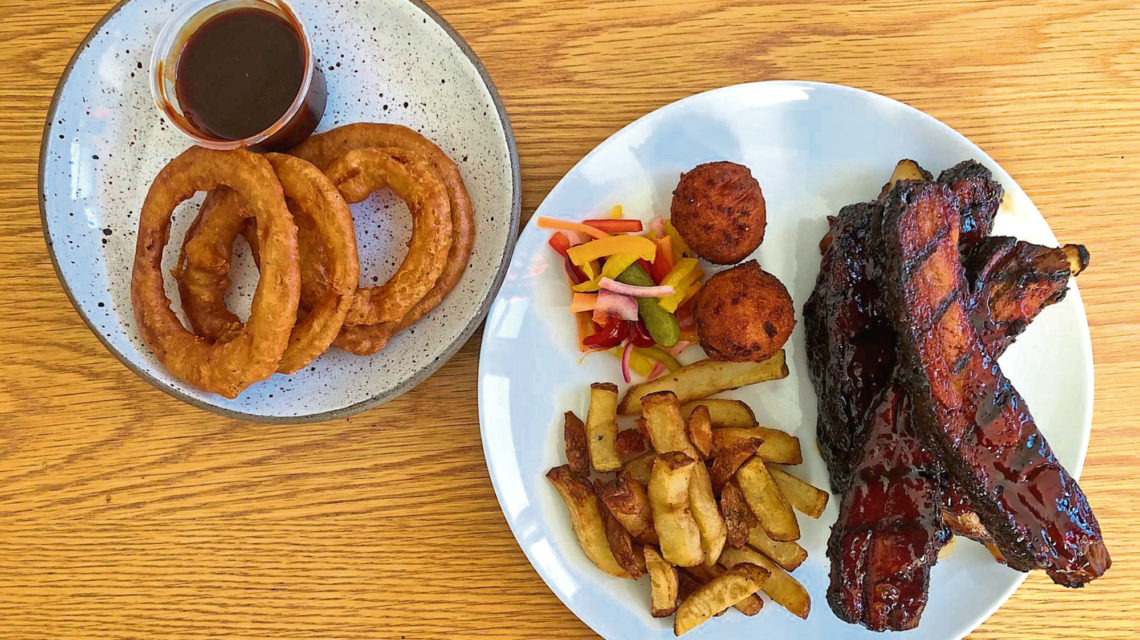 When it comes to good old American soul food, there's only one place that comes to mind, and that's Maggie's Grill.
Based on Holburn Street, it seems almost forever and a day since I last ventured there.
And although it hasn't reopened for guests indoors just yet, when I realised they offered takeaway I ditched whatever meal I had planned for dinner and immediately checked out their offering.
It was around 10.30am that same morning I found myself drooling over the menu on my computer screen. The phone lines for ordering opened at 11am, so I quickly took a note of what I fancied and had my phone at the ready.
Working from home, I sat with my mobile on speaker phone ready to pounce. Caught off guard when a colleague called, I had to jump back into the race at 11.15am, praying I could bag a spot (after all, I had sacrificed my lunch break to ensure I could phone in). Alas, after a mere 15 minutes I got through.
Ordering was easy and I gave my suggested pick-up time. Arriving in waves, each person had a five-minute dedicated time-slot from 5pm.
I requested around 7pm and was allocated the 7.10pm slot.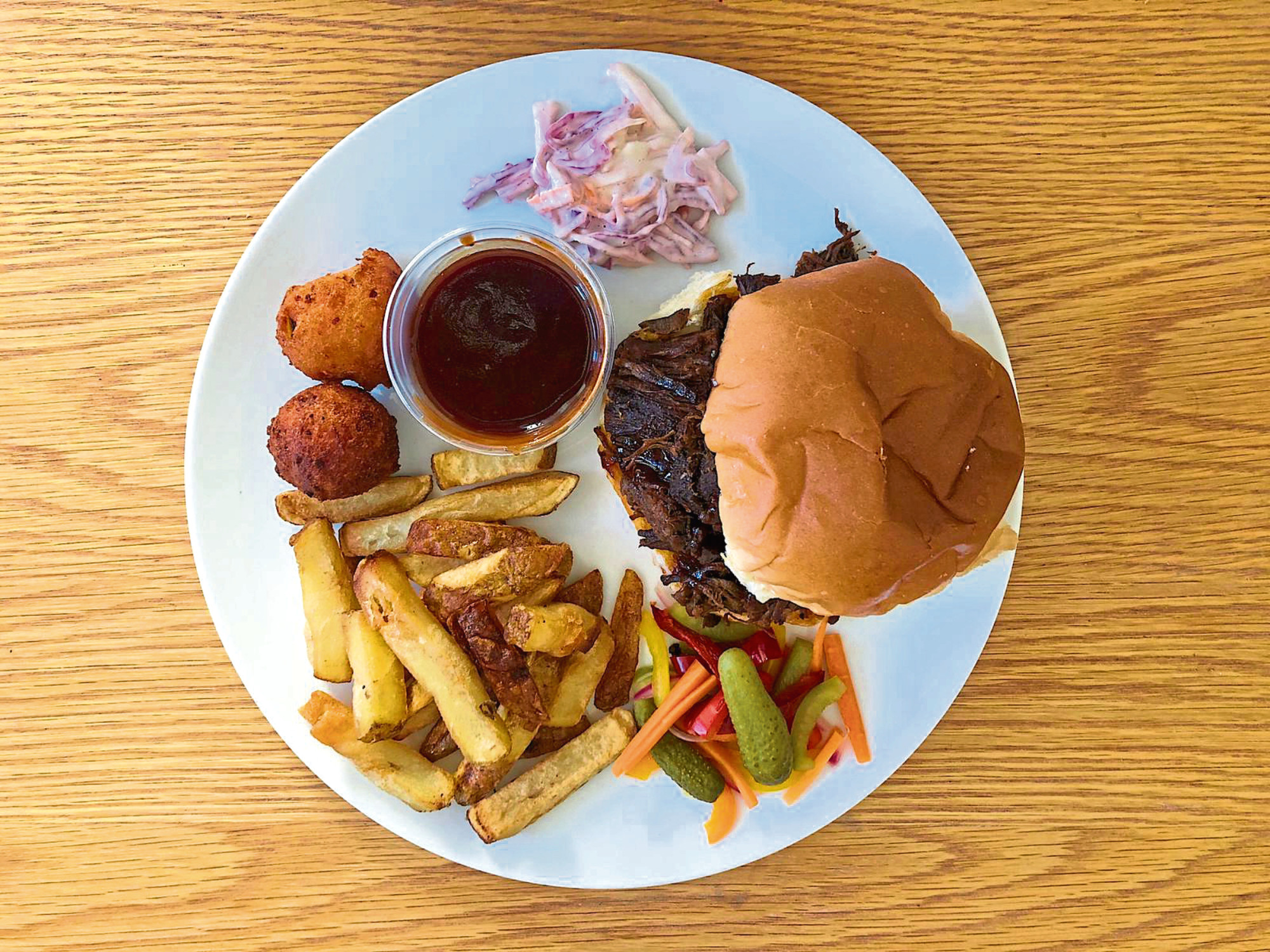 The day couldn't have passed quicker and come 6.45pm I was racing down the road to join in the queue – mask in hand, of course.
When I arrived at the restaurant there were two others ahead of me, so I joined the socially-distanced queue. Time passed quickly and before long it was my slot. I had dragged my boyfriend out to stretch his legs, and help me with the bags of food.
When it was my time, I headed inside the porch area to a little table with hand sanitiser. I was met by Sebastian, one of the owners, at the other side and he placed my order on the table. I paid using contactless and was in and out in a few minutes.
Rushing back up the road I was salivating at the smells seeping out of the brown paper bags.
All of the packaging was recyclable, which was great, and transported the food well.
Ripping open the bags and paper packaging, I was excited to devour the meat feast we had selected.
---
The Food
---
My boyfriend fancied the BBQ pulled brisket, while the St Louis ribs were far too tempting. As much as I fancied all of the starters; tex-mex nachos, southern fried halloumi, chicken and sausage gumbo – the list goes on – it was the New Orleans beignets that tickled me.
With the brisket and ribs you get hushpuppies (a savoury deep-fried ball made from a cornmeal-based batter), house pickles and a side. We got a portion of onion rings and house-cut fries to share.
Tucking in, it didn't take either of us long to realise how quiet the house had got.
Both drooling over our choices, it was my thick, chunky pork spare ribs which took us both by surprise, not just because of the sheer size of them, but because they were the best ribs I had ever tasted. Juicy, smoky and lathered in a rich, sweet but not sickly BBQ glaze, I was in heaven.
Having not been eating meat that much, I was overwhelmed with just how good they tasted. There was so much meat on them, and little fat, which meant every mouthful was as good as the last.
The house pickles were, in fact, a range of pickled chopped vegetables including gherkins, carrots and peppers. The acidity helped break up the sweetness of the glaze, which took over my mouth, and the hushpuppies (there were two) were really enjoyable, not soggy, and can be best described as a savoury doughnut.
The onion rings and fries proved a hit with us. My boyfriend especially liked how the chips were double fried and there was a mixture of bigger fluffy ones with short crispy ones. As far as onion rings go, I'd say they were up there with some of the best. Four large beer-battered golden rings, they were pretty big. Crisp on the outside with a slight chewyness in the middle, the thick cut of onion inside was just sublime.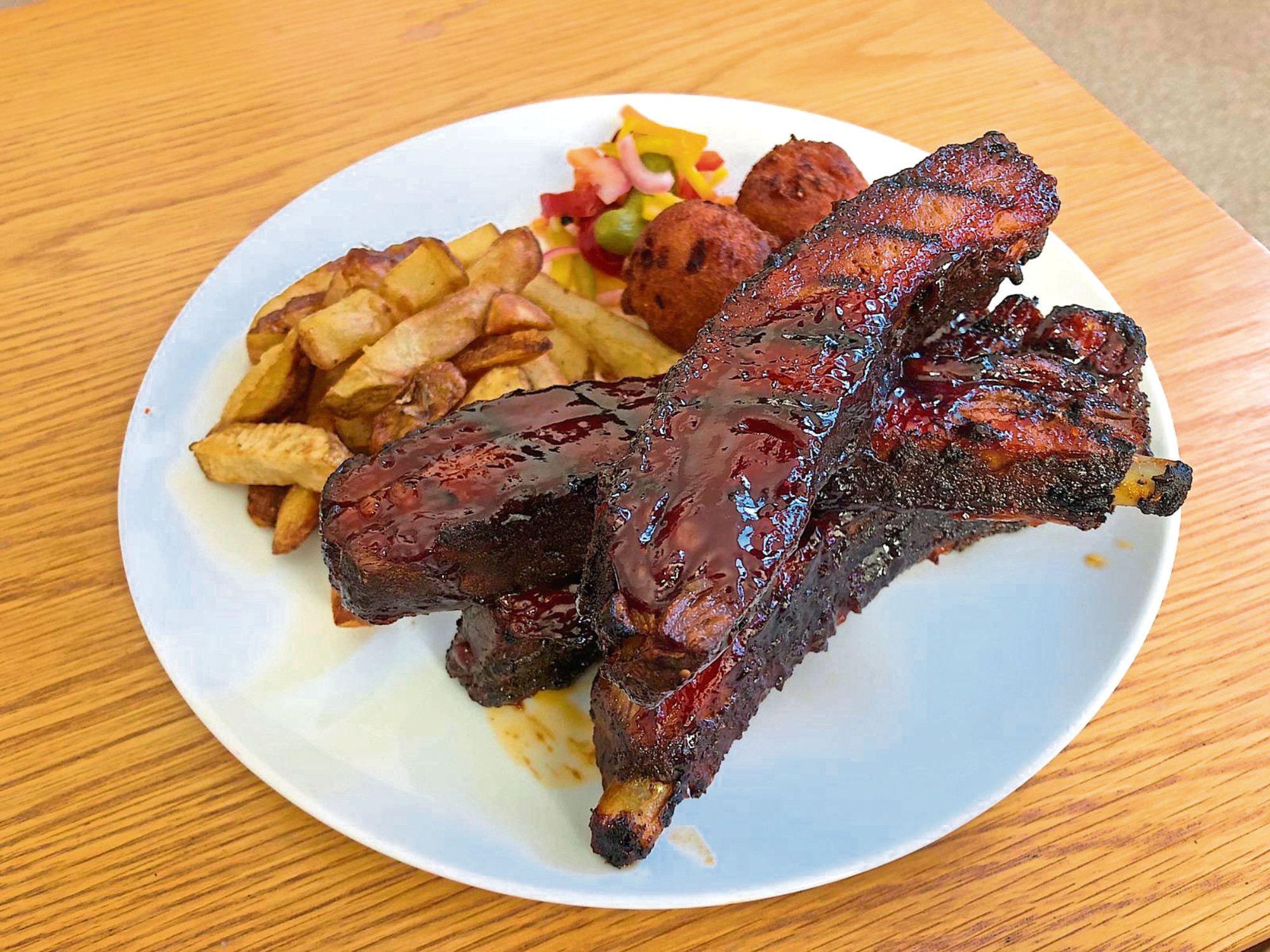 My partner's BBQ pulled brisket had been smoked over apple and hickory wood embers just like my ribs, and boasted an incredible smokiness to them having been cooked low and slow for around 16 hours. Unlike anything we had ever had before, this was some next-level BBQ wizardry. It actually came served in a bun and there was a side of BBQ glaze, too. It was packed full of the brisket, which melted in his mouth.
He was happy that there was only a little of the indulgent creamy slaw as it meant there was more meat for him to devour.
We'd also ordered a side of mac and cheese too. The big pieces of pasta were covered in lovely, moreish, melted cheese, which had all formed as one big sheet of gooeyness on top. We added a pinch of pepper just to bring that bit of spice to it, and went to town.
Managing to finish his plateful, I couldn't stomach another bite and had to give in when I picked up rib number three.
Leaving our stomachs to settle a while, we reheated the beignets in the microwave, dusted them with the icing sugar that had fallen off them in the box and then poured the chocolate fudge sauce all over them.
A traditional southern dessert, beignets are French marketplace doughnuts. Deep-fried, they were puffy and surprisingly light given their heartier appearance.
The powdered sugar added to the sweetness, sinking into the dough, and the chocolate sauce completed the dish beautifully. I would have dipped my finger in the small plastic ramekin it came in all evening if I could.
There were four of them, so it was easy to split and meant there wouldn't be any arguments for the last one.
Stuffed to the brim, our southern American soul feast was everything we had hoped for.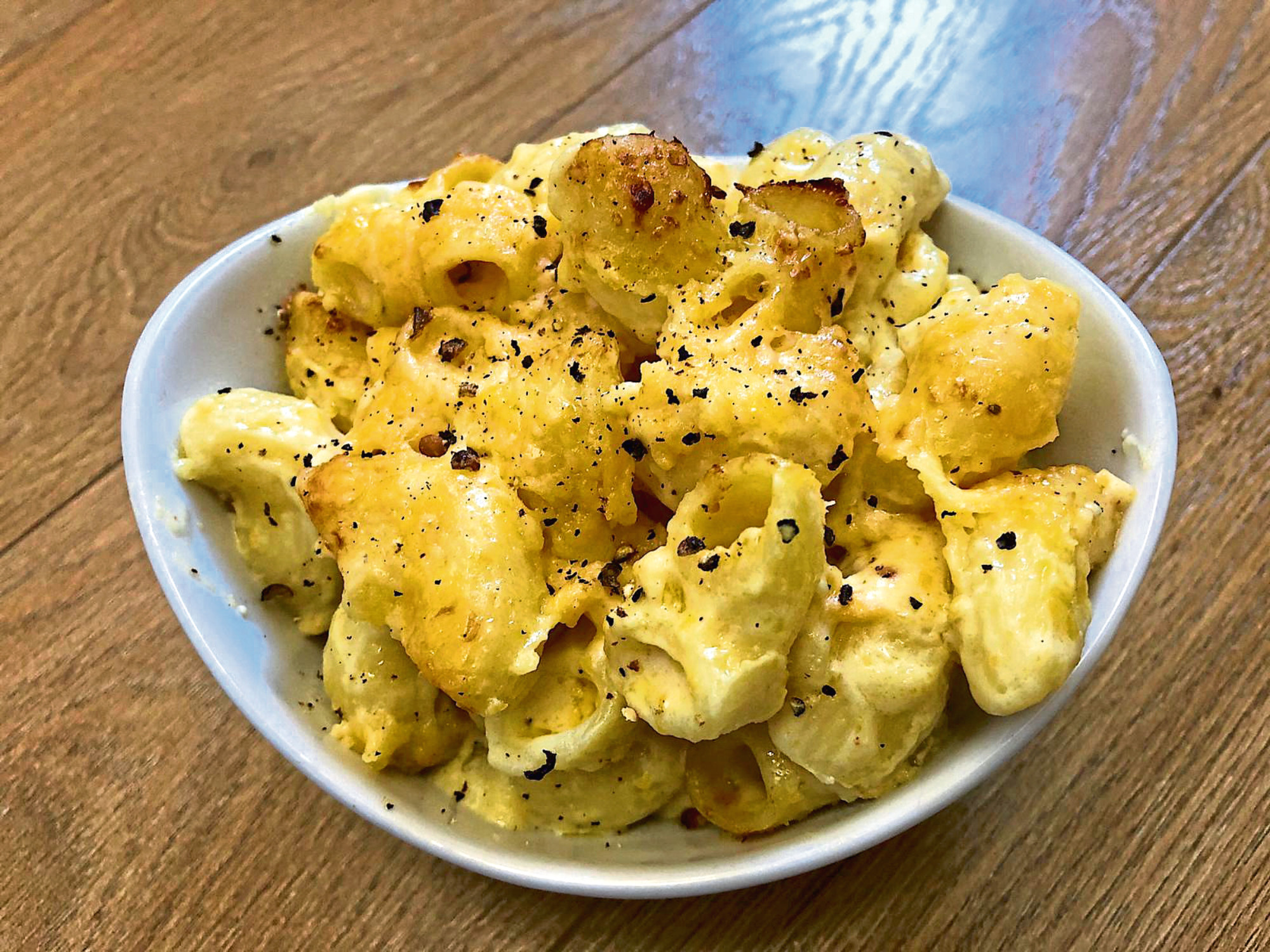 ---
The Verdict
---
Best known for its smoked meats and deep-fried chicken, the team behind Maggie's Grill know their way around a grill. Smoking as much as they can get their hands on, the quality of the meat is apparent when it melts in your mouth.
If you're looking for a meat deal, this is the place to go – and for the vegetarians, there's equally as nice items to pick from, however not as big a selection.
This is a real treat and you won't be disappointed.
Price: £45
To order: You can call Maggie's Grill on 01224 582167 Wednesday to Thursday from 11am to place your order for same day collection. You can discuss your preferred time-slot arrangement with the team and all payments are taken when you collect your order. All payments are contacless. View the menu at maggiesgrill.co.uk