Farmer turned comedian Jim Smith to close Aberdeen International Comedy Festival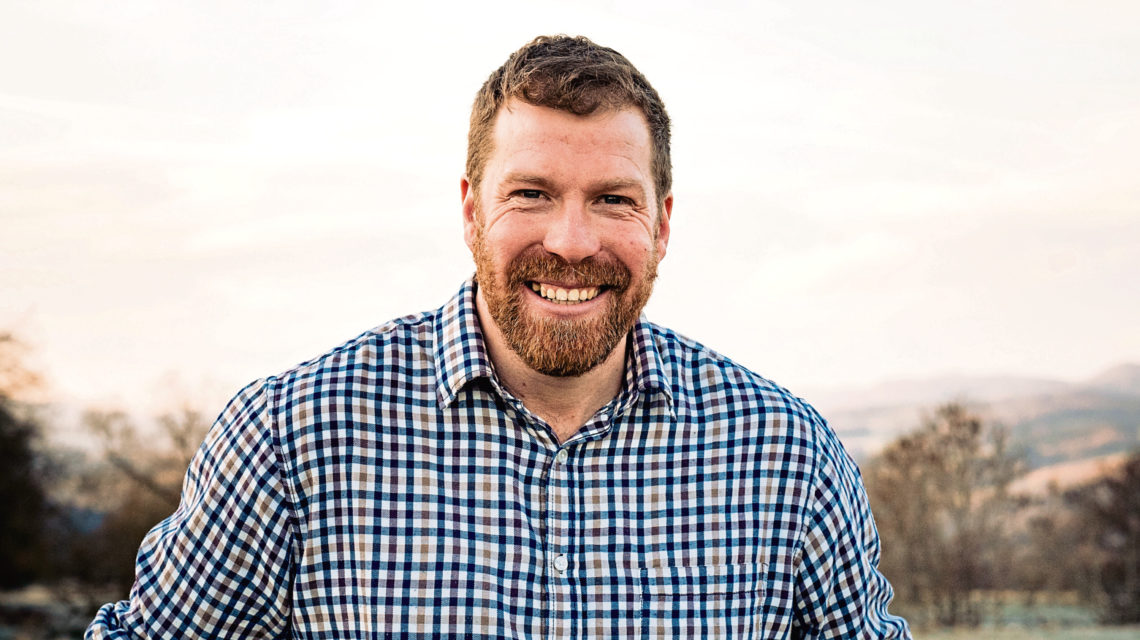 It's fair to say Scottish farmer and comedy star Jim Smith is no stranger to the north-east.
In fact, not only has he recently performed three sell-out shows at the Tivoli Theare, he also studied at the Scottish Agricultural College in Aberdeen many years ago.
So it's no surprise he jumped at the chance to be involved in the Aberdeen International Comedy Festival, which added an additional date to the programme to include the much-loved 'Fermer Jim', who will officially bring the festival to an end on Monday night at the Music Hall.
Delighted to close the 12-day festival, he is looking forward to bringing his Back To The Teuchter show to the magnificent venue.
Society caught up with the Scottish farmer turned comedian on his morning break from work on his Perthshire farm to find out what his north-east audience can expect from him.
"I was really honoured that the organisers added an additional date to the event for my show," said Jim.
Just think with the effects of global warming in twenty years time Scottish fermers will be saying "braw… Only another twa days and wee Johnny will be hame fae the school for the pomegranate holidays"

— Jim Smith (@standupfarmer) October 3, 2019
"I'm very grateful. I've done three sell-out gigs at the Tivoli Theatre recently which were awesome, but the fact that folk still want to come out and see the show – I have no words. I've got another show booked at the Tivoli Theatre too, but it's been great to get involved with the comedy festival.
"I have a real affinity with Aberdeen. I studied at the Scottish Agricultural College for four years so it's like a second home for me. I just get the humour and get the people there."
Described as a compilation of Countryfile meets The Only Way Is Essex, Jim's show's name not only nods to his roots, but also his love for the 1980s.
"I'm playing on the whole country boy thing – and a lot of people in the city associate country folks with being a teuchter," said Jim. "I'd heard the name before and just thought it was a great play on words.
"I'm a big fan of Back to the Future and anything 1980s really. Most folk in Scotland know what a teuchter is so it's about bringing that stereotype into the show and how I've dealt with growing up in the country.
"The name lends itself nicely to up north. The north-east is unique as folk in the towns and those living in Aberdeen still have a close connection with rural life in comparison to Central Belt cities."
Starting his tour in May this summer, Jim didn't expect to be travelling across Scotland five months later.
He said: "The original tour was just May and June and so many people bought tickets that we just inquired with other venues for September and October, so it's been pretty hectic.
"I took a break over July and August so I could get harvest and everything done, although when we're cracking on with harvest it always seems to rain while I'm here and is dry when I'm away for my gigs.
"The tour is going tremendously – we've been all over with it."
Jim now has the balancing act of juggling farm life with his comedy gigs down to a fine art – and his sheepdog Floss, who has appeared in numerous videos for BBC series The Farm and Jim's Farm Diaries videos, is also on board with him going away for work.
Came home to a lovely welcome from Floss after three fantastic gigs in Aberdeen and Kelso. Huge thanks to everyone that came along, you were a pleasure to perform to. Massive thanks also to the brilliant @emalcolmson for opening and the staff at @TivoliAberdeen and Tait hall pic.twitter.com/XirCDt9F5a

— Jim Smith (@standupfarmer) September 15, 2019
"My mum farm-sits when I'm away and I've got good neighbours who help out," said Jim.
"It was quite a task initially but I'm way more organised now. I really enjoy doing my tours so I try and get someone to cover when I'm not here.
"Floss is great. She misses us terribly and I always feel bad leaving her but I always get a warm welcome when I come home. She's just super."
Getting his big break at a stand-up comedy night back in 2012, Jim says occasions like Aberdeen International Comedy Festival are the perfect platform to support the industry and the professionals in it.
He added: "I was really heavily involved in the Young Farmers Association and I always liked watching comedy. Down here in the east we do a cabaret competition which is like a dance and film talent kind of evening which I did, and I pencilled a pantomime for the group too. I got a real buzz for writing jokes, even for other people and it all kind of kicked off from there.
"In my late 20s and early 30s, that's when I started looking at it a little more seriously. I went to a comedy club in Glasgow and thought 'I could never do that, no way'. I ended up applying for a five-minute slot a few months later at the same place. I had to book a slot months in advance and it just kind of went from there.
Latest farm diary…. Hope you enjoy! https://t.co/D5rSd6xSYn

— Jim Smith (@standupfarmer) September 18, 2019
"Everyone needs to laugh and needs cheered up. Aberdeen has become a really big place and it's really important they have things like the festival for the growing comedy scene.
"It's good that there's a bunch of big national and international acts that are coming to the city. It's a wonderful place and I was really influenced by Desperate Fishwives, which was created by north-east group The Flying Pigs.
"Comedy is a great thing for Aberdonians to go out and enjoy."
For those lucky enough to bag tickets to his show on Monday at 8pm, Jim is confident they are in for a treat.
He said: "For a start you don't need to be a farmer or a teuchter to understand it.
"Lots of people come along and really enjoy it. If you want to come and listen to a farmer talking about growing up and the countryside then definitely come along.
"Checked shirts are not an essential. You can be a real city slicker and I'm confident you'll enjoy it too."
Limited tickets are available to Jim's show Back To The Teuchter on Monday night at 8pm at the Music Hall. Visit aberdeencomedyfestival.com for more