Drinks at Home: Hop Shop Aberdeen provides array of tasty beers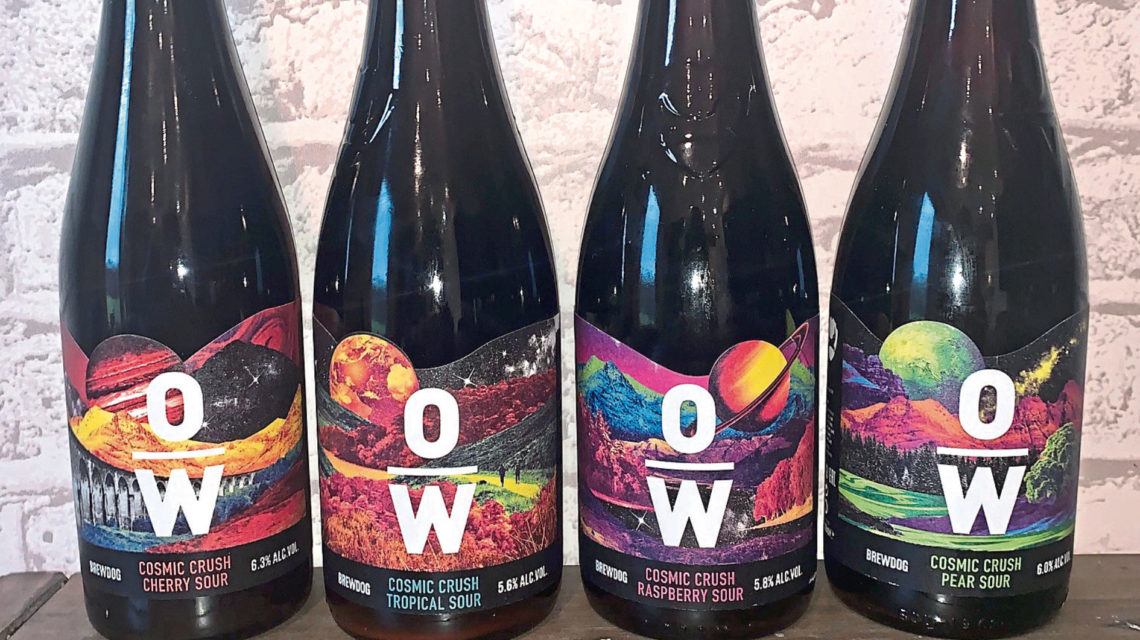 Call me stuck in my ways, but when it comes to alcohol, I know what I like and I know what I don't like.
To my friends I've become known as "Miss I don't do shots". What can I say? It's just not worth the hangovers that plague me in my late 20s!
However, I am partial to a glass of rose – but only if it's oh so sweet, mind you.
So yes, as you've gathered, I'm a wee bit fussy when it comes to alcohol, and one thing I would never have put myself down as is a drinker of beer. No. That's not me… or so I thought until I discovered Brewdog's range of Overworks Cosmic Crush sours.
My exciting love affair with beer all started at the beginning of lockdown – why not try something new while the world falls apart? My boyfriend introduced me to a Raspberry Cosmic Crush and I was blown away – not only by the taste, but the fact I liked it, and not only that, I wanted to try out more.
So I went on a quest to discover the full range of tangy sours. On my beer adventure, I stumbled upon Hop Shop Aberdeen. I'd heard of it, sure, but until I logged on to the popular store's website I had no idea it operated from Westhill Service Station – just a short car journey from my home.
Hop Shop stocks beers, upon beers, upon… well, beers. The selection on the website was endless and a handy filter allowed me to browse by brand, location, ABV or style.
After searching for Overworks I was delighted to see the retailer stocked four of the Cosmic Crush range – pear, raspberry, tropical and cherry.
I added all four to my basket and instead of opting for delivery which cost £5 for local areas, I selected free collection. Confirmation email received, I was surprised to find that the very same day I ordered, my purchases were ready to collect that evening. Now that's what I call a speedy service.
The following day, beers picked up from some very friendly staff, I shared my selection with my boyfriend.
First up was the one I'd been eyeing up the most – pear. Pale in colour, the brew wasn't as sour as I'd initially expected. Not a bad thing per se, as I still enjoyed the clean, light taste, but it was certainly more sweet and fruity than tart. Nevertheless, it left a refreshing aftertaste.
Speaking of tart, next up was the raspberry. Already a fan, as the berry drink drew my attention to sour beers in the first place, I was not disappointed. Capturing the zest of raspberry, it was a real tongue-tingling affair, bursting with juicy, sour flavour – the kind that makes your mouth salivate just at the mere thought.
I was optimistic about the cherry sour and I had reason to be. Just as tart as the raspberry, the funky beer boasted an aromatic scent and tasted a little more dry, and almost like a cherry pie (no, rhyming was not intentional).
Last but certainly not least, was the tropical. Like all the others, the branding on the bottle was eye-catching with a colour co-ordinated cosmic graphic tying into the aqua font.
Fermented with mango, pineapple, guava and passion fruit, it was certainly packing a powerful fruity punch. The pineapple and mango were most prominent and created a riot of exotic flavour in my mouth.
Brewdog is known for pushing the boundaries and the Overworks Cosmic Crush sours are certainly triumphant. Enjoyable and tart, every beer boasted its own individuality, each distinguishing itself from the last with its own distinct fruity taste.
With so much selection under one roof – no really, it's a craft beer fan's dream – I'll be sure to head back to Hop Shop to explore a new range of beers soon… I know, who even am I?
Price: £24.96
Visit Hop Shop Aberdeen at Westhill Service Station Ltd, Straik Road, Westhill, Aberdeenshire AB32 6TJ or order online here.