Dave Gorman is out of his shed and happy to stick his neck out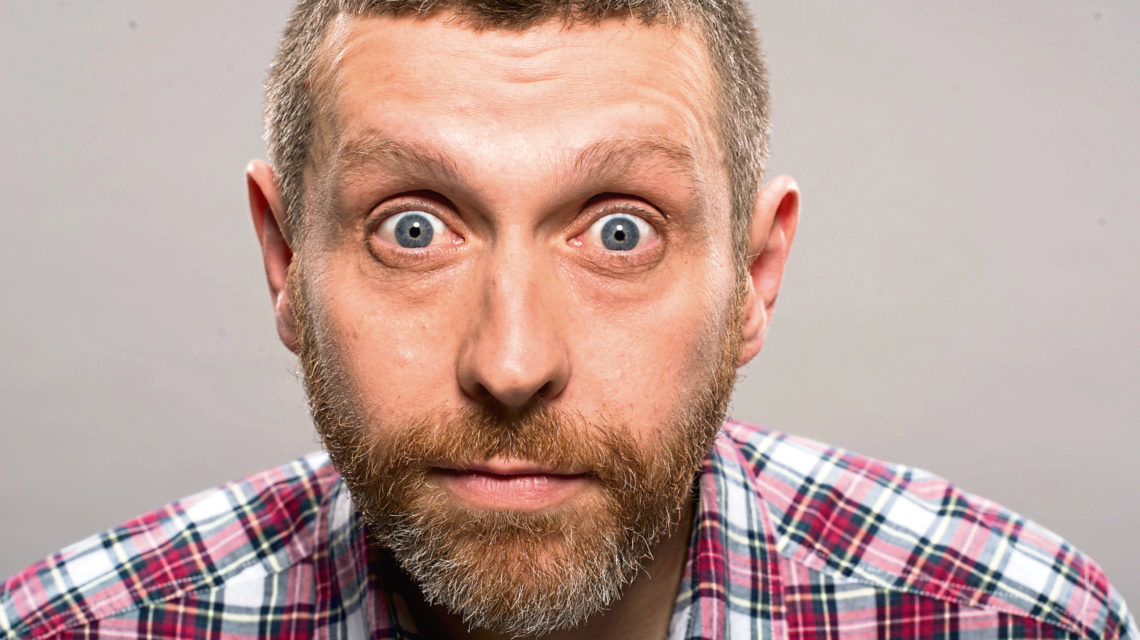 Dave Gorman has one very good reason for people to come and see him at His Majesty's on Monday.
"I'm going to make this promise to you, and I can't tell you more than this because I don't want to spoil it, but it has what I think is the world's best giraffe joke," said the comedian.
That, of course, is not the only attraction of his brand new show, With Great PowerPoint Comes Great Responsibility Point.
"I had to name it before I had written it," joked Dave. "I am a double act with a PowerPoint screen. It's me on stage for the night with it and in the show in its current form there are about 700 slides. So it's a fast, changing, moving thing."
But beyond that, Dave isn't saying too much about what audiences can expect from his show.
"I don't think audiences go 'I want a comedy about bicycles and cupcakes'. They just want it to be good and knowing what it's about doesn't tell you if it's good or not. You know what, my previous work is my best advert. If you've enjoyed it, you'll enjoy this if you haven't you won't."
And there will be plenty of people heading for HMT. He has won a legion of fans through not only his stand-up, but also his TV shows – Modern Life Is Goodish and Are You Dave Gorman?
Given this will be his first live tour in four years, it's a great opportunity to see him up close and personal doing the thing he loves most, performing live.
"For me it's the most fun part of the job," said Dave. "In terms of Pavlovian dog performer, the immediacy of reaction when the audience give you feedback is the most immediately rewarding of all," said Dave.
And there's nary a shred of nerves when he's waiting in the wings ready to play a packed theatre.
"I think it's fun. I know performers who throw up before they go on stage and if I was one of them I would just do something else. Why put yourself through that every night?" he said. "I'm more like 'come on, let's do it'."
Dave added by the time he's on the road, his show is ready, he knows what he's doing and enjoys it.
"It's like when you are a kid and you know you have absolutely nailed your mum's Christmas present this year and it's so exciting to watch her unwrap it because you are out of the park and you are about to make your mum so happy. So it's like watching people unwrap a present and you know they are going to like it."
Dave is no stranger to Aberdeen and is looking forward to playing His Majesty's, as opposed to his usual venue of the Music Hall, which is being revamped.
"I haven't seen the theatre, but as a rule things that were built as theatres are better than things which are all-purpose. Not to be disrespectful to the Music Hall. I've always had a really good old time in there, but proper old theatres give you a little head start. I find the audience having a good time before you've said 'hello'."
Never mind the theatre, how does he find our audiences?
"It's always been a fun place to play in my experience. I can't say I can identify a particular Aberdonian quality, but sometimes there's a kind of 'thank you for coming' because you're aware you're quite far away from where most of us are based."
At which point he mentions he recently moved from London to Bournemouth – "making Aberdeen even further away".
The move is to be nearer to family, although one reason for the shift is London itself.
"London can be quite a tough place to live. It's quite a polluted city and we just wanted a bit more clean air and different kind of lifestyle. People in London can't cope with that, because they have to believe London is the examplar of a place to live. Because if it isn't, they are poor for no reason."
That lifestyle shift is also behind his reason to give his telly work a break after several years of non-stop graft.
"I was working 100 hours a week on it and spending a lot of time working overnight in an office at the bottom of my garden. I've got a two-year-old and that didn't seem like the nicest way of being a dad. So I just said I'm going to put a pause on that and go back to my old life."
So for now it's all about concentrating on the tour and as for after that … he doesn't know.
"That's kind of enjoyable. You always find something – I've never had a year off. I will stumble into something."
As a parting shot, Dave has a message for the people heading to his HMT gig.
"Strap in for the best giraffe joke you've ever heard."