CALA show home claims top spot for clean-cut interiors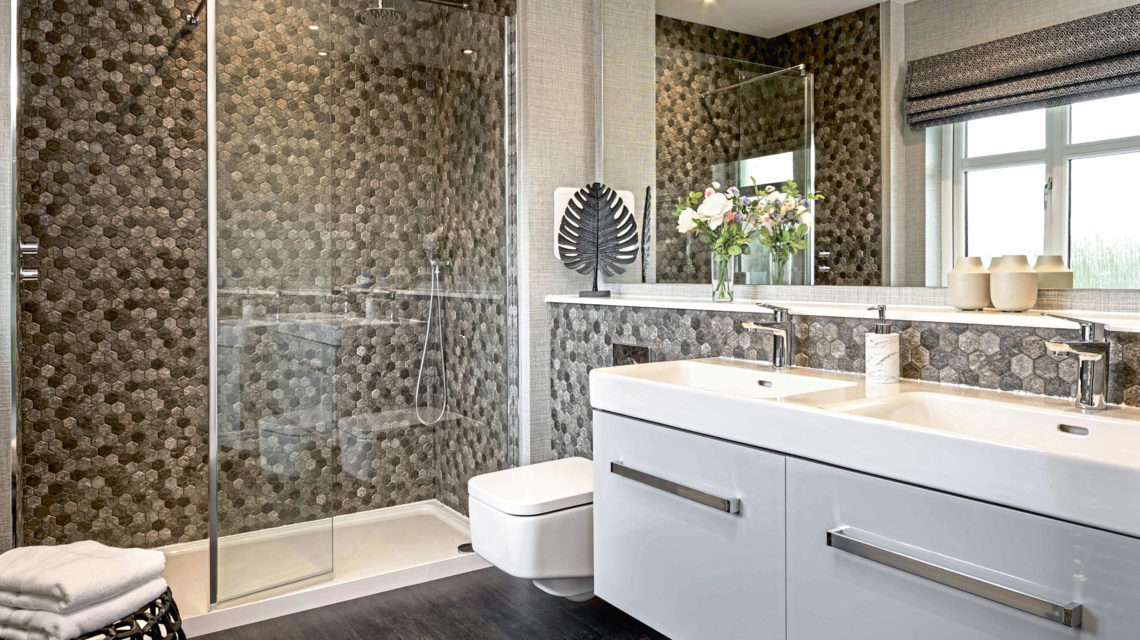 Situated at The Grove in Inverurie, Cala Homes' new show home offers homebuyers a glimpse into what life could be like in the sought-after area.
And with the neighbourhood flourishing, it was crucial to Eileen Kesson, of Envision Interior Design, to illustrate picture-perfect living throughout The Darroch show home.
Boasting sumptuous interiors, the designer went above and beyond to ensure the property exuded the high standard of quality and luxury that Cala is renowned for.
Eileen said: "The five-bedroom Darroch show home demonstrates what's coming forward with regards to interior design.
"It also shows that buyers can still find a luxurious property despite being located in the outskirts.
"It has been inspired by monochromatic tones and eye-catching graphic motifs, which can be found throughout its spacious accommodation.
"And as soon as you set foot inside, you're met with bespoke designs and features that make a lasting impact."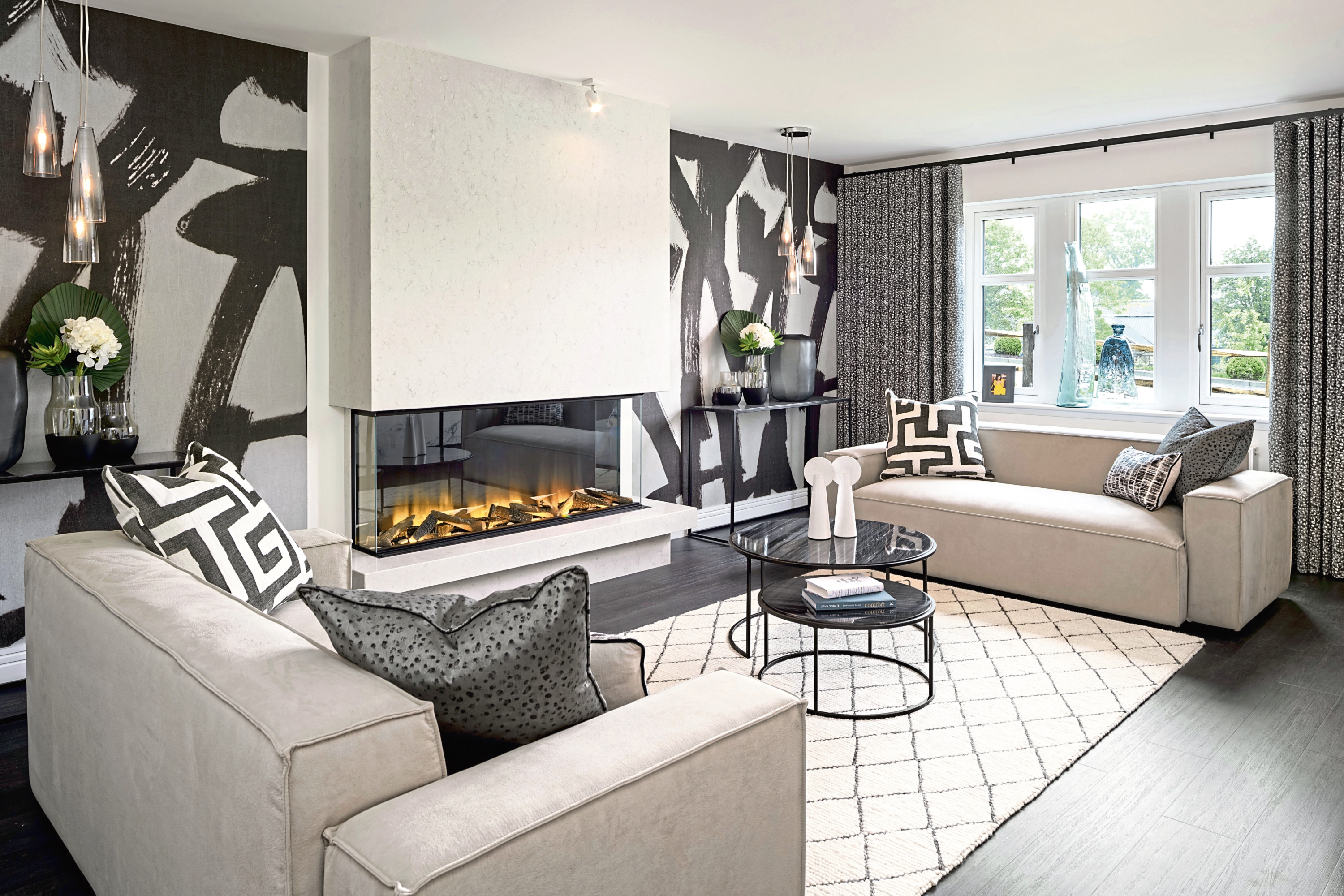 The stylish home is perfect for growing families, with an array of rooms which provide inviting and comfortable living environments.
"Cala have been reworking the designs of their properties to include more open kitchen and lounging areas," Eileen said.
"So with the Darroch show home, the ground floor accommodation – including both the lounge and the dining kitchen – is extremely spacious.
"The centrepiece of the black and white lounge is definitely its show-stopping floor-to-ceiling marble fireplace.
"This is a bespoke design created just for the grove development and buys into the current abstract trend.
"The room is dressed with a pale marble coffee table, which sits in the centre opposite two bespoke suede sofas.
"I really wanted to pull in elements of marble because the trend doesn't seem to be going anywhere.
"It's been a popular choice for designers and those decorating their interior spaces for quite some time now.
"There's also smoked glass cluster pendant lights, and these bring a bit of sparkle to the room while bold, contemporary black and white wallpaper frames sit either side of the fireplace."
Moving through to the open-plan kitchen diner, you'll forever be tempted to entertain guests and loved ones.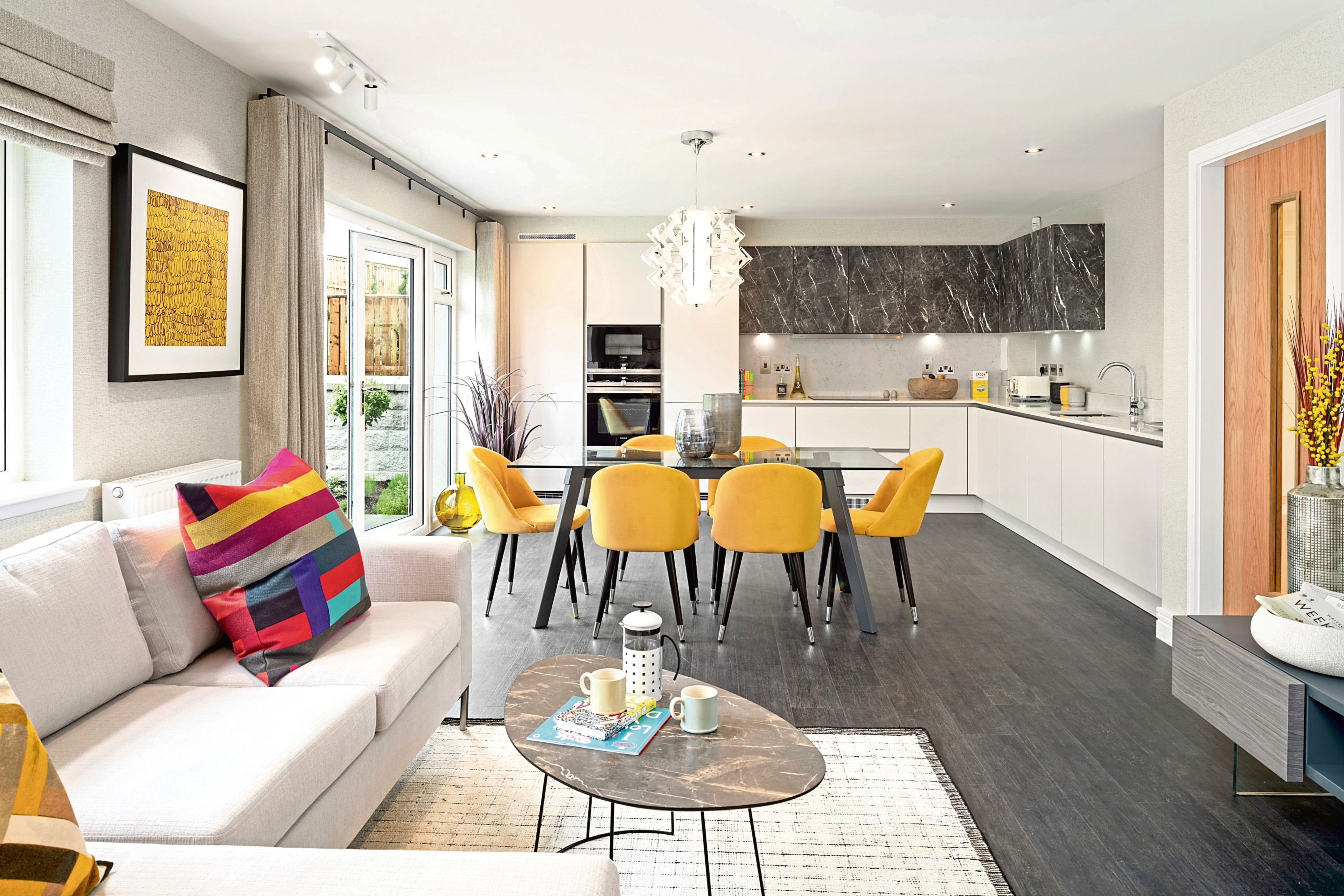 Eileen said: "The open-plan kitchen is a multi-purpose area, which makes for a fantastic entertainment space all year round.
"And this area is enhanced further by providing easy access to the rear garden.
"It's incredibly sleek, but I wanted to add pops of bold mustard throughout the room – from the dining chairs to the artwork on the wall – to create a warm, autumn feel.
"These small accents of colour make a huge impact on a room, in my opinion, and have the ability to bring it to life.
"There's also a comfortable wraparound corner sofa and views of the landscaped garden, so you can chat away with friends while keeping an eye on the kids outside."
The show home also features an impressive five bedrooms on the upper level, including a stunning master bedroom with en suite shower room, guest bedroom, nursery, and two further versatile double bedrooms.
Eileen wanted to achieve an oriental style in the master bedroom, and did so by adding key finishing touches.
She said: "I had a vision that the rooms upstairs would be both minimilistic and simple.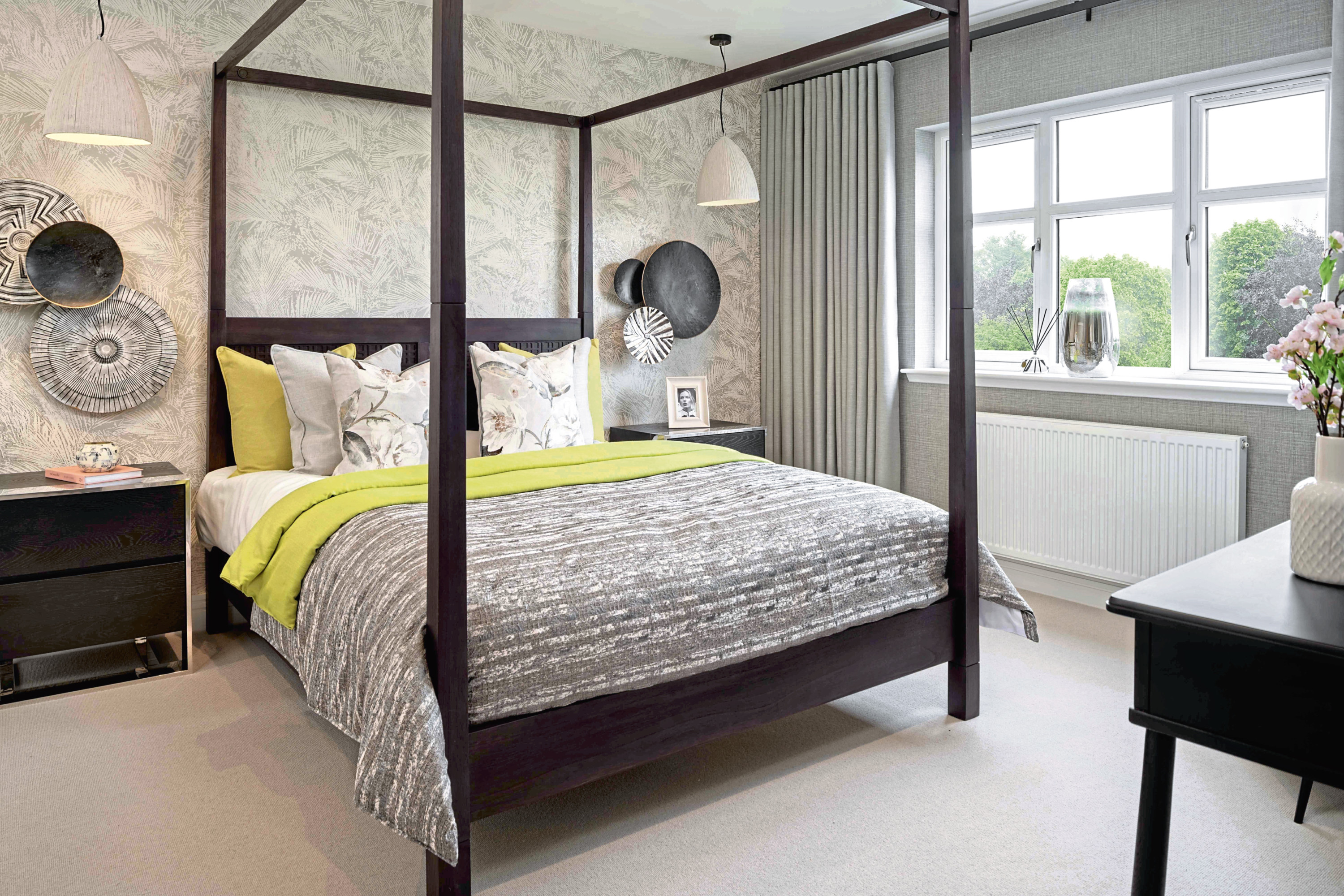 "There are black furnishings and drop-down glass pendants positioned throughout the master bedroom, which gives it that chic and modern appeal.
"But in a similar fashion to the living and kitchen areas, touches of warm yellow tones were added to evoke a laid-back and relaxed feel.
"Moving through to the guest bedroom and nursery, the main driver behind their designs was to produce a modern take on Scandinavian interiors.
"In order to achieve this, there are unusual colour combinations in the furnishings and chalky paints showcased around the rooms.
"The variety of textures is interesting to the eye."
The Darroch show home is both clean and crisp, and makes a welcoming addition to Cala's new Light & Space Collection.
Eileen said: "It was important for the showhome to be confident and feature what's current at the moment. I believe it does just that.
"The open-plan accommodation and hints of warm tones are what make it unique."
Prices at The Grove, located off Crawford Road, Inverurie, start from £485,000 and include four and five-bedroom detached family homes. For more visit cala.co.uk