Food Review: Aberdeenshire's White Heather Hotel provides a menu to cater to anyone's taste buds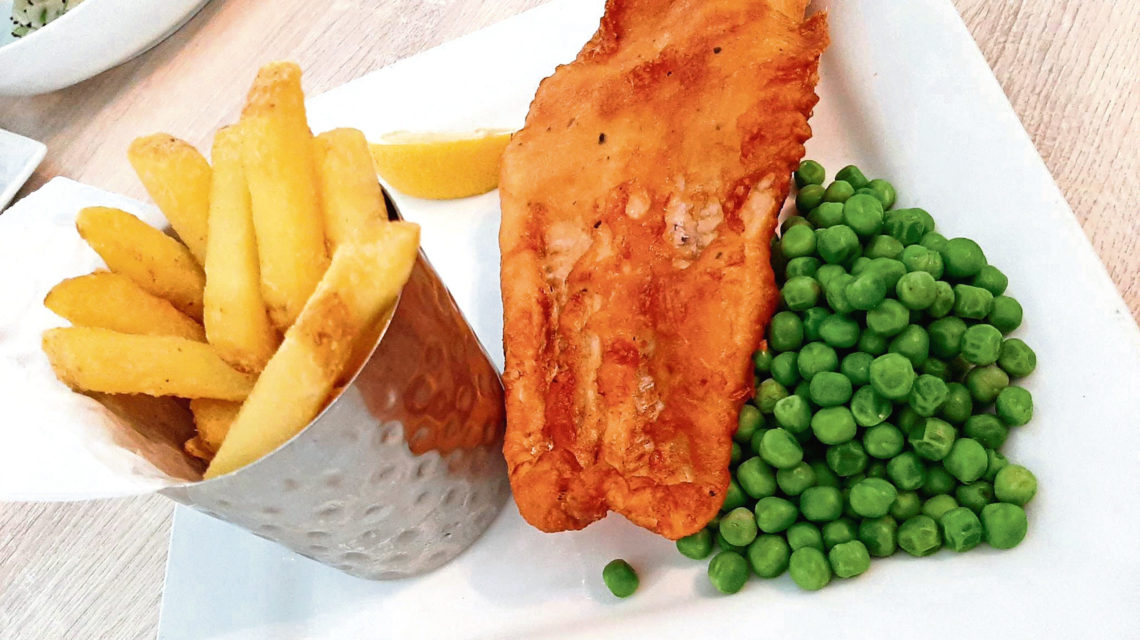 The Venue
---
It's been more than six months since I last enjoyed the experience of dining in a north-east eatery.
There's something I love so much more about a sit-in service rather than eating at home. It's hard for me to pinpoint why that is, but ever since moving to the city centre several years ago, it's been one of my favourite things to do with friends and loved ones.
With that said, this year has seen all of us foodies switch to takeaways instead – due to lockdown, of course. And from my experiences, they've opened my eyes as to just how exceptional takeout grub really can be.
Despite this, I've found myself yearning for the buzzing atmosphere at local restaurants, cafes and bars during a sit-in service. So when I heard all about the new Eat Out to Help Out Scheme, I took this as a sign that it was finally time to venture out for a bite to eat, and be treated to a dining in experience once again.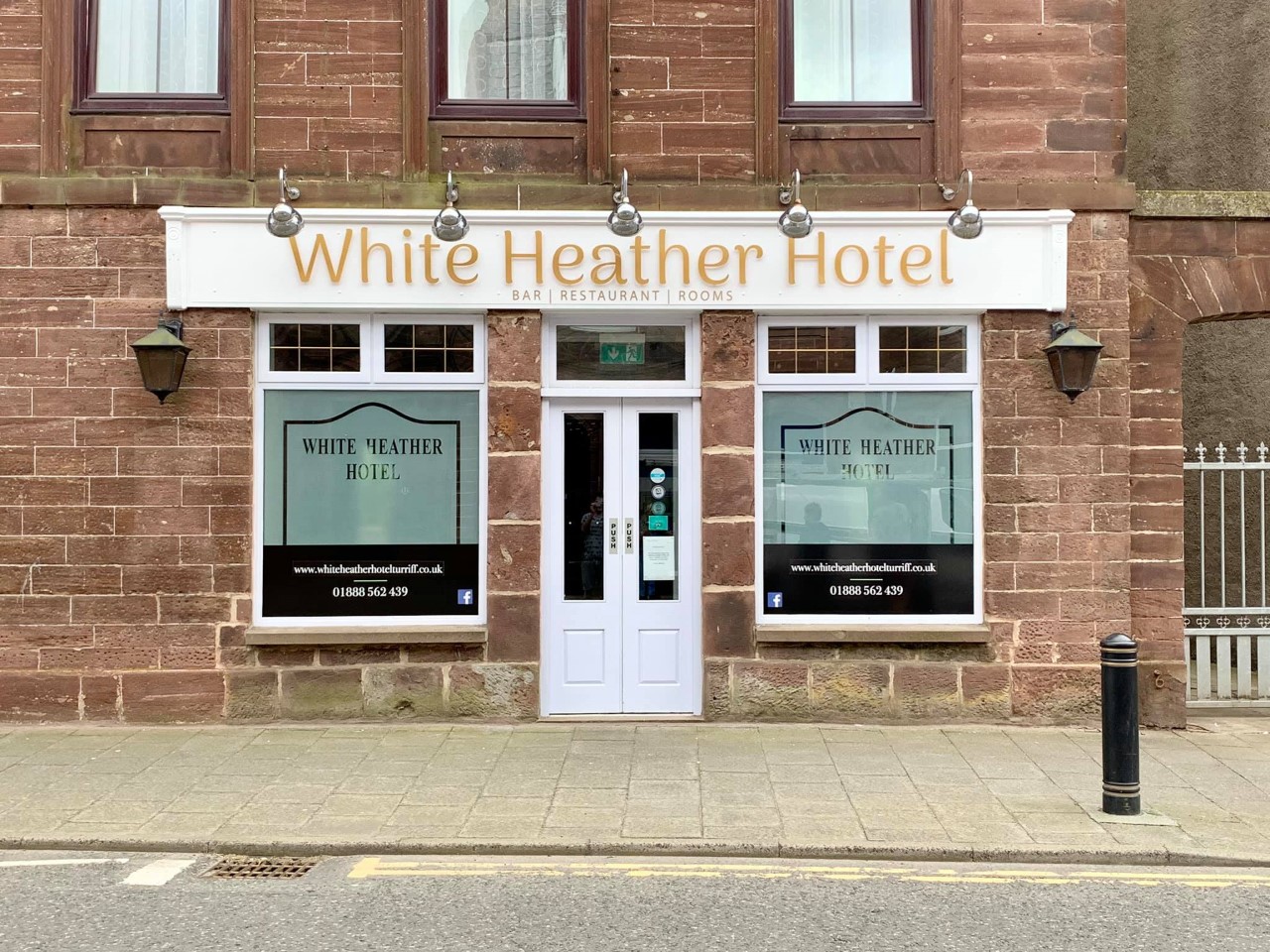 Around this time – and after keeping up-to-date on the venue's social media channels – I was made aware that a local restaurant was reopening, after undergoing a transformation of its interiors.
The White Heather Hotel, based in Turriff, had not only received a fresh lick of paint and new exterior signage, but the team also revamped its menus too.
From brand-spanking new dishes to delicious-looking cocktails, the opportunity was far too great for my mum and I to let pass.
I messaged the team on Facebook to secure a table for two, and on arrival, the pair of us were impressed with the eatery's new look. Unlike before, I found it was now incredibly bright and appeared to have a new lease of life. We were directed to our table, informed on the specials and placed our drinks order.
With it being mid-week – unfortunately – only soft drinks were on the cards. But both of us knew the food would make up for the fact we wouldn't be sipping away at the cocktail selection.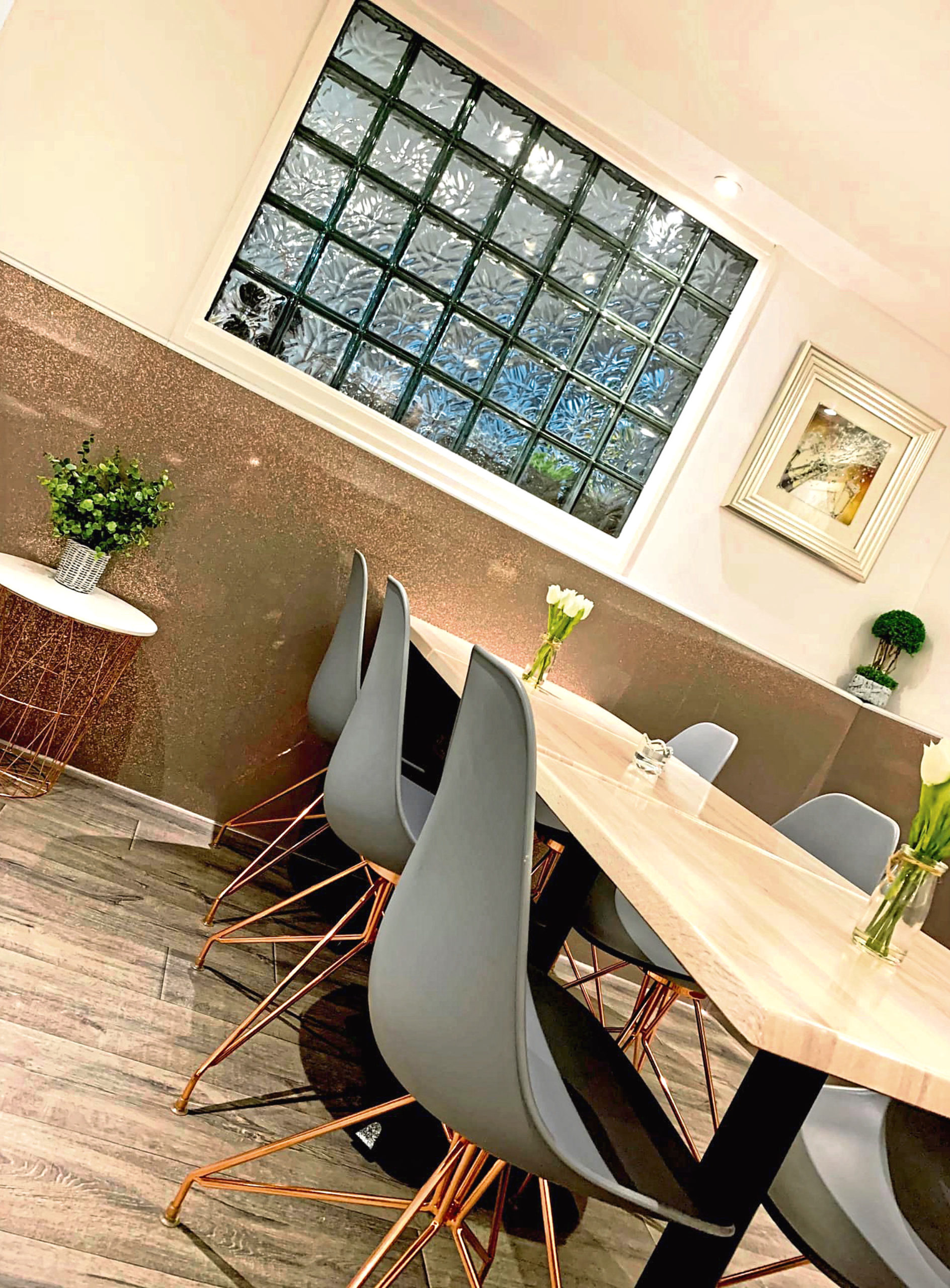 ---
The Food
---
I mean it when I say there's something for everyone on the new menus. From spiced carrot and onion bhajis, chicken fajita burgers and curries to chicken fillets, mac 'n' cheese and Cullen skink, my mum and I struggled to whittle it down.
My dining companion made it clear from the outset that she fancied a dessert. However, I must admit I was certainly steering more towards the idea of a starter. I ordered the crispy duck egg – a first for me – and waited patiently to see what I would be met with on its arrival.
In my opinion, it was an extra special starter. The duck egg – coated in a deliciously crisp, deep-fried batter – was of course the dish's centre piece, but in my opinion, it was the caramelised onion chutney which proved the star of the show. The gooey, soft onion chunks were coated in a rich, sweet, sauce. And it certainly provided a punch of flavour.
In the beginning, I started out by adding a thin layer of chutney to the other components on my plate. But in the end, I found myself drowning everything in the thick sauce – there was a hefty portion of it, so I found it a shame to waste.
And it didn't end there. My mum pointed out there was another element on my plate – crispy kale. Normally I find kale brings very little to a dish, but this time around was an exception. The kale had been coated in oil and lightly fried, and although the first bite provided crunch and crispiness – as described – it quickly melted in the mouth.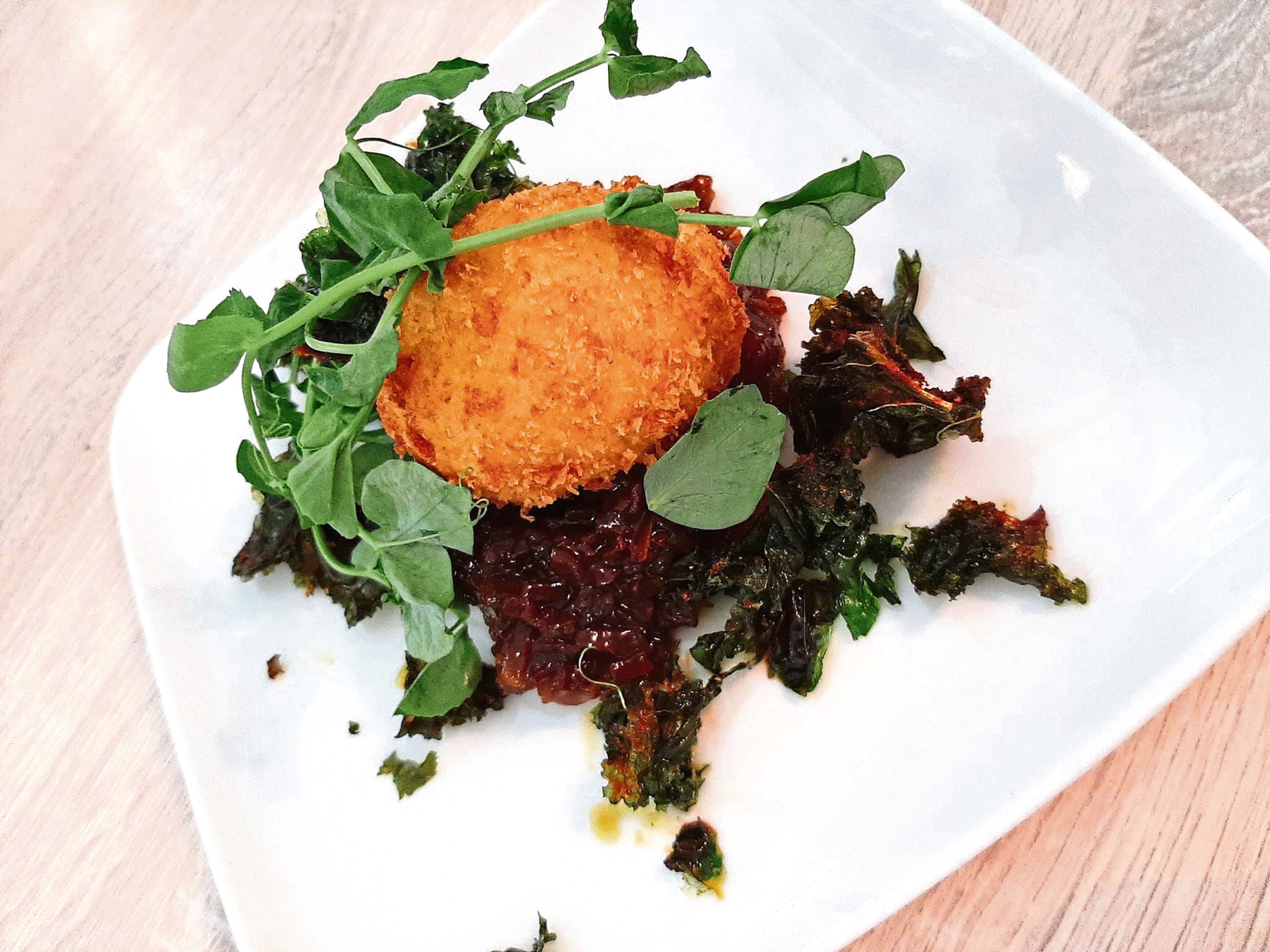 With the starter down, it was time for my mum to get her share of some tasty grub. She tossed between a number of menu items, but found herself going for one of the fish options – the battered fresh North Sea haddock. It was everything you would expect from a high-quality fish. Not only did it look the part, but she mentioned how flaky, juicy and delicious it was. It was evidently extremely fresh.
Although my mum would have much rather preferred a pile of mushy peas – a long-time favourite of hers – on the plate rather than garden ones, she mentioned the light and fluffy chips made up for it. She coated the chips in a thick barbecue sauce and savoured every mouthful.
I also went for a fish option, which comes as no surprise as I find fewer things greater than a mouth-watering seafood dish. For me, it was the fillet of salmon, teamed with champ mashed potatoes, black sesame and boiled vegetables.
It may sound as if I'm overexaggerating, but this is sheer heaven on a plate to me. The salmon was crispy on the outside, yet melted in the mouth. It had a refreshing, subtle taste to it. That, met with the accompanying veggies – including carrots and baby peas – certainly did the job. But with the dish proving to fill me up more than initially expected, I queried my mum on what she fancied for dessert – given that I couldn't possibly find the room to indulge in my own plate.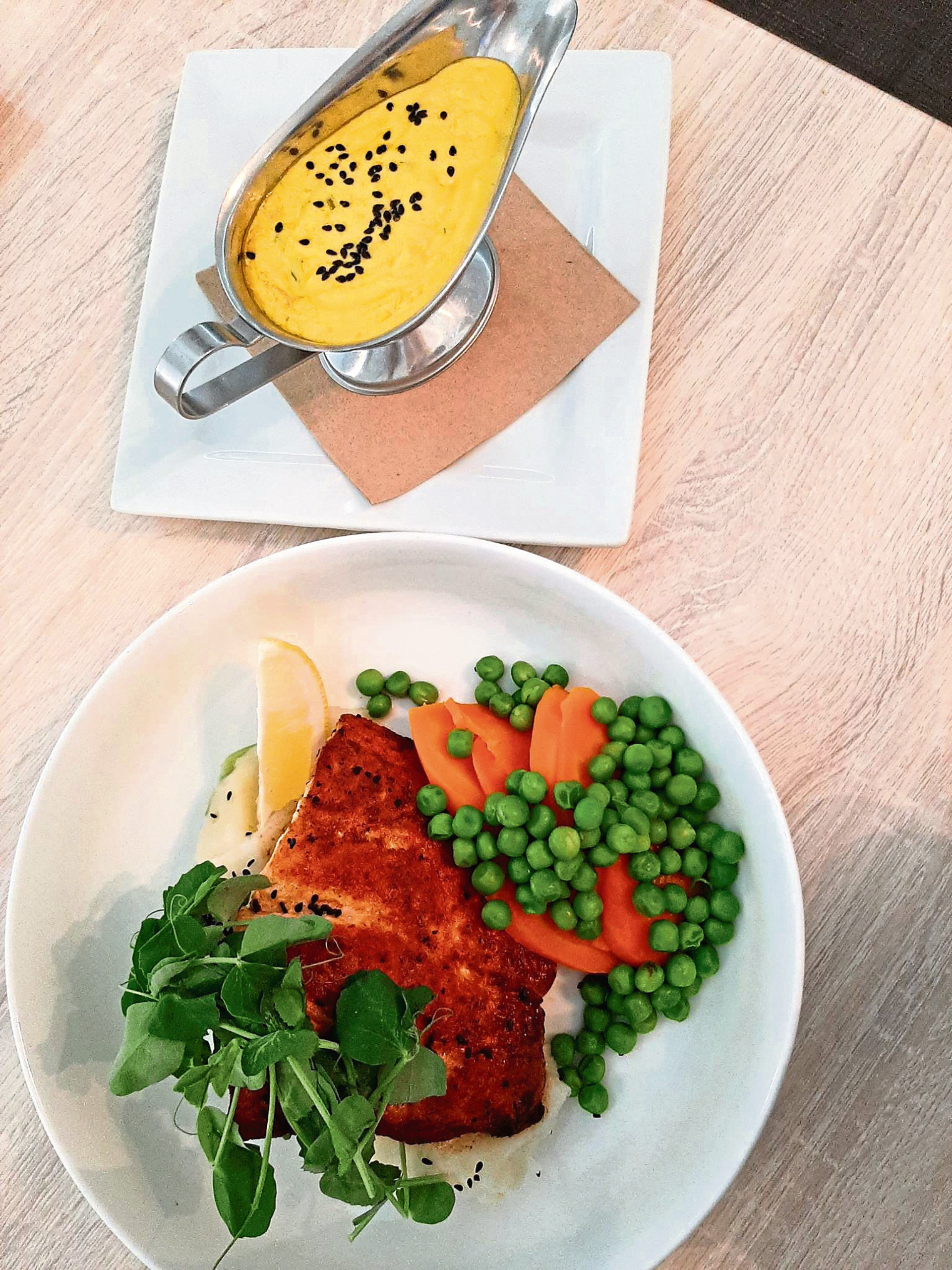 The pudding line-up included a warm triple chocolate and orange brownie, sticky toffee pudding, carrot and pistachio cake, lemon meringue tartlet – need I go on?
And as well as this, we were informed that the eatery now also offers a "cheesecake of the day". My dining companion asked our server today's flavour and as soon as she heard the words "Kinder Bueno", she was sold.
The cheesecake arrived promptly. The word "wow" must have been heard from our table by fellow diners a number of times before we sampled the treat. It consisted of a crunchy biscuit base, topped with a dreamy, silky-smooth cheesecake mixture which was both light and decadent. If that weren't enough, the treat also featured whole chunks of Kinder Bueno chocolate through it, making for a more than welcome surprise.
A sweet chocolate sauce was also drizzled across the plate – which proved to be the perfect amount given its richness – while fresh, vibrant strawberries and a generous scoop of ice cream sat alongside the cheesecake. All the components combined would satisfy anyone's sweet tooth.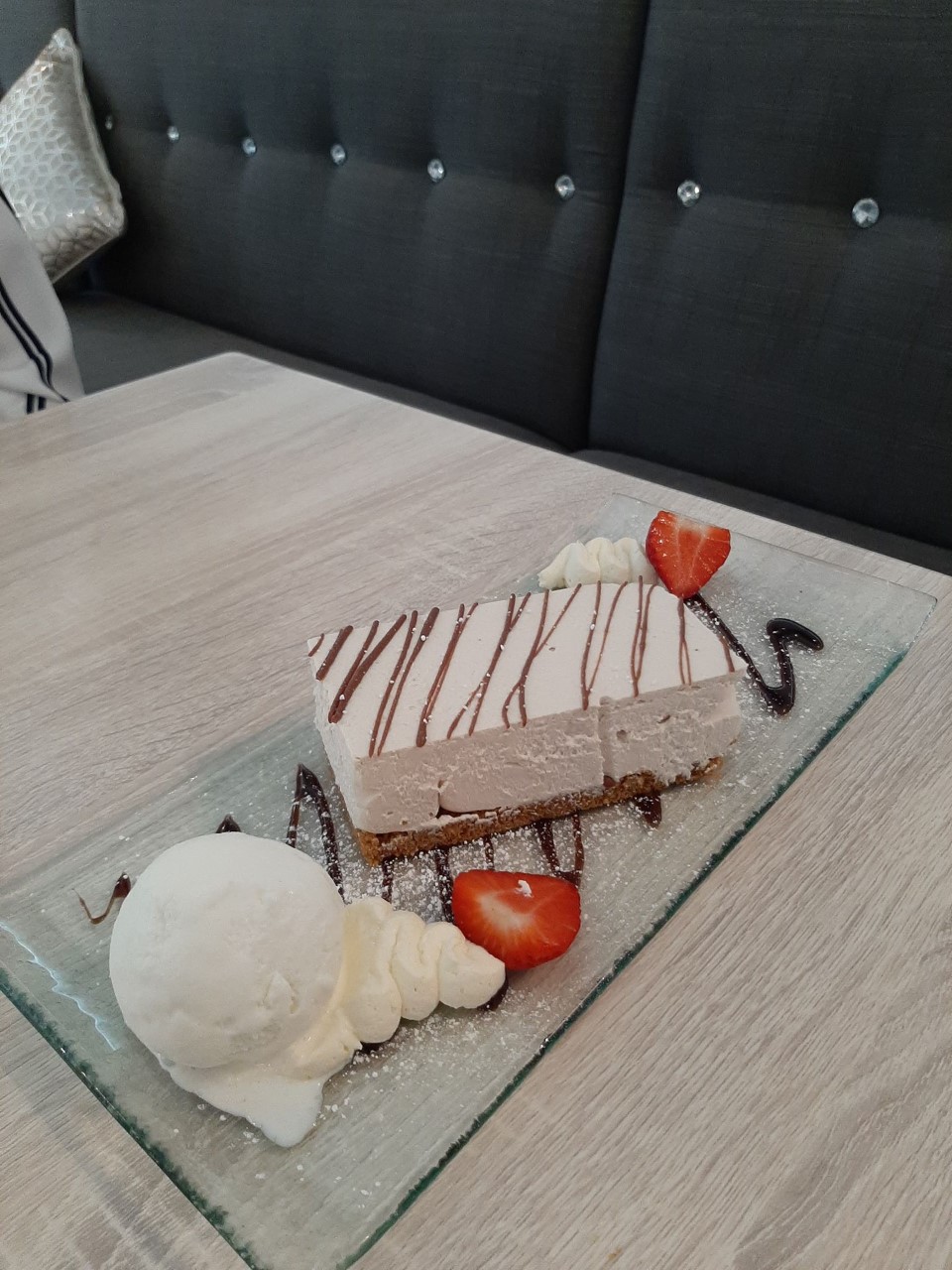 ---
The Verdict
---
The first thought that springs to mind when reflecting on my most recent trip to the White Heather Hotel is how much it has evolved over the years.
Yes, I have visited a number of times in the past. But this visit certainly outshined each of those, which is a prime example of a restaurant that is always looking to better its offering.
The service, new menus and revamped interiors were all great, while the food itself was superb. It's also important I mention that both my mum and I couldn't have felt more safe or comfortable during the outing – given the current coronavirus guidelines that are in place across the north-east at the minute.
It appears as though the only way is up for the White Heather Hotel, and I'm proud to say the eatery is based right on my doorstep.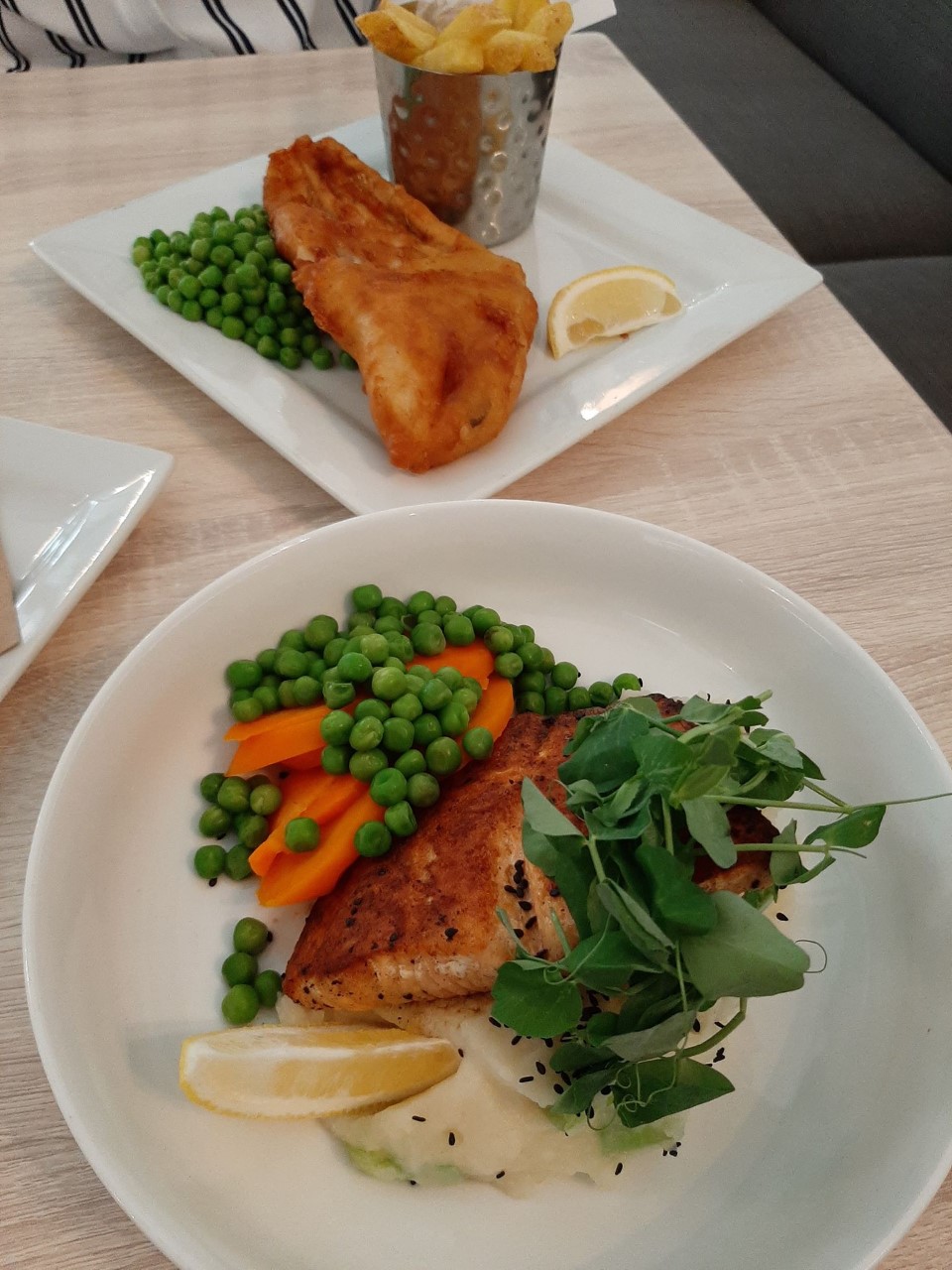 ---
Price: £28.80 (please note this price includes a discount from the Eat Out to Help Out Scheme).
Address: High Street, Turriff. Call 01888 562439 or email thewhiteheatherhotel@gmail.com to place a table booking.