Aberdeen's North East Scotland College serves up the master chefs of the future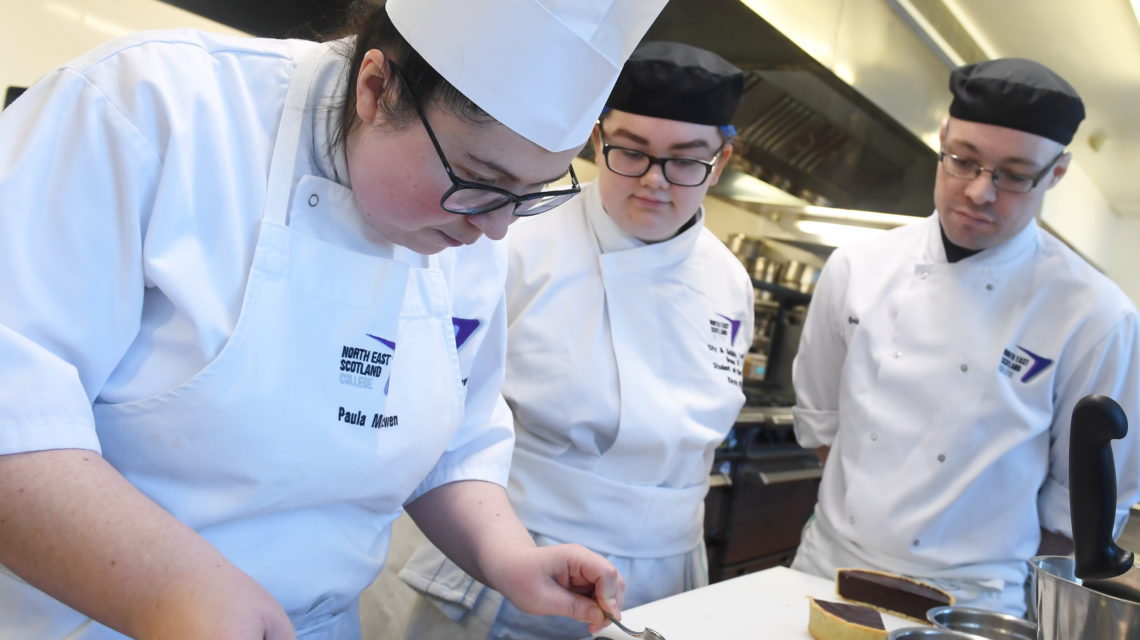 Nowadays, more and more individuals are stepping into the hospitality industry and creating a career for themselves in the kitchen or front of house.
Just look at the north-east alone, the culinary talent is exceptional, with a number of award-winning chefs and some of the best up-and-coming professionals in the industry making waves.
With a diverse and excellent range of fresh produce available on our doorstep, it's no wonder people all over the world come to study cooking professionally in Aberdeen.
North East Scotland College (NESCol), which is based at Gallowgate in the city centre, offers an array of cooking and hospitality courses, including its popular professional cookery course.
The courses are one year courses which gives the students the opportunity to study over three years, prepares students of all ages for life working in the sector and helps them learn fundamental skills and techniques they will go on to use throughout their career.
From level one an Introduction to Professional Cooking, right through to level three Advanced Professional Cooking, the students work side by side with the experienced lecturers and eventually go on to run their own kitchen – vital experience for those looking to get into the industry.
But what is it about this course that makes it so popular?
NESCol hospitality and professional cookery lecturers Mark Smith and Paula McEwen, who have an mountain of experience in the industry, have the answers.
---
First off, how did the pair of you come to work in the hospitality industry?
---
P: We've both owned our own restaurants. I owned a restaurant within a hotel on Great Western Road. I actually came to the college to train when I left school all those years ago. I've basically done a full circle as I'm now training the new talent coming through which is very exciting. I've been here for five years and I absolutely love it.
M: I graduated from university with a degree in management and then I went to Andrew Fairlie's at Gleneagles and trained there as front of house, then moved into the kitchen. I worked there for six years and then moved back to Montrose and opened a restaurant with my wife. We had it for five years, sold it and then I got into teaching.
---
And what was it that inspired you to move into teaching?
---
P: I've worked under some really good, nourishing head chefs and that's where I feel I benefitted the most. If the students get into the right kitchen, with the right team and already have good foundations which they will learn here, then they will definitely strive in the industry.
M: If we can start that process here of teaching them how to cook properly and show them the right path and introduce them to the connections we have, then it has to be a good thing.
P: I agree. Being a head chef is very different to being a college lecturer, but it wasn't until I was a head chef teaching my staff what I knew, that I realised how much I enjoyed it.
M: I've been here for six years and for me, it's all about giving something back. It's very rewarding and it's brilliant to see the progress of the students and see them go on and achieve incredible things. We have adult returners retraining and going and doing something in a completely different direction, so it's extremely rewarding to be part of that experience.
---
But there isn't just you two teaching the students. Tell us a little about the other lecturers? Do you all have different backgrounds?
---
P: Absolutely. Robert Bruce works with the level one and three students on their restaurant and production kitchen work. He's very well known in the area and he's someone we all turn to for information and guidance on food. He takes the level three gastronomy class too, and this is where they focus on the more advanced menu development.
M: There's also Peter Baxter who is our curriculum manager and has a military background. The students learn discipline from him and learn how to be uniformed – that's so important from an employability perspective. Craig Park has been the head chef in a number of places for many years and he has a lot of local experience and has run many functions before, so he can give guidance on that. He trains the students on how to deal with pressure and cooking for large numbers. And there's David Crocker who is a master baker and focuses on that side of the industry.
---
Can you explain the structure of the courses? There's three levels, correct?
---
M: City & Guilds is the awards body we use for the course and we think it's the best out there. The students get to do practical and theory and it's done through continual assessments. There's level one all the way up to level three, but some people just want to do a few of the levels instead of all three. In level one there are usually about 80 students, then level two that goes down to around 40, and then level three there's around 18 students. You can enter at level two as well, but we always recommend level one as you learn the basics and have the right techniques and skills under your belt. By level three the students are developing their own menus, running a kitchen and putting them out to the paying public – it's the best of the best.
P: It's a real working environment we give them and they look after everything from ordering the food, to storing it the right way, to serving it in the best way. The theory work in level three is about supervision and really focuses on how to run a kitchen. There's practical and theory throughout and you learn skills like poaching, frying and roasting, and then develop to filleting fish, butchering meat and preparing all these amazing elements like sauces, stocks and experimenting with flavours in exciting ways. It's a real diverse learning experience.
M: We've had students from Columbia, Hungary, South America, France and all over. The classes are a real mix and it's great as there are so many different cultures coming together over food and education. There's all ages, too, so you'll have people just out of school to those looking to retrain and potentially open their own restaurant, it's so varied.
---
You mentioned the third year students get to run their own kitchen, that's in Gate 63, the student-run restaurant, isn't it?
---
P: Yes. They get the chance to create their own menus which they develop in pairs and then execute them. It's a brilliant experience for them and something they all really enjoy. During a busy service we'd have around 10 students looking after front of house and around 14 in the kitchen. They all enjoy it when it's really busy and everyone loves it when we're fully booked. They get more out of it and it's a real hands-on experience. The restaurant is open for lunch on a Wednesday and Friday and dinner on a Thursday evening.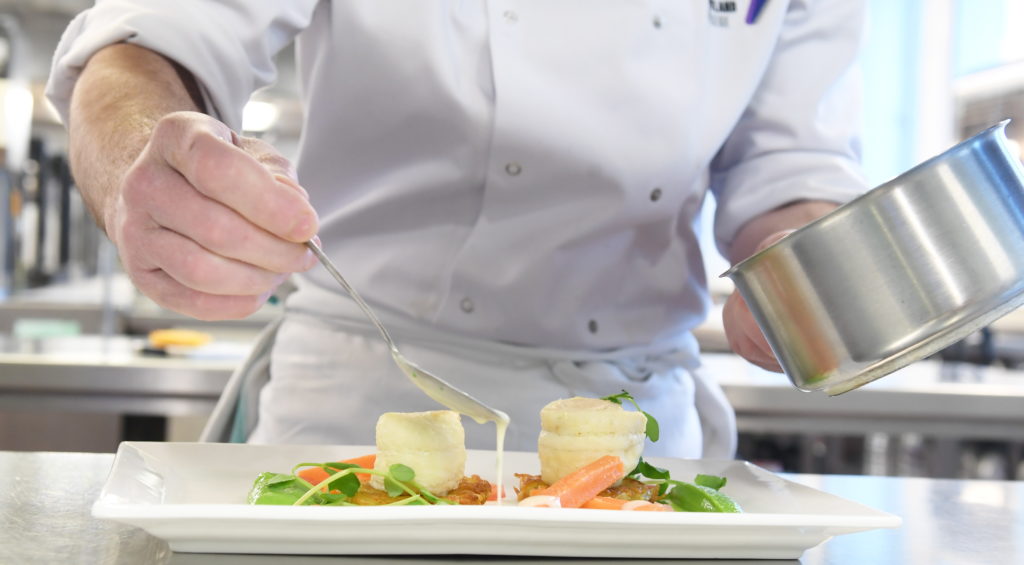 M: Menus change monthly to meet seasonality and to allow the learning needs of the students. We've done Mexico and Thailand before and we recently did a five-course tasting menu for Valentine's Day which was level two students who executed this. The menu usually has a few options for people to try out and everyone has been created by the students which is really nice. I'm on-hand overseeing the front of house whereas Paula is usually heading up the kitchen.
---
Is learning about front of house something you focus on within the course, too?
---
M: Absolutely. I teach both front of house and in the kitchen, but level one is much more focused on front of house. For half of their first year they get to practise their skills in the training restaurant. Gate 63 is a great space for the students to get to grips with working in a restaurant. It's really important for them to know how the front of house works before getting into the kitchen in second year as you need to understand both sides of the business.
---
And what can people expect from the menu if they are booking in at Gate 63?
---
P: I guess we're more focused on classical training, so the menu development and themed menus gives the students the chance to be creative. I think it's important they understand the classic ways of cooking a dish, but we do encourage them to put a modern twist on the dishes.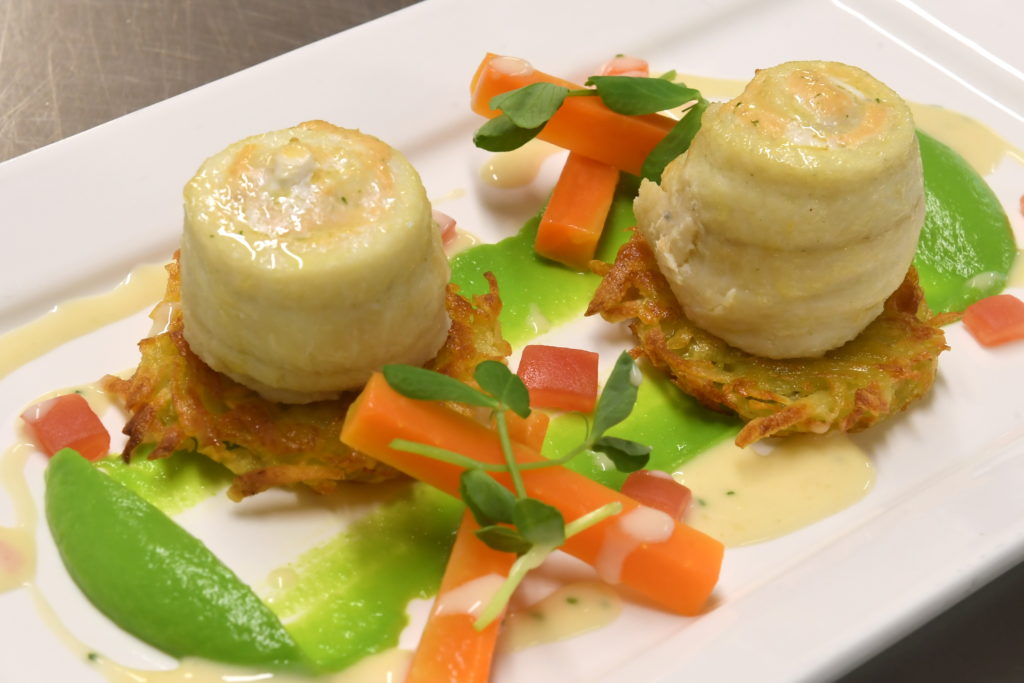 M: Gate 63 provides a much more realistic idea of the environment they'll be going to work in after the course finishes and because they're constantly working on their skills and improving them, we can work with them to create exactly what they want.
---
Diners at Gate 63 can also watch a live camera feed from the kitchen. Why did you add this into the space?
---
M: We like our technology here at NESCol, but it's a huge talking point. Parents and families love it as they can see their family members and friends working in the kitchen. We're showing you the entire learning experience and this is a great way to let the public experience it.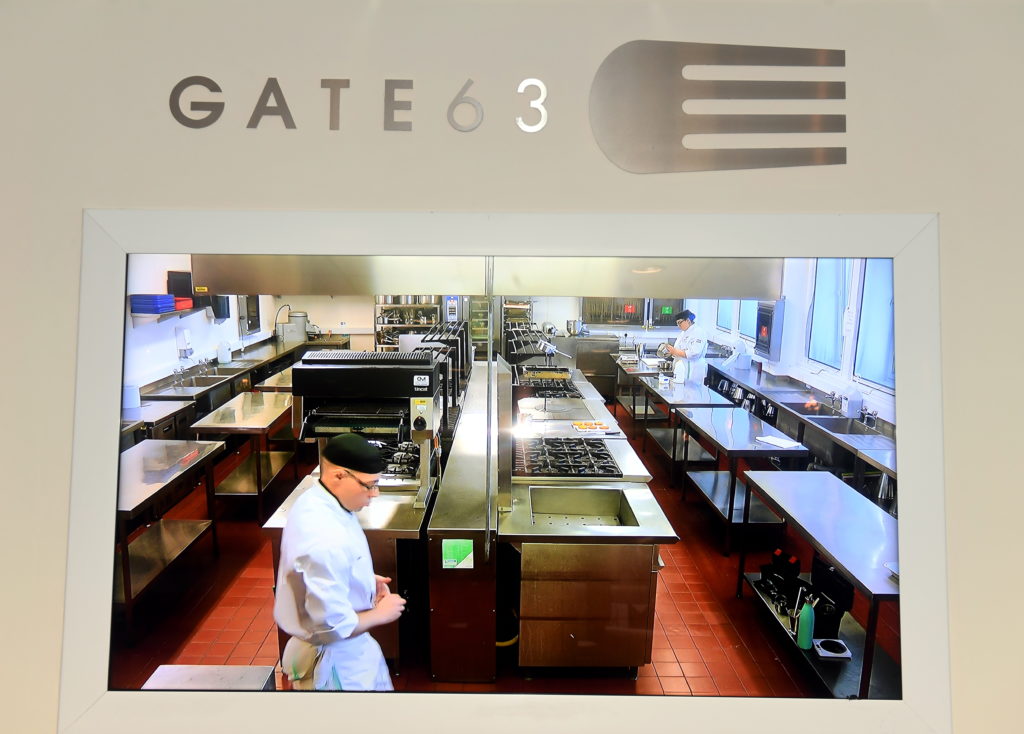 P: We all forget it's there and then all of a sudden you remember you're on camera. I think it's a great chance for us to show off the talents of the students – and it's fun to glance at when you're enjoying your meal.
---
You work closely with local producers and restaurants. How important is it for the students to build supplier relationships?
---
M: It's definitely important and we're always trying to develop more and more in the area. In relation to the local suppliers, the students learn about who they are using, where the produce is coming from and to have the best produce locally is great. The students normally go on tour visits and meet producers. We've been up to Peterhead Fish Market and we're hoping to go to Devenick Dairy's Tin Coo to learn all about the cheese.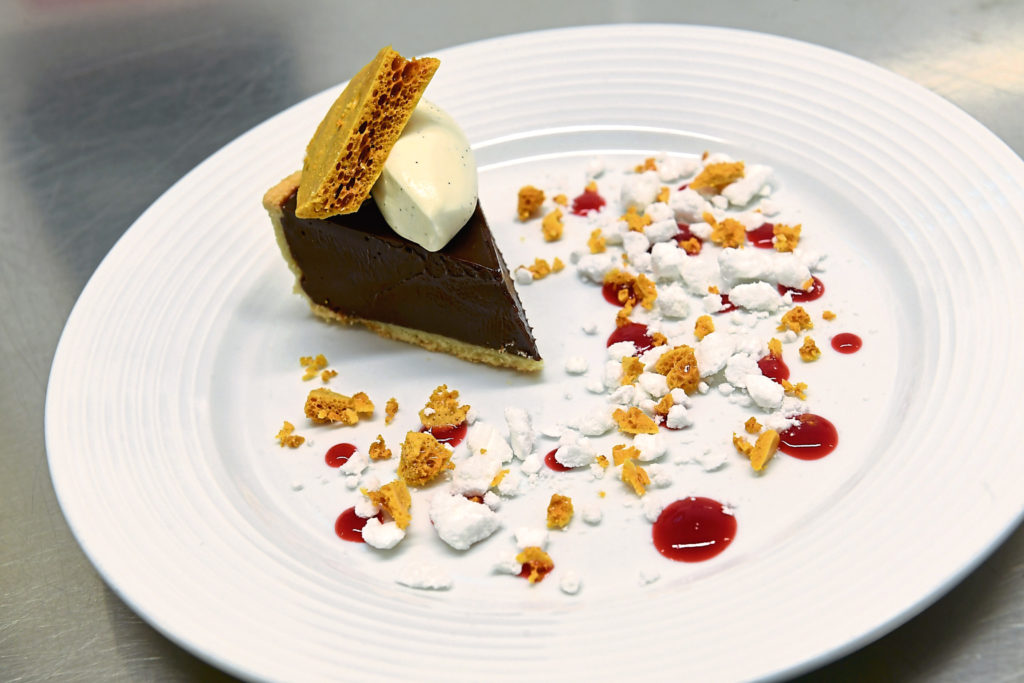 P: The students will have to have good relationships with suppliers and others working in the industry, so I think it's a great opportunity to teach them about this and sustainability. It's knowing the local guys as well as the more national companies. We've recently started with local company Caber Coffee, serving their coffee in the restaurant.
---
What's the most rewarding part of your job?
---
M: Seeing students go into the industry and doing well for themselves.
P: One of our former students came in a few weeks ago to see us. She's just opened her own place with her son who was on the same course as her. I guess it's seeing the confidence of the students growing and seeing them strive to do well in the industry is very rewarding.
M: It's about them applying themselves and putting themselves out there. It's a huge credit to them. Taking the college opportunity and really pursuing it.
And what advice do you have for anyone looking to go on a course like this?
P: You're going to learn so much. You'll learn employability skills and life skills. You'll learn how to cook properly and I think this is a great foundation if you're looking to pursue a career in cooking and hospitality. Everyone gets to learn a number of different stations and it gives them the chance to run every section before even stepping into a job.
For more information on the courses visit www.nescol.ac.uk/courses
Gate 63 is open Wednesday and Friday lunchtime from noon to 2pm and Thursday 6-9pm.
Hospitality and professional cookery lecturer Mark Smith, left, and students hard at work in the North East Scotland College kitchen