Aberdeen's crime writing festival Granite Noir is set to be a killer success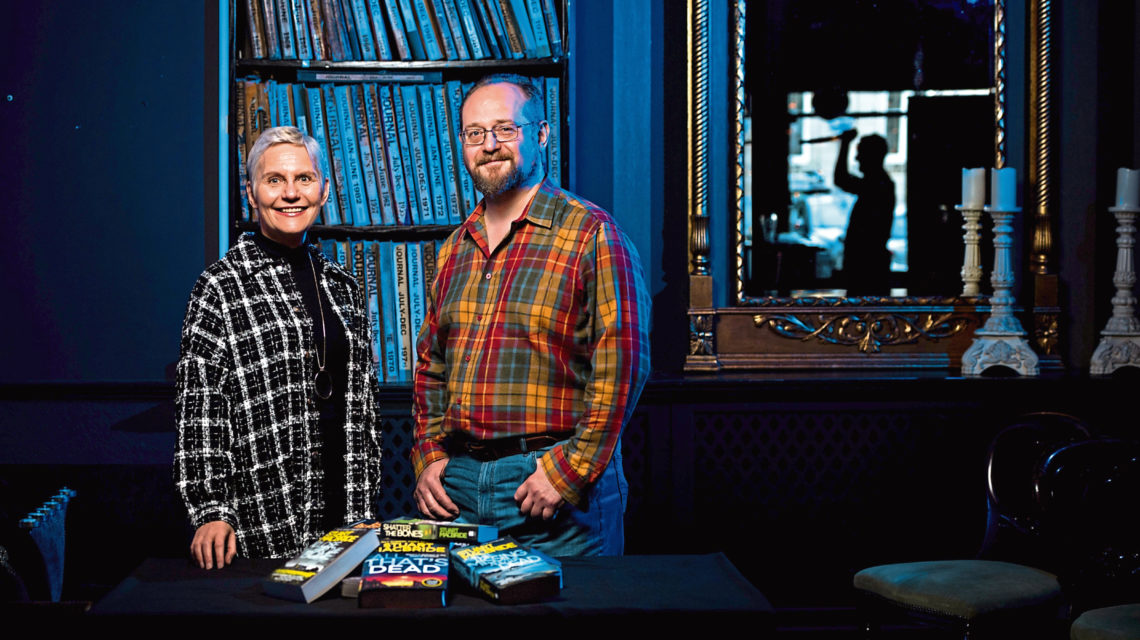 Granite Noir, Aberdeen's acclaimed crime-writing festival kicks off today… and is on its way to being a killer success.
Jane Spiers, chief executive of Aberdeen Performing Arts, which produces the popular four-day event, said it will attract thousands of people to the city.
"In terms of ticket sales we have already far exceeded our target. We've sold 7,000 tickets over the weekend – when you look back to our first Granite Noir four years ago, that's more than triple the ticket sales," said Jane, adding many events had sold out.
"It really seems to have captured the heart of people. There's growing excitement and a lot of chatter about it, so I'm really looking forward to it."
This year's Granite Noir, the fourth, has attracted some of the biggest names in crime fiction, such as US author Sara Paretsky, the creator of VI Warshawski, Scots king of crime Ian Rankin, and urban fantasy novelist Ben Aaronovitch.
Jane said: "I'm hoping there will be a buzz this weekend, because that's what Granite Noir is all about. And this year we are doing more events in more venues, with more authors. It's going to be a busy weekend."
Jane said the roster of talent coming to the city shows just how well recognised Granite Noir – which has the north-east's own crime writer Stuart MacBride as its ambassador – has become.
"Roughly 50% of the people who attend this year will be from outwith AB postcodes. Last year we had people from as far afield as Orkney and Plymouth coming to the festival," she said.
The event features not only some much-loved authors in conversation about their work, but also exhibitions, workshops, family events and a film programme – curated by Ian Rankin.
Jane said a couple of themes had emerged in the planning of the festival.
"We do like to think carefully about the programme and be as creative as we can be. One of the themes this year has to be music and crime writing," she said.
The opening event tonight sees Stuart Cosgrove introducing Music, Murder And Mayhem at the Lemon Tree, discussing his books on soul music and social change – including the surprising link between soul music and murder.
Tomorrow David Holmes will be talking about his Bafta-winning score for Killing Eve before doing a DJ set.
Jane said: "On Saturday we have Ian Rankin doing a Shipwreck Suitcase event at the Music Hall with Phill Jupitus and then they are hot-footing it to the Lemon Tree to share their music collection and spinning the discs. So music is a lovely theme Granite Noir has this year."
Jane added another theme would be women in terms of crime and punishment.
"It's not just having someone as high profile as Sara Paretsky, whose feisty female PI VI Warshawski transformed the genre, we also have the Outcasts exhibition, from the city and shire archives, which looks at women and crime in society."
Jane said having Sara Paretsky at the festival is a Scottish exclusive and a real coup for Granite Noir. She was also delighted to be able to bring Ian Rankin to the festival for the first time.
"We are proud of those high-profile events we are bringing to the city and also proud that Granite Noir is very much rooted in Aberdeen and takes its inspiration from the city."
Jane believes Granite Noir is important for Aberdeen, beyond just delighting crime fans.
"It's a fantastic opportunity to showcase the city and everything we have to offer and is the backdrop to our everyday lives – majestic granite architecture, beautiful parks and beaches. All that is what Granite Noir is all about. It's rooted in a strong sence of place, but it's an international festival."
And she credits the success of Granite Noir to being a "great partnership" in the city, from Mackie's making a black ice cream to the "amazing" support of Aberdeen City Council as well as Creative Scotland and Event Scotland.
Planning is key to the growing success of the event and that will start more or less as soon as this year's finishes.
"We have a list of people we would love to see at Granite Noir. Once we get this weekend over we will be getting the list out again and putting our heads together," said Jane.
"The earlier we manage to ask people the more likely we are to be able to catch them before they have any other commitments.
"This year the sales have been phenomenal and the buzz around it so exciting, it does feel that what we have to do after Granite Noir 2020 is to see where we can take it in 2021.
"I would like to see us expanding into more venues next year. We are already bringing authors at the top of their game to Aberdeen and we want to continue to do that.
"It would be nice to do it over a longer period of time, so potentially looking at over two weekends, with some events in between. There is lots we can do."