Food at Home: Aberdeen's Bhan Thai produces lip-smackingly good, authentic Thai dishes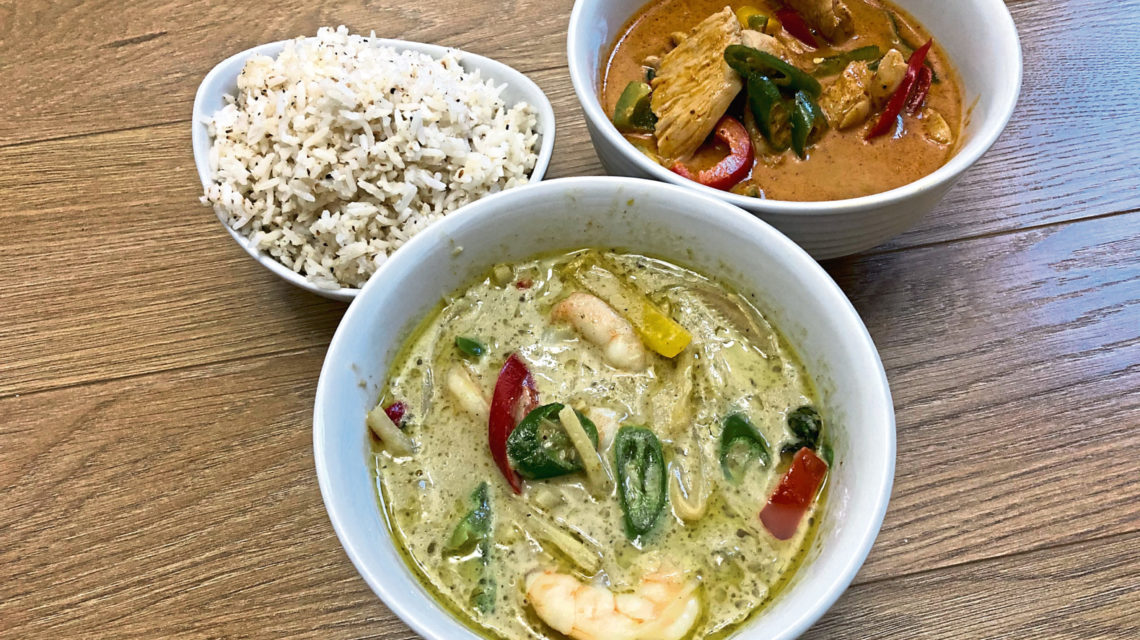 It has been forever and a day since I was last in Bhan Thai, and while things may be a little more challenging for Aberdeen city centre right now, I won't let that get in the way of eating good food.
You're probably wondering if I ever actually cook? The answer is yes, but I much prefer eating other people's fare instead so tend to spend the majority of my time socialising in restaurants and bars.
If you had asked me 10 years ago to go out for Thai food, I probably would have ignorantly declined, unaware just what was waiting for me. Nowadays, I can't wait for the explosion of flavour from authentic Thai food to erupt on my tongue. The heat, the spice, the ginger, there's so much I adore about this cuisine. But I have to admit, I'm definitely here for the chillies.
It had been a while since my last Thai fix (albeit I do try to recreate some favourites at home quite often), so this time, a quick browse of Bhan Thai's website was all the inspiration I needed.
Based on Rose Street, the venue is a hop skip and a jump from my place. We'd been out in the shire that night and had certainly built up an appetite climbing Scolty Hill, so on the drive home, I ordered on Just Eat's website to collect. It was really easy to order and it stated our food would be ready in 20 minutes – which was good timing as we were in Elrick when I ordered.
Pulling up on Thistle Street, I grabbed my mask and headed round to the restaurant and up the stairs at the entrance. I was met by two ladies at a social distance who took my name. Within a minute or so they had returned to the restaurant reception and handed me my bag of food. The venue looked just as it did on my last visit, decked out with ornaments and colourful decorations, just a little less busy.
I headed back to the car but it wasn't until we were back in our own home de-masked that I smelled the incredible aromas spiralling out of the bag.
We decanted all of the dishes on to plates and in bowls, assessing every dish as we salivated over it.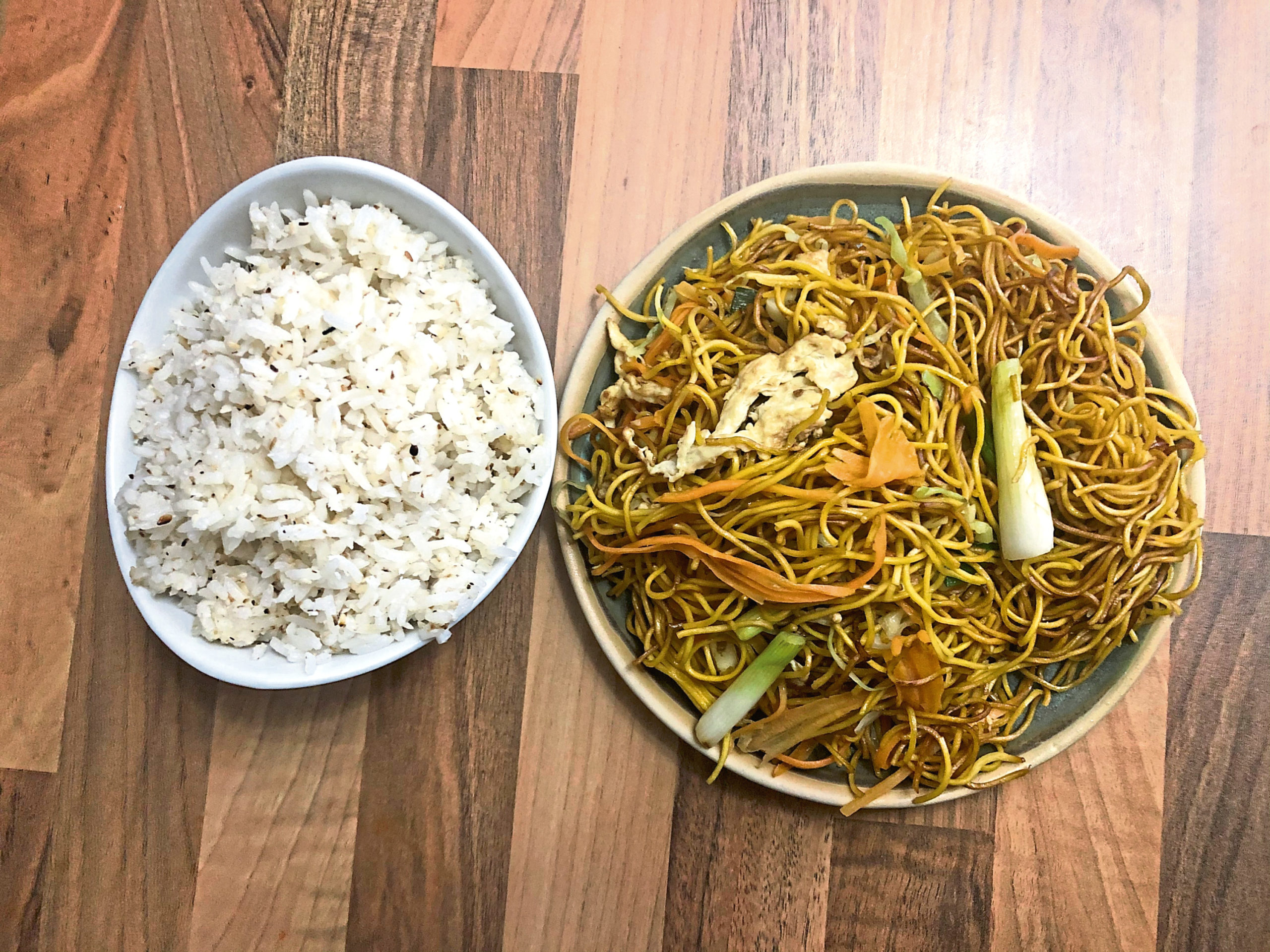 The Food
When it comes to Thai, I'm all about the savoury, so to get a real mix of flavours we ordered the Bhan Thai mixed platter – suitable for two people.
Included in said platter was a compilation of starters including chicken satay, deep-fried spring rolls, prawn toast, deep-fried prawns wrapped in pastry and pork ribs.
One of my favourites, the satay chicken was super succulent but the sauce was much different to how most would relate with satay. It was much, much creamier, more sweet than savoury and was a pale yellow in colour rather than a deeper yellow/brown. It wasn't overly nutty but was very delicious drizzled over the two skewers we had each.
The four pieces of prawn toast were like none I had experienced before. Thick fat juicy prawns were captured within the middle of the toast, which had been topped with sesame seeds.
Most prawn toast I had tried before was usually thinner and never really had big chunks of prawn through it, but this one did, and I loved Bhan Thai for it.
There were also two prawns which still had their tails on that had been wrapped in pastry and cooked. The crunchy housing revealed a soft, thick prawn on the inside, and dipped into the homemade sweet chilli sauce, they were very enjoyable, albeit gone in two bites.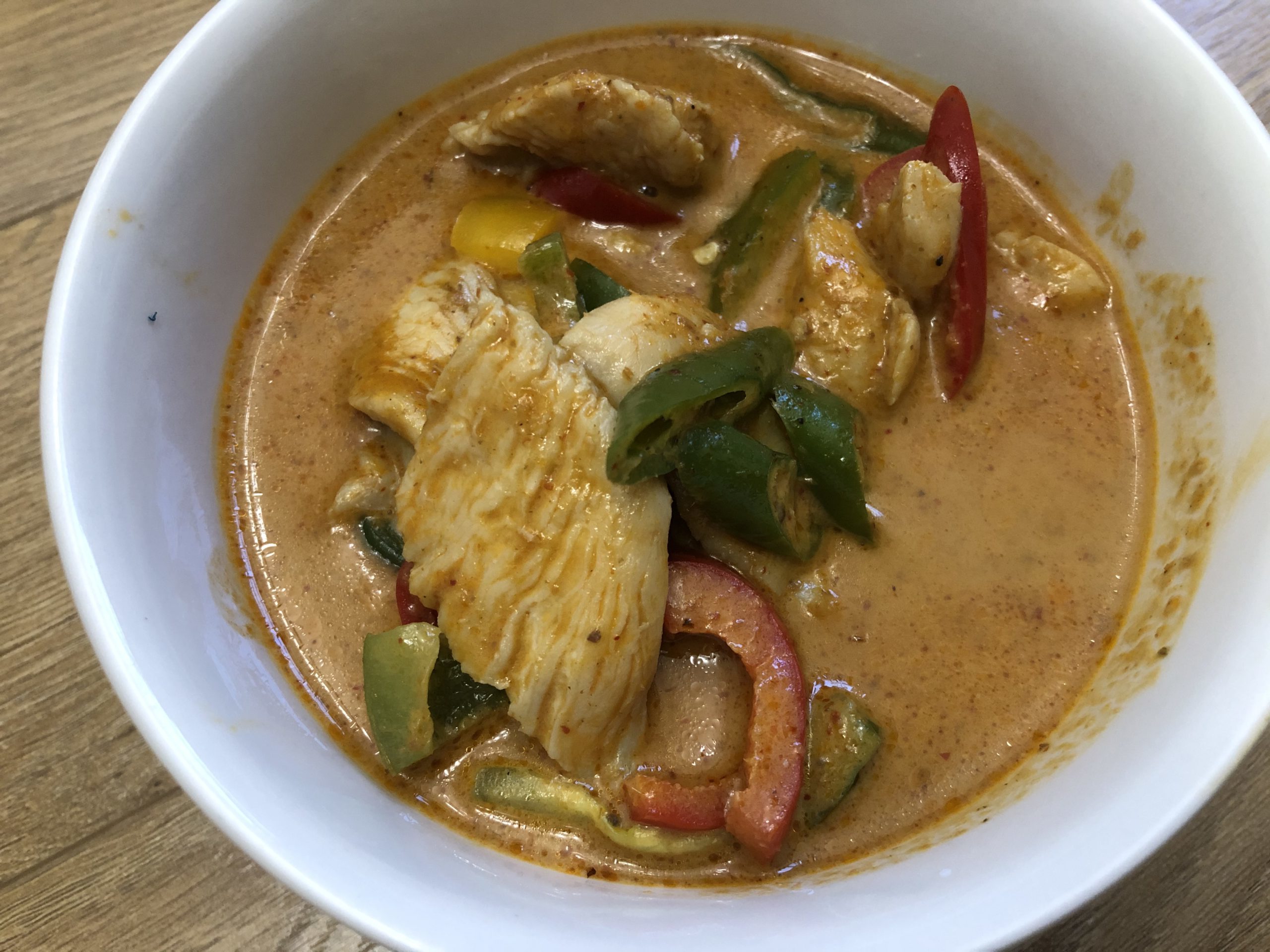 The spring rolls were crunchy and crisp but were packed full of filling, bulging at both ends and every side.
Oozing as we bit into them, the delicious veggie filling came piling out.
The four thick ribs were the best of the bunch. Smothered in a sticky barbecue sauce that was incredibly fruity and sweet, the gloopy addition was exactly what the well-cooked pork needed to moisten the meat. Easy to pull off the bone, there wasn't an ounce of fat and they were finger-licking good.
Moving on to mains didn't take us too long.
The Gaeng Kiew Waan – Thai green curry – had been my choice, while the panang was his. Intrigued by each other's choices, we decided to share – and I'm so glad we did.
While my king prawn green curry with coconut milk, aubergines, sweet basil and fresh chilli had hit the spot, the sauce of that panang will stay with me for a while.
Perfectly cooked, the big plump de-shelled prawns were soft and succulent – and there were plenty of them.
A medium spice, the sharpness of the chillies was easily recognisable with fresh red and green ones scattered throughout.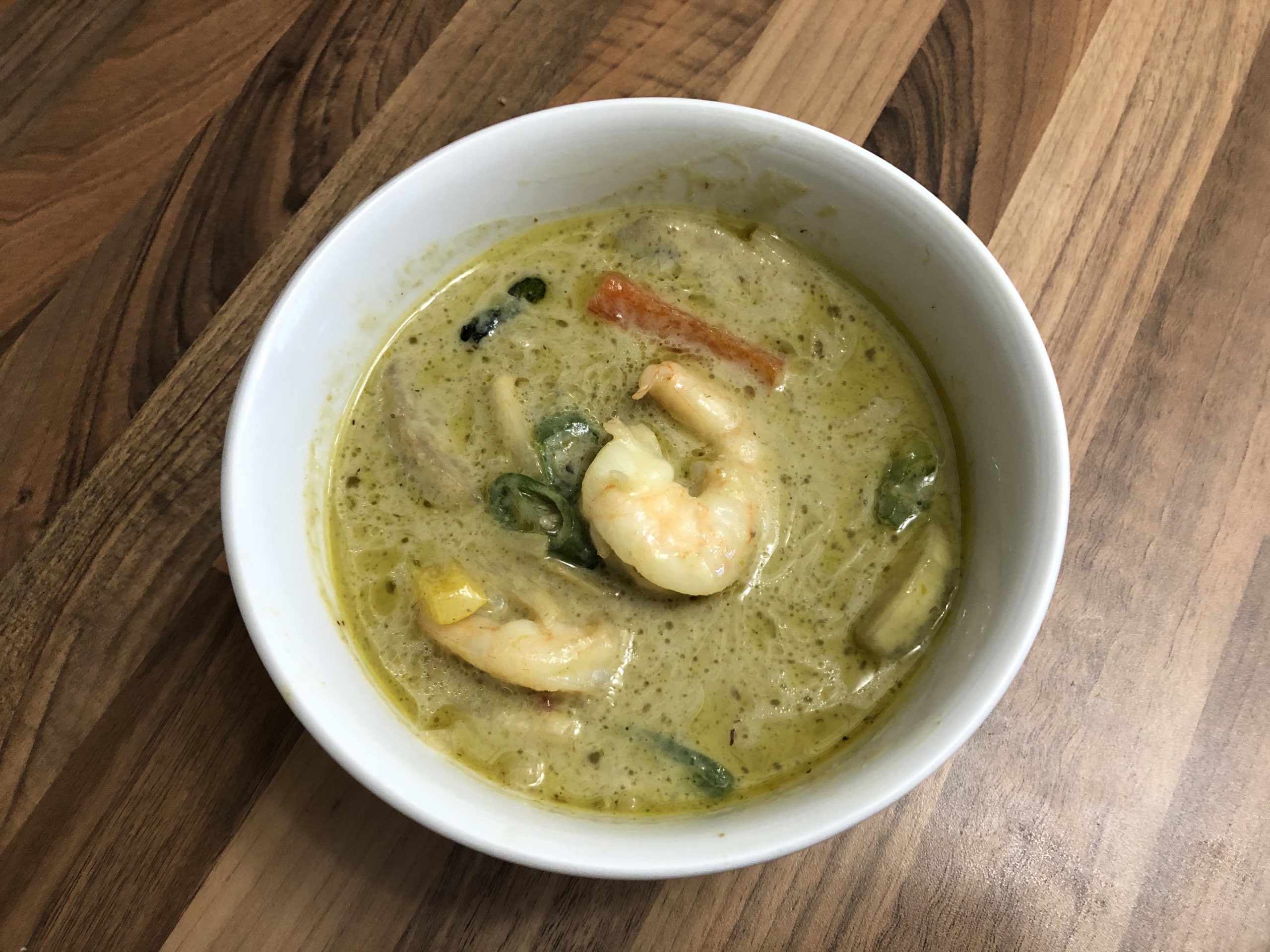 The vegetables were slightly al dente (just how I like them) and there was a range of peppers in there, too.
While the sauce was quite runny, I easily rectified this issue by pouring lots of it over the coconut rice we'd ordered on the side.
Super fluffy, the rice was slightly sticky and had desiccated coconut sprinkled all over it, too, and there was plenty of it to go around.
My boyfriend's panang curry was the real showstopper though. Creamy and rich in flavour, this red-based curry was the star of the show. Made with coconut milk and kaffir lime leaves, the medium spice was warming and gradual.
Opting for the chicken version, the tender pieces were quite large, and like the green curry, the veg was every so slightly al dente.
I guess the thicker sauce was where this dish really came into its own.
Super smooth, the red and green peppers were thinly sliced and the curry had a nuttiness to it – almost similar to what a spicy satay sauce would taste like. It was lip-smackingly good and I think we both could easily have licked the bowl clean given the chance.
The side of thin, long fried egg noodles we'd ordered went really well with this curry.
Boasting carrots, spring onion, beansprouts and more, it had every kind of vegetable in it, as well as a fried egg.
The meal was super filling and the mains took us much longer to demolish.
Although we did end up with some for leftovers the next day despite being ravenous.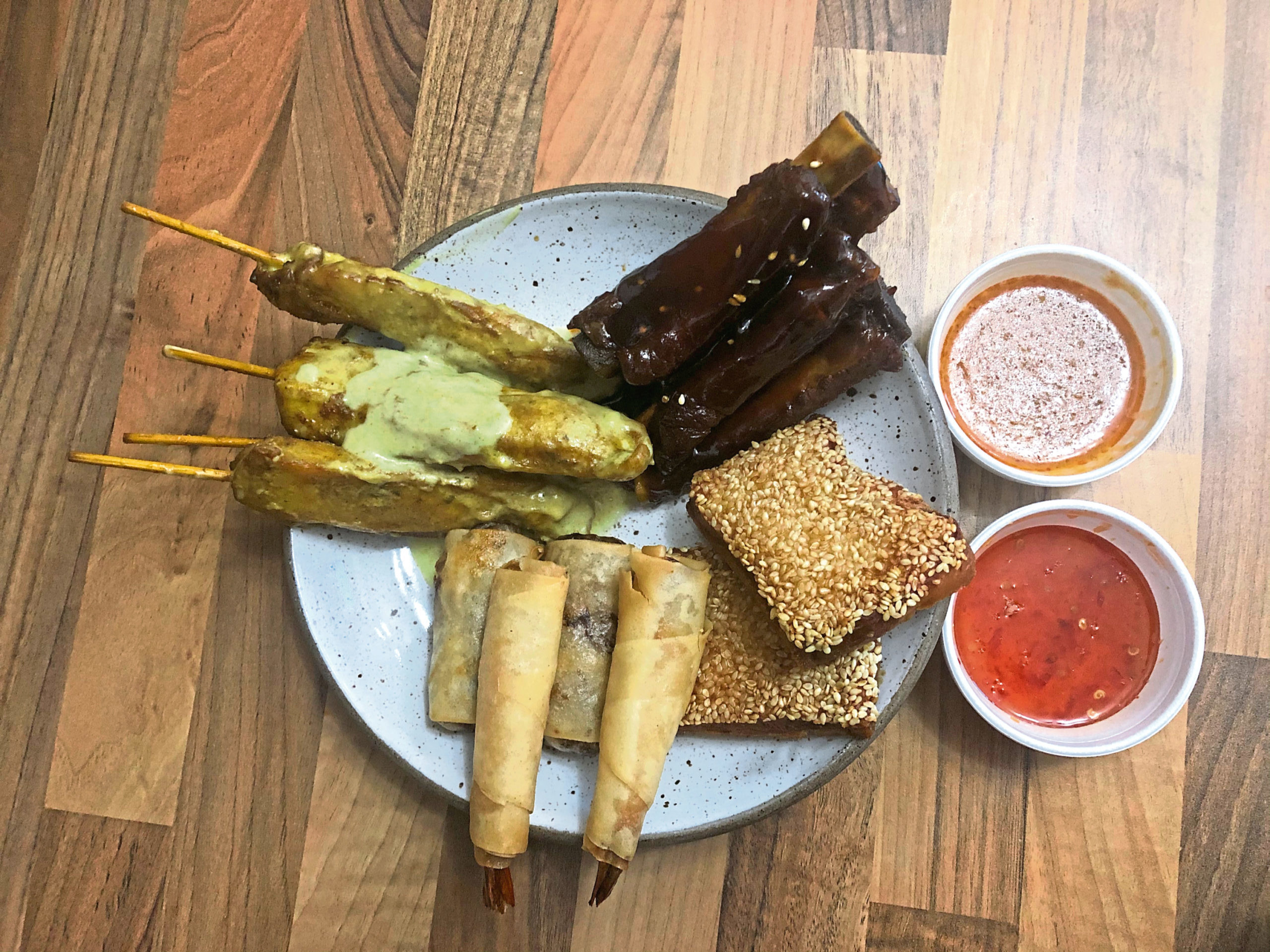 The Verdict
Once again Bhan Thai didn't disappoint. And while the food may not look as beautiful as it does when it is presented on gorgeous plates with authentic designs on them in the restaurant, it still tasted just as good. Having not been able to visit for a while, I'm delighted I finally got my Thai fix again from the team who are as accommodating as ever – even if you are just picking up a takeaway.
The panang curry is a solid choice and one I can't imagine anyone would go wrong with.
The same goes for the platter starter where you can enjoy a mix of everything and swap your favourites with someone else.
Price: £34.55
To order: All you have to do is visit Just Eat's website here, or if you'd prefer to contact the restaurant directly, call 01224 639155.
*Please note: This review took place before the Aberdeen local lockdown was in place.