Aberdeen Restaurant Week: Three-course lunch menu @ 210 Bistro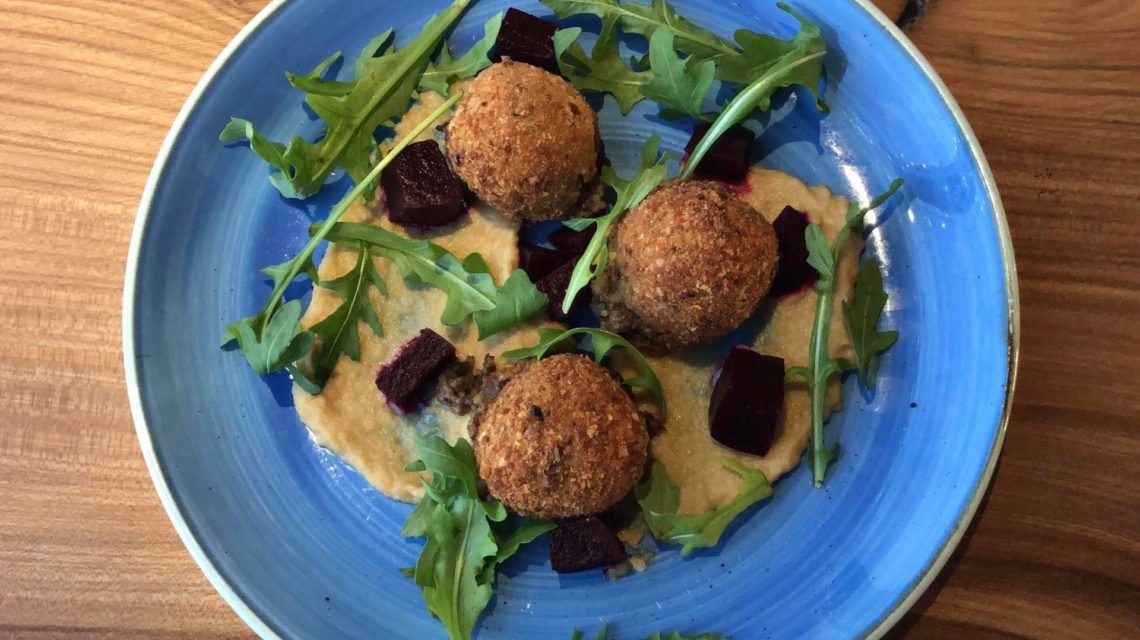 Few things are greater than enjoying spectacular views while dining.
Not only can you soak up the scenic surroundings at 210 Bistro to your heart's content, but also enjoy mouth-watering food, too. Now that is a winning combination.
Having never set foot inside the eatery, which is based on Market Street in Aberdeen, in the past, my mum and I were eager to see what it had to offer during Aberdeen Restaurant Week.
First thing's first, I must praise the hospitable, welcoming and informative members of staff. From running us through the current coronavirus procedures to making a few foodie recommendations, we were already impressed – and this was before we caught a glimpse of the sky bar.
We entered the bistro's lift – which provides access to the sky bar – and as the doors finally opened, our eyes widened. Modern, sleek and stylish, it was even more stunning than I initially pictured it.
The pair of us were the only diners in the bistro, providing the perfect opportunity to take a number of snapshots of the far-reaching views. My mum pointed out several spots and landmarks – including the big wheel at Codona's Amusement Park – for some time before we were handed our menus.
---
The Food
Now, let's talk food. 210 Bistro is offering two-course lunch and dinner menus for £10 and three-course lunch and dinner menus for £20 throughout Aberdeen Restaurant Week. Because our booking was made for 3pm on a Thursday, it was the lunch menu that we browsed.
I've been somewhat wary when visiting eateries during the event in the past. I often ask myself "what if the options are poor?" or "will there be any variety in the offering?" On every occasion, I've had no reason to worry.
As per usual, we struggled to whittle it down. But once I heard that the soup of the day was Scotch broth, I knew which starter I was opting for.
Hearty and wholesome, the soup was packed full of melt-in-the-mouth root vegetables – how I like it. It had been thickened with barley and split peas, and included the perfect amount of salt. I'm never a happy bunny when soups boast too little or too much seasoning, but – in the words of Goldilocks – this one was 'just right'.
It was accompanied by creamy seasoned butter and two thin slices of bread, which featured fragments of sun-dried tomato through it. Like the soup, it was superb.
As for my dining companion, it was the haggis bon bons that caught her eye. The bon bons were on the larger side, which my mum was delighted about. A meaty and peppery haggis mixture was coated in a golden, crunchy batter. But despite the crispiness of the outer coating, the haggis itself managed to maintain a moist texture. They were nestled on a layer of caramelised onion puree and accompanied by pickled beetroot and rocket. The different components teamed very well together.
We were given a lovely break in between each course to converse, sip away at our waters and admire the view – we did this more than I'd like to admit.
Our mains consisted of the grilled halloumi salad and chilli and garlic prawns. My mum's grilled halloumi salad not only looked the part, but tasted the part, too. It included giant couscous, pomegranate, cherry tomatoes, mint, pistachio nuts and parsley. Normally the dish would be topped with a soy and ginger dressing, but given that my mum isn't an avid fan of dressings – like myself – this was kindly left out of the mix.
She mentioned that there was a multitude of different textures and flavours on the plate, including sweetness from the pomegranate and cherry tomatoes, as well as crunchiness from the pistachios. As for the halloumi, neither of us had actually tasted this before, but it was by far the standout component of the salad.
As for me, I opted for the chilli and garlic prawns. The juicy prawns had been tossed in a bowl of tagliatelle, along with roasted tomatoes. Although unable to finish off the portion, I enjoyed every mouthful.
We also ordered a side of sweet potato fries. Although initially crunchy, the interior was soft, fluffy and melted in the mouth.
After our mains had been devoured, we requested the bill and planned to head off. However, our server for the evening informed us that the chef was eager for us to try one of the desserts, as well. We nodded our heads in high anticipation and awaited the pudding.
The pair of us hummed and hayed over what we would be sampling. Perhaps the chocolate brownie? Maybe the sticky toffee pudding? No, it was actually one of the delicious-sounding desserts from the dinner menu – an M&Ms chocolate waffle with strawberry ripple ice cream and chocolate sauce.
The deliciously hot waffle was topped with a scoop of the indulgent ice cream and a sprinkling of icing sugar, and accompanied by a small jug of warm rich sauce.
After pouring the concoction across the waffle, we couldn't wait to sink our forks into the treat. Well, when you're combining a waffle, ice cream and chocolate sauce, what's not to love?
What a way to end a fantastic and faultless meal.
---
The Verdict
There's little left for me to say – given how much I've continued to praise 210 Bistro throughout this review. It really was a standout meal that I won't forget. My mum and I thoroughly enjoyed every moment at the eatery.
If you're venturing out during Aberdeen Restaurant Week this time around, I'd urge you to secure a booking at 210 Bistro.
---
Address: 210 Market Street, Aberdeen, AB11 5PQ