Aberdeen Restaurant Week: Lunch menu review @ BioCafe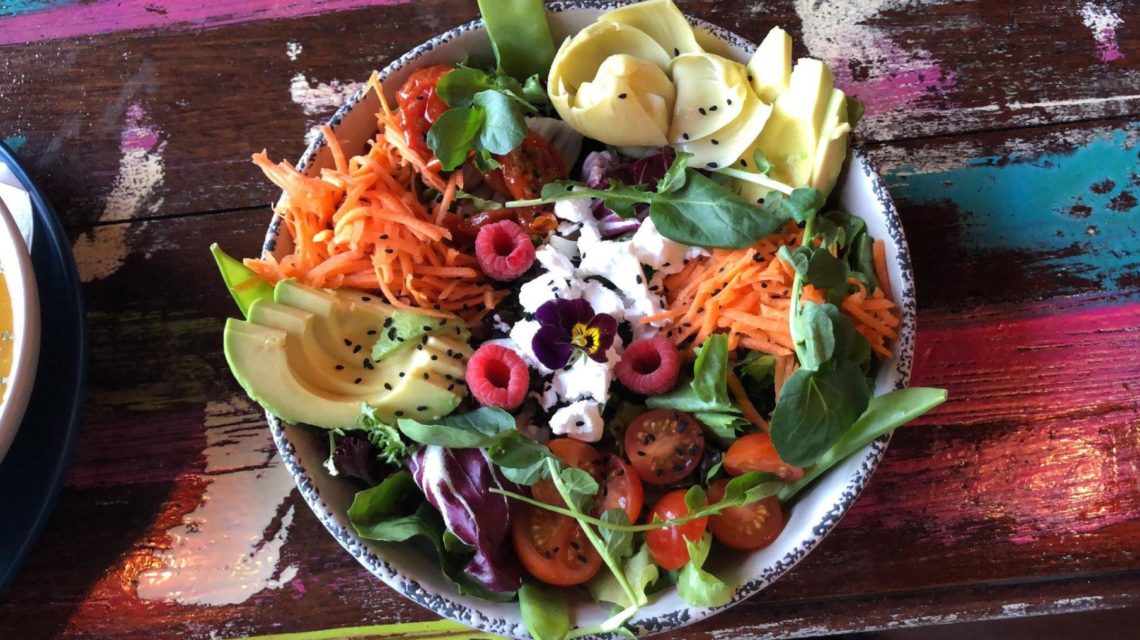 When I think of BioCafe, the first thing that springs to mind is its vibrant, nutritious dishes.
But after visiting for the first time during Aberdeen Restaurant Week, I've come to realise that there's so much to the healthy eatery than meets the eye.
Not only does it boast so much character, but there's also an incredibly welcoming and friendly feel to it. This was enhanced further when my dining companion and I were greeted by our server.
Joining me on this foodie outing was my mum who, might I add, is loving the Aberdeen Restaurant Week concept. It's encouraged the pair of us to sample a line-up of eateries we've failed to visit in the past, and we're yet to be disappointed.
We were shown our table on entering the eatery, which is based on Rosemount Viaduct, informed on the coronvirus procedures and handed a pair of menus.
---
The Food
The Aberdeen Restaurant Week offering – as well as BioCafe's everyday menus – was right up our streets. Guests can opt for a dish off of their breakfast line-up paired with two hot drinks for £10, or a dish from the lunch line-up with one hot drink for £10.
Because we had pre-booked a table for 2pm, we swayed towards the lunch options. There was a selection of salad bowls, soups, sandwiches, waffles and more, all of which were sure to satisfy our tastebuds.
For quite some time now, I've been eager to sample a Buddha Bowl. They are one of the most popular food trends of the past few years, and after catching a glimpse of my own Keto Buddha Bowl, I now understand why.
There was so much going on in the bowl, which boasted a selection of delicious and healthy ingredients mixed together. This included sliced avocado, sundried tomatoes, cherry tomatoes, mangetout, feta cheese, marinated red paprika, red cabbage, carrots, artichokes, raspberries and nigella seeds. I was in foodie heaven.
Not only was it aesthetically pleasing, but it tasted the part, too. Each component was bedded on a hefty pile of salad, which I requested not to be drizzled in dressing – as per usual. While there was a satisfying crunch from the carrots, mangetout and red cabbage, they contrasted nicely when paired with the smooth and creamy avocado and artichokes. But referring to the standout ingredients, this had to be the tomatoes and feta cheese.
Both the sundried and cherry tomatoes had been coated in oil and seasoning. The flavours danced on my tongue. And the same goes for the soft feta, which added a tangy, salty taste to the dish. All in all, my first experience of trying out a Buddha Bowl was a superb one.
As for my mum, she requested the soup, toastie and hot drink deal – also £10 on the Aberdeen Restaurant Week menu.
There were two soups on offer on the day, but my dining companion couldn't say no to the sweet potato option. She described it as "velvety smooth, filling and delicious". Not only were there flavours of creamy sweet potato, carrot and fresh ginger, but also a nice amount of spice. It was evidently one of the better sweet potato soups she's indulged in.
The rich soup was accompanied by a tasty-looking toastie, which was oozing with goodies. Again, there were several toastie options, but my mum went for the one packed full of vegetables. There was a vibrant layer of beetroot hummus to kick things off, topped with avocado, spring onion, nigella seeds, cherry tomatoes and pea shoots. The beetroot hummus was the star of the show, and it even had my mum questioning on whether to use this as a substitute to butter or margarine going forward.
On both plates, the ingredients were as fresh as possible. This was evident in the taste and to the eye.
For the hot drinks, which we decided to enjoy after our meal, the pair of us chose an americano and a hot chocolate. And although they don't feature on their Aberdeen Restaurant Week menu, the server was kind enough to provide us with some samples of BioCafe's delicious smoothies – the coconut milk and mixed berries smoothie and the green smoothie.
They were served in quirky miniature glass milk bottles and were both filling and refreshing.
After washing down the remains of our dishes with the cold drinks, my mum and I decided to enjoy our americano and hot chocolate in takeaway cups to sip away at during our trip home.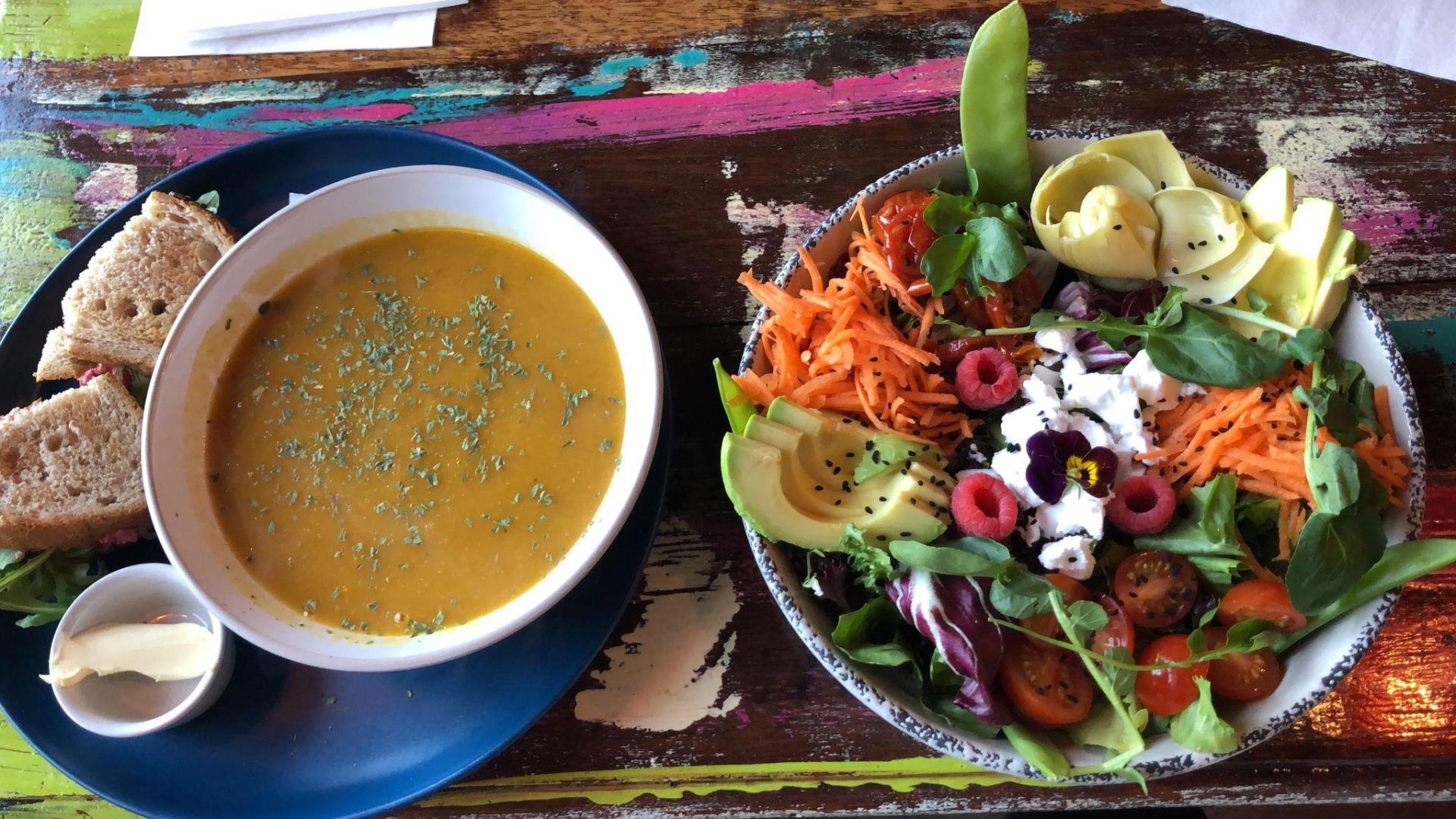 ---
The Verdict
I had extremely high hopes for my visit to BioCafe and I certainly didn't leave disappointed.
It made quite the impression on my mum and I, and it's an eatery that we would head back to in a heartbeat for some tasty food that leaves you feeling energised, satisfied and guilt-free.
BioCafe has achieved what it set out to do, which is to prove that healthy food and eating can be exciting. I applaud the team.
Address: 39 Rosemount Viaduct, Aberdeen