Aberdeen rapper Ransom FA performs at Radio 1Xtra Live and launches new studio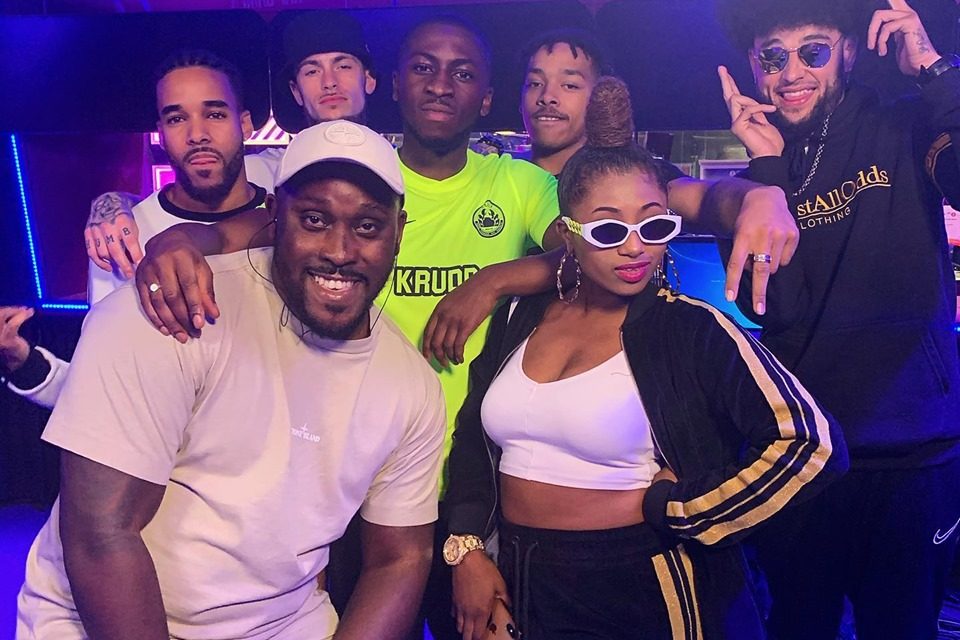 An Aberdeen rapper has appeared on stage at BBC 1Xtra Live's Birmingham show.
Ransom FA, who took part in the TV show The Rap Game UK which aired on BBC Three, was invited to perform alongside his co-stars at the music festival at the Birmingham Arena.
The rapper, who has continued to grow in popularity, was the only Scottish artist to feature in the show which gave contestants the chance to be the first ever signing for British rap duo and presenters of the show Krept and Konan's record label.
Taking to the stage in front of more than 15,000 people, this is the biggest audience the Aberdeen-born artist has performed in front of.
He said: "It was kind of crazy. We were surprise guests at the show and we only found out a week or two before. It was so surreal, it was almost a blur. I couldn't even look at anyone in the eyes as there was over 15,000 people in the arena.
"We didn't really know exactly what it meant when they said we were getting the chance to perform on the 1Xtra stage.
"Everyone from the show was there so it was pretty cool. We did one track each and during the show we performed a few tracks together which we had to create so we performed those tracks which was good. It was crazy. No one went off piste, but obviously when you're performing live things don't go exactly as planned, so we accidentally added an extra chorus into the middle of the track which was an  acappella  – no one would notice but we did.
So yesterday we were surprise guests at 1Xtra live in Birmingham. Performed in front of 15,000+ people. MY BRUDDA IT'S MENTAL ? #StandFree pic.twitter.com/RzDDISBD7q

— Ransom FA (@RansomFA) October 6, 2019
"They played a video before we went out to introduce The Rap Game and Krept and Konan went out and introduced us before we all came out on stage. It was an amazing experience.
"I didn't really know or see anything happening at the show when things started shutting down, we were out doing interviews and next thing I know the backstage area was a bit mental but we had no idea why. It was one of the craziest moments ever but I'm just glad everyone's okay."
Taking part in The Rap Game UK and competing against Lady Ice, Kiico, Chade Paine, Unknown Smooth, J Lucia and F.O.S, Ransom FA says the experience was unlike anything else he has done in his career.
He said: "I've been doing music for a while and I've been very vocal about the scene we have here in Scotland and taking it further. I've always wanted to take it worldwide and I've always tried to build my network. In February this year I got a message from the company that were setting up the show as they wanted me to get involved.
"It was a long casting process and I got a call a few months later to be on it. They told me I was going to be mentored by Krept and Konan and DJ Target and potentially win a contract to sign with them which is insane.
"It's been something I've been working on for ages. I almost thought 'yeah this is an opportunity I can't miss'. Being on TV in that capacity – like reality TV – I guess it's not really reality, but it was kind of cool nonetheless.
"My aim was to take my message further afield. I'm trying to bring the scene we have up in Scotland worldwide. I'm going to start a label in due time, and there's a lot of people in Scotland I feel can change the scene. I'm based in London just now and I've got lots of singles coming out and an album next year featuring some artists I've always wanted to work with."
Recently launching his own studio in Torry which the public can book studio time in, Ransom FA is excited to be helping shape the rap and grime scene in Aberdeen and Scotland, and is looking forward to seeing more people use the space devised to fulfill the local music community's needs.
He added: "I've recently set up a studio in Aberdeen which people can book studio time in. It's aimed for people like me who are interested in singing and rapping. It's not really easy to get started in Aberdeen. It's based in Torry just now and it's called Ransom HQ. People can book through the website or message on Instagram and it's available 24/7 if people arrange it. You can rehearse, record, mixing and master there, there's people who do beat production there too."
And with a following of more than 55.7K across Facebook, Twitter and Instagram, it's no surprise the Aberdeen artist is making noise locally and nationally.
Supporting the local community as much as he can, Ransom FA now pays visits to local schools on his trips home from London after one Instagram post gained 500 plus likes in the space of an hour or so.
"When I get back to Aberdeen there's about six schools I have to hit up as they've all asked me "if I get so many likes on Instagram will you come to my school?"
"I went to Harlaw School just before The Rap Game. One of the kids messaged me when I was in London and I didn't think anything of it when he asked me the question. I was like '500'. Not even a few hours later he had all the likes and asked when I was coming. I like to stick to my word and I ended up going along. It was crazy. The school had to only let a set amount of kids come as so many people wanted to see me.
"Now all the schools in Aberdeen have been hitting me up!
"I've also got a clothing brand too and I have like a team kind of movement behind me at the moment, it's honestly mad."
To book time at the studio click here.