Painting Aberdeen red with 'bigger, better' Christmas market plans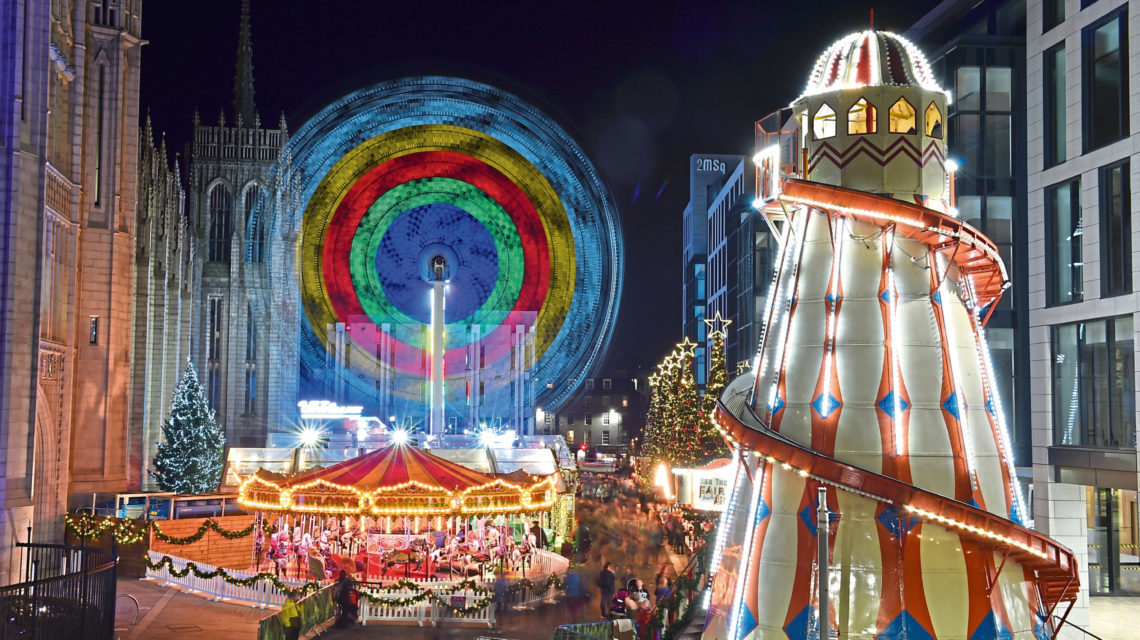 The majority of visitors to Aberdeen's Christmas Village praised the event and want to see it repeated this year.
New figures put together by Aberdeen and Grampian Chamber of Commerce (AGCC) also reveal spending at the festival event was up by £1.14 per head year-on-year.
A total of 74% of visitors rated the Christmas Village as "excellent" or "good" overall, with 82% wanting to see it repeated again this year.
However, there was also a drop in the number of visitors to the event and the amount of per-head spending in other parts of the city fell from £40.87 in 2016 to £26.11 last year.
The majority of businesses sampled also said they noticed no positive impact from the Christmas Village.
Adrian Watson, chief executive of Aberdeen Inspired, which runs the market along with Aberdeen City Council, said the new Broad Street location, a move from Union Terrace, had an impact on spend.
He added: "Overall, the feedback is better than before, with 82% of people wanting to see it repeated. It was obviously a challenge to position it in a new space and that has has an impact on the overall spend."
Mr Watson said the drop in spending figures in other parts of the city would not deter the organisation and it hopes to hold a "bigger" village this year.
He said: "There's a real vibrancy about the place now. It looks very different to how it did this time last year."
About £500,000 was spent in the city centre by people who do not live in Aberdeen or Aberdeenshire.
This is down from 2016 when £1.7m was spent by those not from the north-east.
The gross impact for the Christmas Village in 2017 was £10.4m – down from 2016 when more than £21m was generated across the city centre.
In its report, AGCC said several factors may have impacted on the figures, including an estimated drop in visitor numbers from 515,972 in 2016 to 400,000 in 2017 and its change in location. Visitors to the village who were surveyed by AGCC said they would like to see a "better selection of stuff to do".
They added they would like to see a bigger variety of rides, stalls and bars with a "more Christmassy atmosphere".
They also said they would like to see the village made "a lot bigger" with more stalls and markets.
A total of 11 businesses shared their views on the Christmas Village through the AGCC's online survey, with the majority not agreeing that it had a positive impact on business and 36% rating it "poor" and the same percentage rating it "very poor".
The report said: "Businesses generally did not feel that the Christmas Village had any direct impact on business.
"One business did report a positive impact which was perceived to have been partly due to the village. However, this was not as strong as in 2016."
Bad weather and road closures are identified as reasons which may have also impacted on business performance over the period.
Councillor Alex Nicoll, the SNP's spokesman for city growth, said: "Many of the figures are far from positive and that appears to reflect the views of many members of the public who have made it particularly clear that the offering at the village was far from what it could be."
This year's Christmas Village will take place on Broad Street again, with Aberdeen Inspired still working on the "final details" of what it will offer.