Look Again art festival bursts into Aberdeen with doodles, play houses and ice cream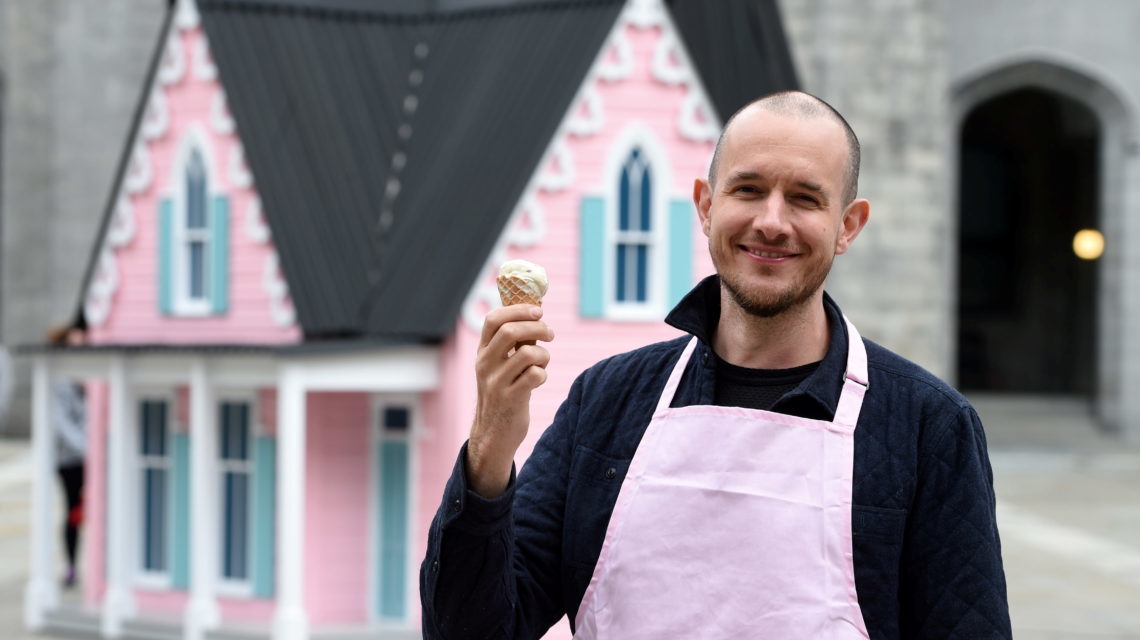 Popular Aberdeen art festival Look Again has launched this year's fun-filled event.
Now in its fourth year, this year's festival has taken on the theme of Serious Play – and the artwork reflects this playful spirit with pink houses, pop-up playscapes and multi-coloured wall art across the city.
Look Again is staged in partnership with Robert Gordon University (RGU) and Aberdeen art curators Smart.
Internationally-renowned designer Supermundane – aka Rob Lowe – kicked the festival off by unveiling his SuperAberdeen public artwork, which he developed alongside the Aberdeen-based Stack artist collective and schoolchildren.
The project combines Supermundane's trademark geometric style with patterns, doodles and photographs taken by children from the Catherine Street Community Centre, where the artwork is on display.
Supermundane said: "It was a true collaboration with Stack and the children, although I was working remotely. Stack held workshops with the children and I was sent the material and fashioned it into the final product.
"I loved all the things I was sent so much that I wanted to use as much as possible – in particular the photos were so lovely that I wanted to make them a real focus.
"I also wanted it to be a real collaboration and I think we've achieved that.
"For me, it's been a very new experience and a lot of fun."
Festival associate director Hilary Nicholl said: "We are now in our fourth year and as it is the Year of Young People we've made our theme Serious Place.
"Each of the art pieces is playable, playful or about play – there's a lot of interactive stuff.
"We are based in Aberdeen and it is all about seeing the city through fresh eyes."
More than 120 artists are contributing to the festival, which runs until Sunday.
Hilary said: "It's very important to us to support creativity within the city. It's great to be partnering up with RGU for the festival.
Festival director Sally Reaper added: "We have an even bigger and better festival lined up for this year and are excited to be working with a host of local, national and international artists to really bring the city to life over the course of four days in June."
One particular piece which has grabbed the attention of a number of people is James Rigler's A House in the Woods in the centre of Marischal College's quadrangle.
The pink house has been inspired by elements of the college's architecture.
James said: "There are a few different interpretations of the house – it could be a witch's house, or a home on the prairie as well as having these Gothic elements.
"It's very bright and cheery but it's also a little bit sinister – sort of like a mashup of the Wizard of Oz and Psycho.
"There's a real juxtaposition in the piece."
Members of the public will also get a sweet treat from the "witch's house", with gingerbread ice cream being handed at noon each day to visitors.
Libby Curtis, head of RGU's Gray's School of Art, added: "We're thrilled to be celebrating the Year of Young People by joining forces with Look Again and reflecting its theme of Serious Play to spotlight great visual art and design across the city.
"As a city of culture and invention, a city with a unique and distinctive identity, we are growing again through a renewed sense of purpose backed by the new Cultural Aberdeen strategy, which both Gray's and Look Again have played a pivotal part in forming."
Other works on display during the festival include Positive Geographies – an exhibition of new work by 2017 graduates from Gray's.
There will also be performances by Emily Speed tomorrow.
This will feature 13 dancers all based in the north-east, dressed as buildings and performing at the Castlegate, Marischal Quad and Broad Street.
Read more on Look Again here.