Life on the stage is all white for Jenna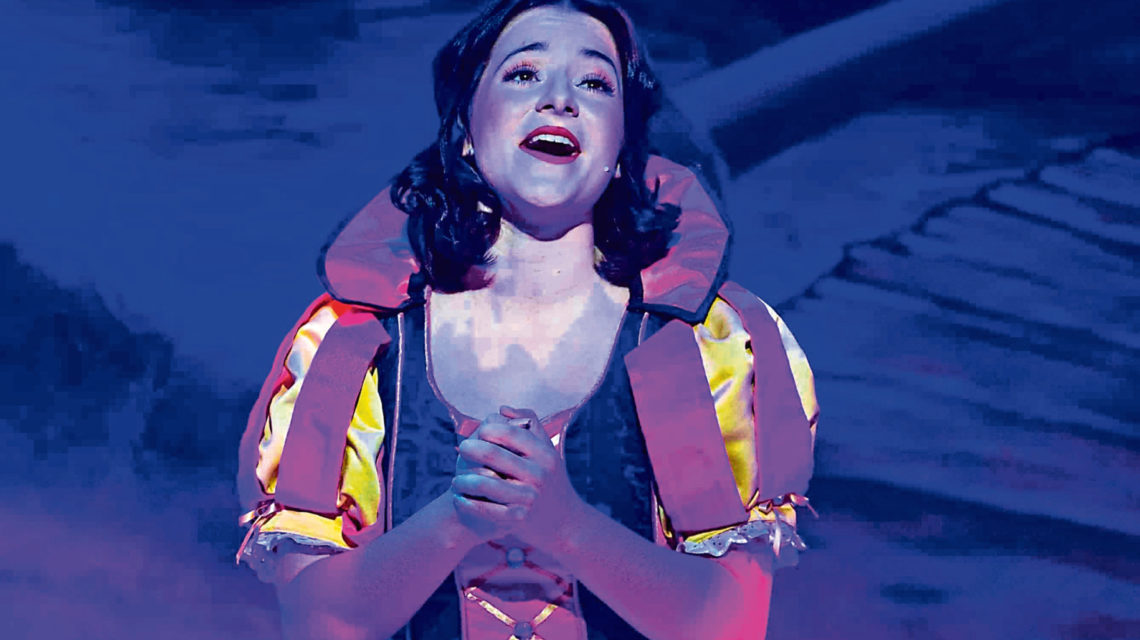 Fairytales can come true… just ask Snow White, or to be more precise, Jenna Innes.
After a childhood spent watching shows at His Majesty's and loving the spectacular antics of the theatre's panto, the rising London-based actress is now starring in this year's festive treat as the princess, Snow White.
And Jenna, born and bred in Bridge Of Don, is loving every moment of it.
"My family would take me to this theatre about once a month and I would sit and look at the proscenium arch and the angels," said the actress.
"It was so surreal doing the first technical rehearsal, being centre stage, getting lit and welling up, thinking: 'Oh, my god, I've done it… this is ace'."
Jenna always loved the knock-about nonsense and laugh-out-loud capering of HMT panto stars Alan McHugh and Jordan Young.
"I grew up watching them and it was fabulous," she said. "Those two are panto legends. And being on stage with them is as much fun as you reckon it might be.
"If you think: 'are they having that much fun on stage?' the answer is yes, every day, 12 shows a week. Now I'm having so much fun also."
As well as working with her childhood panto heroes in a theatre she was taken to at least once a month as a child, she is also starring and duetting every night with bona-fide West End star Lee Mead.
"He's fabulous," said Jenna. "He is a truly kind-hearted man. He cares about everyone else before himself. It's lovely singing with him."
Jenna said there is a "sense of community" around the whole panto, with cast and crew.
"You get thrown together with these people and by the end of the first week, you are best friends. You become the panto family. It's a cliche, but you have to gel as a group or the show wouldn't work."
And she's enjoying playing a feisty Snow White.
"It's nice in this #MeToo era.
Alan on the very first day said he didn't want a sickly-sweet princess, and to give her a bit of kick.
"I was thinking: 'I'm in, you've got the right girl'. It's important for young girls and boys to see that, to grow up with that sort of image."
She credits those trips to HMT as a wee girl for instilling a sense of love for the theatre in her. It led to her becoming a stalwart of the city's community theatre world, first with Stagecoach, then with Torry's Leading Lights followed by Aberdeen Youth Music Theatre, as well as training with the city's Lamour School of Dancing.
"That was my training up here – I class that as my training," said Jenna, 23. "There is no other experience than actually getting on stage, doing it and learning from these other incredible people." She credits her time in these groups with helping her carve out her career as an actress.
"I don't think I would be where I am without the experience from that," she said.
"It was all the support, all the 'go on, why not, why couldn't it be you? Do it'. Everyone was egging you on and behind you."
Jenna said she made great friends, including about five who also made the leap to life in London, where they still encourage and support each other.
It was a great start which has stood Jenna, who graduated from London Musical Theatre Academy last year, in good stead.
She has already toured the UK in the popular musical A Spoonful Of Sherman and was nominated for best actress in a new musical in Broadway World's West End Awards in 2016, up against the likes of Sheridan Smith.
But for all that, Jenna – who is loving catching up with family and friends – is still very grounded.
"It's going in the right direction, definitely," she said, adding she hopes to try as many different strands of acting as possible.
"But I'm not in a rush – I'm definitely hungry, but I'm not desperate," she said.
"I am very excited about the future, with lots of exciting things happening. It's just lovely to be in that world after years of dreaming about it."
Ask her where she'd like to be in 10 years' time and you get a very simple answer.
"Still working," she said. "It sounds silly to say, but I've had one year of working and paying my bills as an actress, which is quite frighteningly rare. In 10 years' time, I would love to have done a few jobs in the West End, done a few things at the National, gone on tour, but essentially still working and calling myself an actress would be the dream."
But for now she's just delighted to be back in Aberdeen delighting audiences at HMT – and is still passionate about passing on her love to the next generation of young audience members.
Snow White, though, is for everyone, said Jenna.
"Last night there was a little girl dressed as Snow White, waving her little Snow White doll at the end, so I blew her a kiss. Her little face was magical. To her we are 100% real. She was saying: 'Mum, Mum, Snow White just looked at me'. That is the best feeling in the world."
Jenna said creating that magic for little ones is important as often it can be the first time they have walked into a theatre.
"If you get it right, they will come back to the theatre for the rest of their lives," she said. "You go to the panto not realising it's theatre, it's just fun. Then you realise all theatre can be like this. You experiment with Joseph, then into musicals and you are open to the entire world that is theatre.
"So if you get it right, you have got the next generation of theatre-goers hooked."
But it's not just younger audience members who will love Snow White, Jenna said: "It's family entertainment at its best. It's a good laugh for everybody. Great songs, great entertainment. Come and escape for two hours."