Jamie Oliver opens deli at Robert Gordon University campus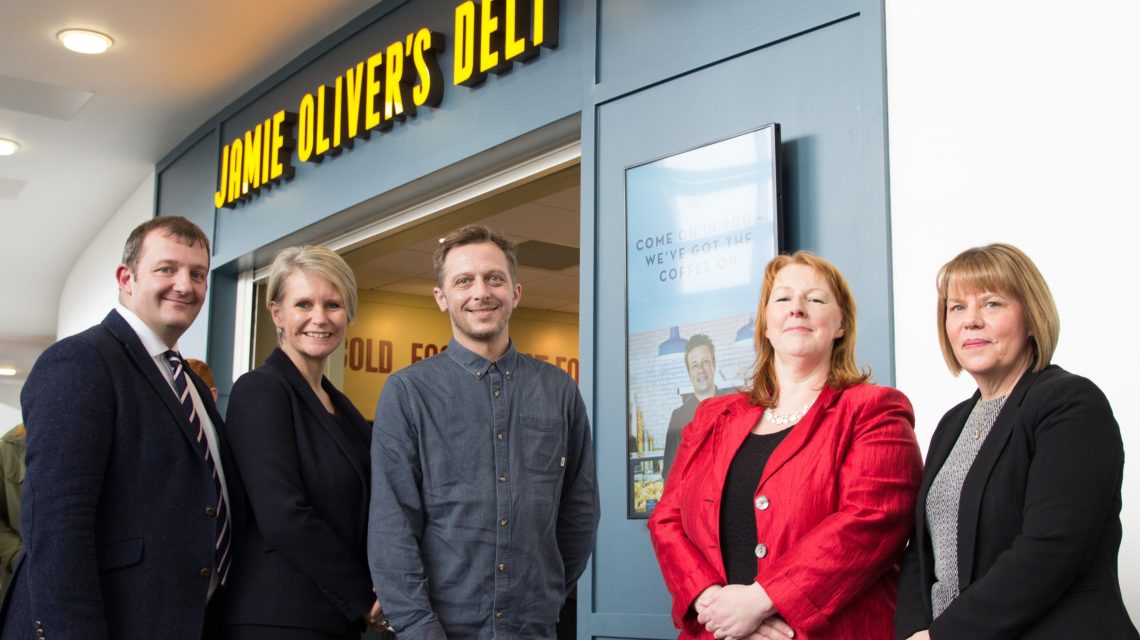 An Aberdeen university is today the first campus to open a Jamie Oliver deli, giving students new, tasty, nutritious options.
Robert Gordon University (RGU) has partnered with Aramark Northern Europe and the Jamie Oliver Restaurant Group to open the world's first on-campus Jamie's Deli.
More than 17,000 students and staff at RGU will be able to enjoy a range of the TV chef's food, including breakfast, lunch and snacks. The emphasis is on healthy, balanced food made with local and sustainably sourced ingredients.
Throughout the day, students will be able to enjoy a varied menu, from porridge with a choice of toppings to homemade pizza, fresh salads, baguettes, wraps and comforting seasonal soups.
Robert Gordon University has a global reputation in health studies and life sciences, and puts a focus on providing healthy dining options.
Jamie Oliver said: "I'm really excited to see this new site come to life. We're bringing wholesome and delicious food to hard-working RGU students – and helping them find healthy food while juggling lecture timetables, deadlines and exams. I'm looking forward to growing with Aramark Northern Europe and continuing to give busy people a helping hand to eat well in the workplace or at uni."
Vice principal for corporate operations at RGU Vicki Nairn said: "RGU is the first university in the UK to embrace the Jamie's Deli concept as one of its choices for catering on campus, which provide innovative, delicious and nutritious food for our campus community.
"We are committed to promoting positive wellbeing for staff and students at RGU and see promoting balanced and healthy nutrition as a key part of our programme for student health. I'm delighted that the university has chosen to partner with Jamie Oliver and Aramark, as part of our ongoing commitment to ensure that the RGU campus in Aberdeen continues to build on and enhance the student and staff experience."
Managing Director of Aramark Food Services UK Lawrence Shirazian added: "We are always looking at ways to make healthy eating on campus a simple and easy choice. We are delighted with the positive response from students and staff alike, and we look forward to serving the campus community at Robert Gordon University."