Gary's ready to raise eyebrows – and laughs – at Aberdeen International Comedy Festival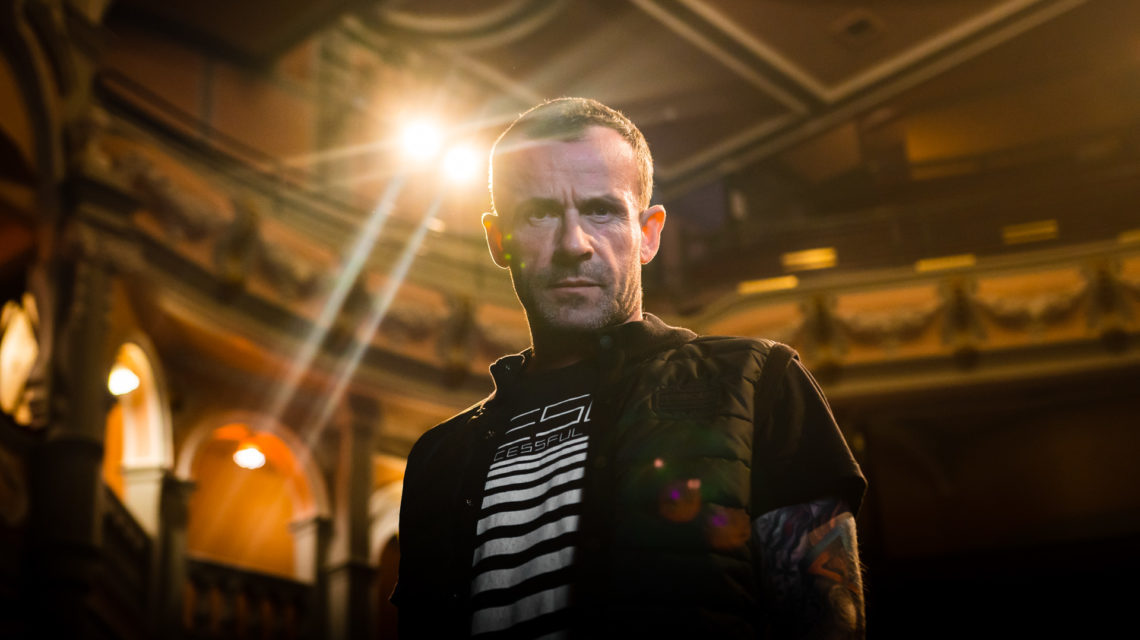 Gary Meikle has a bit of advice for fans coming to see his show at the Aberdeen International Comedy Festival next week – don't wear make-up.
"The most common comment after every show is from women saying: 'I wish I had never worn make-up – it's all ran off!'" said the Glaswegian funnyman.
Gary's show, The iBrow Guy, at the Tivoli on Wednesday, is one of the hottest tickets in the festival, driven in part by his soaring online success.
A comedian for some six years now, it was his online rant about his daughter Ainsley's eyebrows that turned him into a global internet sensation, going viral, racking up millions of views worldwide and winning him thousands of fans.
"I had no idea the eyebrow rant would go viral, that was mindblowing," he admitted.
"It was only a year ago. I remember sitting in the house and watching the shares go up and saying to Ainsley: 'This is going to change everything for us.' And it did. That's where I got my following from.
"But I didn't rest on that and just kept going."
It is his life with Ainsley and his granddaughter that forms the bedrock of his comedy, drawing on his experiences of being a single dad at 17 and a grandad before 40.
"Because it is my debut tour, I thought what better story to tell than my life story," said Gary.
"It's pretty much the trials and tribulations of me bringing up a daughter myself since I was 17 and the fact she made me a grandad before 40."
Those who have seen his online rants – from the aforementioned eyebrows to hair extensions and lewd internet pictures – know just how funny Gary's no-holds-barred approach can make his everyday life. But he said his comedy, and particularly for this tour, has become darker over time.
"Promoters told me: 'Don't be rude. Don't be crude,' because it could stop me getting bookings. But since the eyebrow thing went viral and I've got my own following, I just thought: 'No, I can talk about the things I want to talk about.'
"It's not vulgar, it's just adult stuff. But some people can take umbrage to it. The targets in my show are me, myself and my granddaughter, so no one should be offended.
"I'm not racist, sexist, homophobic or misogynistic, but I do talk about subjects that some people might find uncomfortable. But they'll laugh then go: 'Oh!'"
One of his biggest fans is the person who is at the heart of his show – Ainsley.
"She loves it. Every story I do on stage I run past my daughter anyway because about 50% of it is about the relationship between me and her. She's always says: 'That's fine,' and then she'll say: 'Dad, why don't you talk about this?' I say: 'No, it's my show, I'll decide what I'm going to talk about!'" said Gary, with a laugh.
Gary says it was the arrival of Ainsley that steered him away from a rough upbringing and bleak predictions about his future.
"I was brought up in care and spent my teenage years in children's homes," he explained.
"There was one particular member of staff who used to tell me that I would either be dead or in jail by the time I was 30.
"That was something that stuck with me and I suppose that was the perception because at that age, I was a little idiot, shall we say. I was getting into fights all the time. I had a chip on my shoulder.
"My daughter was my salvation. It wasn't overnight, but the older she got, the more she started to ask questions, that's when I screwed the nut in terms of growing up."
Gary said he had been settled for a long time and was happily working as a debt collector in Glasgow when comedy "found" him.
"Because I was so small and I smiled too much, they wouldn't let me out of the office, so I was just on the phones," he recalled.
"Between calls, I'd doodle and write funny skits and send them out to people. They would laugh and say it was funny, and that gave me a bit of confidence. Before you know it I thought: 'Why not go up and try a five-minute slot on an open mic night?' and that was it.
"On my first five minutes, I got one laugh – but that one laugh was enough for me to go: 'Oh my God, that felt amazing!' I've never been so obsessed about anything in my life since."
Gary is no stranger to gigging in Aberdeen and loves audiences here, but is particularly looking forward to playing the Aberdeen International Comedy Festival.
"I think the festival is important for Aberdeen," he said. "I've seen it from the beginning, and how much it has evolved in the past four years is amazing.
"It's nice Aberdeen has its own comedy festival because that will draw a lot of attention, be good for the economy. I'm sure it will continue to grow and the names that are coming up show that. You have the likes of Daniel Sloss. That's a huge name. You are definitely doing something right."
Gary Meikle: The iBrow Guy is at the Tivoli Theatre on Wednesday. For tickets visit aberdeencomedyfestival.com