Finalists for 2020 North East Scotland Food & Drink Awards announced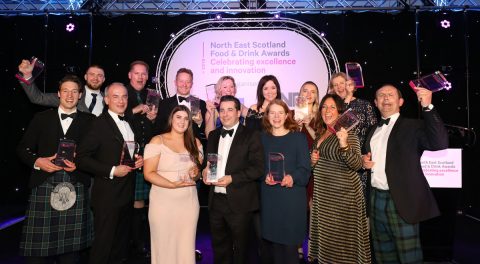 The finalists for the 2020 North East Scotland Food and Drink Awards have been announced.
A whopping 32 businesses made it to the finals of the awards which celebrated excellence and best practice in the local industry.
Celebrating 30 years of recognising and rewarding excellence and innovation from north-east Scotland food and drink producers, the awards will take place on March 19 at The Chester Hotel.
There was 71 entries across the 12 different categories.
Categories include; Best Retail, Best Foodservice, Best Distilling and Brewing through to Innovation, Export and Sustainability to name a few.
The judging panel for this year's awards included Ronnie Kelman, business director of ESS Support Services Worldwide, Kevin Shand, regional account manager of Braehead Foods Ltd, James Taylor, buying and trade marketing manager at Gordon & MacPhail, Peter Sherry, founder of The Beerhive, Sarah Mackie of Brakes, and Karen Ford, foodhall manager at Brodie Countryfare.
Around 300 guests will be in attendance at the event.
Meet the 2020 finalists:
Most Successful Product
Brew Toon  – M'ango Unchained
Dean's – Steven Brown Art All Butter Shortbread Gift Tins range
Summerhouse Drinks – Winter Spice
Best Retail Product (small businesses)
Aurora Sustainability – Green Grow Food – Gourmet Mushroom easy-to-cook meals
Forest Farm, The Organic Dairy – Handcrafted Artisan Gelato & Sorbet
Succulento – Ketchup & Sauce
The Crafty Pickle Co – Katz Kimchi
Best Retail Product (large businesses)
Dean's – Extra Mature Cheddar Bites range
International Fish Canners (Scotland) Ltd – Sainsbury Taste the Difference Hot Smoked Mackerel
James Rizza & Sons Ltd – Luxury Double Dairy Gold 125ml, 150ml, 1L
John Ross – Waitrose 200g Pack
Mackie's of Scotland – Rhubarb & Strawberry Indulgent Dairy Ice Cream
Sutherlands of Portsoy – Honey Roast Hot Smoked Salmon
Best Brewed Product
Brew Toon – Dark Nite
Brew Toon – MAYDAY!
six°north – Wanderlust Wheat
WooHa Brewing Company – Speakeasy Champagne Beer
Best Distilled Product
Esker Spirits Ltd – Silverglas Gin Range
Moray Distillery Ltd – Avva Blink Scottish Gin
Moray Distillery Ltd – Avva Pink Scottish Gin
Raven Spirits Ltd – HRAFN GIN 'Valhalla'
The Teasmith Spirit Company Ltd – Broich Single Estate Gin
Best Foodservice Product
Dean's – Steven Brown Art All Butter Shortbread Thins
James Rizza & Sons Ltd – Rizza's Vegan Gelatos
Sutherlands of Portsoy – Traditional Smoked Salmon cured with Glenglassaugh Torfa Whisky
Wark Farm – Vegan Nutty Carrot Pie
Best Young Business
Forest Farm – The Organic Dairy
Moray Distillery Ltd
Rora dairy
The Teasmith Spirit Company Ltd
Food & Drink Business Growth Award
Angus & Oink Ltd
Associated Seafoods Ltd
Barra Bronzes
Duncan's of Deeside Ltd
John Ross
Mackie's of Scotland
Export Business of the Year
Angus & Oink Ltd
Bickiepegs Healthcare Ltd
John Ross
Mackie's of Scotland
Best Food & Drink Tourism Experience
Barn at Barra Castle – Taste of Winter
Forest Farm – Gelato Garden & Pop-Up Parlour
Lost Loch Spirits Ltd – Lost Loch Spirits School
Porter's Gin – Porter's Gin Micro-Distillery Visit
The Sustainability Award
Forest Farm – Soil to Sale Sustainability
Aurora Sustainability – Green Grow Food – Using Food Waste to Grow Taste
Mackintosh of Glendaveny Ltd – Sustainable Business Model
The Bay Fish & Chips – Turning the Tide on Waste
The Craft Pickle Co – Fighting Food Waste
Wark Farm – Environmentally Sustainable Business
Innovation Award
Farmlay Eggs – Automated Tray Hygiene System
John Ross – Costco Twin Pack
The Wee Hemp Company – CBD Enthused Food and Drinks