Wicked duo having a ball in Cinderella at Aberdeen's HMT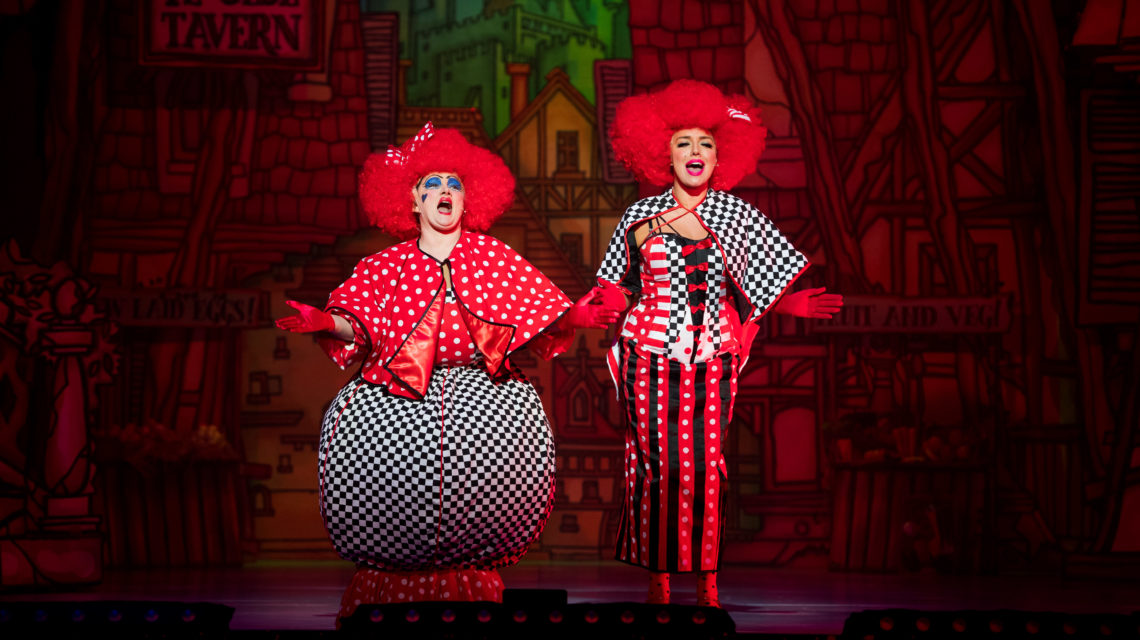 They're nasty, they're mean… and they hate folk from Aberdeen!
Actually, they're not and they don't. In fact, Joy McAvoy and Sally Howitt are fun, enthusiastic and having an absolute ball starring as the Wicked Stepsisters in Cinderella at His Majesty's Theatre.
"It is going fabulously, we're just loving it," said Joy, star of hit comedy Two Doors Down, who plays Hernia.
"We're really finding our feet and it's getting better and better each show."
And Sally – of River City fame – who plays Verucca, couldn't agree more.
"We find that kids are vocal and louder and booing, while the grown-up audience at night are laughing at us more," she said.
The pair were chatting to Society not long after coming off stage from a matinee at HMT, playing to a house jammed with schoolkids.
Joy said: "They must have been given loads of Haribo just before they came in, because they were the best crowd."
Sally said: "The kids they just hate us. It's so good. We stick our tongue out, they stick their tongues out. We blow raspberries at each other. It was almost making us laugh."
Of course, playing the baddies as Cinders' sisters, Joy and Sally are met with a wall of boos and hisses. So how does that feel?
"Fantastic," said Sally. I'm a boo junkie. Some people want the laughs, but if I don't get booed I feel really left out."
Joy said she loves the boos too, in this, her first professional pantomime.
She said: "But the only thing that threw me was when we had done our first few shows and you do the walk down at the end and everyone cheers, but we still get boos.
"I was like 'no… we're really nice, we're not nasty really'. But I do love the boos in character. We would be doing something wrong if we weren't getting them."
Now, in a medium as traditional as pantomime, Joy and Sally are in groundbreaking roles. In this case, Cinders' sisters are called wicked not ugly… and they are being played, obviously, by women not men.
"Well, we're still the uglies," said Joy. "I'm just thrilled to be a part of it. I have had people saying 'Joy, you're not that ugly', but it doesn't matter what you look like, you can be an ugly person on the inside."
Sally chimed in: "That's what's good about it, it's more the grotesqueness of them. They are a pair of bullies really.
"This is my opinion, but when guys do it, it's very slapstick and funny. But when girls are doing it, it can be really nasty and more vicious. The ugliness comes from their personalities more than anything."
Both Joy and Sally say the fact the sisters are sent to the dungeons, that people boo them and don't like them, sends a strong message that bullies will always get their just desserts.
Joy said that often when men play the uglies there's a more camp feel to the roles. "But we do have big camp costumes, which is fab," she said.
Sally added: "They're the best wigs I've ever worn in my life, the fluorescent blues and pinks."
The number of costume changes involved in the panto sees them racing up and down stairs backstage between scenes. "Sally keeps my Fitbit on because her costume has sleeves," said Joy.
"We're doing 5,000 or 6,000 steps a show," said Sally.
Anyone who has seen the panto can tell you the two of them have a great chemistry together on stage, delivering lines in synch, a feat which involved a lot of hard work and practice.
Joy said: "In the first week of rehearsal, our flats are right next door to each other and we'd go home and I'd be in Sally's flat just working on routines.
"It would be 'right, on this word we'll move this way, on that word we'll do this'. As the show goes on we'll try and put in more little symbiotic things."
Sally said that as rehearsals went on they started to interact more, taking each other's lines and finishing each other's sentences.
Their chemistry in their roles carries on off-stage, too, with the pair becoming fast pals in real life.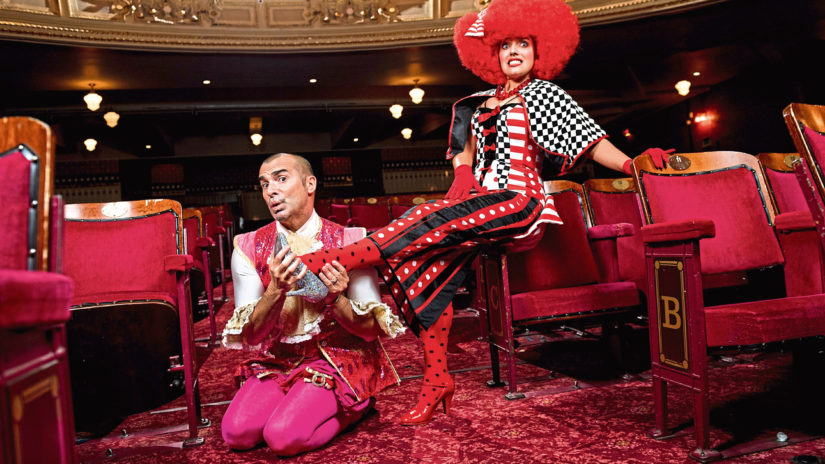 "We have just gelled, I love her," said Joy.
"We have the same silly sense of humour," said Sally. "We laugh at the same things."
Joy said: "We keep thinking there should be a reality show filming us offstage, when we're sitting in these big wigs talking about politics…"
"… And these girly chats," said Sally, finishing the sentence.
"We are very supportive of each other."
So much so that they still want the other to actually fit the slipper at the end of Cinderella, they said, laughing.
But it's not just the pair of them who are getting on so well.
They both say it is a joy to work with such a talented ensemble cast – one that includes Louie Spence as Dandini, Laura Main as the Fairy Godmother, Paul James Corrigan as Buttons and Alan McHugh (who also wrote the script and directs) as the Dame.
Sally said: "It really is a lovely cast… Alan is like the dad of the company trying to sort us all out.
"He knows panto inside out."
Joy and Sally are huge fans of pantomime and believe it is truly magical, especially for younger audience members.
"For me it's that dreams can come true, you can wish and believe and something good can happen, even when you are at rock bottom," said Joy.
Sally added: "It's the good people who get their just desserts. You also have a bit of everything, you have the comedy, you want the Prince and Cinderella to get together, as much as you sympathise with Buttons."
"I do sympathise with Buttons," said Joy. "He gets his heart broken… I go away and worry about Buttons. Who's he going to love, who's going to love him?"
"Joy's so sensitive. I'm just 'get over it Buttons'," said Sally, before the pair of them dissolved into laughter.
So they hope as many people as possible come along to enjoy the spectacle, music, dance and laughter before the run ends on January 5.
"And don't let us put you off coming to the show because we're in it," added Sally.
"But it is just a fantastic show."
"Bring your imagination," said Joy. "Be prepared to sing along, to shout, to scream. Be prepared to be blown away by the magic."
Cinderella runs at His Majesty's Theatre until Sunday January 5. For tickets visit aberdeenperformingarts.com