Thrilling musical mystery to take place in Aberdeen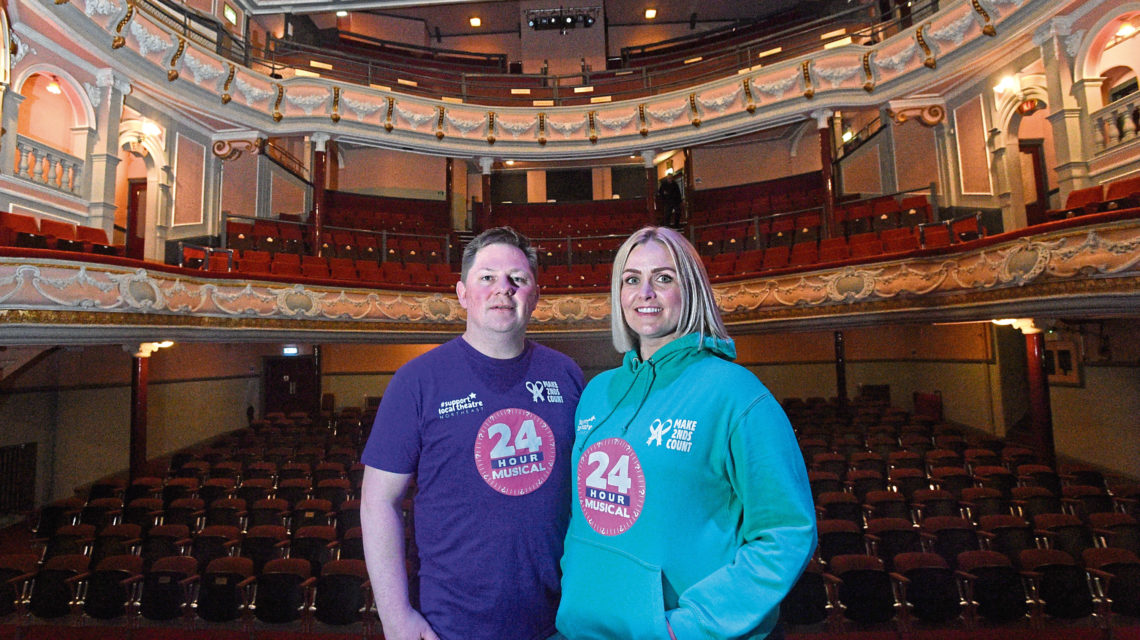 Is there anything more exciting than sitting in a theatre waiting for the curtain to go up on a mystery musical, having no idea what you are about to see until the band starts up?
Well, how about being part of the cast and crew who only found out 24 hours beforehand what show they were staging and had just a day to learn, rehearse and stage it in front of a paying audience?
Welcome to 24 Hour Musical, being staged at the Tivoli on Saturday by the cream of the north-east's amateur talent under the umbrella of Support Local Theatre. Those involved will only find out tomorrow night what the musical is… including the man directing it, Stuart Mearns.
"We are all nervous and excited. The biggest challenge we have is that the whole production team and cast do not know what the show is. We have no idea what we are going to be doing. So it's a case of turning up on Friday and having 24 hours to put it together," said Stuart.
Right now, there are only two people who know the show, stage manager Ross Brechin – and Stuart's wife Rachel.
"They were randomly selected to pick the show and send away for the rights and have kept it schtum for the past five weeks. Give Rachel her due, I was expecting her to be laughing and having that 'I've got one over on you', but she's kept it quiet," said Stuart.
As soon as the musical is announced, 24 hours of hard work break out, starting with the deciding on the parts among the 35-strong cast. That will be followed by working on getting the music down, then moving on to the dance numbers, then starting work with the principals.
During that time, Stuart and his assistant director Abigail Westwood Patterson will be planning the costumes, the set, staging, lighting and sound.
"It is a massive undertaking for the first few hours. The aim is to be ready by two o'clock on Saturday afternoon to do our first dress rehearsal. So there's no sleep till showtime," he said.
It is, of course, incredibly hard work but also incredibly energising for the cast, said Stuart, who has previously directed shows for the city's Harlequin Productions.
"The sheer adrenalin of what they have achieved in 24 hours will create a wonderful experience for the audience. It's great as well being in an audience where you don't know what show you are going to see," he said.
"When it's announced, we hope there's a buzz from the audience and as soon as our cast hear the overture they will just be on a sheer adrenalin rush to show the audience what they can do."
The 24 Hour Musical has come together under the auspices of Support Local Theatre, a venture started by Stuart and Ross as an information, ideas forum and support exchange for the rich range of amateur companies across the north-east.
Stuart said the platform will be invaluable when it comes to finding costumes and sets for the musical, drawing on the resources of the 14 theatre groups under the banner of Support Local Theatre.
But Saturday's show isn't just about providing a great night's entertainment. It will also help raise funds for the charity Make 2nds Count, which offers support for women facing secondary breast cancer.
Stuart said it's a cause close to his heart.
"It was set up last year by Lisa Fleming, the wife of one of my best friends, Ewan. She found out she has secondary breast cancer and the work she is doing is unbelievable to raise awareness and funds to support research.
"We've all got to know her and when we've been doing the project, if people say 'oh I don't know if I can do 24 hours, I'll be so tired', we just need to say take a look at one of her social media posts and I'm sure you'll be able to do 24 hours."
24 Hour Musical is at the Tivoli Theatre on Saturday at 7.30pm.
Click here for more theatre news and features.