Wonderland High takes city audiences through looking glass for Scottish premiere
If you were to take Alice through the looking glass into an American school, there's a good chance you'd end up with something like Wonderland High.
And Aberdeen audiences have the chance to see how it all works for themselves when the talented youngsters of Castlegate Theatre Company stage the show at the Arts Centre from tonight.
The show's director, Julie Hutton, said: "We are very much looking forward to tonight's show, especially because it is a Scottish premiere."
To add to the excitement, the New York-based writers of the production, James Merillat and Jesse David Johnson, are planning to be in the audience during its three-day run.
"They happened to be in the UK at the time, so they are planning to come up to Aberdeen to see the show – so no pressure. Hopefully, we will do them proud," said Julie.
She said Wonderland High is best described as High School Musical meets Alice In Wonderland. It follows new kid Arthur Bloom as he discovers his new school is a little bit, well, different.
"Usually football would be the big sport, croquet is the focus here," said Julie.
"There is an assortment of characters all based on Lewis Carroll's characters. Arthur is really the Alice-type character. There is an Alice, though. She's the head of the cheerleaders and she goes through a change, although I'm not going to give away too much.
"It's not a typical Alice In Wonderland show – there are a lot of twists and turns along the way."
Julie said that as well as a compelling storyline, Wonderland High has a superb score.
"It's catchy and upbeat and the kids have really enjoyed learning the songs. They've been working with our new musical director, Ben Jason Light. For the first time, Castlegate Theatre Company has a choreographer, Shaun Stickland, and he has been putting the children through their paces and coming up with some really exciting choreography," said Julie.
She said the 40-strong cast – aged eight to 17 – has been working hard, but also having great fun, getting ready to stage the show.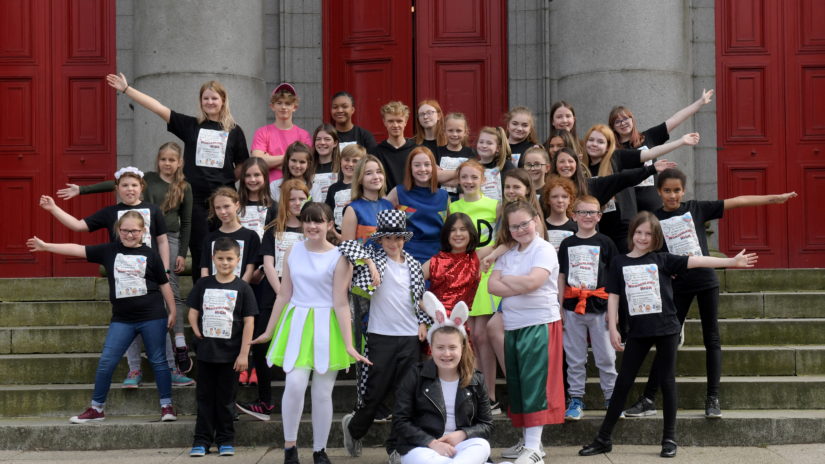 "It's been a show the kids have thoroughly enjoyed and has appealed to all the ages, especially with us having such a big age range in the show," she said.
And Julie said the real winners will be the audience, who will be treated to a great night out.
"It's a funny, punny show and because it's a new musical, it's a chance to see something completely different. It's a mix of High School Musical, plus the teenage antics, along with Lewis Carroll's works," she said.
"I think there is something in it for everybody, from the quirky one-line jokes to these musical numbers bringing the characters to life. Everybody will go away finding something in it they've really enjoyed."
Julie said it has had a successful run in the US and she is delighted it is now available on this side of the Atlantic. She added securing the Scottish premiere was a question of lucky timing.
"If we had been a month earlier, we would have had the UK national premiere. But a group in England somewhere has beaten us by a month," she said.
Julie said one of the great delights in staging Wonderland High is the way it will showcase the talents of the kids.
"In choosing this show, the fun of the script and the score has something in it for a variety of ages within the group. The kids have had a lot of fun in rehearsals."
Wonderland High is at Aberdeen Arts Centre from tonight to Saturday.