'Stand-up is about the people in the room'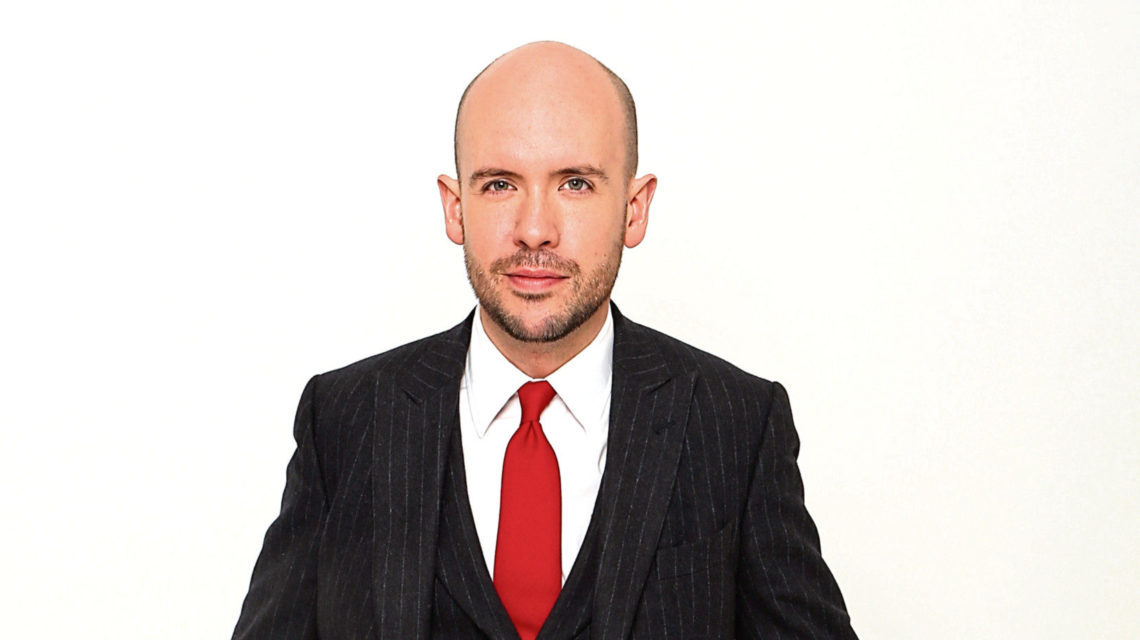 This Thursday the Granite City will become laughter central as the Aberdeen Comedy Festival kicks off. And for funnyman Tom Allen, it can't come soon enough.
"I'm thrilled about coming to the Aberdeen Comedy Festival – I think there's a really exciting comedy scene in Aberdeen," he said. "Whenever I have been part of any comedy festival in any city or town, it really is lovely for a community thing. It brings people out, some who might not normally come out to see comedy."
Tom is one of the fastest rising stars of the UK comedy scene, his profile soaring as he notches up more appearances on shows like Mock The Week, 8 Out Of 10 Cats and The Great British Bake Off's Extra Slice.
His growing popularity seems to be reflected in his ongoing and long-running tour, which started a year ago, with venues such as the Lincoln Drill Hall now giving way to the London Palladium.
"Being on television helps," said Tom. "People go: 'We like him, we'll go and see him.' It's lovely being included on television programmes and getting to work with people I've looked up to for so long – like Jo Brand on Extra Slice – and learning from what they do."
And he clearly has fans in the north-east. His show, Absolutely, at The Lemon Tree on October 9, sold out before the comedy festival brochure was even released.
"That is so nice, I'm so thrilled. You go on tour and think: 'Will anyone come?' So for it to be sold out is a lovely feeling," said the 35-year-old.
When he started the tour, Tom thought the audience would consist of "three gays and my mum"!
"Actually I get groups of lads, lots of couples, older people, and I've had people say: 'I've brought my kids along – it's their first comedy show.' For me, stand-up is about the people who come to the room and we all have a nice time together and it allows us to leave our worries at home. We just have fun together."
Absolutely is the ideal showcase for Tom's sharp wit and hilarious camp storytelling.
"My show is about people who… No, it's about me!" he said, laughing. "It's about living at home with a couple who are called Dad and Mum. It's about trying to live a fabulous, flamboyant life but always being brought slightly back down to earth by the fact your very normal parents don't really get why you want to do an elaborate centrepiece for the dinner table on a Tuesday."
It's not just Tom's sense of humour that's razor sharp. His fashion sense is, too, with his trademark exquisitely tailored suits. Tom said: "When I was a kid, I always felt like I wasn't a kid; I wanted to be a grown-up. So now I'm a grown-up, I like to dress how I imagine a grown-up dresses. I used to watch all those black-and-white films, so my sense of what a grown-up is, is slightly based on Carry On films and Cary Grant and Audrey Hepburn and Fred Astaire films. And it gives me a sense I have a proper job. I like the sense of ceremony that goes into dressing up."
With his star in the ascendancy and his tour ending in December, what is Tom planning to do next?
"I'm going to try and move out of my parents' house!" he joked.
The Aberdeen Comedy Festival runs from October 4 to 13 at venues across the city