Satirical slice of political pie on the Aberdeen Music Hall menu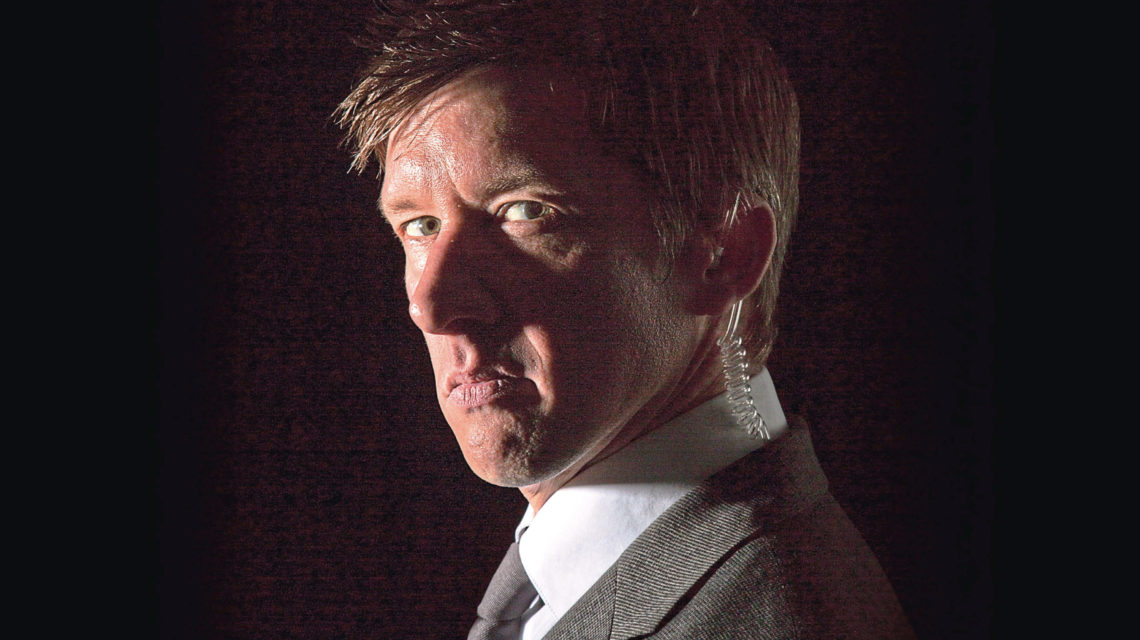 Between Brexit and a general election, Jonathan Pie is a busy political reporter… well, actor and writer Tom Walker is.
As the creator of the online comedy sensation, Tom is now having to write new jokes daily to keep his live show – The Fake News Tour – bang up to date with the fast-moving political landscape.
"As the election campaign gets going I'll be writing a couple of fresh gags a day, just to try to make it seem bang up to date," said Tom, who will bring Jonathan Pie to the Music Hall on Sunday.
Pie – and Walker – built up a huge following online with three-minute videos depicting a reporter who, when the camera is off-air, launches into scathing indictments of all sides of the political spectrum and of the media.
He has been praised as one of the UK's sharpest satirists and has amassed a fan base of 1.2 million followers on Facebook across the world.
And Tom says fans can expect a ramped-up take on Pie at the Music Hall.
"It's a little bit of what everyone would expect and hopefully a lot more. It's a lot about Brexit, how can it not be, but I hope I have found an interesting and, more importantly, funny way of looking at it," said Tom.
"He's looking back really at the last three years of Westminster. As our politics decline, so does his career and his personal life.
"But it was more or less a necessity to make him look back rather than forward. When I started writing this show, Theresa May was in power, I thought halfway through this tour we might be leaving the EU, I thought it was a pretty good guess we'd be getting a general election.
"But often you have to rewrite, rewrite, rewrite all the time and I wanted to future proof it as much as I could."
Tom was inspired to create Pie, riffing off the old It'll Be Alright On The Night bloopers show he watched growing up.
"I always loved the ones set in newsrooms involving journalists. They seemed so much more funny because it's a more serious job than being on a soap or something. It's a very proscribed way of talking in a broadcasting voice, so when someone is suddenly off-air and effing and blinding and talking about what they saw on telly last night, it makes it a lot more funny."
From this premise came political correspondent Pie and Tom realised it was the politics people were tuning in for.
"It was never meant to be a political satire, really, it just turned into one," he said.
"It took a while for that moniker to rest easy, but this time around I've enjoyed writing the show. I feel more comfortable being called a satirist than I did a couple of years ago, but I still don't see myself as one. He is a character, that's the way I see it."
Tom describes Pie as a "ball of contradictions" who you can agree with one week and totally disagree with the next.
"I think that's healthy. We've got used to not listening to people we disagree with and that's why we are in the state we are in. I quite like throwing it back at the audience, which I do a lot in this show, and saying you also are to blame. You can have a lot of fun and a lot of targets.
"It doesn't just have to be the Tories or Trump or Brexit, you can have a lot of fun with him."
Tom also says that Pie is "all of us", but exaggerated.
"He is saying what we are all saying. We're all angry, we all want to make sense of things and we all get angry at people we disagree with. We're getting more and more angry at people who vote differently rather than listening to them. So there is a satire on that as well.
"So he's your mate down the pub who you like but he won't talk about anything other than politics. We all know that person and more and more we are all becoming him."
For someone working in the online arena, Tom has found himself facing a backlash from both left and right, with right-wing supporters branding him a snowflake "woke warrior" to the left wing damning him as a "right-wing Nazi".
It's been an eye-opening experience, he said.
"It took a lot of getting used to. One, how horrible people are online, but also how stupid they are, so willing to represent someone they don't like as some sort of extreme. But Pie is neither.
"The most interesting thing I've discovered with Pie is that I had no idea free speech was a controversial point of view. But if you look at the left-liberal side, certainly in comedy, they think if you are an advocate for free speech you must be an apologist for Nazism and racism. That's a weird one, I can't get my head around it. The left seem to have given up on free speech, so the right have taken it."
That has informed his take on Pie, with the new show looking at how the "Twitterati" are so quick to destroy careers.
"It's so unforgiving. You make a joke 10 or 15 years ago, you might have got away with (then), but definitely wouldn't today, but it's still there online and that's your career finished, 15 years after you made an unsavoury joke. That to me sounds bizarre. The plot of the show is a little bit about that."
He does, however, feel that the pendulum is starting to swing the other way.
"People are sick of being patronised into what they can and can't laugh at and what they can and can't say, can and can't think."
But for this tour, Pie is stepping off the screens of the nation and on to stages around the country, making the jump from three-minute clips to a full-blown 75-minute show.
"I'm aware people are coming for the fruity language and the politics of it, but I wanted to approach it a bit more like a play," Tom said of the live show.
"It's to fill in the gaps, not a huge amount, but you get to learn more about his divorce and the trouble he's having with his kid, so it does make him much more human.
"You need to make him a human, otherwise he's just shouting and screaming at the Tories, which to be fair has its place, but I wanted to make him much more richer than that."
For his next outing, Pie is heading to Australia, which means a rejig of the script for Tom.
"You have to make it slightly less British-centric. Also, if you have a joke where Greggs The Baker is the punchline, you have to think what is their Greggs The Baker, what's going to resonate the same?"
Tom is planning to take his foot off the pedal with Pie for a while for six months or so, resting the character while he returns to acting for a bit.
"I would love as an actor for someone to hand me a script and say 'There you go, learn that', then it's not my responsibility.
"Pie is not gone, but I might put him in the cupboard for a bit."
But before that, Pie will be in full throttle at the Music Hall.
Tom said: "Come along, get ready to be challenged, but the main thing is laugh. That's all I need people to do. More than anything, it's comedy."
Jonathan Pie: The Fake News Tour comes to the Music Hall on Sunday. For tickets visit aberdeenperformingarts.com